How I Went From
Laid-Off Corporate "Worker Bee"
to a Freelancer With a Set-My-Own-Hours
Income of $60,000 … in One Year!

(And "Perks" You Can Only
Imagine In Your Dreams…)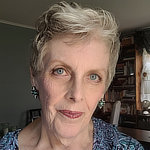 It's not often you can say your life has turned around, but it happened for me with a single "investment" that has paid me back more than 33 times what I spent on it!
People's jaws drop when they hear my story – My family can't believe it … my friends are amazed …
Even I have to pinch myself when I realize that I'm now on track
to a six-figure income from my own freelance business …
Do you think there is no such thing as a dream job? Well, think again.
I'm going to tell you about the best gig in the world – and how you can make it happen for yourself. And the easiest way I know to do that is to relate my own story, which you may have heard before.
For those who haven't, here it is… (and for those who have – get a load of the new developments. It's something you can't afford to miss!)
So, flashback to early 2009. The recession hit me hard. One day I walked into the corporate job I'd had for 14 years …
… and walked back out unemployed.
No notice. No thanks for a job well done. Just termination.
To make matters worse, because of my "age," I knew I would have a tough time getting hired someplace else. For a year, I looked for work, living on unemployment benefits, a modest severance package, and my meager savings.
But it was all about to run out.
And that's when I found myself sitting at my computer, staring at the screen and considering an opportunity that might bring not just well-paying work but a whole new lifestyle.
The problem was, it cost $1,795. Plus the expense of getting myself there and back and staying in a hotel for a few days.
And that $1,795 price was good only till midnight that night. After that, it would go up another $200.
My hand gripped the computer mouse. As the cursor hovered over the "Signup Now!" button, I fought down an uneasy feeling in the pit of my stomach. Would this be "it"? The last of my cash sprouting wings and flying out of my account?
Or would it be an investment in myself that would turn things around … a shortcut to a new career that would let me live my life on my own terms? I had researched the opportunity, studied every part of it – and that's what it looked like to me.
So here's what I did …
I took a deep breath … closed my eyes … and clicked on that "Signup Now!" button. I felt a sense of relief – and control. I knew I was doing something positive for my future.
It was one of the best decisions I ever made.
It's one you should make, too …
And if you've gotten this letter from me before, I want you to keep reading. Because another year has passed since I last made contact with you and things have gotten even better. I'll give you all the details here – but I want you to know something very important…
This letter isn't really about me. It's about you…
My story is not unusual. I've met a lot of people who have changed their lives for the better through copywriting, just like I did. And the focus of this letter is to tell you how you can, too. Please read on for the exciting updates!!!
Investing in Yourself
I'm going to tell you all about the investment I made that changed my life.
As I said, I was looking for a lifeline. So my experience was pretty dramatic. However, if you just need a boost – or a change of pace – it could work for you, too.
Keep in mind that when I clicked on that button and committed almost $2,000 to an opportunity that had the potential to turn my life around, I didn't do it blindly. This was not a "lottery ticket" decision – it was a well-thought-out strategy to re-establish my ability to earn a good living.
I was signing up to go to AWAI's FastTrack to Copywriting Success Bootcamp and Job Fair. This is a once-per-year, in-depth seminar that focuses on teaching the skill of copywriting – and helping both new and experienced copywriters launch or expand a home-based business.
In my case, it would mean starting a new career.
I already knew a little bit about copywriting. And I wanted to learn more. I wanted to see if I could really get work as a copywriter and make a go of it. But I didn't know how.
The answer seemed to be right in front of me on my computer screen: Sign up for the AWAI Fast Track to Copywriting Success Bootcamp. I had read the event schedule so many times I practically had it memorized. There would be professional copywriters there who make a very good living. There would be people there, just like me, who want to learn the craft of copywriting. And there would be a Job Fair with potential employers I could talk to …
These were companies like Nightingale-Conant (who I had been buying programs from for over 25 years!) and Stansberry & Associates Investment Research. Companies like Agora Financial, Glazer-Kennedy, International Living, The Oxford Club, and Boardroom Inc. – companies I might never break into any other way!
Still, there was the element of the unknown. I had never been to a "Bootcamp." Could it live up to my expectations? Would it actually make it possible for me to change careers and get back to work? There was only one way to find out … just pack up and go.
And because I did, here's what happened …
A Time and Place You Always Remember
My name is Starr Daubenmire. Thanks to AWAI's FastTrack to Copywriting Success Bootcamp and Job Fair, I am now a full-time working copywriter. For me, Bootcamp was a true Turning Point. You know what that is … a time and place you always remember because your life is never the same afterward.
I knew, on the very first day of Bootcamp, that I had made the right decision. It was like there was electricity in the room. One speaker after another revealed their personal "secrets to success" – and I couldn't write them down fast enough! When, for example, Dan Kennedy explained why copywriting is a Business – not a Job – and how you can take control of a project, a light bulb went off in my head. Then he told us how to figure out the client's needs and fulfill them … how to ferret out the client's "story" about his product or service (one the client himself may not even be aware of), and I was transfixed. Indeed, while Dan was speaking, I was as captivated as a caveman seeing fire for the first time …
And let me tell you a little bit about Job Fair. I felt like a kid in a candy store as I went from table to table, talking to potential employers. Like I said, there were big names there. I didn't have much in the way of writing samples but everyone was easy to talk to and very happy to answer my questions. I was making strong connections with people who could actually hire me. People I could only meet at Bootcamp.
I followed up on those connections and, sure enough, within a few weeks I had a handful of copywriting assignments. (One of them was from a major health information company, writing articles about alternative therapies.) And, solely based on contacts made at the Bootcamp and Job Fair, I wound up with a steady stream of profitable work for all of the next year.
Are you getting the picture of how valuable those 3½ days can be? I literally got a year's work out of it – work that is ongoing still today. And you can bet I'll go back to Bootcamp again and again to make new contacts and keep my copywriting business growing.
Think of it this way …
An investment of 3½ days of my time – and a modest investment in the price of admission – got my copywriting business up and running in one fell swoop!
The contacts I made at Bootcamp supported me for the entire next year – and I'm still getting work from them.
I'm sure Bootcamp did the same for many others who were there.
But know this …
There's nothing special about those of us who got ourselves to Bootcamp to learn the copywriting business and to make contacts with potential clients. What's special – and smart – is that we put ourselves in a situation designed to make us successful.
Forget About "Courage" and "Luck"!!
A few months into my new career, I got a call from my supervisor at my former job. She asked how I was doing. When I told her that I not only had steady work but it looked like I was going to be making more money than I had when I was working for her, she was flabbergasted.
"You are so courageous to have done this!" she exclaimed.
Needless to say, I was flattered. But when I signed up for Bootcamp, I knew that I wasn't diving off a cliff into uncharted waters. I was diving into a well-organized pool of professional copywriters who were willing to teach me how to be successful in the copywriting business. It was a decision based on taking advantage of proven methods of success … of recognizing the value of an opportunity like Bootcamp.
So … do I attribute my success to courage? No. And, it had nothing to do with luck either. That's what I try to explain to family members and friends who keep saying to me, "Oh, you're so lucky!" It was simply a matter of utilizing resources that have been proven to deliver results. Resources like AWAI's FastTrack to Copywriting Success Bootcamp and Job Fair.
A resource that's available to anyone!
Which means … you can do the very same thing right now by clicking on the register button at the end of this letter.
Nothing could be easier if you're interested in pursuing a career as a copywriter.
This Could Be the Best Decision You Ever Make!
Don't let the fact that Bootcamp 2013 is months away keep you from registering now. This is actually the perfect time because of the easy payment plan and SPECIAL DISCOUNT I'll tell you about shortly. (And by the time Bootcamp 2013 rolls around next October 23rd, you'll have it blocked in on your calendar and paid for!)
Don't let anything else hold you back either. Maybe you're concerned about the cost … or the time commitment. Maybe you're not liking the idea of taking time off from the job you currently have … or using up some of your vacation days. Or maybe you feel that you're just not quite ready to launch a copywriting career – that there's still a lot that you want to learn about it first.
No matter the reason, don't let it get in your way. Do what I did: Weigh the risks against the potential rewards. And remember … Bootcamp offers something for everyone. Whether you are a total newbie … or trying to decide on a niche … or already established in the business … Bootcamp is not only a unique opportunity that happens just once a year, it is …
3½ days that can absolutely change your life!
(I know, because it happened to me.)
So if you're on the fence about whether or not to attend Bootcamp 2013 next October, here's what I want you to do right now:
Imagine what your life will be like when you have the freedom and flexibility of being your own boss. What does that look like for you?
In my last letter to you, I described what it was like to experience Bootcamp at this point. How the AWAI staff actually relocates to the seminar and is on hand to make sure you have the experience of a lifetime.
I also told you about the copywriting Masters who share their skills and make themselves personally available for you to talk to. (This doesn't happen anywhere else!)
And I mentioned Job Fair, where you have the rare opportunity to meet business people who are looking to hire copywriters – and pay handsomely for that skill.
But in this letter, I want to go one step further than that. Because I've been to several Bootcamps now. And I can honestly tell you that Bootcamp is just the beginning. The way your life can change as a result is dramatic – and that's what I want you to imagine.
Imagine How Your Own Life Can Change …
Let me make it easy for you and tell you how my life has changed thanks to copywriting …
First of all, I never set an alarm clock. Ever. After years of being a corporate "slave" and rolling out of bed at 6AM, I just don't want to do that anymore. And I don't have to because I set my own hours.
Not only that, I take breaks when I choose to, not when someone else tells me I can. So if I want to take a 2 hour lunch and go for a swim, I do. If I want to take an afternoon off to pick up my grandkids from school, I do. I'm disciplined enough to get my work done on deadlines, so how I schedule it is up to me. And that allows a lot of flexibility.
If you think that's a nice perk, just wait. It gets even better …
Not only do I set my own schedule, I choose where I want to work. At first I would sometimes go to the bookstore with my laptop just for a change of pace. Or maybe set up in a restaurant with wi-fi and enjoy a snack and a coffee.
Then it dawned on me I really can work from anywhere. And I do mean anywhere!
Last spring I had the opportunity to go to Costa Rica. For the first time I was able to take a trip without worrying about being away from the office and not getting my work done. I just took it with me!
I didn't mind working at all while sitting on the terrace of my room overlooking Mt. Arenal – one of the most active volcanoes in the world. And when I took a break to go swim in the thermal pool, my work was waiting when I got back. Just imagine the tropical rain forest for an office! Where would you like to set up shop? As a copywriter, you can choose.
Imagination Becomes Reality
Everyone has dreams of what they would like their life to be. But how many people really get to live those dreams? To turn dreams and imagination into reality, you have to have a plan to make it happen. Otherwise, it probably won't.
But if you want to live the writer's life – and arrange your work and your interests to suit yourself – there's one sure way to get started … Attend the 2013 AWAI FastTrack to Copywriting Success Bootcamp and Job Fair.
Is it too soon to start thinking about the next Bootcamp – still almost 10 months away? Absolutely not!!! In fact, if you want your "imaginings" to become a reality, this is exactly the time to start planning. And I'm going to give you some details shortly that will make it a no-brainer.
But I don't want you to put your imagination on hold just yet. I want you to continue to think about what your life really looks like in your dreams. Get a good picture in your head. Close your eyes for a minute and feel it.
Again, I will help you out with this.
I am a full-time copywriter now. It's also how I am now living my dreams.
You see, I've painted and sketched all my life. I went to college for Fine Art. I've always wanted to go to Italy, not only to see the art treasures there, but to spend some time painting. I wanted to do this so badly that I refused to just take a 1-week vacation to Italy. I knew I would feel cheated and it would be over too quickly.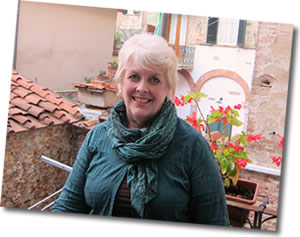 So guess where I am writing this letter to you from …
Yes, Italy. I am living my dream. Because I am not here on vacation – I am living here for 3 months. Not in a fancy hotel. No, my dream was to be as much like a local as possible. So I got an apartment and settled in. I made sure I had internet so I could work. And from there, I was set up to do whatever I want.
I love getting my work done in Italy. Because then – I live the dream. Some days I paint in the afternoons. Some days I take the train to other places. I've been to Rome and Florence to visit the greatest museums in the world. I went to a nearby town famous for their thermal waters to have a spa day. I hang out in cafes with my sketch book most evenings.
What was once just in my imagination is now my real life. And I can trace this path back to the first time I went to Bootcamp. That's when everything changed.
This is not a dream – this is the reality of
AWAI's FastTrack to Copywriting Success Bootcamp and Job Fair.
I can tell you from experience – it's 3½ days that can absolutely change your life …
Just like it did mine.
Now whenever I meet someone new I introduce myself as a freelance copywriter. And I can't help getting a big smile on my face when I explain that, yes, I work from home (or anywhere I like) … because that's just one of the perks of the writer's life.
It doesn't matter where you are right now …
I don't know what your personal goals as a copywriter are. But I guarantee you can begin to achieve them when you take advantage of Bootcamp …
You might be just starting out … searching for a career that will let you be your own boss.
Or you might be looking to supplement your current income with a bit of writing for a few hours a week.
Maybe you want to change careers completely because you need more freedom and flexibility in your life.
Or maybe you are facing retirement with only a bruised and battered 401(k) that isn't going to support you.
The good news is this: AWAI's 2013 FastTrack to Copywriting Success Bootcamp and Job Fair can be your launching pad. There's just one thing …
You have to be there for it to happen.
That means you need to start planning now. If you put off the decision, there's a good chance Bootcamp will be sold out and you'll end up on the waiting list … hoping a slot will open up for you.
Can You Afford to Ignore "Opportunity Knocking"?
I had no idea that Bootcamp would be as pivotal in my life as it has been. Consider this …
Where else can you get such specialized information from so many proven masters?
Where else can you meet so many people like yourself who want to make a career out of copywriting?
And, most important, where else can you have direct contact with clients who are there with the sole purpose of finding copywriters just like you? Clients willing to pay you even if you're new to copywriting?
Let me tell you, when I weighed the pros against the cons of attending Bootcamp, I knew I had to do it. Losing my job had been a brutal, frightening wake-up call. Now, opportunity was knocking and I had to answer.
Honestly, I have to laugh at myself when I look back on how I agonized over making that decision. I mean, really, AWAI offers a money-back guarantee. And that guarantee is in place even through the first day of the event. So there's no risk whatsoever!
That's right. You can get yourself down to Florida, walk into that gorgeous hotel, meet the legendary copywriting masters, hear what they have to say for a full day …
And if you're disappointed in any way, you just let AWAI know by the end of that first day that you want your money back. And they'll give it to you! (Minus a small processing fee.)
But I'm confident that you're not going to do that. Because you'll already be seeing the magic start to happen.
"I've been to the AWAI Bootcamp for the past five years and I wouldn't miss it for the world. Every year I learn more than the year before. I meet new contacts and greet old friends. But most of all, each year Bootcamp becomes the launching pad for new projects, new clients, and most of all, better copy … Thank you again for an outstanding conference with more high-quality content than I could keep up with!"

– Marcella A., Cincinnati, OH
Just take a look at what some of your "colleagues" have to say about their Bootcamp experiences …
"To any fence-sitters out there: If you're debating the merits of attending AWAI's Bootcamp, sign up right now. It was, without doubt, the turning point of my graphics/writing career and worth every penny. I met my mentor there. and I made lifetime, quality contacts with both attendees and staff."

– Cherie R., Ft. Myers, FL
" … I am pretty much brand-new to the copywriting business and was more than a little nervous about coming to Florida for Bootcamp. Well, after three incredibly intense days, I was thrilled that I did. It was one of the best experiences of my life. The speakers were dynamic, their topics were pertinent, and the information was non-stop. It was a more beneficial experience than I could have imagined. I made some great new contacts, was flooded with fantastic ideas, and got something intangible as well – a confidence boost that I can succeed in my new career. I am looking forward to next year already!!"

– Chuck D., Lake Zurich, IL
It's Serious … It's Intense …
and You'll Have the Time of Your Life!
What comes to mind when you think of "Bootcamp"?
Like me, you probably think of soldiers undergoing serious, intense, top-notch training. And that's pretty much what AWAI's Bootcamp is.
Do soldiers come back from military Bootcamp changed? Always.
Will you come back from AWAI's FastTrack to Copywriting Success Bootcamp changed? Absolutely!
Of course, you won't be running laps or squeezing through obstacle courses in the mud. But for 3½ days, from the time you wake up until the time your head hits the pillow, you'll eat, think, and breathe copywriting.
And you'll be doing it in a luxurious setting …
The event kicks off with cocktails and dinner in the hotel's main ballroom.
Each morning begins with attendees and guest speakers enjoying a complimentary breakfast buffet while they mingle and chat.
* Throughout the day – before, during, and after the sessions – you'll be rubbing shoulders with successful copywriters who are living "the writer's life" (and learning their methods – and their secrets).
In other words, you will be totally immersed in copywriting. Here's why that's important …
Have you heard of the immersion method of learning a language? It's where you put yourself in an environment where you are forced to speak that language. As a result, you can make more progress in a few days than you can by studying it any other way for a year!
Well, guess what? Copywriting is a language. And AWAI's Bootcamp program is so well designed that failure is simply not an option.
This Is What It's Like to Be There …
Did you ever try to tell someone about something really wonderful that you experienced – and they just didn't get it? They give you a puzzled look, so you shrug your shoulders and say, "I guess you just had to be there …"
That's the problem I'm having right now. I want you to feel the excitement and energy of Bootcamp, but I just don't know how to do it. Let me try this …
The agenda for 2013 is currently taking shape. And as always, AWAI brings in the best copywriters and marketers working in the industry today. So you won't want to miss these presenters who always bring down the house:
Bill Bonner
Founder and president of Agora Publishing, one of the world's most successful consumer newsletter publishing companies. Bill is known as a driving force in the copywriting industry, having set the standard for "Big Idea" copywriting. In addition, his company, Agora, hires copywriters to the tune of over $7 million per year. You won't want to miss a minute of Bill's presentations and insider advice.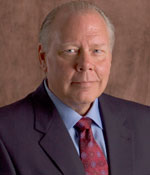 Clayton Makepeace
Clayton is a living legend in the copywriting industryand is widely known as the world's "highest paid copywriter" – all told, his copy has generated well over $1.5 BILLION in sales! His topic for the 2012 Bootcamp was "The New Dimension in Copywriting," during which he explained proven techniques that not only "grab your prospects by the eyeballs" but easily triple response rates or more!

Bob Bly
Author of more than 70 books, Bob has over 3 decades of experience in all aspects of direct marketing. He has written copy for over 100 clients including Network Solutions, ITT Fluid Technology, Medical Economics, Intuit, Business & Legal Reports, and Brooklyn Union Gas … and has won numerous industry awards. His tips on copywriting in today's marketplace put the "icing on the cake" for everything you want to know about copywriting.
Drayton Bird
A straight-talking, direct response guru, is a captivating speaker. He is never afraid of being different or making common sense out of the marketing business. This is the man who took the BeachBody fitness brand from $6 million to over $40 million in sales in just one year. Don 't miss the rare opportunity to see and meet him in person.
Mark Ford is one of the most qualified master copywriters and entrepreneurs alive. He has launched dozens of successful direct-marketing ventures, many of which have become multi-million dollar companies. All told, he's been directly involved in the generation of over ONE BILLION DOLLARS of sales through the mail and online. He's also a highly successful author. He's published more than a dozen books under his former pen name, Michael Masterson, including several which have become Wall Street Journal, Amazon.com or New York Times bestsellers.
Other favorite presenters included… …
Nick Usborne is the guru behind AWAI's most successful Web writing programs. Nick is known for his warm personality and ability to motivate his audiences to take action. He loves to talk about working smarter, not harder and is devoted to helping train the next generation of copywriting superstars.
Steve Slaunwhite is the go-to guy for everything about B2B (business-to-business) copywriting and marketing. This is always a hot topic at Bootcamp – and Steve does not disappoint. He's an expert on how to get clients, how to grow your business and how to boost your income.
Mike Palmer is head copywriter for Stansberry Research, was voted AWAI 2009 Copywriter of the Year. Mike's stats are impressive. He's helped grow Stansberry Research into what is probably the biggest financial newsletter publisher in the world today. Since 2002, Stansberry Research has mailed over 26 million promos written by him. When you add in his online efforts, Mike's copy has brought in over 400,000 paid subscribers.
As well as:
John Forde, Jennifer Stevens, and Will Newman, Master Copywriters who are experts at explaining the nuts and bolts of writing successful, persuasive copy.
Pam Foster, founder of several businesses that offer copywriting, web content and SEO services to help companies boost online results and sales. Pam's specialty is "Hot Niche Opportunities"  And how to attract business to your niche.
Ryan Deis, a marketing strategist who specializes in driving internet traffic (the lifeblood of any online business) to websites. Don't miss what he has to say about video sales letters!
Ilise Benun is a self-promotion expert. Her articles have been featured in Inc. Magazine, Nation's Business, HOW Magazine, and Working Woman. She's authored several books, and conducted countless workshops.
Darcy Jaurez, Executive Director of Marketing for GKIC (Glazer-Kennedy Insider's Circle.) She has spent the last 7 years creating some of the most successful product launches and marketing systems in the direct response and information marketing world that have gained national attention, earned Accolades, and increased revenue by millions of dollars.
Donna Baier Stein has been a direct marketing copywriter for 32 years. Her clients have included Hallmark Cards, American Express, Sprint, Travel & Leisure, GEICO, Fidelity, Time-Life, World Wildlife Fund, The Nature Conservancy, and many others. Two of her packages have become 15+ year control mailings. Her awards are many, and include CAPLES, MAXI, AMBIT, and the 2003 Direct Marketer of the Year by the New England Direct Marketing Association.
Here's what a few of last year's attendees had to say …
"Eased my fears & newcomer anxieties. Speakers were friendly and approachable" - Yulanda Tross

"Loved Nick's session – good combination of solid strategies along with a good dose of inspiration" - Steve Roller

"So glad I attended Steve Slaunwhite's presentation!!! I was thinking of not pursuing B2B and now I've learned that this is an area I am actually strong in. Important revelation!" - Sue Laird

"AWAI Bootcamp is a totally supportive, upbeat event. The speakers and AWAI team are always available and helpful. It is crystal clear they want each of us to succeed" - Ann Kauffman

"I have my roadmap put together now. (Something I couldn't figure out how to do in 3 months, I managed to put on paper in 3 days!!! - J.M. Meuller
You can be sure that the lineup of speakers for Bootcamp 2013 will once again include the best of the best in the world of copywriting. And, as always …
There Is Simply No Substitute for Being There in Person
Just think …
Where else are you likely to come in contact with so many copywriting superstars gathered in one place – all of them willing to talk with you, one on one? And when you're at Bootcamp, it's so easy to walk right up and introduce yourself. The ice is already broken. You know who they are. And they know why you're there. They are more than happy to spend some time chatting with you about your own road to success. Mindy Tyson McHorse is living proof of what a difference this makes …

"The first time I spoke to Paul Hollingshead at Bootcamp," she says, "he approached me and asked about me! 'How's copywriting working out for you? What can I help you with?' It amazed me. Here was a guy with tons of success … yet he seemed genuinely interested in helping me become a successful copywriter."

"[The year before I went to Bootcamp], I'd gotten tired of struggling to find clients and coming up short on money — can you relate? Little did I know, I'd been doing everything all wrong. Bootcamp gave me the fix I needed. In fact, I walked away with a contract that paved the way for me to earn my first six-figure income in 2010 — $100,593.00, to be exact.

"You'd be surprised how many other first-time attendees had been a breath away from giving up altogether, only to discover — thanks to Bootcamp — that it didn't have to be so hard. That, in fact, it could be very easy to live the freelance lifestyle while earning a large income."
That's why you have to be there!
During Bootcamp, AWAI sets up a temporary office at the hotel so they can all be there for you for the entire 3½ days. This is your chance to personally meet Katie Yeakle, Rebecca Matter, Denise Ford, and the rest of the AWAI staff. You can put faces with those names you know so well – and they can put a face to your name.
That's why you have to be there!
As a Bootcamp attendee, you could earn back your entire price of admission – and more. You see, part of the program gives you access to a number of "Spec Challenges" – where you can get paid for writing a promotional package for AWAI.

It works like this: About a month before Bootcamp begins, you submit a headline and lead for just one of the Challenges – or all of them – and your submission is personally reviewed by Katie and the AWAI marketing team. The winner of each Challenge receives a check for $1,000 at the Bootcamp Awards Lunch on Saturday. Then all the winners are invited to participate in a Peer Review. If the team decides to test your winning headline and lead, you'll be paid $2,000 to complete the package. And if you land the control, you'll get royalties, too! (As a past winner of one of the Spec Challenges, I strongly advise you to take advantage of this incredible opportunity.)
That's why you have to be there!
You get to enjoy luxury surroundings while you're working on your copywriting skills. If you've never been to Delray Beach, you're in for a treat. The host hotel for Bootcamp faces a beautiful, white sand beach. You are within walking distance of shops and restaurants, so you won't need a car to explore the city. And when the daily sessions are over, you can hang out with your newfound friends – people who are on the same path you are on – at the hotel bar or in the sumptuous lobby or by the pool.
That's why you have to be there!
The "Olympics" of copywriting job opportunities takes place on Friday afternoon. I'm talking about Job Fair. Believe me, you could never assemble a marketing group as valuable to your career as this on your own. 52 companies participated in 2011. They came with one purpose in mind: to find new copywriters. You don't have to explain to them what a copywriter is – they know! And because they also know that you've been trained by AWAI, they already have an interest in talking to you. Furthermore, they'll give you the chance to write a spec assignment for them. Many Bootcamp attendees manage to line up some very lucrative work at Job Fair. Joshua Boswell, for example …

"The first year I showed up at Bootcamp," says Joshua, "I walked away with a number of clients. Within the first 7 days, that turned into $10,000 … by the end of the first 60 days, that had jumped to over $30,000. Last year's Bootcamp was the same story … it's like I go to Bootcamp and come away with $10,000, $20,000, $30,000, $40,000, $50,000 in new clients, new assignments, new projects. It's just been a consistent pattern for me. So yeah, there's real money at Bootcamp."
That's why you have to be there!
Just ask anyone who has already attended Bootcamp, and they'll tell you that it is the most productive event of the year for them. (That's why they keep going back!) They'll also tell you that it gets better every year. Which is why the 2013 FastTrack to Copywriting Success Bootcamp and Job Fair promises to be the best yet.
At the beginning of this letter, I told you that AWAI has a special discount offer for you – to entice you to sign up for Bootcamp 2013 right now instead of waiting. But before I tell you more about that, let me go back to my personal story for just a moment …
I Can Prove How Life-Changing Bootcamp Was for Me
I told you that I was unemployed when I went to my first Bootcamp in October 2009 – and that immediately after Bootcamp, I started to make more money than I'd ever made at my former job. And I can prove it.
Here are my bank statements from November 2009 …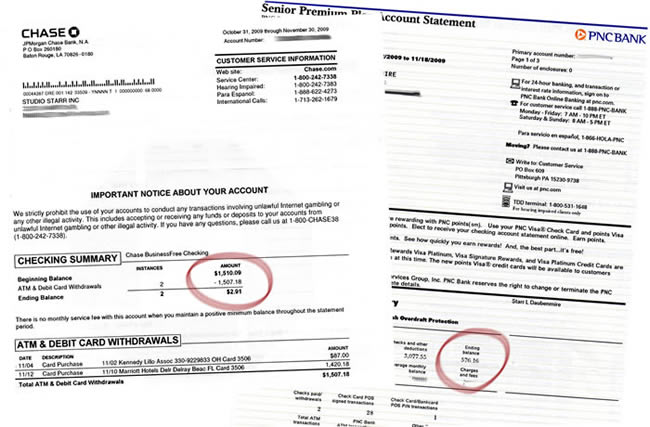 As you can see, there were two charges on my "business" account. One was for a copywriting newsletter from Dan Kennedy that I'd subscribed to and the other was for the hotel in Delray Beach – the Marriott. (I had paid my Bootcamp admission in advance). I had a balance of $2.91. Meanwhile, there was a balance of $576.16 in my personal account – and that's all I had to live on until my next unemployment check was deposited. I had no savings left.
Was I scared? Terrified is more like it!
But as a result of attending the 2009 Bootcamp:
I got enough work to make almost $60,000 during my first full year as a copywriter in 2010 …
I wrote a control for a health supplement company and was invited into the AWAI Wall of Fame …
I met the founders of AWAI and was able to personally work with Katie Yeakle, Don Mahoney, and Michael Masterson …
Here are my 1099s from that year …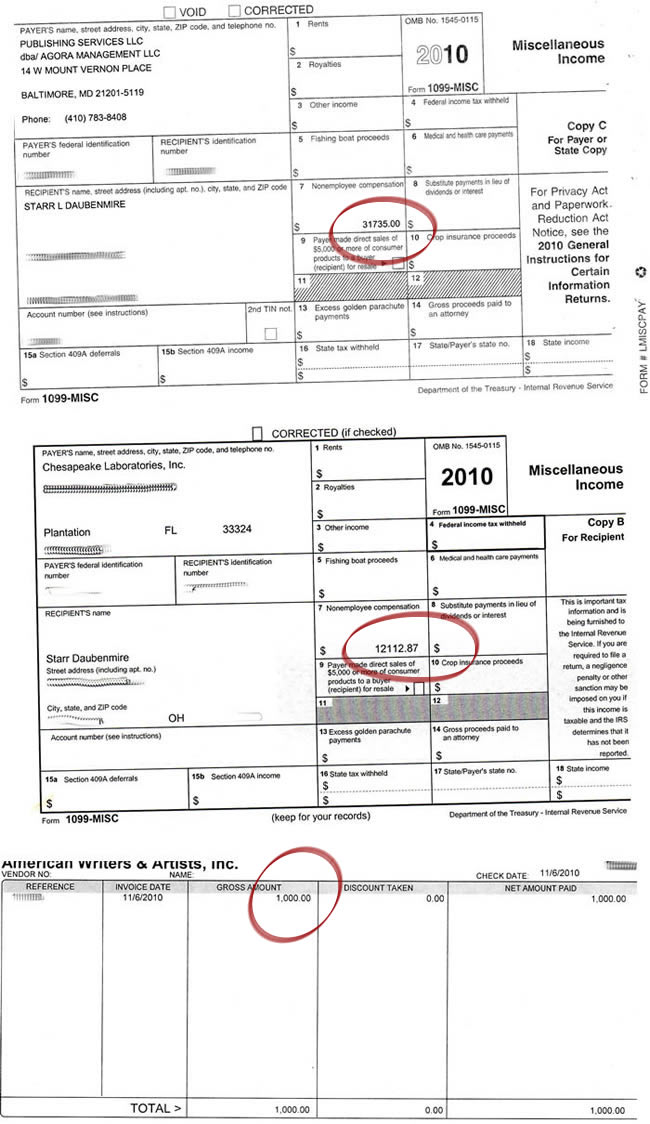 This income, along with the money I made from a few smaller independent businesses that hired me as an outside contractor (and didn't give me a 1099), added up to $58,847.87 for 2010 … a good long way from where I was just over a year earlier …
So did I go back to Bootcamp in 2010?
You bet I did!
And investing in Bootcamp 2010
was another decision I'll never regret …
That was the year I won the Spec Challenge I mentioned earlier. Like I said, each Spec Challenge gives Bootcamp attendees the opportunity to submit a headline and lead for an AWAI product. Winning a Challenge not only means you get a $1,000 check at the Bootcamp Awards Luncheon (a highlight of the event!), you also get a chance to work with the AWAI marketing team to perfect your copy. If they decide to test it, you're paid an additional $1,000 to complete the package. And if you beat the control, you earn royalties, too.
Where else can an untried, newbie copywriter get a chance like that?
Past Spec Challenge winners include Carol Parks, Mindy Tyson McHorse, and Sean McCool. Like me, they intend to keep on attending Bootcamp every year. (We all consider it to be a valuable ongoing investment in our copywriting careers – and in ourselves.) You're sure to find us at the next Bootcamp in October 2013, so seek us out and let us tell you, in person, how Bootcamp has changed our lives.
So remember, in 2009 I went to Bootcamp as an unemployed, "older" woman with little hope of getting a good, decent-paying job.
And a scant year later I was wrapping up the highest income-earning year of my life so far … and I'd just won a prize that would more than pay for what it had cost me to be at that Bootcamp.
Speaking of the cost of Bootcamp …
Act Now
The price of Bootcamp 2013 is $1,995. And there are only a few spots still open. As soon as they're taken, the best AWAI can do is put you on a waiting list and hope for the best.
So don't delay, register now!
Then mark your calendar for AWAI's 2013 FastTrack to Copywriting Success Bootcamp and Job Fair from Wednesday, October 23 – Saturday, October 26 in beautiful Delray Beach, Florida.
When you click on the Enroll Now! Link, you'll get all the information you need to prepare for and attend Bootcamp. If you still have questions, feel free to call 866-879-2934. The AWAI staff is available from 8:30 AM to 5:30 PM Eastern Time on weekdays.
And don't forget the Job Fair …
There's no better reason to be at AWAI's 2013 FastTrack to Copywriting Success Bootcamp. I can't even imagine how many marketers will be there this time … eager to talk with up-and-coming copywriters (like you and me) who can help them grow their businesses.
Job Fair is an unparalleled opportunity – but you have to be at Bootcamp to take advantage of it!
I'm not kidding when I say that Bootcamp is literally the doorway to a whole new lifestyle. My life has done a complete 180 since I attended my first Bootcamp. And it was so dramatic – and rewarding – that I wouldn't dare miss an opportunity to attend again.
For me, Bootcamp made my dreams possible. It was far more than I was expecting, but it is what happened. And it can happen for you. All you have to do is click on the order button below and get registered. And then dare to dream.
I challenge you to dream big. Because I know your dreams are not the same as mine. But if I can go to Italy and live and paint and work for 3 full months, what is possible for you?
There's only one way to find out. Reserve your spot at the 2013 Bootcamp and see for yourself.
So what are you waiting for?
Sign up for AWAI's 2013 FastTrack to Copywriting Success Bootcamp and Job Fair now.
As soon as you do, you'll get access to your Bootcamp 2013 home page. We'll be adding all the news and details you'll need to get the most out of this Copywriting Event of the Year right up until kickoff October 23rd.
And so you can start preparing for Bootcamp immediately, you'll receive these free reports now:
A Brief Intro to Spec Assignments
Peer Review Guidelines
Mini Review Guidelines
The 7 Daily Habits of Successful Copywriters
Niche Marketing Special Report: Proven Method for Making More Money
How to Choose a Profitable and Hungry Niche
Remember, you have a 100% satisfaction, risk-free guarantee that runs right through the first day of Bootcamp!
If you need to cancel before October 1, 2013, you'll receive a full refund. If you cancel after October 1 but before the first day of Bootcamp, your registration fee will be applied to a future Bootcamp or AWAI product. And if you come to the event and are not satisfied with your experience, just let an AWAI staff member know before the last session of the first day. You will receive a full refund (minus a $300 processing fee) with no questions asked.
One more thing before I sign off …
I did not write this letter to recommend that you attend Bootcamp – I am flat out telling you that missing it could be the biggest mistake of your life.
To paraphrase that famous fast-food jingle that started out "two all-beef patties, special sauce …" (I'm sure you remember it – it was a copywriting "tour de force"):
Bootcamp is the premier ultra-motivating, career-launching, fear-busting, hands-on, opportunity-laden, income-boosting, skill-strengthening, high-caliber, direct route to success that you will ever experience.
Sign up now at the lowest price you'll see. Be on board for all the Bootcamp news that will help you get the biggest bang for your buck – before, during, and after the actual event.
Bottom line: The decision to attend Bootcamp is a decision to invest in yourself. I've told you my story to give you an idea of what can and does happen at Bootcamp. But it's not about me – it's all about you and your future success!
Most sincerely,



Starr Daubenmire
Proud AWAI Member
Freelance Copywriter
P.S. Be prepared to have fun! AWAI calls it a "Bootcamp" because the training is so intense. At the same time, they pull out all the stops to make the entire experience unforgettable. This event is "top shelf" all the way. You are not just a seminar attendee – you are an honored guest. Sign up now!
---
American Writers & Artists Inc.
245 NE 4th Ave., Ste 102
Delray Beach, FL 33483
(561) 278-5557 or (866) 879-2924
www.awaionline.com