Special Announcement: One of AWAI's most successful (and inspired) copywriters, agrees to unlock the vault on all his best motivational and money-making secrets …
Get Exactly What You Want in 2010
Dear Reader,
Have you accomplished everything you wanted in life so far?
Are you totally satisfied with where you are today?
Have you gotten exactly what you wanted?
If you answered "no" to any of those questions, you'll want to keep on reading…
I believe I've developed a revolutionary new system that by this time next year …
… could turn your answer to all of those questions into a resounding "YES!"
And, not just in copywriting.
Not just financially.
Not just physically.
I'm talking everything. I want you to have it all. And I've put together a system that will allow you to do it.
Again and again and again.
I've done this for myself … I've done it for others … and I can do it for you.
You see, my system has 3 key objectives …
Give you crystal clarity on your goals and a solid blueprint on how to achieve them.
Enable you to achieve 100% of the goals we agree on together.
Help you accomplish more this year than you've ever achieved before in any given 12 month period of your life.
I'll show you what's stopping you from reaching your full potential in life… from achieving your dreams… and really discovering who you are and having everything you want in life.
In other words, I'm going to answer this vital question for you …
"What do I do right now to start living my dreams and have it all?"
To answer that question, let me rewind the tape about 5 years …
My 11-Month Journey From $200,000 in Debt
to Six-Figure Copywriter …
"Easy to Work With"

"Joshua is an extremely engaging writer, full of innovative ideas, and very easy to work with. We have worked with Joshua successfully this past year and look forward to working with him on many more projects."
- Katie Yeakle,
Delray Beach, FL,
Executive Director, AWAI
"I've Personally Used Him"

"Joshua is not only a good friend that I have great respect for, he is also one of the fastest up-and-coming stars of the copywriting world. In an amazingly short time, he came from nowhere to writing extensively for companies like Corel, Microsoft, Google, Sony Media Software, Easter Seals, and St. Jude Hospital – he's even got a couple of controls under his belt. How good is he? I'll just say that I've personally used him to write one of my promotions and a number of articles."
– Bob Bly, NJ
"America's Top Copywriter"
Author of 70+ Books
In early December of 2004, on a cold Montana morning, the phone rings. It's my Call Center Manager. "Hey, did you know that none of our callers can get on the network?"
I immediately call the provider that hosted all of our phone, Internet, and database services. The phone rings once, then twice, then a third time.
Finally, I hear this funny "bing-bing-bing" sound, followed by a lady's voice saying, "We're sorry, the number you have reached has been disconnected. No further information is available." Dial tone.
Baffled, I call back. "Must have dialed the wrong number," I mutter. Same message.
In stunned silence, I sat at my desk. The demon of fear was gripping my entire body. The demons of doubt and confusion were wreaking havoc in my head.
After a few minutes, I whispered, to no one in particular … "Game over."
And with that, I was out of an income source and $200,000 in debt. With that, I had to fire 28 employees. With that, I had to face the brutal reality of utter poverty.
How was I going to tell my wife Margie? How was I going to feed our six children, pay the bills, and find work? How? How? How?
In, Through, and Out
of the Nightmare
For the next five months, we fought every battle you can imagine … fielding bill collectors, getting food from a free food bank, the electricity being turned off, eviction notices. The works.
There were nights when I literally cried myself to sleep. There were days when I walked around the house angry, tired, frustrated, and wondering what to do. During those days, I was so short with my wife and children, they feared being around me. The phone never got answered … just another bill collector or angry former employee.
It was a financial nightmare of the worst order.
"Retire This Year" … Just Maybe
"High Quality"

"Good work on both the full letter and the brochure. You've done a great job and turned things around so quickly. I've really enjoyed the experience of working with you – especially the high quality of writing. Your experience and skill is plainly evident."
-Bernie Schroeder, Ontario
Direct Mail Manager, Corel
In the middle of this nightmare, I got that famous letter from Paul Hollingshead: "You Can Retire This Year" …
Now, fast-forward 11 months to May 2006.
I'm sitting in a new office, in a new home, in a new state. We now have seven children. On my desk is a check from Sony for just over $21,000. Looking at that check, my mind starts whirling and I pull up Quicken on my computer to add up my deposits over the past year.
$103,000 and some change!
I am now a six-figure copywriter. In that letter, Paul said that I could retire in a year … and while I wasn't "retiring," I was making more than 95% of the people in America. I was working from home. I was answering the phone (a big milestone in my life …). I was treating my family with respect.
Now, the Question Is This …
"How did I go from $200,000 in debt and on the verge of a nervous breakdown to being a six-figure copywriter and living the life of my dreams? How did I handle juggling so many different balls and stresses in my life? How did I hold myself and my family together?"
Well, the process was surprisingly faster than you might think, and far more simple. The problem is, I didn't know that at the start. In the beginning, I fumbled and struggled and danced my way around.
You shouldn't have to fumble and struggle and dance around. You should be able to get right to doing the right things that make you money and close clients for you from day one.
Of course, doing the "right things" isn't the only challenge … there's the whole problem of facing down the demons that stand between you and success. Yes, I call them demons … because that is what those blasted feelings are that stop you from enjoying the success you know you deserve … the success you've been longing for.
I know, because I had to face those terrifying demons myself.
We'll Dispel Your Demons Together
"His Advice Helped Land a Client"

"Joshua Boswell is a amazing copywriting success – and mentor and coach. His advice helped land a client I've worked with over a year now, with more work coming.

His example includes the ability to focus on what matters most. He has mastered the tools, style and techniques that make for great direct response writing. He cares about the success of others. He simply understands and is able to communicate what brought him – and can bring anyone – success."
-David Higbee, Logan, UT,
CopySage.com
"Thanks so much for sharing your experience, your guidance and inspiration every week. You do go 'way above the norm' and give us all you can."

- Olive Wolfe
Every time I stared at the phone and thought about calling a prospect back, my demons would raise their ugly heads. "You can't close that deal … you're a loser. Plus, if you get the project, you know you're just going to blow it."
I'd sit there sweating and shaking for 20 minutes trying to force myself to pick up the phone and make the call. Arrgggghhh!! Maddening! (In the beginning, I usually didn't make the call … I'd just walk away and admit defeat.)
Every time I sat down to write a headline and lead, that blasted demon of doubt would start screaming at me: "Remember the last headline you wrote? The client trashed it! Hated every word of it. You really think you're going to hit a home run this time? What a joke!"
And then there were the days when I'd just sit and stare aimlessly into space wondering what to do. I'd think …
"Should I call someone? Write an article? Work on my website? Follow up on that proposal? Post a blog? Invest in another seminar? What should I do right now?"
I'd end up doing nothing … for days and days and days on end … I'd just do nothing. Of course, in doing nothing, I made nothing.
Are You Out of Money and Motivation, Too?
Here's Real Help
Even worse, I'd feel bad inside – I mean really, really bad. Like dry-heave kind of bad. Like migraine kind of bad. Like weird dream where you're running around in public in your underwear kind of bad. I felt ugly inside.
That darn demon was right … I was a loser. My utter lack of clients, my pathetic income, the zero recognition I was getting … everything proved it a hundred times over.
Well, the glorious news is that I eventually found a way around, over, under, and straight on through all of that frustration.
In fact, I discovered a proven pattern to tackle the fears, take on the doubts, and silence my pathetic demons.
I call that pattern the "Human Success Signature." I'm going to give it to you… along with all the resources you need to put it to work in your life.
You Are NOT a Loser
(and Let Me Tell You Why I Already Know That)
"Wow…Joshua, you are the superman----outstanding, I really enjoyed this segment and the advanced proven techniques. You are spot on with guiding and leading the way. The follow-up process you presented is absolutely essential and entirely possible."

Myles from Abu Dhabi
"Monday Morning Jumpstart is giving me a framework to build what I want. Thanks."

Steve Byrnes
"I have to congratulate you for today's MMJ. The session was extremely informative and there was TONS of valuable and useful information… some of which I can apply immediately. Good job, Boswell…keep it up!"

Deb
Not only that, but, you know what? I figured out how to be effective, how to have confidence in my writing, and … maybe most important … I figured out how to pile up mountains and mountains of evidence that I WASN'T A LOSER after all.
The evidence?
Loads and loads of clients and piles of hard, cold, filthy lucre coming along with them! Loads of great relationships with my family and friends.
I know, I know … I can hear a shrink saying it now: "But you don't need money or clients or friends to love yourself and feel important. You're special just the way you are."
Ummm, great, I agree … but that doesn't feed the babies or pay the bills. And life really isn't that fun without loved ones by your side.
There are plenty of starving artists who feel dandy about themselves, but can't put food on the table. We've got to do both … and I'm prepared to show you how.
(Oh, by the way, money and fame don't make you a winner … but overcoming those doubts and fears does. We'll do it together …)
Does Any of What I've Been Saying
Sound Remotely Familiar to You?
If it does, then we are going to have fun together. And we're going to make a lot of money together.
We're going to get you everything in life that you've been dreaming of, faster than you thought possible, and have it show up exactly the way you want it.
The reality of my climb to success is that I did NOT do it alone. I had help along the way. Lots of really qualified, considerate, caring help.
Specifically, I had wonderful mentors along the way coaching me, loving me, encouraging me, and pointing me in the right direction.
That's part of the "Human Success Signature" - a solid mentor to guide the way.
That's what I want you to have.
A mentor who really cares.
A mentor who isn't going to charge you a ghastly amount of money to tell you the truth … the real secrets to getting exactly what you want in life… and more.
A mentor who will pick you up when you're down … and do it regularly, because heaven knows, we get down often enough!
A mentor who will show you the ropes and hold nothing back.
A mentor who is real, who is doing it right now, right here, with you in the thick of the battle, in the depths of the trenches.
A mentor who understands your private demons of doubt, fear, anxiety, worry, and lack of self-worth … because he's faced them (and still faces them from time to time!).
"Tripled Client's Business in 90 Days"

"Joshua Boswell is a machine.

He's a copywriting machine – he cranks out persuasive words with speed and skill.

He's also a learning machine. He came into my 3-month coaching program one month late, tripled his client's business in 90 days and walked away with the top prize as the #1 student in the class.

A year later he's my new Content Czar, beating out 18 other applicants.

He doesn't just provide copywriting but a comprehensive understanding of sales processes, web traffic, market research and customer psychology. A top pick.
- Perry Marshall. Chicago, IL
Author of "The Definitive Guide to Google Adwords"
and "Ultimate Guide to Google Adwords"
Become the Hero of Your Own Story …
We'll Write That Story Together!
"Higher Pay from the Very Start"

"Joshua, thank you SO MUCH for giving me the inside scoop on how you've boosted your business and income over the last few months.

I can't tell you how much I appreciate your powerful, upbeat motivation! You inspire me to just do it and call on target prospects instead of only trying the 'slow path.' I also enjoyed getting your insights on positioning yourself as a hero and asking for higher pay from the very start.

I'm just about to launch my own proactive client calls, and I feel comfortable about it thanks to your example and can-do attitude."
-Pam Foster, Beaufort, SC
Senior Copywriter, ContentClear Marketing
I really wish you and I were sitting alone in my office right now. I wish I could turn on a movie projector and replay the life of Joshua T Boswell and what it was like a few years ago.
I think you'd see your life, at least in part. I think you'd discover that my house is messy most of the time, my children fight with each other, and that I'm terrible at managing my finances.
I think you'd see hours of fear, frustration, and self-doubt. I think you'd see humiliation, poverty, and anger.
In other words, I think you'd discover what an ordinary, everyday person I really am. My house is ho-hum … my cars are old … my clothes are mostly bought at factory outlets to save a few bucks … my children think I'm a little weird. (And they're right. I mean, I don't even own an iPod … gasp!) Yep, my life is pretty normal … I'm a pretty everyday sort of a guy.
But inside that ordinary, everyday guy is the burning, yearning desire to be somebody.
Not the Rich Jerk, "lifestyle of the rich and famous" sort of somebody … I mean a real-life hero. Someone my family and friends admire. Someone my kids can look up to and respect. Someone my wife is proud to call "Honey" (and all that other mushy stuff).
A "somebody" who stands on top of the mountain of fear, self-pity, doubts, and worry as a conquering hero. That kind of somebody.
Discovering the "Human Success Signature" has done all of that for me … and more … more than I ever thought it could. It has not just made me money (yes, there's been a good deal of that), it has also made me a hero to my wife and children.
In short, understanding this proven pattern of success has given me everything in life that I wanted… and allowed me to grow beyond those things and reach even greater heights.
But This Story Is Not About Me …
It's About You.
And if you were sitting in my office, I'd turn off that projector, look you in the eyes, and say …
"You can have it too, you know. You can be the hero of your story. You can overcome all that stuff that is stopping you and win … and I mean win big. But you can never win alone. No one ever has. No one ever will. So, will you let me be your mentor? Together, we can make it happen, because I've been down that road and I'm ready to come back and show you the way."
And then, I'd listen carefully to what's stopping you, what's working for you, and what your strengths are … and I'd show you the way up and out.
"10,000 New Customers"

What I found was much more than just a great copywriter, but a genuine and caring human being. He was more than willing to help me and share his success story.

Since that first meeting in 2006, Joshua has become an incredible mentor and a friend as well.

I remember one particular time when I had just landed a great opportunity to write press release copy for a major Web design and marketing house. The challenge: I didn't have much experience writing press releases.

I turned to Joshua for help knowing that he had written a few press releases for major clients. He immediately took time away from his busy schedule and got me up to speed on both how to write a compelling press release, and also how to talk the talk with the client.

The end result? The press release got picked up by Forbes.com. The design house and their client were beyond being pleased when the release resulted in 10,000 new customers in the next month alone.

Without Joshua's expert coaching and quick response, there's no way I could have done so well for my new client.
-Bill Zoch, Parkland, FL
Copywriter, Wall of Fame
Monday Morning Mentoring
Will Create Breakthroughs In Your Life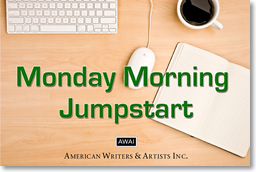 Well, as much as I'd love to have you over for a visit, it's probably not practical.
But there is a way for me to be your mentor … and there's a way we can do it cheap … and still give you world-class answers to that pesky question of "What should I be doing right now to get everything in life I ever dreamed of?"
Here's how we are going to do it...
Every Monday morning, you are going to come to my office and sit down with me – virtually – through the Internet. I'm going to look you in the eyes and tell you the truth about success, goal setting, achieving your dreams, and getting exactly what you want in life.
We're going to get to the facts … not the pie-in-the-sky fluff and nonsense. The real stuff that is going to help you have the "Human Success Signature" show up in your own life.
I solemnly promise to hold nothing back from you. I will open my vaults and let you have free run of the place. Whatever I know about success, and getting what you want out of life, I'll give you.
The Difference Between a "Mentor" and a "Guru"
Can Change Your Life
Not only that, but we are going to go deeper … much deeper than any "guru" will take you. Why? Because a "guru" is not a "mentor." A "guru" provides information. A "mentor" gives you the same information, but also steps into the harness with you and helps pull the load … helps get the job done.
That is what we are going to do together. But first, I've got to help you recognize and slay those nasty demons of fear, doubt, and uncertainty.
But, never mind those bad guys. I've been behind the curtain and know that they are just stage props. I know how to deflate them so you can truly become the hero of your own story.
The Monday Morning Jumpstart Program …
Finally, a Mentor in Your Corner!
There are so many shortcuts out there, so many "essential" things that you should be doing, so many "high-return, low-effort" techniques that you should be using!
I just feel like I want to jump out of my skin and give them to you all at once. My bones are aching to go to bat for you!
Why?
Because I know what life is like on the other side of the golden copywriting curtain! And I know that the journey from where you are to where I am is actually not that long or difficult. Remember, those demons are stage props full of hot air … you just need to know how to pop them and move on.
That's why Katie Yeakle helped put this new program together for you. You see, when you win, you become the hero in her story. It makes all the effort behind AWAI worth it … and it makes your life exponentially better, richer, and more enjoyable.
Welcome to My Home Office …
It's Going to Be a Wild, Fun, Profitable Ride
"Shaved Years Off My Upward Journey To Becoming A Professional Copywriter"
"I first had the pleasure of speaking with Joshua in May 2007, when he generously spent prime time answering my questions, giving me guidance, and filling in a myriad of blanks in my new copywriter's mind.

I don't think I've ever spoken with a kinder, more fun guy in any profession, either. And what I learned from him during our first call and since has easily shaved years off my upward journey towards becoming a professional copywriter--literally.

He and I have also become writing colleagues. Early this year he put his trust in my abilities and I've had the distinct honor of writing for him, serving as part of his excellent peer review team, and humbly submitted my best headlines in his Blazin' Headlines group project for critique.

It would be impossible for me to place a value on the commitment of time, advice and very specific help Joshua has given many of us, that comes from his years of proven financial success and writing so well.

Bottom line? Everything Joshua says applies, and everyone affiliated with AWAI or copywriting does well to listen to him.

Joshua Boswell is a friend and a boon to our profession."
- David Kent, Woodbridge, IL
Copywriter
www.davekentcopywriter.com
Here is how this powerful new mentoring program works, and what you can expect to get out of it …
Weekly Videocast – Every Monday morning, you are going to join me in my home office … through the Internet.
Single-Topic Focus – During our time together each week, I'm going to pick a single, very specific, topic and tell you the essential, simple thing you can do immediately to make more money and realize your dreams. I'll hold nothing back. I'll make it as easy as possible. I'll tell you the truth (even if is uncomfortable for both of us …).
12 Targeted Modules - Each month, we'll focus on one specific aspect of the "Human Success Signature" so you can get exactly what you want in life.
Complete Product Bundles - Each module will be converted into a complete product that includes: Video, audio, complete transcript, summary sheet, workbook, and exclusive bonus materials. These will sell for $79 each… but, depending on your membership level, you could get them completely free of charge each month. This means your membership is giving you a "Human Success Signature" library that will benefit you for the rest of your life.
Monthly Live Q&A Call - Each month, Gold Members and above will join me on a live 60 minute Q&A call. I'll spend part of the time giving you exclusive secrets, insights and tips and then I'll take questions on any topic you'd like. If you email me questions in advance, I can do in-depth research and get you a perfect answer.
Custom Tailored "Success Signature" Blueprint - If you are a Platinum Member, you and I will get on the phone, one-on-one, twice a year and do a private coaching session. At the end of the first session, I'll put together a complete "Success Signature" blueprint for you, complete with details on what you should do next to accomplish your goals. This is a concrete road map to getting exactly what you want in life.
Private Membership Page – As a member of what I affectionately call "The Society," you'll have access to a private "Members Only" page. Here, you can see all the video feeds and get the unannounced and exclusive goodies I'm going to give you … (More on that in a minute.)
"Scrupulously Honest"
"In a work environment that seems to have more than its share of scoundrels, liars, and outright thieves, Joshua is truly a shining exception. He is scrupulously honest, practices only the highest of business ethics, is of impeccable moral character, and treats his clients with respect and dignity. Quite simply, his honor and integrity are beyond reproach."
-Randl Ockey, Helena, MT
Principal
Wheelwright Publishing
MP3 Audio and Video – Not only can you join me on video, you can take me with you. The killer tech crew at AWAI has made it possible for you to download an MP3 file of our weekly mentoring sessions that you can put on your iPod, iPhone, or whatever other MP3 player you use. Heck, you can even burn it to CD if you're like me and still use those old things :-). The point is, you can have a mentor with you wherever you go.
Private Email and Answers to Your Questions – I have asked Katie to give you a private email address where you can ask your most pressing questions. Each week, I'm going to review those questions and address them during our time together. And, if need be, I'll post "Emergency Response" answers on the Members-Only page. I'm committed to getting you the essential info you need to win. Depending on your membership level, I could get back to you within 24 hours.
Timely Notifications – Life is busy, and you shouldn't have to remember to visit the Members Only page. Because of this, I'm going to personally send you a quick note each time I update the page, post a new video, or release one of my "Emergency Responses." You'll know the instant anything essential hits the radar.
Current, Relevant, Fast – The Internet and the market change at stunning speeds. Because I'm a working copywriter and consultant, I have to stay on top of things, just like you do. But my advantage is that I've got the ear of half a dozen experts out there. I'll do everything I can to keep you posted on the latest developments, the hottest trends, and the best opportunities.
Product, Book, and Info Reviews – There is so much confusion and noise out there. How do you know what to focus on? As your mentor, my job is to clear the confusion and subdue the noise. You don't need to be spinning your wheels or spending your money unnecessarily. Together, we'll pick through the pile and make sure you're getting the very best … and the very best for you.
Rock-Solid Content, No Pitch – Ever been to a seminar that is 95% "pitch-fest" and 5% content? I told Katie right up front that there would be none of that here. In fact, I told her that I refuse to pitch products during our time together. Of course, if you need a resource or specific info, I'm not going to hold back … I'll tell you straight up what to do. Because, when you're at my house, we are going to be focused on the essential things you need to do to get exactly what you want in life.
Relentless Focus on You – The ONLY reason I'm doing this is to help you win. I want to see you become that hero. I want to see you living your dreams. So, I'm going to be relentlessly focused on giving you the tools to overcome your demons, close more clients, and make a lot more money from each client.
Human Success Signature Revealed
The real secret behind my new program lies in the fact that, for over 15 years I've carefully studied what makes people successful in all aspects of their lives.
It's always amazed me how some people can create instant results and success in their life, while others falter for years.
What if I could show you the "Success Signature" of those that get everything out of life they want … and do it faster than others? There is a consistent pattern you know. I'd like to give it to you.
Inexpensive Mentoring So You Can
Keep More of What You'll Make
Exactly What I Needed

"Thank you again for all that you do. When I need motivation I just hook up my IPOD and re-listen to your podcasts and get back to work. I know I WILL MAKE IT and appreciate all of your advice and mentorship."

Anne Cates
"Today's Jumpstart was EXACTLY what I needed.

You hit it out of the park with this one.

I've hoped that if I needed help that there would be people available to help and I can see there is.

Hope and faith is alive in Auburn Washington."

John Sky
"Persuasive, Innovative, and Compelling"
"Joshua – thank you very much for the work you did on the CCF package. It was not an easy project and had a pretty tight deadline, but you delivered. I really appreciated your professional approach and your copy was persuasive, innovative, and compelling."
-Dale Schmincke, Arlington, VA
Vice President
Catalyst Marketing Group
When you are starting out - or ready to move to the next level in life - it's usually money you lack and serious mentoring you need.
The problem is, most mentoring programs cost you both arms, both legs, and your firstborn child.
I won't do that to you.
Yes, there are others that sell their programs for $4,500 a month. Heck, there are some that charge more than $10,000 a year for mentoring.
But you're not making six figures yet, and don't have that kind of change. I understand … I mean, I had to borrow $39 from my brother to get the first installment of AWAI's copywriting program.
I have negotiated with Katie to make Monday Morning Jumpstart as inexpensive and accessible as possible. So, starting at just $19/month, you will have unlimited access to my home office (virtually, of course, via the Internet), the private Members Only page, the audio files, my emergency responses, and the other goodies that I haven't told you about yet.
Most important, you'll have a mentor in your corner – going to bat with you, swinging with you, and showing you how to close more clients, overcome you demons of doubt, and make more money as a copywriter.
I know that some of you are further along in your quest to make your dreams a reality, so I've designed three different levels of Monday Morning Jumpstart. You can pick which one is best for you …
Monday Morning Jumpstart Membership Options
Benefit Summary

Standard Edition
$19/month

Gold Edition
$59/month

Best Value
Platinum Edition
$79/month


Weekly MMJ Videocast ($79 monthly value)

MP3 MMJ Audio ($29 monthly value)

MMJ Standard Email

Bonus Audio Interviews and Podcasts ($39 value)

Book and Resource Recommendations

12 Success Signature Modules

2 Bonus Reports ( $49 value)

Monthly Live Group Q&A Call with Joshua ($49 monthly value)

Weekly Summary "Cheat Sheet" of the Videocast. ($29 monthly value)

Private Email - 72 Hour Response

Private Email - 24 Hour Response

Complete "Success Signature" Product Bundle Each Month ($79 monthly value)

2X Per Year Private Phone 1-1 Consultation with Joshua - Includes "Success Signature Blueprint" ($599 value - Joshua's hourly consulting rate)

Total Monthly Value:

$151

$229

$358
2 Special Bonuses Just for Trying It Out
"Joshua, you are worth every penny. I've learned so much and gained confidence in the months it's taken me to face my fears and put this together."

- Lara Faban
"I absolutely love Monday Morning Jumpstart! Your videos are very inspirational! I had a lot of mental road blocks... like what to do with few samples, one testimonial, and no paying copywriting clients. You explained how to use what I do have to get me through until I have more copywriting clients. I think I can do it with your tips and mentoring."

- Kathy Erwin
I have told you a couple of times that my goal is to help you get more clients, overcome your doubts and fears, and make a whole lot more money. Now I'm going to put my money where my mouth is with two very powerful FREE bonuses, just for joining me this coming Monday morning …
Special Bonus #1 – Not long ago, I sat down and wrote a comprehensive 16-page special report that details my journey from ZERO to six figures in 11 months flat. I tell you exactly what I did, what tools I used, and how I used them. This is a powerful "jumpstart" resource for you to have, and I'm going to give it to you FREE.
Special Bonus #2 – While I have learned the vast majority of my copywriting skills from AWAI, I have a few unique tricks in my bag – tricks that I use to write copy and find clients. In my exclusive, 85-page e-book Copy Revolution, I detail those techniques for you. I give you the tools to instantly "read" your clients, your prospects, and your market, and understand them in ways that most writers will never fathom. You'll instantly know their hot buttons, their strengths, their weaknesses, and get an inside look into their souls. Right now, I'm selling this e-book for $19.95 … but it is yours free when you join the Monday Morning Jumpstart society.
My Personal 3-Part Promise and Guarantee
I am so confident that the Monday Morning Jumpstart program is exactly what you need right now to move forward that I'm going to give you an unheard-of 3-Part Unconditional Guarantee.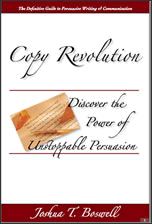 Promise #1 – I will give you perfect clarity about your goals and a solid blueprint on how to achieve them.
Promise #2 – You will accomplish 100% of the goals we set together. During our weekly calls, we'll be defining what you want and setting goals. I promise, you'll achieve every one of them.
Promise #3 – During our time together, you'll achieve more than you've ever achieved before in any give 12 month period of your life.
The Guarantee – Become a member of the Monday Morning Jumpstart Society today… test it out, experience it, feel the major difference it makes in your life and in achieving your dreams. If, after a full 30 days, you don't find that this program lives up to every promise I've made, simply let me know, and I'll gladly give you a full, no-questions-asked refund.
Plus, You're Backed by a Full Lifetime Guarantee… If, at anytime, for any reason, you don't feel that the Monday Morning Jumpstart program is living up to these promises, just let me know. If you're paying on the monthly installment plan, we'll immediately stop billing your credit card. If you purchased an annual membership, you'll immediately be refunded any un-used portion of the annual membership.
Does that sound fair and appropriate? I think so.
Get Started Today!
Join Monday Morning Jumpstart Today!
With so much confusion out there … with so many personal demons facing you down … with the ever-increasing need to make money right now as a copywriter … I think it is high time for you to get a mentor in your corner. Someone who is willing to go to bat with you and keep on swinging until you achieve your dreams.
I've been where you are. I've seen the bottom of the barrel. And I've lived to tell about it … I've stepped behind the golden curtain. I'm ready and willing to be that mentor for you, at a price tag I know you can afford.
I think you're ready too, yes?
If you're curious to find out what the "Human Success Signature" system can do for you… if you're curious about what it feels like to get exactly what you want out of life… then register for Monday Morning Jumpstart today.
Click here now to give it a try. You have nothing to lose and a whole new life to gain. I can't wait to have you join me every Monday morning, right here in my home office.
Get Started Today!
See you on Monday …
To Your Success,



Joshua Boswell
P.S. As a special bonus, I am going to randomly interview a variety of successful people… folks that have overcome their fears and are living the life they dreamed of having. We'll see how the "Success Signature" shows up in their life and make it applicable to you as well.
So why wait? Call Barb, Pat, Debbie, or Jacqueline at 1-866-879-2924 or click below to sign up online.
Get Started Today!
Frequently Asked Questions
"Seeing Great Results"

"Joshua, I really appreciated you taking the extra time to chat with me about time management and getting clients. Your insights were invaluable and very practical. I put them to use ASAP.

Also, I had to share them with another of our fellow AWAI members … she LOVED the extra information. She's already implemented your suggestions and is seeing great results too. Thank you again!"
- Jean Balko, NJ
AWAI Member and Copywriter
"Excellent"

"This was not an easy project. You needed to write this for something that does not even exist. The speed and professionalism in which you handled this project was excellent."
- Patrick Coffey, Delray Beach, FL,
Agora Publishing
Early to Rise
Q: What, exactly, do I get for my $19 monthly membership?
A: You will get a weekly group mentoring session with Joshua delivered via video feed from his home office. You also get an MP3 of the audio file, private access to the Members Only page of our website, Joshua's personal updates on new content, all the bonus materials described above, and unlimited access to all special resources (including Joshua's "Emergency Response" videos/audios and his exclusive interview calls with Wall of Famers).
Q: Will I be able to ask Joshua specific questions and have them answered?
A: While the video feed is one-way, you will have a private email address for Joshua where you can send him comments and questions. He will make every effort to review and answer you through his weekly videocast. If you are a Platinum or Gold member, you'll get a priority response… sometimes within 24 hours.
Q: Will there be any written materials that I can print out?
A: YES. From time to time, Joshua will create handouts and follow-up materials for you. They might include ideas on time management, articles, product reviews, and specific written answers to questions. Gold members and above will also receive a complete weekly summary "Cheatsheet" of each video cast. Platinum members will receive complete "Success Signature" product bundles at the end of each month. Those bundles include exclusive bonus materials, transcripts, and a complete workbook.
Q: Will the content be archived – and will I be able to easily access past sessions?
A: Yes, of course. All your Monday Morning Jumpstart videos, audios, and files will be stored on the Members Only page of our website. As long as you are a member, you'll have unlimited access to these resources.
Q: What if I've already achieve a lot of my goals and dreams… Is this program for me?
A: YES! One of the modules is called "7 Strategies for Keeping and Growing Exactly What You Want In Life." Another is called, "Why Money is Just a Thought… and How to Think More of It". There are others that focus on growing what you already have. No matter where you are at in life, Monday Morning Jumpstart will likely help you move to the next level.
Q: What if I can't make it every Monday morning?
A: Things happen. We know that you might not be able to make it every Monday morning when Joshua's new session is released. Don't worry. As a member, you'll have unlimited access, 24/7, through the Members Only page.
Q: How do I get started?
A: Simply select your membership level and get started today...
Benefit Summary

Standard Edition
$19/month

Gold Edition
$59/month

Best Value
Platinum Edition
$79/month


Weekly MMJ Videocast ($79 monthly value)

MP3 MMJ Audio ($29 monthly value)

MMJ Standard Email

Bonus Audio Interviews and Podcasts ($39 value)

Book and Resource Recommendations

12 Success Signature Modules

2 Bonus Reports ( $49 value)

Monthly Live Group Q&A Call with Joshua ($49 monthly value)

Weekly Summary "Cheat Sheet" of the Videocast. ($29 monthly value)

Private Email - 72 Hour Response

Private Email - 24 Hour Response

Complete "Success Signature" Product Bundle Each Month ($79 monthly value)

2X Per Year Private Phone 1-1 Consultation with Joshua - Includes "Success Signature Blueprint" ($599 value - Joshua's hourly consulting rate)

Total Monthly Value:

$151

$229

$358
American Writers & Artists Inc.
245 NE 4th Ave., Ste 102
Delray Beach, FL 33483
(561) 278-5557 or (866) 879-2924