FREE 3-part Webinar Series Reveals:
Clients Who Pay Copywriters Like
You Up to Ten Times More
"America's highest-paid copywriter,"

- CLAYTON MAKEPEACE -


introduces you to the world's
highest-paying niche: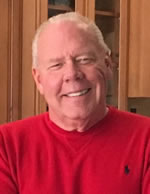 Take a month out of your life to create a winning promotion for a newsletter, book or course on finance or investment, and your royalties could easily mount up to $100,000 … $200,000 or even more.
There's no doubt that financial and investment publishers are the highest-paying clients any copywriter could ask for.
And for three straight days beginning on Monday, March 30, Clayton Makepeace hosted a free, 3-part webinar series to introduce you to this ultra-profitable niche.
You'll get a thorough grounding in the basics:
Session #1 – "Meet your Client"
You'll fully understand who your financial publishing clients are … how to get hired … what they want from you … what you need to know to give it to them … and how to get paid.
Session #2 – "Meet your Product"
You'll discover the types of products financial publishers will ask you to promote and what you need to know to write winning promotions for them.
Session #3 – "Meet your Prospect"
He'll give you a thorough understanding of who you're selling to … his fears, frustrations and desires … and what you must say in order to get him to buy.
This webinar series is free; no strings attached.
It could change your life.
---
AWAI will never sell, rent or otherwise abuse your e-mail address. It will be used solely for the purpose of sending you information about AWAI. Should you wish to unsubscribe at any time, instructions are included with each e-mail for immediate removal from the subscriber file.
American Writers & Artists Inst.
220 George Bush Blvd, Suite D
Delray Beach, FL 33444
(561) 278-5557 or (866) 879-2924
Copyright ©2015 American Writers & Artists Institute