Go From Zero to 3 Great Clients in 3 Months!
What's the only difference between dreaming
about the writer's life … and actually living it?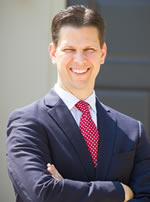 Just one thing:
Having great clients that pay you well for your services.
That's what this FREE training session is all about …
Removing the "mystery" surrounding the client-getting process, and getting YOU well on your way to officially launching (or furthering) your copywriting career.
Six-figure copywriter Joshua Boswell is going to show you exactly what you need to do!
Not long ago, Joshua showed a fellow writer, Eric Buensuceso the system you're about to get.
Eric says this:
"I now have 3 clients and counting in just three months with more on the way. Thank you Joshua, you continue to inspire and motivate me to make my copywriting something I can be proud of."
If you haven't met Joshua yet, he's an AWAI member who skyrocketed from $200,000 in soul-crushing debt to earning a six-figure income in just 11 short months.
Much of his success came because of his incredible ability to find and land high-paying clients. (There was one project that took him only 3 weeks to complete … and he billed $32,000 for it!)
He's spent the last several years boiling down his strategies to help hundreds of other aspiring writers like you find the same success.
Register today for this recorded online training event, and you'll find out …
A simple 3-step plan for attracting and closing clients …
One simple strategy to make clients chase you (instead of the other way around) so you always have a "full pipeline" of projects to choose from …
How clients really think about copywriters, so you can be top-of-mind when they need projects done …
The one thing you MUST have to get hired …
A super fast and simple way put up a professional, client-attracting website …
The 5-step process to automate your client-finding system so you can enjoy a steady stream of clients for the lifetime of your career …
And much more!
Instant Bonus
PLUS —
When you register for the training session now, you'll also get instant access to Joshua's 5-minute training video: The Fastest, Easiest Way to Get Your First Client.
Joshua gets asked all the time how he managed to land his first client so fast …
In this quick video he recorded for you, he'll show you exactly what he did.
And don't worry, you don't need a website … business cards … samples … or any previous experience, at all.
In fact, if you haven't even finished AWAI's Copywriting program, it doesn't matter!
Joshua didn't have any of these things when he started … yet he used the simple, 3-step process he'll show you to land a $2,000 per month contract … a contract that lasted over 2 years and helped him actively build his portfolio and find other clients.

All he had was one very specific, very valuable thing that YOU have right now, too — and he'll show you exactly how to use it to find your very first client fast.

Who knows … this bonus video alone could help you get a new client!
Register for the Training Session Recording Today — It's FREE!
AWAI will never sell, rent or otherwise abuse your e-mail address. It will be used solely for the purpose of sending you information about AWAI. Should you wish to unsubscribe at any time, instructions are included with each e-mail for immediate removal from the subscriber file.
American Writers & Artists Inc.
101 SE 6th Avenue, Suite A
Delray Beach, FL 33483
(561) 278-5557 or (866) 879-2924
Copyright © 2019 American Writers & Artists Inc.