FREE One-Hour Webinar Teaches You …
How to Land New Copywriting Clients and Earn Major Royalties
Presented by: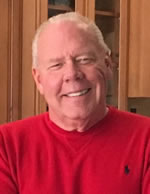 ---
Want to make a lot of money as a copywriter?
You'll need great clients and big royalties …
And during this previously recorded webinar session with copywriting legend Clayton Makepeace you'll learn his proven three-step plan for doing just that …
These are the same three steps every well-paid copywriter takes to ensure they have a healthy business, with happy, high-paying clients, and big royalty checks coming in year after year.
Special Bonus
Learn how to write faster so you can take on more projects and earn even more!
In these two previously-recorded bonus webinars, you'll discover 24 critical questions you must answer before you write your first word of copy.
Just follow Clayton's lead and you'll be amazed at how fast and easily you'll finish your first draft.
More than that: You'll ramp up the quality … persuasiveness … and the selling power.
And, you'll write with far less stress, and have much happier clients!
Plus, you'll receive Copy Planning Forms you can use to work through this process quickly and easily …
AND, you'll get Spec Assignments from three different niches — with complete start kits — that you can practice on!
---
AWAI will never sell, rent or otherwise abuse your e-mail address. It will be used solely for the purpose of sending you information about AWAI. Should you wish to unsubscribe at any time, instructions are included with each e-mail for immediate removal from the subscriber file.
American Writers & Artists Institute
101 SE 6th Avenue, Suite A
Delray Beach, FL 33483
(561) 278-5557 or (866) 879-2924
Copyright ©2016 American Writers & Artists Institute