Free Virtual Training Event Recording:
How to Write a Great Video Sales Letter in 17 Steps
Presented by: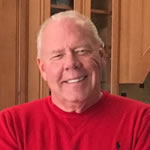 ---
"I'm going to break the VSL down into its essential components and provide tips, tricks and tactics for making each section of the VSL as strong as it can be." — Clayton Makepeace
One of the biggest innovations of the direct-response industry over the last 50 years has been the VSL — or "Video Sales Letter."
And copywriters should be very excited about it.
That's because a properly-structured VSL can boost a written letter's response by anywhere from 50% to 300%.
And that means a whole lot more potential for royalties for the copywriter who wrote it.
Think about it. A letter that generates $500,000 in sales can earn a copywriter anywhere from $10,000 to $20,000 using average royalty rates …
But if a VSL can rocket those sales to $1.5 million — suddenly you're seeing checks for anywhere from $30,000 to $60,000!
And million-dollar copywriter, Clayton Makepeace has been creating some of the most successful Video Sales Letters for his clients since the medium gained prominence nearly a decade ago.
So through this special training session, this copywriting legend will share his proven techniques for writing a great video sales letter with you.
During this exclusive online training event, Clayton will teach you:
How to create a video sales page that can quadruple response — and your royalties, too(!) …
6 reasons why video sales pages typically generate $4 in sales for every $1 static sales pages produce …
How to write a great video sales letter in 17 simple steps
9 Rules of Thumb for creating bigger winners, more often, and …
Much more!
Plus, he opened up the lines for a special Q&A where he answered questions from listeners.
Sign Up and Access this FREE Virtual Training Today!
---
AWAI will never sell, rent or otherwise abuse your e-mail address. It will be used solely for the purpose of sending you information about AWAI. Should you wish to unsubscribe at any time, instructions are included with each e-mail for immediate removal from the subscriber file.
American Writers & Artists Institute
220 George Bush Blvd, Suite D
Delray Beach, FL 33444
(561) 278-5557 or (866) 879-2924
Copyright ©2022 American Writers & Artists Institute