Heather Robson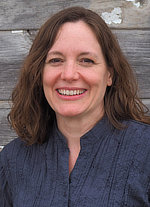 AWAI Member Since: 1999
Age: 39
What's your current occupation?
Freelance Copywriter and Content Marketer; Managing Editor of Wealthy Web Writer
What's your former occupation?
Technical Writer
What was the first project you landed?
The first project I landed was actually a design project with AWAI. It did have some copywriting and copy editing involved, and it got my foot in the door. I had the chance to prove I was reliable and easy to work with.
What are your current projects?
I currently write copy for a number of e-newsletters on a variety of topics. I also am the Managing Editor for Wealthy Web Writer. And I recently just published my second novel.
What has been your proudest copywriting moment?
I've had the opportunity to work with a number of big-name copywriters including Don Mahoney, Clayton Makepeace, and Mark Everett Johnson. Hearing Clayton say that a piece is "Great work," or Don say that I have what it takes to become a top copywriter … those are definitely moments that make me feel proud.
What's your favorite niche to write for?
I like a variety, but I am an alternative health writer.
What is your income goal for this year?
$120,000
What's your writing routine?
I don't have a specific routine. I just sit down and write. There's almost always more that I want to get done in a day than there is time to do it, so my ideas are always brewing in the background. Generally, when I sit down to write, I'm ready to go.
Please give us an example of how your life has changed since becoming a copywriter.
I see bigger possibilities in everything now. I have dozens of business ideas based on looking at situations and markets through my copywriter's lens … it's going to be fun implementing ideas for different clients along the way and turning other ideas into my own business ventures.
What success tip would you like to share with your fellow writers?
Based on my experience, the number one trait for success is persistence. You can't contact someone you'd like to work with one time and hope they'll convert to a client. You have to contact them over and over again, and build a relationship with them. It takes persistence to keep at that kind of marketing, but it always pays off.
When did you realize you were living the copywriter's life?
I took the plunge into being a copywriter about six years ago. I didn't have a safety net. I didn't have a job. I didn't always know where the next project was coming from. And it was hard, at first.
But I stuck with it, and one way or another, the ends always met. After two years of persistence and hard work, I realized that I had a steady income stream. It's been steady work ever since.