Joshua Boswell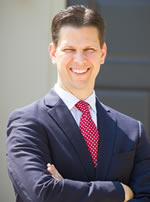 AWAI Member Since: 2005
What's your current occupation?
Full-time family man with a little copywriting, speaking, and consulting on the side.
What's your former occupation?
In what year? Politics, non-profit fundraiser, public speaker, technology company … even did a little banking once. I've done it all (almost!).
What was the first project you landed?
My first project was with a company called DCI – a major PR firm based in Washington DC. They put me on a monthly retainer to write press releases, OpEd's, feature articles, letters to the editor, etc.
What are your current projects?
Currently, I'm running The Christian Copywriters division of AWAI, speaking, doing corporate trainings, running a pet-supply company, and writing a book. Copywriting has given me the power to leverage my skills and create a number of different income streams. This gives me enormous flexibility and a great lifestyle. In the past I've worked with dozens of other companies, including the likes of Nightingale-Conant, Microsoft, Easter Seals, AWAI Travel, Agora, Sony, Toshiba, Corel, Christian Children's Fund, St. Jude's Children's Hospital, Blue Cross Blue Shield, GM, Young American's Foundation and many more.
What has been your proudest copywriting moment?
A few years ago, the private school my children attend was in financial distress from low attendance. I created a direct-mail campaign that more than doubled enrollment. At this school, my children pray, read scriptures, enjoy a superior academic curriculum, and learn the characteristics and values that have made America great. Keeping the school running has been an enormous blessing in our lives.
What's your favorite niche to write for?
Technology … oh and Personal Development … and Financial copy … plus my deep passion for the Christian market. It allows me to combine my faith, my love of money, and my thrill of making a great income :)
What's your writing routine?
I wake up in the morning between 4:30 and 5 a.m. I take 30-45 minutes for prayer and scripture study, then dive into a writing assignment for an hour or so. After breakfast and scripture family time, I get back to my desk at around 8 a.m. If I'm between client assignments, I use the mornings for self-promotion activities. Otherwise, I write, create, plan, meet and build wealth all morning. My day typically wraps up around 3 or 4 p.m.
I spend a lot of time researching, studying, and pondering about the product and who my audience is. Once I have all that in my head, I usually write out a summary of all these things – a sort of self-rambling session where I just start writing everything I know about the product and prospect. This clears my brain, clarifies the message, highlights the deep benefits, and gets me in motion.
Then it's on to the headline and lead – I typically write 3-6 of these for each assignment and then let them sit for a day or two. I'll come back, pick the best one and then bury myself in the body of the assignment with a few intense days of solid writing, editing, adjusting, and re-writing. After the flurry, I let it simmer for another day or two, then come back for the finishing touches.
Please give us an example of how your life has changed since becoming a copywriter.
Most notably, the quality of my family life has drastically improved. I play more with the children, and go on more dates with my precious and wonderful wife, Margie. We take lots of mini-vacations together, usually on off times to avoid the crowds.
I've gained a solid, steady confidence in my personal ability to provide for the family. I know that at almost any given time I can pick up assignments worth $3,000, $4,000, $10,000, $20,000 or more and that I don't have to sacrifice one minute of family time to successfully complete these assignments. I don't have to leave home. I don't have to answer to a boss. I just walk into my home office and write.
All of this translates into enormous doses of peace, harmony, contentment, and happiness in my life and in the lives of my wife and 10 children. In short, I'm a different man than the grumpy, stressed-out ogre that used to run around the Boswell home. We love the difference.
What success tip would you like to share with your fellow writers?
Have faith. Like any worthwhile dream or goal, obtaining the freedom and success copywriting can give you will take effort and discipline.
There will be frustrating days. I had some dark moments when everything in me wanted to quit and give up. More than one client criticized my writing … or politely thanked me for my first draft and then never used it because it stank. More than one client promised me an assignment, and then I never heard from them again.
All of that hurt, but it did not stop me.
Why? Because I had faith in myself – I knew that I wanted and needed the lifestyle copywriting would give me. And I have a deep faith in God. I believe that if I just kept working at it, at some point He will bless me with the right connections, circumstances and clients.
My success tip is faith. Believe and let that belief show up in your relentless and dogged determination. Along the way you'll learn all the right techniques, ideas, methods and styles. Then one day you'll wake and realize that the prize – this amazing lifestyle – was well worth the price you paid.
When did you realize you were living the copywriter's life?
The day I submitted my first proposal for over $30,000 and the company came back and simply said, "This looks fine." The assignment only took me 6 weeks to complete, and I worked on it while concurrently working on two other projects – one worth over $20,000 and another worth over $8,000. That's when I knew this was going to be good!
And it has been wonderful. Every step of the journey has been simply wonderful.