Kathleen Cleary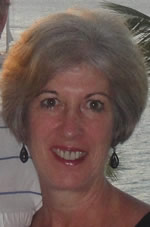 AWAI Member Since: 2005
What's your current occupation?
Freelance copywriter/retail store owner
What's your former occupation?
Restaurant Owner
What was the first project you landed?
I landed an assignment as a result of a spec assignment at 2007 Job Fair with the Healthy Back Institute. My letter re. Trigger Point Therapy has been online since winter 2008- I guess you can call that a control!
What are your current projects?
I just completed my first rewrite of a client's website. It's a local fitness center that I did for short money so that I could have the sample and testimonial. Now I am working on an SEO project for a print/online Baby Boomer magazine. I also am a contributor to this magazine. I've added Social Media consulting/action planning to my services and picked up a new client this week – a Healthy Pet company.
What has been your proudest copywriting moment?
Receiving that very first paycheck was very exciting! Having my own optimized website hit Google's first page within days of being published (for Baby Boomer copywriter) also jazzed my juices.
What's your favorite niche to write for?
Baby Boomer market-especially web writing projects
What's your writing routine?
I own a retail store w/ my husband. Three days a week I stay home to write and 3 days I work at the store. Often, I get up around 5:00 am to research or write for clients (I love the early morning productivity!)Most of my actual writing is done in the morning and I save research, studying, webinars, and continuing ed for afternoons and evenings.
Please give us an example of how your life has changed since becoming a copywriter.
I dreamt of working at home for years and although it's not full time yet, I cherish those days when I'm home writing.The idea of being responsible for my own financial destiny is both frightening and exhilarating. I love the freedom to go to the gym, take my 91-year old Mom to lunch or just enjoy the outdoors when the fancy strikes! During my Dad's last years, I was able to spend a lot of time helping my Mom care for him as well and will always treasure those times.
What success tip would you like to share with your fellow writers?
Keep your eye on the goal at all times. I've had numerous set backs which have slowed my progress to full time writing (the most recent was losing our home to a fire four days before this past Christmas), but I refuse to give up the dream. I've been mentored by terrific coaches, enjoy the help of a peer review group and now am taking advantage of the awesome resources of the Wealthy Web Writer's new site and AWAI's endless programs and help. Never give up. Never give up. Never give up!
When did you realize you were living the copywriter's life?
That first paycheck told me I could do this. Recent paychecks and referrals are confirming that I'm on my way to living the dream. Thank you AWAI and all the supportive people you help us meet along the way!