Leah Carson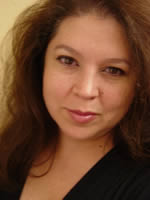 AWAI Member Since: 2005
What's your current occupation?
Direct-Response Copywriter and Marketing Consultant
What's your former occupation?
Archaeologist/Program Manager
What was the first project you landed?
A postcard for a weight-loss product.
What are your current projects?
I'm juggling a biz-op project targeting baby boomers who want more fulfilling careers, a double-product launch for a revolutionary (really!) membership site, and a real estate investing product.
What has been your proudest copywriting moment?
If you'd asked me about 10 months ago, I would've said, "Sitting in my boss's office to tell her I was resigning." Eight months ago, I would've said, "Seeing my first full-page magazine ad in print." Today, I'm proudest of being able to pinpoint what clients need in their marketing mix and then writing it for them.
What's your favorite niche to write for?
I don't have a favorite niche, but I do have a special talent for connecting with the most powerful (and overlooked) target market … women.
What's your writing routine?
Wake up, walk about 20 feet to my computer and write for about an hour and a half. Then I have breakfast and can head to the gym after the crowds are gone. I come back and do some research and planning. My afternoons and evenings are often my own. And, because I'm a bit of a night owl, I often write solid, smokin' hot copy from 10 p.m. to 1 a.m.
Please give us an example of how your life has changed since becoming a copywriter.
My favorite change? Not sitting through long, pointless, drawn out staff meetings! Also, I've really enjoyed the little things that have made life easier. I can go to the grocery store when there isn't even a hint of a line. I've rediscovered the joy of sitting down to a home-cooked dinner with my husband. And, I've gotta say, tripling my income is something that I smile about every day.
What success tip would you like to share with your fellow writers?
Write, write, write! That's the best way to get good fast. Never stop learning.
When did you realize you were living the copywriter's life?
My husband and I had lunch at a Tapas cafe on a gorgeous Wednesday afternoon about 3 months after leaving my full-time job. He brought papers to grade (he's a college professor), and I brought my laptop. As I worked on a sales letter and sipped my mojito, one of my former coworkers rushed by – she was picking up lunch that she planned to eat at her desk while she worked. We had a quick chat. When my former coworker left, my husband raised his glass and toasted my success! And to think it never would've happened if I hadn't received that "Retire This Year" letter from AWAI.