Lou Schuyler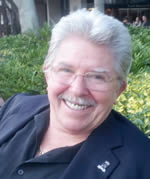 AWAI Member Since: 2004
What's your current occupation?
Semi-retired Copywriter
What's your former occupation?
Salesman
What was the first project you landed?
Writing copy for a website promoting a book on tax exemptions for weight-loss.
What are your current projects?
I write a monthly newsletter and a blog promoting an annual event.
I'm semi retired now and take on occasional new projects. I help my oldest son market his film festival, The Snake Alley Festival of Film and am currently writing a book.
What has been your proudest copywriting moment?
A fundraising letter I wrote got a 3% response to an untried list, and I got recognized by the leader of the charity. He brought me up on stage and blessed me (he is a priest) on Colombian national TV.
What's your favorite niche to write for?
Creative work and non-profit.
What's your writing routine?
I write in the morning (with breaks), then edit in the afternoon and maybe write some more.
Please give us an example of how your life has changed since becoming a copywriter.
I have more control of my time and my life. I enjoy (make that "love") what I do. I have a lot of time (being semi-retired) to pursue other interests. Life doesn't get much sweeter than this!
What success tip would you like to share with your fellow writers?
Never stop marketing. Be passionate about what you do and convey that to everyone you meet. And continue to learn, even after you retire. Network, network, network.
When did you realize you were living the copywriter's life?
When I decided to take my wife back to where we met in Key West for our 20th anniversary. It was a spur-of-the-moment thing, and we just up and went. Five years later, we went to Yosemite and Sequoia National Parks for our 25th anniversary, a place she aleways wanted to see. I lost her a few months back and am so glad I had the flexibility to take her when I did.