Mike Klassen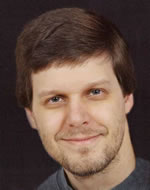 AWAI Member Since: 2003
What's your current occupation?
Freelance Graphic Designer
What's your former occupation?
Technical Writer/Editor
What was the first project you landed?
Based on a spec assignment from the 2004 Bootcamp, I was offered the chance to layout one of AWAI's new programs at the time, Secrets of Writing for the B2B Market.
What are your current projects?
Layout for AWAI's monthly Barefoot Writer magazine
Book layout in the law field
What has been your proudest design moment?
It's a toss-up between the completion of my very first project (AWAI's B2B program) and my first magalog. They both represented significant milestones … my first project to launch my career and the first project that required me to step up to the next level of design.
What's your favorite niche to design for?
I like to do layout for magalogs, books and large print projects. These can be used in so many different industries, it never gets boring.
What's your design routine?
I intentionally don't have one. That feels too much like a regular job. As long as my clients can reach me, and as long as I hit our target dates, they don't care when I do the work. So some days I might get an early start. Other days I might do a family activity first, then work later in the day.
Please give us an example of how your life has changed since becoming a freelance graphic designer.
No job is 100% stress free, including mine. But since becoming a freelancer, the level of stress in my life has certainly dropped significantly from when I worked in a traditional corporate job. Because I'm in control of my career, I've never had a worry about the future of my job due to economic pressures like so many people do these days. And between me being a freelancer and my wife's career, we get to live where we want, not where we have to because of a job.
What success tip would you like to share with your fellow freelancers?
Be easy and pleasant to work with. I'm still shocked by how some freelancers don't seem to get this. Your attitude is the easiest thing that you can control and it plays a huge part in clients wanting to work with you again and again. Being good at what you do is important, but if you're a pain to deal with, or give off a prima-donna vibe, clients will find someone else.
When did you realize you were living the designer's life?
Early on, it was simply the joy of not having to set an alarm or fight traffic. After all these years, I feel even more blessed to be able to be control my schedule, work with clients I enjoy on projects I like working on, and be able to volunteer at my church or adjust my project schedule to take advantage of opportunities that pop up.