Mindy Tyson McHorse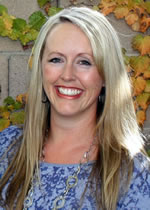 AWAI Member Since: 2007
What's your current occupation? Professional Copywriter!
What's your former occupation?
Program Manager for a University Health Sciences Center
What was the first project you landed?
I got my first two jobs at the same time. One was a Bootcamp spec I'd won to write a sales letter for AWAI's Travel Division (incredibly fun people to work with, by the way!). The other project came from the friend of a friend who was an entrepreneur and needed a five-page website and downloadable report.
What are your current projects?
I write a lot of website copy for an affiliate marketing company that specializes in lead generation. Along with site copy, I've written editorial copy, blogs, and video scripts for them. I also write copy for a marketer who promotes experts in the health sciences and self-help fields. The copy I give her is turned into web pages, sales letters, and promotional kits.
What has been your proudest copywriting moment?
It happened when I added up my earnings for my first year of copywriting. I'd been transitioning out of my full-time job and had only been writing copy when I could fit it in – a little here, a little there – and it totaled up to $21,763. I was thrilled to find I'd broken the $20K mark with minimal effort, but more than that it was incredibly satisfying to know I'd earned that money independently – using only my mind and a computer.
What's your favorite niche to write for?
I love writing for the health niche but I tend to get so absorbed in the things I discover from my research that it's hard to pull myself away and write. Besides that, I enjoy a lot of B2B projects – they're so varied and interesting that I'm constantly learning new things.
What's your writing routine?
I sometimes wish I had a routine! I've actually never been good with a schedule, so I write when my energy is up. Sometimes that's in the early morning, sometimes it's in the very middle of the night. I do find it impossible to write after lunch. That's exclusively reserved for naps.
Please give us an example of how your life has changed since becoming a copywriter.
One of the reasons the copywriting lifestyle appealed to me was the ability to work when I wanted. My husband is an air traffic controller and works a crazy schedule where his hours change daily. When I worked my old 9-5 job, I rarely saw him. Once I took the reigns as a copywriter I was able to parallel my schedule with his. Now we have a brand new baby so I work when my husband is home, meaning one of us is always able to care for our son.
What success tip would you like to share with your fellow writers?
For the love of goodness, just go for it! You can make lists and plan and prepare till you're blue in the face, but that won't get you any writing work. You've just got to go for it – and remember that the world won't collapse if it takes you a couple tries to find your copywriting groove. At first, it may feel a lot like driving with your eyes closed – it certainly did for me! Just remember AWAI can give you all the directions you need to get to where you want to be. And if you'd like a little extra assurance, find yourself a way to network with other copywriters. I joined Circle of Success and never looked back. Having the support of people who knew what I was going through was instrumental in helping me stick with my goals. It was a lot like wearing extra seatbelt during that blind driving spree – I was terrified, but I knew I'd be okay.
When did you realize you were living the copywriter's life?
I realize it over and over again each day. It happens when I take off in the middle of a project to grab ice cream, or when I go shopping or to the gym without the crowds. It happens when relatives want to visit or friends want to make plans and I tell them I'm available whenever they need me to be. It especially happens when I don't worry about being in bed by a certain time each night and when I sleep in till I'm ready to get up in the morning (though I'll confess having a new baby has thrown a wrench in that luxury!).