Rasheed Ali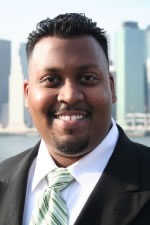 AWAI Member Since: 2006
What's your current occupation?
Business Consultant and Direct-Response "Web" Copywriter
What's your former occupation?
Business/Finance Analyst
What was the first project you landed?
The first project I landed was a consulting project working for the success coach Mike Litman, where while writing a sales letter, I discovered an untapped goldmine within his list. We soon launched a program which generated over $1.4 million in sales.
What are your current projects?
I'm currently working on developing websites in 3 different markets (self help, web copywriting, internet business), as well as taking on freelance assignments from various internet marketers.
What has been your proudest copywriting moment?
I can't really nail down just one single moment. I have had so many proud moments and even more since learning all I can from AWAI. I would say one of the proudest moments was when I ghostwrote a sales letter for a product called Keyword Elite … it was a phenomenal success online and it's still a top 10 product on Clickbank after more than a year. The second proudest moment was when my copywriting strategies helped a client (a guitar teacher) go from less than $500 a month to over $25,000 a month in online sales … and it's still growing.
What's your favorite niche to write for?
What's your writing routine?
I'm a diligent student of infomercials and the Discovery Channel. I look for what works and apply it to my writing.
Typically, I do my best writing from 10 a.m. till noon, and then again from 8 p.m. to 11 p.m. I put on some classical music or my favorite entrainment CD and start researching and writing.
I start by doing research on my client and his competitors, and then I dig into my swipe files for ideas.
Next, I just sit and write headlines for as long as necessary until something overwhelmingly powerful comes out of my mind. Then I pick out the best headlines and work on a qualifier and subhead.
Next I work on the lead … then just sit on the headline, subhead and lead for a while to make sure it's as powerful as possible.
That's when I sit down and write out the body copy.
Please give us an example of how your life has changed since becoming a copywriter.
Learning how to write copy has opened many doors for me and also helped me make a small fortune online myself. It has really given me an edge over most people I meet in my business life and has completely transformed the way I think about HOW businesses should operate.
I know that becoming a copywriter will inevitably lead me into greater and greater levels of success. It doesn't just stop at copywriting once you're in deep enough.
What success tip would you like to share with your fellow writers?
I have two tips that everyone needs to know:
You don't need to be a perfect writer to become a copywriter. You can be a complete dunce. All you have to do is speak to your reader like you would with a friend.
Get into the mind of the customer. What are his needs, wants and wishes? Make a list. That will help you write compelling copy that sells!
When did you realize you were living the copywriter's life?
Two years ago when my daughter was born. I've been able to stay with her and be a part of her life instead of the "good morning" and "good night" that most parents with a 9-to-5 job have to live with.