Richard Boyd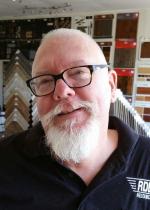 AWAI Member Since: 2006
What's your current occupation?
Sr. Copywriter/ Owner RDB Resources
What's your former occupation?
Sales professional and Copywriter for the other guy!
What was the first project you landed?
Snapper – a mailer that went out as a newsletter and information packet to prospects signing up on the website … it pulled 17.5% the first month and landed my first major client enabling me to become an Infinity Member.
What are your current projects?
Snapper, Jazzy Power Chairs, Arkansas Antiques Dealers Association, University of Arkansas, Hewlett Packard, E*TRADE, Wells Fargo, Bank of America, Agency Creative, Richards Group, Samsung, Verizon, Amazon, EBay, Ford Motor Credit, Discover Card, Citi Card, Best Buy, Walmart, Ace Hardware, Burns & McDonnell, ET Environmental Corp, Eagle Contracting LP, W. Rogers Co., Waste Age,
Enviro Solutions Inc.
What has been your proudest copywriting moment?
The first moment … was being told by Mark Ford that I'm writing great stuff.
The Second was in 2012 when I had the privilege of being selected for the Ad Age independent Copywriter of the Year.
Third: Waste Age Copywriter of the Year … 2009 and 2013.
What's your favorite niche to write for?
Business-to-Business
Healthcare & Alternative Medicine
Environmental & Green Copywriting
What's your writing routine?
I get up in the morning and do my phone calls and sale presentations, via internet conferencing or face to face. I write at night. For me, I'm not just writing copy … I'm also direct selling products, services, and marketing for my clients. This keeps me busy most of the time.
Please give us an example of how your life has changed since becoming a copywriter.
I enjoy my life with my wife Cathy. I'm also a workaholic that loves to sell stuff. Having the freedom to work at my pace is really refreshing and my clients don't seem to mind. Yes they push me because they are on a deadline but I however am not as long as I keep producing results. And, I make sure I do that!
What success tip would you like to share with your fellow writers?
I would tell them to follow your heart. Develop your plan and follow through with it because there is no one more suited for achieving your dreams than you. NEVER stop believing. Don't let anyone tell you that you cannot do this. I am proof you can.
When did you realize you were living the copywriter's life?
2012 When I became a Circle of Success Member.