Shama Sankaran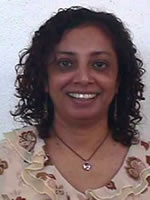 AWAI Member Since: 2005
What's your current occupation?
Part-Time Copywriter
What's your former occupation?
Administrative Assistant
What was the first project you landed?
12-page sales letter for an internet marketer
What are your current projects?
An e-Book on trading strategies
An e-Book on "Living in Malaysia," since my country is becoming popular as a "second home"
Articles for another book on Penang (my city of residence)
Articles for a property magazine which is published once every two months
Write regularly for an internet marketer and a couple of other websites
What has been your proudest copywriting moment?
When someone actually agreed to pay me for my writing. I never thought I had it in me to be a writer until I awakened the "creative giant" within me. Thanks to AWAI for showing me the way.
What's your favorite niche to write for?
Internet marketing, self-development, and travel
What's your writing routine?
I write for a couple of hours early morning, then go to my part-time job. I write for another couple of hours in the afternoon, and again for another couple of hours at night. If I have deadlines to meet, I take a day off from work and push hard over the weekends. However, the best part is that I can be flexible with my time.
Please give us an example of how your life has changed since becoming a copywriter.
Freedom! That's what I bought myself when I became a copywriter. Copywriting brought out my hidden creativity and raised my self-esteem. Of course, the extra money has helped to improve my lifestyle as well.
What success tip would you like to share with your fellow writers?
Lift the limitations that we put on ourselves. Everyone has God-given talents – discover them before it's too late. If you want to grow, it's important that you invest in yourself – go for seminars, take courses, find a mentor. And finally, just do it… and never allow anyone to steal your dreams! People told me that I was crazy to quit my job at my age. But today, when they see how much better off I am, they say that I made a wise move.
When did you realize you were living the copywriter's life?
When all my credit card debts were settled. I didn't have to be so frugal with my money anymore. I started treating my friends and myself to lunches and dinners… shopping for things that I desire, not just what I need. I even bought myself a new camera, and I'm in the process of getting a new laptop and other little "gadgets."