Steve Roller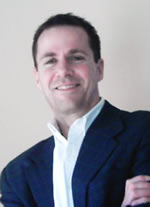 AWAI Member Since: 2004
What's your current occupation?
Copywriter, speaker, trainer, retreat leader
What's your former occupation?
Direct salesperson
What was the first project you landed?
I wrote some website copy and print brochures for a sales training company. Thankfully they didn't ask for samples or references since I didn't have any.
What are your current projects?
I'm rewriting a website for a South African entrepreneur in the UK, crafting video scripts for an innovative marketing
company, and working on my book, due out this fall.
What has been your proudest copywriting moment?
Getting a testimonial from Dan Kennedy after working with him on a big project. He actually used some of my copy ideas, which made me realize that I was a decent writer.
What's your favorite niche to write for?
Information marketing
What's your writing routine?
I get up at 5:59 AM to get two hours of writing in before taking my kids to school. On the way home I stop at a coffee shop and work for two more hours there, then another two hours back in my office. I use the afternoon to catch up on emails, work on personal projects, and work out at my health club. From 3:30 to 9:00 I'm running my kids around and hanging out with them, then an hour of writing before bed.
Please give us an example of how your life has changed since becoming a copywriter.
I'm able to spend more quality and quantity time with my wife and kids. I still work as much as ever, but it's on my terms. I get to see all their plays, concerts, and games, and we travel as a family more now. It's a short window of opportunity and I'm making the most of it.
What success tip would you like to share with your fellow writers?
Operate more as a business than as a freelance copywriter. What I mean by that is structure a true business, with a very clear picture of what you offer and to whom. Build your "brand," your "platform" and connect with potential clients on equal footing, where they recognize that you have something valuable to offer them. Avoid the freelance trap of bidding on projects, or trying to impress a prospect with a great proposal. Instead, have a serious conversation with them upfront about their needs and how you can help them.
When did you realize you were living the copywriter's life?
When I spent a month in South America in 2011 and was able to earn enough while I was there to pay for the entire trip. I realized that I can work anywhere, as long as I have my laptop and Wi-Fi, which is available all over the world now. I'll be spending a few months in Ecuador in 2014, and hope to live abroad on a permanent part-time basis in five years or less.