Tonimarie Marrese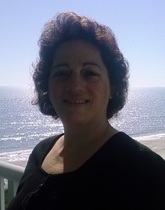 AWAI Member Since: 2003
What's your current occupation?
Freelance Copywriter and Entrepreneur
What's your former occupation?
I was a parts rep at Kodak, and then a substitute high school teacher, until I left that job in 1999 to be a stay-at-home mom and home school my four children.
What was the first project you landed?
Pro bono work for a local nonprofit organization that takes in abandoned animals.
What are your current projects?
Writing SEO articles and press releases for a company's clients
Writing a business package for a digital anti-theft device, for which I am an authorized dealer
Writing an article for The Golden Thread
Writing an article for Copy Protégé
Setting up a website, in which I have resale rights to numerous informational products
Writing an eBook with a partner on home schooling
Writing an eBook on saving money in today's economy
Writing a planner that includes a positive daily affirmation and quote, daily goals, a list checker, and a running "to do" list
Always in learning mode and adding new services to my one-stop-shop copywriting services
What has been your proudest copywriting moment?
When my parents (my biggest critics) read some of my work and said, "You really are good, and we're all very proud of you." A very close second was when Clayton Makepeace said I was talented, and that I will go very far as a copywriter.
What's your favorite niche to write for?
Writing for the web, including search engine optimization, email marketing and pay-per-click campaigns.
What's your writing routine?
The first hour of the day is the golden hour (when my thoughts are at their peak), so that's when I start to write in my head. I find by doing this, I come up with more "Big Ideas," and I'm able to stay focused.
For the next few hours, I start reading, writing or doing research. Then I start working on my "to do" list I wrote the night before. (Every night before I go to bed, I write a "to do" list for the next day.)
Every day I make sure to take some time for myself, to do anything I want. I never used to do this, but recently I realized if I take a little time for myself now, my health won't pay the price later. So I take time to do the things I love and spend time with family.
I love to learn and write, and I'm always learning new things everyday. That's the best part of copywriting … I get paid for doing something I love.
Please give us an example of how your life has changed since becoming a copywriter.
Let's face it, as a stay-at-home mom, it's easy to lose yourself while taking care of your family's needs. You just start going through the motions and get caught up in the day-to-day activities of your family life, and you forget who you are. Life happens.
Copywriting gave me back my passion, and a renewed sense of purpose. Now I look forward to new experiences, and I'm enjoying a new career. I know that the second half of my life started with AWAI and copywriting, and I will always be grateful for receiving that one letter that told me about a man named Don.
What success tip would you like to share with your fellow writers?
I am living proof … NEVER GIVE UP! … on yourself or your dreams. And always take care of yourself first. This is not being selfish … it's selfish NOT to. You can make your dreams come true, and make a good living at the same time.
I started the Accelerated Program for Six-Figure Copywriting in May of 2003. But I became very sick for the next three and a half years. I still knew I wanted to be a copywriter. So I never gave up, and in November of 2006, I went to my first AWAI FastTrack Bootcamp, where I instantly felt like I was "home." I got to meet and talk with people I admired very much, like Don Mahoney, Bob Bly, Paul Hollingshead, Clayton Makepeace, and Michael Masterson. I can't forget about the great staff at AWAI. Yes, they are all very real and very caring people who want to see you succeed. I never gave up on copywriting, and I'm very grateful.
When did you realize you were living the copywriter's life?
When I was at AWAIs Writer's Retreat last May, and master copywriter Krista Jones was reading a writing sample of mine, and she kept saying, "Wow!" all the way through it. I knew I was doing what I loved to do, and I was very proud of myself. Then, to top off this great feeling, I came home to find a $3,000 check in my mailbox from a client. That's when it hit me … I love copywriting, I get paid well, and I do what I want when I want. What more can you ask for?