The Benefits of Joining Circle of Success

Last week I said I'd tell you more about the benefits of joining Circle of Success.
I hope you've already joined, but even if you have, you should keep reading. Today I'm going to use joining Circle of Success as a way of showing you about features, first level benefits, and deeper benefits.
Let's start out with a quick definition of each of these terms. Then we'll see how they apply to you when you join Circle of Success.
Features are what a product brings with it. Like the number of blades, the types of screwdrivers, and the needle-nose pliers on my Leatherman tool. Or the number of issues you get in a magazine subscription. Or the ingredients in a natural health supplement.
Benefits — on the other hand — are the changes those features could bring into your life. Standard or first level benefits are the immediate or most obvious ways the features improve your life. Deeper benefits are the longer-term, more significant changes you experience.
Let's see how this works with just five of the many Circle of Success features.
Circle of Success Feature #1: Career Action Planning
Within a few weeks of joining Circle of Success, Rebecca or Katie will meet with you, by telephone or video conference to help you get the most out of your time in Circle of Success.
First Level Benefit #1: Rebecca or Katie will guide you to determine your specific needs and goals in both Circle of Success and in your career. They'll help you figure out which area of copywriting you'd like to concentrate on — traditional direct response, Web and e-marketing, Business-to-Business (B2B), or something else.
Deeper Benefit #1: This CAP meeting, as it's called, saves you time in getting on the sure road to copywriting success. The quicker you know where you're going, the sooner you'll get there. And the "there" in this case is becoming a top-level copywriter.
Circle of Success Feature #2: Your "Success Circle Group"
You'll be assigned a Success Circle Group where you'll team up with fellow copywriters — both new and experienced.
First Level Benefit #2: You'll go through the Targeted Learning Programs with your group. You'll share ideas with each other. You'll review and improve each other's writing.
Deeper Benefit #2: One of the biggest benefits of Circle of Success is getting support when you need it. Of course, Katie, Rebecca, and your Circle of Success Liaison are there to help you.
But even more powerful is the support and encouragement you'll get from copywriters in your group, copywriters who've experienced the same doubts and fears you might be having … and who are eager to guide you.
Circle of Success Feature #3: Targeted Learning Programs
In the Targeted Learning Programs, you'll learn the master secrets behind powerful headlines, leads, and promotion structure.
First Level Benefit #3: Mark Ford (you might know him better by his pen name, Michael Masterson) has determined that the headline, lead, and Big Idea account for 80% of your promotion's success. The Targeted Learning Programs — which are taught in online webinars by professional copywriters (including me!) — guide you in learning the secrets and strategies you need to know to produce the strongest, most successful copy possible.
Deeper Benefit #3 Most beginning copywriters struggle with these concepts. As a Circle of Success member, you'll be producing top-level headlines, leads, and complete packages faster and with more confidence. That means quicker success in your pursuit of your dream to become an A-Level copywriter. And more all-around success in your life.
Circle of Success Feature #4: Bootcamp for as long as you're a member — FREE
As a Circle of Success member, you get to attend any and all Bootcamps you want. There's no charge. You also get exclusive entrance into Circle of Success-Only sessions (this year taught by Jen Stevens, John Forde, and me). And you get priority admission to Job Fair before any of the other members.
First Level Benefit #4: You get to save the cost of Bootcamp. You get extra training and personal guidance from your exclusive Bootcamp session instructors. And you get first crack at the marketers at Job Fair.
Deeper Benefit #4: I know you've heard a lot about Bootcamp and its many benefits over the past few weeks. So I won't go into those benefits again.
But I've seen something remarkable happen when Circle of Success members come back to Bootcamp. They come back each time more focused and with more confidence. They're able to build their skills faster … because each year, Bootcamp presents new ideas, new concepts, and new strategies. And every year, they make new, lasting professional relationships.
Circle of Success Feature #5: The big one — every resource in the AWAI library — current and future, over $55,000 worth and growing — FREE, FOR LIFE. You also get the deepest discounts on any resource offered to AWAI members by our friends and partners
First Level Benefit #5: Simple. You save over $55,000.
Deeper Benefit #5: Having all those resources at your fingertips gives you the confidence that you have access to exactly what you need to grow in your career … as soon as you need it. Not when you can afford it. But right now!
Brief story here. One of my Circle of Success members who'd gone through both the Headlines and Leads Targeted Learning Programs was offered a job in web marketing. She wasn't well-grounded in it but she wanted to give it a try.
So she asked my advice. It was easy to give … and a snap for her to follow. "Go to the AWAI Resource Catalog. You have access to all the programs there. Download the web marketing ones. Give yourself 5 days to come up to speed on the nuances of the niche. Then take the job. Teach yourself as you go along."
She followed my suggestions. She's now a web copywriter who's making dang good money in a niche she'd never thought about.
How's that for a deeper benefit!
These are just a few of the many features of membership in Circle of Success. And each feature has multiple benefits and deeper benefits. I won't go into them here. There just isn't time nor space.
So if you want to learn more about the myriad benefits of joining Circle of Success click here.
When you do, you'll also learn how you can pay over 18-to-36 months — at zero interest. Plus get a "Loyalty Reward" of up to $1,350.
But DO IT NOW! Last week I told you that Fall Enrollment ends November 8th. That's just four days away. So do it now before that deadline sneaks past and you …
Well, let's not think about that. Act now. CLICK HERE to go directly to the online Circle of Success Membership Acceptance Form.
I'd love you to drop me a quick email telling me that you'll be joining me — or one of the other professional copywriters — in an upcoming Targeted Learning Program.
But please do it now.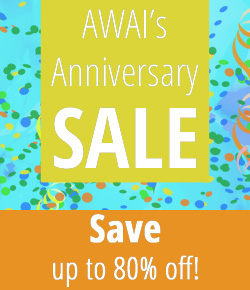 AWAI's Anniversary Sale: 80% OFF AWAI's Hottest Resources
Get huge savings on many of AWAI's most popular programs — including some you'll NEVER see on sale any other time of year. Help celebrate our Anniversary by making 2018 the year you breakthrough, and start living your ultimate writer's life.
Hurry! Sale ends May 29th at Midnight!
Published: November 4, 2013