This Week from AWAI …
Last Chance: Make Money Writing – WITHOUT Clients!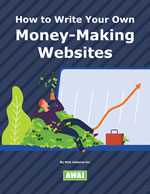 Today's your LAST CHANCE to have Nick Usborne help you build a money-making website that will generate $400, $1,000, $3,500 (or more) every month.
He'll walk you through his process step-by-step, answer your questions, and help you build a passive income stream that requires just a few hours a week to maintain.
And then get ready to build a new income source this summer!
Get in today and save $150 …
The Fastest Way to Become a Well-Paid Copywriter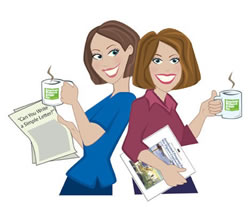 Join Katie, Rebecca and special guest experts for an in-depth, comprehensive webinar series where they'll walk you through one section of The Accelerated Program for Six-Figure Copywriting at a time, in extreme detail.
You'll learn all the skills, secrets and techniques you need to become a successful copywriter — all in a matter of 10 highly-productive hours.
Learn about the special training series here.
Browse Recent News
A Money-Making Website is the perfect side gig - write about what you love, no clients required ... and if you order by midnight tonight, you'll save $150! Get more details and sign up NOW.
Are you getting the most out of your copywriting skills? Find out how members of the Professional Writers' Alliance community are using their skill sets AND the perks they're receiving.
Irene Gabelnick has been promoting her money-making website in various ways … and it's paid off.
As a writer you can create your own unique "online business" and make a full-time income from part-time work.
Writer and Editor Jason Holland on his Costa Rican writer's life.
To be a well-paid writer, you need to become a full-time freelancer, right? Not so fast. We'll show you how this is just one of several options to make a living as a writer. Join AWAI on June 22nd at 1 p.m. (ET) — where we'll discuss several different ways professional copywriters are thriving today.
Ready for a career change, Kathy Widenhouse knew she had a talent for writing but wasn't sure if she could earn enough income from it. Find out how she achieved copywriting success
There's still time left! Save $100 and get everything you need to get started as a B2B copywriter from the expert himself - Steve Slaunwhite. But don't wait too long ... this special offer ends at midnight tonight. Get all the details and sign up NOW.
Don't let anything hold you back from the perfect writing opportunity for you ... not even the price! For a limited time, you can save $100 on Steve Slaunwhite's Secrets of Writing High-Performance B2B AND split the total cost into payments. Get more information, and start YOUR B2B career today - for just $97.50.
Thanks to Millennials, B2B copywriting is changing. But the opportunity to land high-paying projects is as great as ever.
Multi-talented writer Donna Baier Stein on what she's learned during her 32-year writing career.
All of the biggest names in copywriting gather in one place every year. Put yourself in the same place and make connections and build relationships.
Jean Greene has just started going after clients for copywriting jobs. But she knows her stuff. And a client has hired her to write their website for $16,000.
Steve Slaunwhite gives you the lowdown on the skills you need to master B2B and how to get copywriting jobs in this niche.
Maybe you enjoy long-form sales letters and trying to beat controls. Or maybe you're the type of copywriter that writes in a more conversational style, without all the hype. B2B Expert Steve Slaunwhite has a message – and a quiz – so that you can find out what type of copywriter YOU are!
Don't miss your chance to save big on our entire home study library! Enrollment is currently open for AWAI's Infinity Program ... but only until Midnight tonight - get all the details and signup NOW.
The Member Success Panel is a fun annual tradition at Bootcamp. It's also a great motivator for aspiring copywriters. Read why…
Discover the elegant niche of writing that launched Melanie Rembrandt's wildly successful career.
Copywriters live an enviable lifestyle ... living where they want, writing when they want, and getting paid well to do something they love. But the benefits go beyond the perks of income and freedom. Copywriters often experience other less obvious benefits too - something we call glicken. Circle of Success Member Bette Arnold is a great example. Read all about her experience, and the new benefits she's discovering come with being a copywriter!
Robert Rice is pursuing an acting career in Hollywood. As he works his way up to stardom in Tinseltown, he uses copywriting jobs to support himself and sometimes even promote his projects.