Discover a "Quiet" Niche Where You Can Consistently Earn A Predictable Income …
Even if you've never been paid to write before!
Here's how you can live the writer's life with short, simple projects that "sell without selling."
Dear Reader,
Imagine fully enjoying the writer's life — the freedom, the pay, and the satisfaction of helping businesses — while writing short, fun content.
You can, with the little-known-but-extremely-profitable writing niche I'm about to introduce you to. In fact, it's quite possibly the best way to make a consistent, predictable income as a writer, while having fiercely loyal clients that pay you every month — year after year.
Why do I call it a "quiet" niche? Because so few writers know about it and even fewer are talking about it. Which surprises me when you consider the key benefits for aspiring and experienced writers alike …
The writing style "sells without selling" by educating with stories, metaphors, and simple advice … so you won't have the pressure of trying to beat a control or write long sales copy.
The projects are so simple and short you can learn how to write them in just a few days. Plus, with a little practice, you can complete each one in less than a day. Your schedule will be easy to plan, and you'll have plenty of extra time to enjoy the writer's life.
In this niche, you'll rarely have to worry about where your next job is coming from. Imagine how good it will feel to have income coming in consistently every month. No more wondering if you're going to have enough money to cover your bills, because you'll have the security of a retainer for writing these projects every month.
Meet The 26 Million Clients Who Will Pay You Month After Month And Stay With You For Years
While all businesses — in countless industries — could use these projects, there is a "sweet spot" of clients who will benefit the most: professional service providers.
What is a professional service provider?
Basically anyone who provides a service or their expertise — like accountants, lawyers, real estate brokers, architects, chiropractors, and coaches. There are simply too many to name here …
In fact, there are 26 million professional service providers in the U.S. alone — and they account for $2.3 trillion of the U.S. economy. That's a lot of potential clients for you to choose from. And, with professional service providers in every industry from consulting to home organization there's bound to be a niche that fits your interests.
These professionals usually work for themselves or a small firm. Their income is directly related to how much business they get and, for a lot of them, they don't have a lot of time to keep up with past customers and try to turn prospects into new ones.
Many simply rely on word-of-mouth advertising for new business. They don't bother keeping up with their most loyal customers — the ones who are most likely to hire them again (and refer them to others).
And, when they do get new sales leads, 79% never convert into customers. According to MarketingSherpa, lack of lead nurturing is to blame.
That's where you come in …
Why Professional Service Providers
Will Be Thrilled To Pay You — Repeatedly
Lead nurturing is the key to capturing the opportunities these professional service providers are missing … And, that's where these short, simple projects I've been telling you about come in …
Nurtured leads produce a 20% average increase in sales opportunities versus non-nurtured leads (according to DemandGen Report). This 20% increase in converted leads could mean thousands of extra dollars per month for a professional service provider. With results like that, they'll want to hire you over and over — and refer you to others.
Forrester Research also found that companies who excel at lead nurturing generate 50% more sales-ready leads at 33% lower cost. For many clients, that alone is enough to justify these simple projects.
But, it gets even better … When you tell potential clients that the Annuitas Group found nurtured leads make 47% larger purchases than non-nurtured leads, they'll be eager to hear how you can do that for their business.
What Are These Lucrative,
Predictable, And Repeating Projects?
I'm talking about e-newsletters.
You may call them electronic newsletters, email newsletters, or e-zines. They're all the same thing — an email from your client to their target audience. An e-newsletter isn't an autoresponder or an email blast. It doesn't use hard sales or quick promotions. Instead, e-newsletters are basically short, concise "articles in email form" which entertain and engage readers.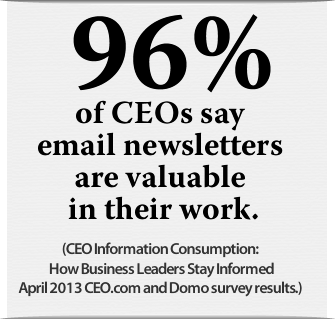 Clients are willing to pay a lot of money for these e-newsletters to be produced because they are the best marketing tools to come along in years …
E-newsletters are cost-effective for your clients to communicate with their entire customer and prospect base. They're the ideal lead-nurturing vehicle. Using an easy email management system, your client could send e-newsletters to 500 people for only $15 per month. One direct-mail newsletter would cost over $230 just for postage — not to mention the cost of printing.
The results are measurable. In fact, your client can see their open rate and click-through-rate when they use an email management system like ConstantContact or MailChimp.
E-newsletters have a high ROI. With just one new customer, your client's entire e-newsletter campaign can be paid for within a few minutes of pressing "Send."(I'll talk more about this in a minute when I go over how much you'll get paid.)
E-newsletters open up a two-way dialogue with prospects and customers both past and present. E-newsletters get 4-10 times the response rate compared to stand-alone email blasts, according to SilverPop/DemandGen Report. For your clients, this is invaluable. Not only will they be creating a relationship with their readers, but they can also ask what's on their mind to find out what they're most likely to purchase.
E-newsletters position your clients as experts. People buy more from experts they know, like, and trust. A regular e-newsletter will make readers view your client as a valuable expert.
E-newsletters are forwardable and linkable so it's easy for readers to share and spread the word about your client. This increases word-of-mouth advertising and exposure to your client's business.
E-newsletter content is multipurpose. The content you write for your client's e-newsletter can be used in a lot of different places like social media, blog posts, trade publications, and more. The more places your client uses the content, the more return they get for their investment.
There are a lot of benefits to using e-newsletters to bring back previous customers and build relationships with new ones.
As a writer, you're in the perfect position to help these professional service providers increase business with e-newsletters. And, you'll benefit too …
Sell Without Selling
E-newsletters don't require any hard-sell copywriting. You'll mainly write pure content because the goal of the e-newsletter is simply to stay in touch with and build relationships with current, past, and potential clients.
And, interested, engaged people are the ones who will hire your client, so the content should be entertaining and engaging with stories and metaphors.
Basic advice works best at reaching the readers. For example, here are some of the articles you might find yourself writing:
For an accountant client's e-newsletter: "How a Small Business Can Prepare for Tax Season."
For a Business Coach client or Home Organization client: "How to Organize Your Office."
For a Vet client's e-newsletter: "Tips for Traveling with Pets."
And while some of these topics may sound more "business," even "dry" in nature, your client's customers are still people who need to be engaged. So successful e-newsletters are written in a clear, genuine conversational voice and simply filled with useful, relevant information.
Short, 700-1,000 Word Projects
E-newsletters are fast projects because the content you write will be short. 1,000 words at the most. In fact, e-newsletters follow the advice of "make it as long as it needs to be and no longer."
That's why your entire e-newsletter will wind up with fewer words than a lot of blog posts you see online every day …
Sometimes you might find yourself writing articles that help small businesses with how to negotiate a lease. At other times, you might be writing on the benefits of a specific vitamin and mineral to customers of a personal trainer. Or you might be giving pet care advice to the customers of a veterinarian. The list is almost endless, but it keeps things fun and interesting …
Or you could even choose to specialize in a niche where you write about things you already love.
Little Research Required?
One thing some writers like about e-newsletters is that they don't have to spend time doing a lot of research — if any at all.
Let me explain …
Because your clients are professionals in their field, they will give you all the information you need. Spend an hour or so on the phone with them and that's your "research."
Your job is simply to get all the information from your clients, and "rewrite" it in a clear, conversational way THEIR clients can understand.
So instead of spending time digging through endless Internet searches for the information you need, you just talk to your client, write a few paragraphs, and get back to doing what you like to do most.
When it's all finished, you can spend less than one day total per month per client!
Two Big Ways To Profit With E-newsletters
Let me show you the two ways to make a (very) nice income with e-newsletters …
First, the writer I'm about to introduce you to charges each client a minimum of $8,500 to set up their e-newsletter. This is for a "solopreneur" (someone who works for themselves) or a small business with under 10 employees. If their business is more complicated than that, the fee goes up.
In fact, it's not unusual for him to charge as much as $18,000 per client for this initial set up. This includes getting everything in order for the first e-newsletter — design, layout, tone, style, the sections that will repeat each month, etc. — and writing the first issue of the newsletter.
The second way to make money from this opportunity is writing, managing, and sending the e-newsletter each month. (Don't worry if you're not a techie. There are plenty of companies out there today that make it ridiculously easy to do all this. If you can turn on your computer and send a basic email, you've pretty much got all the "background" you need.)
You can charge a minimum of $900, and up to $2,000, per issue for this service. This is the repeating, predictable income you can count on for months or even years.
And, think about this: If you handle everything for them and are directly responsible for bringing in more business every single month, these professional service providers will want to keep working with you. Many of them will probably rely on their e-newsletter to be the bulk of their marketing plan.
All you have to do is write and send the e-newsletters. If you can follow simple directions, which I'll tell you more about in a moment, the content you write will build relationships and increase sales for your client's business.
Your client will start getting results like:
"Your last newsletter made me think of X, and we're wondering what it would cost for us to do something like that."
"I've been reading your newsletter for a number of months now, and I like what you've got to say. We have a need for Y, can you help us with that?"
"A colleague of mine gets your newsletter and forwarded it to me. We've been thinking of doing Z, do you do that sort of thing?"
These instances — where your client can definitively link leads and sales activity to their e-newsletter — will prove their ROI. And, they reinforce the benefits of continuing to publish their e-newsletter through you. That's what will keep them working with you for months or even years.
You can also use these instances for concrete case studies to share with future prospects. For example, "I am working with a company whose e-newsletter generated five leads the first time it published, three of which turned into paying clients." That means you can easily turn your client's success into even more business for you!
Now, let me introduce you to the expert who is going to teach you how to create this predictable income stream …
Here's what some of Michael's happy clients have to say:
"Immediately after our first working session together, I saw changes in my business. You helped me see the genuine voice and vision behind my company, and have given me a clarity and presence with my clients that I hadn't had before. Your suggestions have been right on the money, and I am blown away by the way you take my words and make them sing. I feel more focused than in a long time."
—Rosalind Joffe, Principal, CICoach
"When we hired you, we made the investment of time and money at a time when we could least afford it. I cannot tell you how delighted I am with the results. The process that you used to get the 'voice' of our company, who we were talking to, and what kinds of information we wanted to give, was the most valuable marketing exercise I've been through in quite a long time."
—Betsy Harper, CEO, Sales and Marketing Search
"Your work with us in developing our e-newsletter has elevated our position with clients and colleagues. You've given us an effective way to communicate with our target audience, and in a way that reflects who we really are. Blue Penguin has been a pleasure to work with, and you've delivered on every promise made."
—Allan Goldstein, President, Goldstein Financial Corporation
"I truly can't thank you enough for helping me. For almost a year, I'd been trying to do it on my own and I felt like I was spinning my wheels all the time. But now, everything has changed. I feel energized and purposeful in a way I haven't for years. I'm getting the kind of work I love, with the kind of clients I want to work with. Thank you, thank you, thank you!"
—Belinda Wasser, Chief Rocket Launcher, RocketGirl Solutions
"I know my business, but I quickly learned that I knew nothing about how to communicate that knowledge and experience to my target audience — and I was completely (as in totally) clueless about how to find my 'authentic voice' and why it was the only voice I could use. Michael is a complete pro who knows when to challenge and when to praise to help you achieve the results you need to grow your business. I am amazed at what we have created … really amazed. I will be eternally grateful for his help."
—Kathy Rowell, M.S., M.H.A., Founder, Katherine S. Rowell & Associates
"I have a lot to thank Michael Katz for. The questions he asked about my business and the answers to those questions gave me the confidence to believe in myself as an expert in my field. There's not a week that goes by that at least one of Michael's marketing ideas doesn't come up and get put into practice. There's no possible way of underestimating the effect your very excellent advice and ideas have had on my business!"
—Debby Brown, Founder, Deborah Brown & Associates
"Michael's focused question and answer approach helped us clarify what we do, why we do it, and perhaps most importantly, what makes our business unique. The value of these insights reaches beyond marketing, and has had a lasting impact on every aspect of our business."
—Richard Cohen, Founder and Director, School Mediation Associates
"You helped us focus on who we were and who we were trying to communicate with. In essence, it was a review of our business — clients, products, strategy. Michael is great to work with, offers insightful comments, and his guidance is right on target. I wish we'd done this sooner."
—David Wyndham, Partner, Conklin & de Decker
"Michael Katz has a one-of-a-kind laser vision. With his unique infrared scope, he sees through people and their companies, getting to the heart of business models in a way that no one else can. His ability to put words and images together astounds, delights, and makes the bottom line sing. His philosophy of customer relationship management isn't only brilliant — it is a methodology that makes companies more profitable and brands more visible, with customers coming back again and again."
—Lyn Chamberlin, Executive Director of Marketing, Communications & Enrollment, Vermont College of Fine Arts
"We knew what to do once we had a client and the great majority of prospects had been referred to us by a colleague or by their company's HR department. But to reach our goals, we needed — and had been looking for a long time — a business development process that reached a wider (and targeted) audience, communicated our message consistently, reflected our unique approach, was cost-effective and fun to implement! Michael Katz gets it, gets us and gets it done."
—Phil Corcoran, CFP, CIMA, President, The Corcoran Group
Meet "The E-newsletter Expert"—
Writing E-newsletters Since 2001
Michael Katz is the perfect person to teach you about writing and getting paid for e-newsletters because he is a successful e-newsletter writer himself.
He "stumbled on this niche by accident" in 2000 when he left his full-time job to build websites. He started his own e-newsletter to promote his web design business.
Quickly, people started asking to be added to his newsletter list, so it grew. And as they read what he had to say, people began hiring him for web design projects.
But … people also asked him to create an e-newsletter for them. He initially resisted because it took him a while to realize that e-newsletters were useful tools and a while longer to realize he could offer to do them for other people.
By 2001, he decided he liked writing enough to give e-newsletters a try — and he's been successfully doing that ever since.
Over the past 13 years, Michael has worked with big companies like Comcast, Harvard, Uno Chicago Grill, and Country Financial. But, his "sweet spot" for e-newsletters is smaller professional service firms.
All The Training You Need To Build A Predictable Income Stream With E-newsletters — FAST!
Now, we've convinced Michael to create a program exclusively for you as an AWAI member. It's called Creating Email Newsletters For Professional Service Firms — A Step-by-Step Guide. It's the only comprehensive program on how to earn a fantastic living writing e-newsletters.
In this program, Michael is going to show you absolutely EVERYTHING you need to know to earn a great income right off the bat with e-newsletters. In fact, he's organized it in such an easy-to-follow way, you could learn this skill in just a few days.
And, Michael is not leaving your success to chance. That's why he's including ready-made templates, forms, training videos, and sample e-newsletters for you to follow, step-by-step.
Wondering how to get started on a project for a client? Just pull up one of the samples he's included and use that as your guide. Wondering how to measure the open or bounce rates? Just use Michael's Data Tracking Form template. It really is that easy.
Let's take a quick tour of what's included …
Module 1:


Overview

In Module 1, you'll learn the foundation for writing effective e-newsletters, plus:
Six benefits of an e-newsletter for a professional service firm. (These benefits will allow you to talk like a professional with confidence and close deals with potential clients.)
How to measure e-newsletter success so you can prove what you're doing is working and get more referrals and repeat business.
Three "secrets" to an effective e-newsletter. (These are completely ignored by 95% of the people and companies producing e-newsletters today — use them and you'll shoot ahead of other writers.)
Module 2:


What To Write About

In Module 2, Michael will cover what to write about in your e-newsletters, including how to define your target audience, narrow your focus, develop newsletter sections, highlight your clients' expertise, and more, like:
How to write e-newsletters that are easy to read and strengthen the relationship between your client and readers. (This will keep readers interested and responsive so your e-newsletters will get results and impress your clients.)
How to reinforce your client's position as an expert in the eyes of the outside world. (This is an excellent way to get referrals and repeat work so you never have to worry about where your next project is coming from.)
Where to find an endless supply of content so you'll never run out of material for your e-newsletter — or suffer from "writer's block."
Module 3:


How To Write

In Module 3, you'll learn the nuts and bolts of writing e-newsletters, including how to:
Fine-tune your clients' voice and write in a clear way that reflects what it's like to do business with your client. This is the key to writing an e-newsletter that gets results and makes your client want to work with you again and again.
Write like an expert and other techniques that will boost response to the e-newsletters you write.
Determine the best mix of promotional vs. "real" content. This is important because if you write too much promotional content, you'll turn people off.
Decide if you need an editor, and how to hire and work effectively with one if you do. Tip: An editor can save you time and energy — if handled correctly.
Module 4:


Formatting And Layout

Module 4 will cover how to format and layout your e-newsletters professionally. You'll learn about design guidelines, effective use of archiving, and:
Which version of e-newsletters (HTML or plain text) get a higher read rate and click-through-rate. (This answer will probably surprise you.)
How to make sure you and your client are on the same page before you start writing — saving you time and energy and making your client happier with your services.
How to develop a newsletter name and subhead with examples from other popular e-newsletters. (Helping your clients name their e-newsletter is all a part of creating something that people will read and remember.)
The answer to "should I include the entire article in the e-newsletter or just a summary and a link to the website?" Warning: Do this wrong and you'll lose a lot of readers.
The easiest way to use e-newsletters to establish your client as an expert. If you do this right you'll get results that will make them never want to stop working with you.
Module 5:


Delivery And List Management

In Module 5, Michael will walk you through delivery and list management of your clients' e-newsletter. You'll find out how to grow their list, how often you should publish, and:
How one well-placed article (just 500-700 words) can lead to dozens and dozens of e-newsletter sign-ups (which means more profit for your client).
How creating a separate information page on your clients' website will boost sign-ups and what to include on that page. (This is just one of the many upsells you can offer your clients once you become their e-newsletter writer.)
How much information your client should ask for at sign-up. (Hint: Knowing the answer to this question will position you as more than "just a writer" in the eyes of your client.)
What to put in the "From" field when you send the e-newsletter. (This is important because a study by eMarketer found that, "77% of emails from unknown sources are deleted without ever being opened.")
What goes in the "subject" line when you send the e-newsletter? (Pay special attention to this section because your subject line is the difference between a "delete" and an "open.")
Module 6:


Pricing, Selling, And Delivering E-newsletter Services

Module 6 contains very valuable and detailed information about selling your e-newsletter services. This module includes how to develop your pricing and packaging, manage clients, work with email vendors, outsource the stuff you'd rather not handle, and:
Prove you know what you're doing and land paying projects — even if you've had zero clients so far. (Michael used this technique himself and has proven that it works over and over again.)
Price both the initial setup of the e-newsletter and the monthly maintenance … The fees mentioned earlier are just the minimum — you could easily charge twice that amount. In fact, Michael says the biggest problem with writers pricing their services is that they don't charge enough!
How Michael manages his billing to minimize the time he spends on administrative work so he has more time for writing. He outlines exactly what his invoices include so you can duplicate his formula.
Simplify the e-newsletter process to avoid the technical aspect of e-newsletters. (This is perfect if you love the idea of writing e-newsletters but want someone else to handle the technical side.)
Get the most value out of EVERY word you write in an e-newsletter. Not only will your projects be short and simple — you can use them over again to get more exposure for your clients. (Michael will show you how to make even more money per e-newsletter when you do this correctly.)
As you can see, there's a lot included in this step-by-step guide. No question has been left unanswered. Michael has carefully designed each module of this program to give you the best and most practical information you'll need at every stage of the process.
Best of all, we know you might already be busy working a full-time job or want to take things at a pace that's comfortable for you. That's why we've made everything accessible online, for immediate access. Whether it's 2 a.m. or 2 p.m., with just a few clicks, you'll be well on your path to earning a consistent and predictable income, enjoying YOUR version of the writer's life.
Get Everything You Need To Create A Repeatable, Predictable Income Stream With E-newsletters Now
As we talked about earlier, what you'll learn in Creating Email Newsletters For Professional Service Firms — A Step-by-Step Guidetook Michael years of trial and error to learn and refine. He's been writing e-newsletters since 2001!
But, you won't have to go through that long journey. Or, make costly and frustrating mistakes like writing the wrong type of content, not getting results, or missing deadlines.
Instead, Michael will give you the exact techniques and information he has used for his own clients over the years. If you can follow his proven instructions, you'll learn how to approach and complete these projects and build a predictable income stream with e-newsletters.
Considering the fact that this program will teach you everything you need to have a predictable income of at least $900 for every issue you write that goes on and on for months or even years, we could easily ask several hundred dollars for this program.
Remember, you're getting all six modules where you discover the ins and outs of how to make a predictable and consistent income with e-newsletters.
And since your very first e-newsletter project could earn you $900 (plus all the set-up fees!), even paying that much would be a bargain.
But, you won't pay $900. You won't even pay half that much.
Instead, the entire program — including online access and downloadable PDF, template files, sample e-newsletters, and training videos — is yours for just $197.
As soon as you've placed your order, you'll get access to everything I've mentioned, and be well on your way to learning all about e-newsletter writing and making a predictable income by helping professional service providers.
There's No Risk!
Get access to Creating Email Newsletters For Professional Service Firms — A Step-by-Step Guide today …
Learn from Michael how to make a predictable income with e-newsletters. Use his proven formula, ready-made templates, worksheets, and everything else included with this program. Discover everything you need to market and prices your services.
In fact, try the whole program for an entire year if you want.
Then, if you decide writing e-newsletters isn't for you (for any reason), just give AWAI a call and you'll receive a full refund of every penny you paid.
Or if you'd prefer to place your order by phone with someone in our office, please call Barb, Daffodil, Taya, Dawn, or Shantek toll-free at 1-866-879-2924 during regular business hours. (We're in Florida, on Eastern Time.)
There's nothing to lose. Professional service providers need e-newsletter writers to create content that people anticipate, open, read, and share enthusiastically. Michael will show you exactly what to do.
Millions Of Potential Clients Are Waiting For You
If you're looking for a simple way to create a predictable income as a writer, e-newsletters for professional service providers are the answer!
Not only is the industry huge — $2.3 trillion — but there are millions of clients to work with — 26 million in the U.S. alone.
Right now, you're minutes away from getting everything you need to know about e-newsletters and how to help these professional service providers increase their business. But, your clients won't be the only ones who benefit …
You'll also have the security of monthly retainers ... short, easy projects that are scheduled in advance … little to no research … and a really nice, consistent income …
To your success,



Rebecca Matter
Co-Managing Partner, AWAI
P.S. E-newsletters aren't complicated, but there is a lot to keep track of …
There are big elements like the vision, focus, messages, and procedures you've developed with each client. And, there are questions you should ask your client, their answers, and decisions you've made along the way. It's a lot of details.
That's why Michael also included the template for his personal E-newsletter Action Plan™. It's your roadmap to make sure you complete each and every project easily — and to the very best of your abilities. This comprehensive template is going to ensure you impress new clients and make the process of writing content that "sells without selling" fast and simple.
Use this document to organize all of the important details, which will help you maintain control of the e-newsletter and focus as you publish it month after month. The E-newsletter Action Plan™ is just one more way that Michael will help you get your e-newsletter business up and running fast so you can make money sooner.
Don't waste your valuable time reinventing the wheel. Michael has put everything you need for a successful e-newsletter business in one place: Creating Email Newsletters For Professional Service Firms — A Step-by-Step Guide.
---
American Writers & Artists Institute
220 George Bush Blvd, Suite D
Delray Beach, FL 33444
(561) 278-5557 or (866) 879-2924
www.awai.com