You've Just Been Granted a Backstage Pass to Join an Elite Circle of B2B Writing Experts…
Their career-catapulting resources are off-limits to outsiders. This pass is your only way in…
---
Dear B2B Writer,
When you're on the outer edges of the lucrative B2B writing world, trying to "break in" to the business, having friends on the inside who are already well established — and willing to show you the way — can help you reach your goals much faster.
You leap forward when you're surrounded by established colleagues willing to "go deep" to help you land clients, manage projects, write effective copy, and command top fees.
After all, they're veterans of the game. They've already been through everything you face as an up-and-coming B2B writer.
And, they can dramatically shorten your learning curve by giving you access to the tools and resources they've tested and proven to work.
In fact, with a full access pass to both the leading B2B writers and their favorite resources, your journey to the top could be a swift, smooth ride.
Shielded by a virtual velvet rope, they're free to share proprietary client leads, self-marketing tactics, copy tips, templates, and more.
Along the way, they've discovered that in addition to raising each other up, they love teaching and sharing what they know.
Not with everyone… but definitely with someone like you.
That's why you've been granted this unusual backstage pass today — and why I encourage you to make the most of this unique opportunity…
Your Backstage Pass Moves You — FAST — From Outside the Action to Center Stage…
To really see how the magic is done in any top-notch stage show, you need to be allowed behind-the-scenes…
There's the special lever that makes the main character disappear on cue… the filters on the lights that make the lead actors look half their age… the dozens of hidden stagehands who move props and provide costume changes without ever disrupting the flow of the action.
Turns out, every perfectly polished act you see from the "front of the house" is only possible thanks to all the "back of house" engineering by the talented professionals.
It's the same in the world of B2B.
A top-notch career isn't a one-man show.
Behind-the-scenes, there are templates, timely industry updates, roadmaps, and of course, a whole community of expert "stagehands" helping out.
This supportive infrastructure is what makes it possible to reach a six-figure income as a B2B copywriter — quickly — and continue earning at that level for years and years.
On your own, it might take you a lifetime of hard work and effort to get everything you need for a successful B2B career in place, tested, and working.
With your backstage pass, on the other hand, you simply wave your pass, waltz behind the velvet rope, and connect with an entire established system that's waiting to go to work for you.
In B2B, this system is known as the B2B Writing Success Community.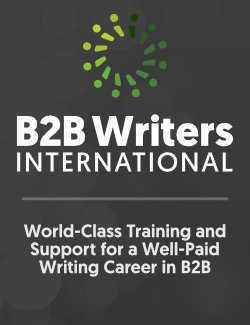 And all the best B2B writers working today are a part of the system, creating new resources, collaborating on projects, and coaching fresh writers.
They've united behind one simple mission: to provide B2B writers at every level the resources they need to succeed.
So there's a "Getting Started Roadmap" for beginners...
A continually expanding " how-to" library of tactics, strategies, and advice for up-and-coming writers…
And, thanks to regular live training events and "What's Working Now" seminars even expert writers with years of experience can glean fresh insights as a part of the group.
In fact, for almost every need you might have as you build and maintain the kind of B2B writing career you want, there's a trustworthy resource in place, or an expert available for you to consult.
Let me give you a few more examples…
Putting the Power of the Community System to Work for You
"One of the biggest challenges B2B copywriters face is having a strong infrastructure to help them succeed. And by 'infrastructure' I mean a combination of people, resources, support, and relevant training. Sure, you can find all of these pieces out there individually. But the real magic happens when you bring them together. That's what I love about B2B Writing Success. It provides B2B writers with the infrastructure that's been sorely missing in this industry. It's the right mix of training, guidance, and support — all in one place."

— Ed Gandia
B2B Copywriter,
Case Studies, and
Productivity Expert
Inside the B2B Writing Success Community, members operate as one supportive group, "Team B2B."
Team B2B is led by Master B2B Copywriter Steve Slaunwhite.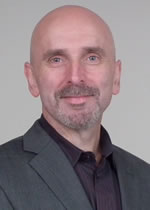 Steve's worked for some of the biggest names in the B2B world — and won awards in multiple countries for his efforts (including AWAI's own "Copywriter of the Year" award in 2016). A sought-after speaker and teacher, his how-to books for business writers are top sellers on Amazon.
Join B2B Writing Success, and Steve's the one who'll welcome you to Team B2B and start showing you around.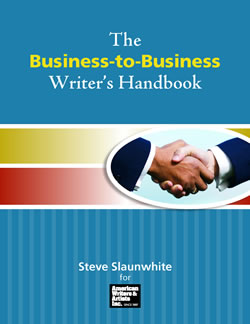 He'll direct you — among other things — to immediately download his welcome gift, a handbook of B2B project guides. It reveals exactly how to complete 31 of the most commonly requested B2B writing projects, and includes easy-to-follow sample texts for illustration.
Knowing this guide is in your back pocket makes it easy to say "Yes!" with confidence when you're taking on new client projects.
"If you want to learn how to bake a cake, you go to a cooking website. And if you want to learn how to build a picnic table, you find a site about carpentry.

"The same goes for writing copy and content marketing; you find a website that specializes in those areas. If you want to write for Business-to-Business companies, then look no further than B2B Writing Success.

"When I first viewed the site, I didn't know my niche market; I didn't know what or how to write B2B copy; and, I had no idea how to find prospects and turn them into clients. I joined B2B Writing Success, and now all three of those challenges have been overcome.

"With a ton of great information added regularly, I credit a huge part of my success to becoming a B2B Writing Success Platinum member. This year, while still working at my 'day job,' I hit a five-figure income… and now the sky's the limit."

Steve Maurer
And speaking of new client projects…
When clients come calling, you'll be able to handle them with ease, thanks to another Team B2B resource: the "Working With Clients Roadmap."
Developed by corporate B2B pro Pam Foster, it's an incredibly thorough series of guides for everything related to working with B2B clients.
What to say in those initial conversations… how to write proposals the right way… when to bring up your fees… even how to turn one-time projects into ongoing retainer gigs.
So even if you're working on your very first project for a paying client, Team B2B has you covered. (Veteran writer? Then you'll love the advanced-level tactics Pam weaves into each part of the Roadmap.)
Plus…
Say something unexpected comes up.
Something that throws you about a project, or a question from a client that has you scratching your head.
No sweat. Once again, you can turn to Team B2B.
Even if it's three in the morning where you are, you can reach out to the combined wisdom of the Team through the B2B Writing Success Facebook group.
With members on every major continent, someone will be awake. And, depending on your question or issue, you might find the perfect answer flying back to you in just moments.
Or, if you have a bit more time, you can reach out to specific experts or niche specialists for advice.
You can turn to experts like: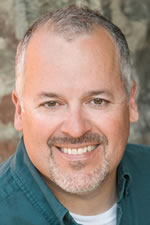 Ed replaced his six-figure sales job with a six-figure B2B freelance career. After several years of success, he started training other writers to use his tactics. He's known as a career launcher, productivity master, and outstanding case study writer — all knowledge he'll share with you as a member of Team B2B.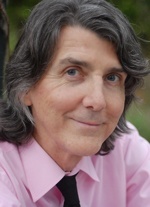 Gordon is known as "That White Paper Guy" — and high-end white papers are his personal specialty. But he's also an excellent beginner's friend and the expert behind AWAI's popular Crash Course in B2B Content program.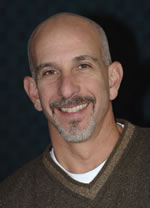 Michael's known for his e-newsletter prowess, but he's also an excellent coach of "solo-preneurs" who need help with marketing and productivity. (His three-minute "marketing hacks" videos are one of the absolute fastest ways to double your results while slicing your stress levels in half.)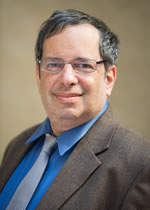 If you write in the B2B space, Bob Bly is a "godfather" of the industry. This world-renowned B2B writer has 35+ years in the industry, 85+ books on the market, and no hesitation in sharing his "Best of the Best" advice for writing stellar B2B copy.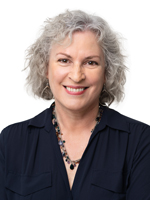 I mentioned Pam's "Working With Clients Roadmap" earlier… and it's not all she brings to Team B2B. Queen of profitable niche-picking and site audits, Pam has been writing B2B copy for over 30 years. Her insider's advice will help you leapfrog over potential obstacles and find work that makes you happy.
Ilise Benun is there to talk pricing… Casey Demchak shares his advice on brand messaging… Pete Savage covers video script secrets… Nick Usborne offers up web-writing tactics… the list of top-level experts available to you under the Team B2B umbrella goes on and on.
And let's not forget Charlotte Hicks!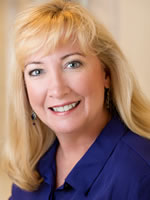 Charlotte is the Managing Editor of the B2B Writing Success group (and a very successful freelance B2B writer herself).
You'll hear from her weekly in the B2B Writing Success e-letter, and she hosts the group's regular seminars and training events.
She also fields requests for additional resources…
If there's a specific piece of training you want that doesn't already exist… a resource that could be created to solve a problem… or a burning question you're just not getting answered elsewhere, reach out to Charlotte.
"Great article… Major nuggets and a huge lightbulb just went off on how to be way more valuable to a company than as just a copywriter."

Kris Olson
It could just turn into the very next addition to the B2B Writing Success Community's extensive library of resources!
The library as it stands now is already a massive treasure trove, organized thematically to help you find what you need in a matter of minutes.
Yet each and every week, Charlotte and other members of Team B2B add new resources.
Maybe it's an article… a freshly released how-to guide… a new interview with a B2B marketing manager… or one of Steve Slaunwhite's highly educational (and entertaining) B2B podcast episodes.
None of it is thrown together haphazardly — you'll find every piece adds something to your arsenal, strengthening your skills, building your expertise, and giving you the confidence you need to go out there and enjoy the success you deserve as a talented, B2B-focused writer.
Reality Check!
One of the most unique elements of your backstage pass into Team B2B is the whole team's willingness to put every concept and resource to the test…
Not just a theoretical test, either.
A live test, interacting with real clients and market challenges, following the real-time career of an actual B2B writer, Steve Maurer.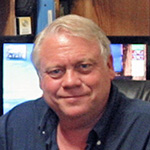 Each week, Steve publishes a special column known as "The Reality Blog" for the B2B group.
It's an ongoing chronicle of his experiences as an up-and-coming writer in the B2B world.
Steve's posts showcase his thoughtful, process-driven approach to building a successful B2B career – and he's very funny and down-to-earth about the challenges of juggling his writing career with his full-time career and family commitments.
Reading his posts, you'll find stories of screw-ups and success celebrations. Notes on proposals accepted, rejected, and renegotiated. Moments when life got in the way of the best-laid plans. Doubts. Lucky breaks.
It all adds up to an authentic "behind-the-scenes" view of the real B2B writing life, laid out for the B2B Writing Success Community to learn from, and chime in with advice, encouragement, or commentary.
Not everyone would flourish in that kind of spotlight. Reality bloggers have to be brave.
But, they don't have to feel alone — Steve knows he has the full Team B2B "back of house" infrastructure to draw on as needed.
And he's proving — to himself and the Community — that anyone willing to follow the roadmaps and use the tools will indeed find success as a B2B writer.
Which begs the question…
What Would You Achieve as a B2B Writer If You Knew You Couldn't Fail?
Imagine, for a moment, that you were like Steve, and already a part of Team B2B.
You could sit down and write out what you wanted from your B2B writing career.
And, instead of looking at your goals and aspirations as little more than hopeful daydreams, you could be confident it was all going to be within reach.
Not in some future, magical "someday" world…
In the real world. And soon.
After all, with the full force of Team B2B behind you, failure isn't an option.
Setbacks? Sure, you may have one or two. It's part of being a professional.
But for any twists in the road, you'll have the roadmaps, resources, and encouraging Community to get you back on track.
If you put in the work… and take advantage of the library of resources and array of templates and training experiences Team B2B continually assembles for working B2B writers just like you… you'll find that success is truly within reach — even if you're starting from scratch right now.
Your Chance to Have It All
Everything I've shared about the resource-rich, supportive nature of the Team B2B experience is possible because of the private nature of the group.
Shielded from the general public in the members-only areas and private discussion groups, members get to know each other very well, even from continents away.
There's no pretense or posturing — everyone's on the same side, working toward being the best.
And, knowing they're among friends who "get it," top-tier B2B experts don't hesitate to give generously of their time and share their most honest, unfiltered advice.
"Thank you for this touching, encouraging article. I have been sitting on my butt too long about starting my business and this article is a wake-up call for me. Thank you, again."

Sandy Braccey
Plus, even though it's a private group, your backstage pass ensures your immediate inclusion in the community.
New members are welcomed with open arms, and will be invited to participate in discussions at the highest levels (if you've ever been to an uncomfortable business networking session, you'll be shocked at just how warm, friendly, personable, and relatable the top players in Team B2B can be).
That's why joining this supportive, informative, exclusive group gives you a rare chance to have it all…
Skills training, including articles, how-to guides, podcasts, and even LIVE training sessions from top B2B experts.
Project guides to save you time and keep you up-to-date with industry best practices (including — right from the start — Steve Slaunwhite's enviable guide to the top 31 B2B projects).
An ever-expanding library of practical, use-me-now B2B strategies and tools covering everything from marketing insights to client management.
Discounts on B2B skill-building programs available from American Writers & Artists Inc. (AWAI) and on exclusive major B2B training events, including the extremely popular B2B Writing Intensive.
Exclusive job postings (there's a private members-only jobs board) and regular writing opportunities for pay or practice. (Charlotte will loop you in on these once you're a part of the group.)
Powerful networking connections… the top B2B writers from around the world claim membership in Team B2B. You can reach out to them directly through the B2B Writing Success platforms, forming instant links with elite-level writers and like-minded peers.
In short, it's all the infrastructure you need to build a powerful career as a professional B2B writer… and with all the new resources added each week, it's a support system that grows more valuable all the time.
Now, if you're a business professional, you know how much dues for elite-level masterminds or high-quality professional business associations like this can cost — $500, $800 — even $2,000 per year.
And yet, for all the variety of benefits of other organizations out there, not one of them can hold a candle to the hands-on, comprehensive, B2B-specific infrastructure the B2B Writing Success Community provides.
Plus, there's the incalculable value of having a real, personal "in" to the B2B world as you connect with both peers and potential mentors in the private members-only areas.
That's why — at a modest $49 per month — becoming a part of Team B2B is surprisingly affordable for the value it offers back.
And, as long as you remain an active member of Team B2B, your dues will never go up.
(They will certainly go up for new members, as they have in the past, but joining today means your dues are locked in at the current rate.)
No Risk… In Fact, a Long-Term Commitment Isn't Even Required!
The business world can change fast… and the B2B Writing Success group is certainly an ever-expanding, ever-evolving resource.
But there's one constant… if you're not 100% satisfied being a part of Team B2B… not 100% pleased with the quality of the overall infrastructure, the learning resources, or the networking opportunities… just say so!
After all, you're not locked in to any kind of multi-year commitment here. Team B2B dues are collected on a month-to-month basis.
If you decide Team B2B isn't for you, your membership in the group will be promptly canceled, with no further dues owed. And, any resource or tool you've downloaded during your time on Team B2B is yours to keep with our thanks and best wishes for your future success outside of the group.
So, there's no risk in joining today… only the chance to become a part of the most private yet welcoming group of B2B writers in the business and gain access to every one of their top-tier resources for building a successful B2B career.
Sometimes, It Really is All About Who You Know…
Finding success on your own as a B2B writer is possible.
It just takes longer… much longer… than plugging yourself into an existing system custom-built to support writers like you on the path to B2B success.
So why choose the long road to the top?
There's already a whole behind-the-scenes Community loaded with resources waiting for you to wave your backstage pass and join them so they can help you reach your goals.
Take the first step toward a successful B2B career now, and join Team B2B today by clicking the button below:
Or call our Member Services Team at toll-free 866-879-2924, and tell them you're ready to join Team B2B today.
To your success,

Rebecca Matter
President, AWAI
Founder, B2B Writing Success
P.S. Being on the inside really does make a difference.
You're more confident approaching clients with a library of best-practice templates and roadmaps on your side…
Not to mention the boost that comes from having access to the social networks where you can ask unlimited questions and get answers from people in the know.
Just a few moments from now, you could be on your way to having multiple friends in the business.
So don't let another second pass without putting the whole power of Team B2B on your side… and remember, when you join today, your monthly dues are just $49 per month.
---
American Writers & Artists Inc.
101 SE 6th Avenue, Suite A
Delray Beach, FL 33483
(561) 278-5557 or (866) 879-2924
www.awai.com