Everyone knew this couldn't last forever.
We even warned you that this day was coming…
But after an amazing run of incredible savings, our very best offer to join our highest level of personalized mentored training — Circle of Success — is coming to a close.
Your special AWAI members-only discount…
The small down payment that gives you immediate access to EVERYTHING and set you on your expedited journey to successful paid writer…
The generous payment plans, tailored to your needs… and designed so you can "earn while you learn"
And this…
A full rebate of EVERYTHING you've EVER spent with AWAI in the form of a credit toward Circle of Success membership.
That last one has added up to some amazing savings for our most serious members while in effect.
Some called in and were shocked to discover lifetime credits of $2,035… $4,336… $4,870… $5,850… $6,679… $10,786… $13,673… $14,436… and more waiting for them.
The good news is, our records show that YOU have credits waiting as well.
The bad news?
This is your very LAST CHANCE to claim your LIFETIME credits… and apply them to Circle of Success membership.
Now, before I direct you to your total discounts, credits, and savings, it's important to ask…
Is Circle of Success right for you?
If you're serious about making great money as a writer fast…
The answer is an unequivocal YES!
Circle of Success is the industry's most comprehensive copywriter training — by far.
Whether you're just starting out or well into your career, this is a learning and business-building program for people who have made up their minds about becoming a professional copywriter.
It's for those who want the kind of personalized, mentored learning that can not only catapult you to the upper echelons of the copywriting world very quickly…
But get you PAID as a writer FASTER than you ever imagined.
The impact Circle of Success has had on its members is undeniable.
Steve Coombes, a copywriter who now also runs a very successful coaching business for freelancers, called joining Circle of Success his "make or break" moment:
"I had to decide whether I would continue treating copywriting like a hobby or if I was going to make it a serious and a full-fledged business worthy to invest in. And today, I make significantly more money than I did when I worked in IT. Circle of Success has directly contributed and it continues to contribute to my success and my income."
Julie Hassett, who writes for top-level clients across many niches, told us this:
"For me, the benefits began kicking in immediately.I started taking the live courses and getting feedback on my writing right away. And you can just choose any program and get it. That's a huge help to anyone starting out."
There's also Dave Sharpe — who landed a massive web-writing job for a global client on top of the $25,000 to $30,000 per month he currently bills his regular client — who said, very simply,
"The knowledge and skills I picked up from Circle of Success gave me the confidence I needed to play at this level."
Steve, Julie, Dave, and others you'll meet:
They're just a few of the many, many writers who've seen their fortunes change dramatically after joining Circle of Success.
And this success is no accident.
Circle of Success is hands-on learning that's constantly evolving… continuously adapting to the needs of the marketplace… and teaching our members accordingly.
After all, with the way the internet and e-commerce have evolved, not only is knowing how to write persuasively mandatory these days, but…
It's a financially valuable skill that can pay you millions over your lifetime…
And provide you with the freedom and a lifestyle that most people will never get to enjoy.
Which is why anyone who is serious about a lucrative writing career should not pass up today's LAST CHANCE to apply a lifetime of credits to your Circle of Success membership fee…
Every last dollar you've spent over your LIFETIME with AWAI will be returned as a credit!
I'll have more details on even more ways to save on your membership…
As well as details on how you can get started for a very small down payment… and cover the cost of membership (and more!) as you ramp up your skills and start earning money as a writer.
But first, let me tell you more about how Circle of Success works — and all the lifetime benefits you'll see as a member.
In a nutshell, Circle of Success membership puts you at the epicenter of the direct-response world and connects you with professional writers and marketers whose mission is to champion your success.
In a nutshell, this is a program that puts you at the epicenter of the direct-response world and connects you with professional writers and marketers whose mission is to champion your success.
It's a unique partnership through which you'll be guided and assisted throughout your entire writing career:
We'll help you choose the ideal niche market and "map out" a learning path that's personalized to you…
You'll have access to mentors you can turn to whenever you have questions or need direction…
Your copy will be reviewed by working copywriters and marketers who offer constructive feedback and direction…
You'll be introduced to marketers and working copywriters who will guide and assist you…
You'll work hand in hand with a de facto "copy chief" to master every copywriting assignment any client will ever ask you to write…
You'll take part in live learning programs, so you'll know what it's like to work with A-level clients on real projects, day-to-day…
When you're ready, we'll help you start and grow your business… connect you with the clients you want to work with… and make sure you have everything you need to make a strong impression.
And when you land a client, you'll have top, working copywriters you can call on for help, guidance, and direction to help you with your live writing assignment…
And much, much more.
It's like having an entire professional support team by your side 24/7 at EVERY stage — from the time you start learning… to when you're ready to start building your business… to well into your career.
Start Earning While You Learn
Because of the SPEED with which you'll be mastering marketable skills in your niche…
And the fact that Circle members can work hand in hand with top writers and marketers on real writing projects, for real companies…
Many Circle of Success members start generating income as writers while they're learning!
Just recently, for instance, Circle members Rebekah Mays, Mike Minicucci, Zoe Blarowski, Shirley Ann Chua, Brad Dunsé, and others told us they landed assignments with fees ranging from $2,000 to $10,000…
As recently as last week, I was passed this note from member Derek Coleman, who joined Circle of Success only this past August:
"Just landed a $5K monthly copywriting retainer (plus royalties) this morning… AND a $2K email campaign last night… ALSO, I just raised my rates."
But this is just a taste of what can happen.
Countless Circle members who applied themselves and took advantage of all the learning, mentoring, and access are now enjoying six-figure writing incomes they once thought were years away.
Some have broken into the highly lucrative financial and health writing niches.
Others have become highly respected web copy and content specialists.
Others have found their calling in the busy world of email marketing.
Many, like Liz Farr, are applying their past work experiences to the fast-growing Business-to-Business (B2B) world, where the demand for new writers is so high.
Former CPA Used Circle of Success to "Reinvent" Herself
Liz is one of many AWAI members who've used Circle of Success to "reinvent" themselves within their current industries — transitioning from a CPA… to a writer serving the accounting industry.
Now she's still in an industry she loves, but without the monotony of deadlines and pressure that comes with working as a CPA.
Plus, she makes more money — AND she had time to ghostwrite a book that went to No. 1 on Amazon in three categories!
In short, nothing will open up a world of possibilities for you like Circle of Success will.
With the in-depth knowledge you'll gain… the A-level skills you'll build… the lifelong connections you'll make… and our commitment to being "by your side" for as long as you need us…
There isn't anything you won't be able to accomplish in the lucrative world of direct and digital marketing.
From Rocket Scientist — to Copywriter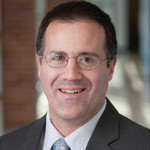 Jon Stoltzfus is an excellent example of what can happen when you put the full force of the resources, mentoring, and access you get from Circle of Success to work for you.
Jon's an aerospace engineer by profession.
But he was tired of the daily structure, the long hours, and worrying if there would be layoffs at the end of every contract.
He'd always enjoyed writing… and found out about copywriting through AWAI.
He was intrigued by the fantastic pay copywriters make… all the freedom they have…
And the fact that you can write about so many things… from anywhere in the world — whenever it pleases you.
So, he signed up for AWAI's Accelerated Program for Six-Figure Copywriting, and, like you, he set out to learn the secrets of persuasive writing.
But Jon's success as an engineer told him that to be ultra-successful at writing, he would have to immerse himself in his new craft…
He wanted to know the advanced secrets.
Learn more about the Big Ideas that drive successful sales letters.
Write meaningful copy…
And get professional feedback on his work.
He wanted to know that if he ever had any questions about writing or any other aspect of the business, there was someone he could call or email for the answer.
He wanted to get to know industry influencers…
Find out which companies were looking for new copywriters.
And more importantly…
He needed to make sure they got to know him.
In short — he was looking for a "partnership" in learning… someone who could teach him, guide him, and champion his success.
So, Jon did what many of our most successful members do.
He joined Circle of Success, and immediately gained access to EVERYTHING he would ever need to become a professional copywriter.
With a simple click of a mouse, he had over 100 learning resources at his fingertips…
Every AWAI home-study program, book, guide, course, and template…
Over $60,000 worth (and growing).
But that was just the beginning for Jon — and for everyone who steps up to this, the industry's highest level of learning.
Becoming a Circle member is like being "drafted" into a professional sports organization…
And now there's an entire team of managers, mentors, and high-level executives focused on your development and your success.
You have the full weight of AWAI behind you…
Starting with our company president, Rebecca Matter… me… AWAI copy chief Sandy Franks… our learning chief, Pam Foster… co-founder and A-level copywriter Paul Hollingshead… your team of mentors, coaches, and the many, many expert marketers and writers we're in touch with every day — all standing by to help you!
The benefits begin the moment you join.
We meet with every new Circle of Success member… get to know your strengths, goals, and objectives.
We help you select a writing niche if you haven't already…
Then tailor a learning path specific to the specialty you've chosen.
But we don't stop there.
You'll have access to mentors who can guide you step-by-step whenever you wish — so you always have someone to answer any questions you may have.
You have exclusive opportunities to work on live assignments for real clients and real products.
You'll get written feedback on your writing from top professional copywriters.
All at once, you're in the "upper echelon" of the copywriting world.
You're meeting and mingling with A-level copywriters.
You're learning high-level secrets from legends like Mark Ford, Bob Bly, Dan Kennedy, Brian Kurtz, John Carlton, Jay Abraham, Bill Bonner…
You'll have a chance to connect with the superstars of the day like Mike Palmer, Carline Anglade-Cole, Aaron DeHoog, Ryan Deiss, Brian Clark, Ben Settle, Marcella Allison, and many others.
You'll meet marketers, publishers, and copy chiefs from some of the biggest firms in the United States.
You'll be on a first-name basis with everyone here at AWAI — Rebecca Matter, Paul Hollingshead, Sandy Franks, me… and many of our partners who have deep ties to all niches of the direct-response world.
But here's what has really made a difference in Jon's success and the success of so many COS members…
He used AWAI and the access his Circle membership gave him as a conduit to the top people in the direct-response industry.
We introduced him to the people in his niche he wanted to meet — and who wanted to meet him.
When he wrote copy for them, we helped him fine-tune his ideas and polish his final drafts…
Then we made certain that the people whom Jon wanted to see his writing — saw his writing.
That's when everything changed.
Very quickly, top marketers were in a bidding war for his talents.
Today, Jon is one of "us"…
An A-level copywriter with million-dollar-plus controls under his belt.
A player in the booming direct-response industry… who's now earning more than his aerospace engineer salary.
And perhaps more importantly, he's happier than he's been in a long time.
Jon's story is a perfect illustration of why Circle of Success is a life-altering move for so many people.
You're taken by the hand and walked through every phase of the process…
From mastering the skills… to finding clients… to helping you grow your business to the size you want it.
Circle of Success is about learning the skills…
Working with professionals…
And getting known in our industry.
Jon and all the other real-life Circle member successes illustrate what can happen when
You're ready to make an effort…
And you use Circle of Success's connections to put yourself at the "epicenter" of a $3.5 trillion (and growing) industry.
Now It's YOUR Turn
If you're serious about a high-level career in copywriting…
And you're ready to learn from and work shoulder to shoulder with some of the best in our industry…
Today is your very rare opportunity to join this exclusive group… under some extraordinary terms — including discounts and lifetime credits that WILL NOT be extended beyond this invitation.
Once you're a part of this special group — there's nothing we won't do to help you succeed.
We teach you the skills…
We mentor you in every step of your journey…
We connect you with people who matter…
We are lifelong partners in your success — for as long as you need us…
And with exclusive training reserved ONLY for Circle members…
Like our recent three-day COS Getting Clients Summit — which you'll have immediate access to — where we make sure you have all the knowledge and the tools you need to land that all-important first client when you're ready.
We'll help you write your website, your LinkedIn profile, and your Facebook posts, and give you scripts and templates you can use when talking to clients by phone or email.
We even have real-world marketers and copy chiefs coming by to help you better understand what they're looking for in a writer — clients and copy chiefs who at this very moment are looking for writers to hire!
It's an amazing event that you'll want to take advantage of…
And the good news is, you can – including submitting your writing to clients looking to hire! – "risk-free" under the terms of our 60-day satisfaction guarantee that we extend to all new Circle of Success members.
More on that later…
There are other Circle of Success members-only events where you have an opportunity to experience "real-world" writing…
Such as interactive learning programs like Simulated Training, where you'll learn the much-needed writing projects businesses need NOW…
So you can start offering your skills at a fee IMMEDIATELY…
And at the same time, experience what it's like to learn and write with a major direct-response company…
You'll be part of our live instructor-led online trainings, where you learn the deeper secrets of constructing a sales letter…
You won't find this hands-on learning experience anywhere else in the industry.
You Can Deploy Circle of Success's Vast Resources at Your Own Pace
We also understand that everyone's circumstances are unique.
Some Circle members can go "all in" immediately — and dedicate 100% of their energies to their copywriting careers.
But most of our members have families and full-time jobs… and can dedicate only so many hours a week to honing their new craft.
And although we may reach out to you from time to time, especially if we haven't heard from you in a while…
We never force you to work faster… or move you to another level of learning before you're 100% confident you've mastered what you're working on now.
And we'll never abandon you.
Once you're a Circle of Success member, you have access to our learning programs, our people, and our resources… for life.
And that's saying something.
Because no organization in the world has the contacts and the "deep reach" into the direct-response industry that AWAI has.
No other organization has amassed a library of knowledge that can only come from close relationships with the top experts in our industry over the past 24 years…
No other organization has so many copywriters eager to "pay it forward" and help up-and-coming writers like you master new secrets and navigate the industry…
No other organization has more connections to top clients — or has more companies approaching them when they're looking for new writers than AWAI has.
And Circle of Success assures you have access to ALL this firepower.
Now, that's a look at Circle of Success from 30,000 feet.
But being a Circle member is far greater than the sum of all its parts.
So let me give you more of a feel for what you can expect when you step up to this, the industry's ultimate level of learning.
As I take you through, please remember — given that we tailor every Circle of Success learning experience to match your interests and income expectations — everyone's journey is different.
But it all starts with one of the most appreciated aspects of Circle of Success membership:
Free Lifetime Access to AWAI's Extensive (and Growing) Resource Library
In the 24 years AWAI has been helping aspiring writers, we've amassed the largest and most comprehensive learning library for copywriters on planet Earth.
Over 100 self-study programs, interactive courses, business-building guides, templates, books, and more…
Each of which, if you were to buy them separately, would cost you over $60,000.
As a Circle of Success member — you're entitled to all of it.
I'm talking about the complete library of AWAI-published writing and career-building products — everything from our advanced Masters Program… to our niche specialty writing programs… to our getting-clients resources… and everything in between…
You get every home-study resource AWAI offers now — and every NEW home-study resource we add in the future…
And your access is for life.
Members appreciate this "all-access pass" because it is one more way Circle of Success gives you all the tools you need to be successful.
Circle member Julia Borgini says having access to everything "gives her options" when her clients ask for a project type she might not have written yet…
"Having a one-stop-shop for all this wonderful information… removes any of the stress I might have when a client asks me for something I haven't written before. It gives me the confidence to suggest new projects to them… and lets me build up my skill set at my own pace."
Freelance writer Marianne Foscarini says Circle of Success's access to people and resources is a big reason she's able to earn more money in retirement than when she was working full-time:
"The most valuable AWAI program is whatever I need at the moment to help a client!" she says. "Circle of Success has really been worth the investment for me."
Christina Gillick told us…
"This single perk gave me immediate confidence to take on any project. I knew, no matter what type of copy a client requested, I could instantly access the program, learn what I needed to know, and deliver impressive results every time."
Now…
There are far, far too many programs to describe for you in this invitation. But if you'd like to see a partial listing of all the home-study and business-building resources you'll be entitled to, click here and a separate window will pop up.
Of course, "access to everything" is just one of the many, many benefits of Circle membership.
There's also
Free Passes to Bootcamp — the Copywriting Event of the Year
If you're serious about copywriting, there's nothing like AWAI's annual FastTrack to Copywriting Success Bootcamp and Job Fair.
Bootcamp is an event you won't soon forget.
Each year features dozens of expert presentations, often running in succession from 7 a.m. to 9 p.m. each day.
You learn the latest tips and writing techniques from the best in the business and network with industry insiders who can transform your career in a single conversation.
Here are just some of the top pros who have spoken at Bootcamp over the years:
Bob Bly
Richard Armstrong
Dan Kennedy
Ann Handley
Steve Slaunwhite
Bill Bonner
Nick Usborne
Carline Anglade-Cole
Ilise Benun
John Forde
Jen Stevens
Brian Clark
Mike Palmer
Richard Viguerie
Jon Morrow
Andrew Davis
Alexander Green
Ryan Levesque
Ryan Deiss
Joshua Boswell
Gordon Graham
Ed Gandia
Ben Settle
Michael Katz
Heather Lloyd-Martin
Aaron DeHoog
Roy Furr
Brian Kurtz
Marcella Allison
Jedd Canty
Marcia Yudkin
John Carlton
Joe Vitale
Jay Abraham
There's also the powerful networking aspect of Bootcamp.
And, this October, you'll have an opportunity to meet face-to-face with many of the heavyweights of our industry.
Imagine renewing acquaintances each year with Bob Bly… catching up over a drink at the bar with AWAI co-founder and copywriter Paul Hollingshead… or direct-response legend Mark Ford… talking about your latest project with Rebecca Matter and Nick Usborne…
Plus, Circle members get added exclusive perks at Bootcamp… like early access, special events, Master Class learning sessions, and unique networking opportunities.
And, speaking of networking — nothing can propel your career ahead farther and faster than our hugely popular Job Fair that happens every year at Bootcamp.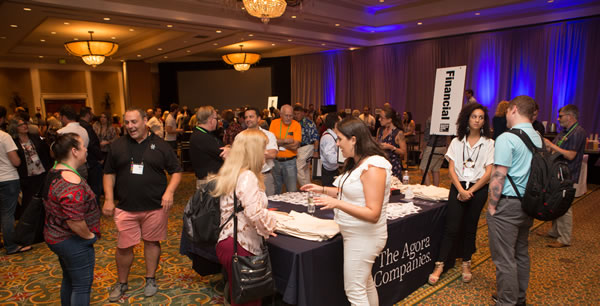 Job Fair is an "event within the event" where marketers from our industry descend upon Delray Beach every year…
Companies like… Banyan Hill Publishing, Stansberry Publishing, Beachbody, Eagle Financial, Oxford Club, Bonner & Partners, Sears Institute for Anti-aging, The Healthy Back Institute, Tradesmith, Weiss Publishing, Abbey Woodcock Inc., Bottom Line Publishing, Opportunity Travel, NewMarket Group, Legacy Research, Money Map Press, AWAI, and dozens more.
And they come for one reason: to meet aspiring copywriters like you… talk about their business… and give you invaluable insights into what it's like to work for A-level clients.
With access like this, it's no surprise that so many Circle of Success careers have been launched at Bootcamp.
Steve Coombes, one of the Circle members I told you about earlier, is a BIG fan of Bootcamp. His big break came after he attended his first Bootcamp and Job Fair and got a chance to write a sales letter for The Healthy Back Institute… which ultimately led to his first paid writing assignment:
"When I went to Bootcamp, it was like a rocket. I literally took off in this business, and I have not slowed down at all."
Now Steve's career is taking off like never before. Thanks to the confidence and connections Circle of Success membership has given him, he's parlayed his writing and marketing skills to become an in-demand business coach, with a No. 1 podcast — as well as an A-level copywriter.
Malcolm Smith is another Circle of Success member who told us Bootcamp was what really got his career moving:
"I made tremendous contacts there. I also landed my first assignment at Job Fair… which led to my second assignment… and I still refer back to the handouts and notes from those amazing Bootcamp presentations."
Member Roy Furr has actual numbers to back up his success at Bootcamp:
"My first AWAI Bootcamp launched my copywriting career and was directly worth $42,964 within 12 months… and within one week of my second Bootcamp, I had $26,000 worth of new projects. This is the smartest investment you can make in your copywriting career… PERIOD!"
And that's just a very small sample of the AWAI members who credit Bootcamp with kick-starting their writing careers.
Best of all, as a Circle of Success member, you get to attend ANY three Bootcamps you choose! — a $7,500 value — absolutely free!
Plus, your timing couldn't be better…
We've just announced new dates for our 2021 Bootcamp — October 12–15 — and as a new Circle of Success member, you get to come at no charge… and enjoy all the special perks only Circle members get!
But Circle of Success is FAR MORE than unlimited lifetime access to our entire library and free VIP Bootcamp experiences… even though those two perks alone add up to $67,500 in value.
By far, the BIGGEST and most enduring benefit is the personal attention and in-depth LIVE training you get…
Including an entire team of personal mentors to help you at every stage of your career: from learning the skills you'll need to succeed in your selected niche… to landing your first client… to helping you grow your business once you're a working copywriter.
First, We'll Get to Know You… and Map Out a Personalized Plan
It all starts within a few days of signing up…
That's when you'll hear from Barb Hume, AWAI's director of Premier Memberships.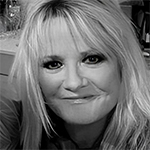 Barb will walk you through your COS Member Page — show you how to access all of the programs and resources you're now entitled to — and give you important dates for your orientation and future online classes.
Barb will also introduce you to your COS Member Success Team — standing by in case you have any questions about your membership… need help accessing any of the benefits… or would like any additional information related to the niche you've chosen.
Your LIVE
"Career Action Plan" Call
Next, Barb will invite you to schedule your Career Action Plan (CAP) phone call… the first of your "mentoring" calls, where we'll talk about your goals and objectives and prepare a learning path specifically for you.
This is where you'll speak on the phone or via video with one of our professional working copywriters… perhaps AWAI president Rebecca Matter or me… so we can get to know more about you…
Your areas of interest…
Your life and work experiences…
Your strengths…
Your income objectives…
Your writing experience…
And much more.
At the same time, you can ask us questions, like these:
Where are the best opportunities right now?
Where is the highest demand?
Who and what niches pay the most?
Where am I most needed?
Then, once we get to know each other better, we'll map out the best learning plan for you — and put together a Career Action Plan tailored specifically for you…
A plan specifically designed to get you up and running as a paid copywriter in as short a time as possible.
Meet Your Circle of Success Professional Mentors
We'll also explain how the mentoring process works for Circle of Success members.
ONLY Circle of Success members have access to personal mentors.
They'll play a crucial role in your success.
They're your "partners" throughout the entire learning process…
Professionals you can reach out to any time you're stuck… not sure which step to take next… or whenever you have questions about a particular aspect of writing… or about the industry in general.
You're never alone! Your mentors are available throughout your learning experience… encouraging you, pushing you to succeed, giving you confidence in knowing that anytime you need something — someone will be there for you.
And, just so we're clear…
The folks you'll be working with aren't merely "hired hands" who have been quickly trained on the ins and out of copywriting.
Not by a long shot…
These are successful working copywriters and marketers…
Pros who write every day… who know the business… who understand the niches you've chosen… who know the journey you're on… and who are committed to helping you succeed.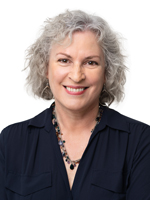 Like Circle of Success graduate Pam Foster.
Before joining AWAI as our learning chief, Pam successfully fashioned a six-figure writing career following her passion for animals and the pet industry.
Pam is hugely popular among our members for her energy and enthusiasm — and can help you enormously when it comes to getting the skills needed to make headway in your chosen niche.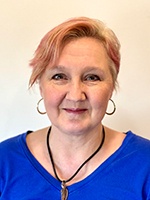 There's Lisa Christoffel, another Circle member who now writes web copy, sales letters, newsletters, and SEO-optimized web copy for the Business-to-Business (B2B) market — and serves as AWAI's managing editor of B2BWritingSuccess.com…
If you're interested in Business-to-Business writing, you're bound to have a lot of contact with Lisa — along with other top B2B writers from this very lucrative and "in-demand" field.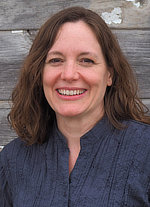 Or Heather Robson, managing editor of WealthyWebWriter.com. Heather is a wealth of information, having written everything from financial copy with legend Clayton Makepeace… to health copy alongside one of AWAI co-founders, the late Don Mahoney.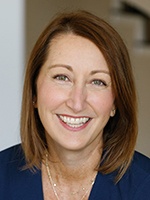 You could be speaking with me… or AWAI president Rebecca Matter, who's recognized as one of the top web-writing experts in the country and who's responsible for our overall web-marketing strategies here at AWAI…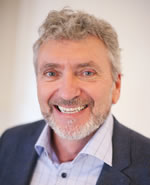 Or you may be in touch with Paul Hollingshead, another AWAI co-founder, who's worked with many, many Circle of Success members over the years — particularly with those leaning toward a career in writing financial copy…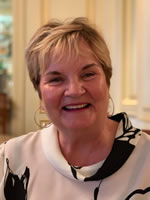 Or Denise Ford — the remarkable woman responsible for making each AWAI annual Bootcamp and live event better than the previous one — and someone who knows our industry (and the influential players in it) like no one else…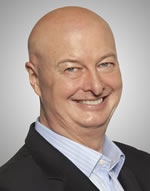 Or Gary Hennerberg — Circle of Success member and six-figure copywriter with a long list of clients from many niches. You might know Gary from his now-famous marketing pieces featuring Native Texas Pecan Cakes — a brilliant "repositioning" of boring old fruitcakes that led to millions in sales.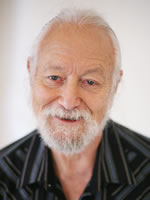 Or Will Newman, COS's Master Instructor, who teaches many of the online courses you and your fellow Circle of Success members will be encouraged to take. He's written copy for decades for many industries and is a significant contributor to the COS blog and many other AWAI publications.
And we're adding new mentors all the time.
Your Circle of Success personal mentors can answer any questions you have at any point in the learning process…
They'll keep you on track…
Let you know what skill you should be learning next… and the best programs and practices to help you learn it…
They can also help get anything you write put through our "peer review" process — which is a proven "positive feedback" technique many marketing organizations use to make copy stronger, leaner, and more effective.
If you'd like your headline and lead to be part of our periodic online copy reviews…
Or if you'd like a professional copywriter like Paul Hollingshead — or a top marketer and copy chief like Sandy Franks — to read your work and give you feedback, your Member Success Team can make it happen.
Your COS mentors will always be there for you — whenever you're stuck, confused, frustrated, or wanting to know where to go next.
When the time is right, he or she can even put you in touch with someone you've been eager to speak to within our industry.
Even help you line up an A-level copywriter to work with you on your first significant project.
No longer will you ever have the feeling you're "going it alone."
It's a level of comfort you'll have that will certainly make the learning process not only easier — but far more enjoyable and productive as well.
Like Dan Reinhold, who told us, "I'm subject to overwhelm and prone to disorganization. My mentor has helped greatly to keep me on track and heading in the right direction!"
Or Kristen Stelzer, who recently told us the mentoring she got through Circle of Success played an important role in helping her focus on a direction, adding this:
"These copywriters have more experience building their writing careers and are happy to share their wisdom and answer my questions. I know I've progressed faster by talking with them than I ever would've on my own."
And Eddie Stephens, who found his niche in the dental industry, told us this:
"Knowledge [that] I have immediate access to the minds and methods of Master Copywriters and content creators is a huge perk for me. Also knowing I can get support, encouragement, or talked-off-the-ledge on a client/project issue."
I know copywriters who pay upward of $5,000 a year to have "success coaches" who don't have anywhere near the clout or access to the information your Circle of Success mentors do. And for those at a high level — the cost can be $10,000 to $20,000 per year.
But for you, mentorship is just one of the many perks when you join Circle of Success.
So…
With your Career Action Plan set… access to every resource you need… and confidence in knowing you can contact a mentor anytime you have questions or need guidance…
It's time to start mastering the writing and research skills you'll need to compete at the highest levels of our industry.
Now Your Transformation to A-level Copywriter Begins
That's where our Circle of Success learning "roadmap" comes into play…
It's a customized "learning blueprint" created by you and your mentor that takes you from wherever you are now — to being an A-level copywriter with a thriving professional freelance business.
Only Circle of Success members will have this roadmap created for them.
It takes full advantage of every resource AWAI has at its disposal — and tells you exactly what you should be using… and when.
Now…
It's important to know that every Circle of Success member's roadmap will be different, depending on how much writing experience you have… how much you know about marketing… what niche you've chosen… and so on.
But let's assume for a moment that you're entering the copywriting world with no experience whatsoever.
Not a problem!
Once we've gotten to know you and laid out a learning path for you, your mentor will start with you at the very beginning… giving you the resources you'll need to get up to speed as quickly as possible.
Your journey will likely start with a handheld tour through AWAI's flagship program, The AWAI Method™ for Becoming a Skilled, In-Demand Copywriter…
Where Rebecca and I walk you through every section of the program, stopping to spend more time at essential parts to really drive home the learning experience.
Next, you might participate in the Circle of Success Power of Persuasion class, where you'll learn the deeper secrets of writing persuasive copy.
You'll likely be encouraged to take on practice "portfolio-builder" assignments along the way and hand them in for our review team's constructive feedback.
You'll also be introduced to different "niches" of copywriting, so — while you're gaining a good, solid, core understanding of writing compelling copy in your chosen niche — you'll be more prepared, having gained experience and insight into all areas of the direct-response world.
From there, you'll have an opportunity to take a series of "deep dives" into all aspects of copywriting.
You'll learn about
Mastering breakthrough headlines…
The secrets of powerful leads, complete with guides, checklists, and templates…
Ways to load your letter with overwhelming proof and credibility…
The art of creating the "irresistible offer"…
Techniques for weaving the all-powerful "Golden Thread" throughout your copy…
Mastering the "push" and closing your letter with a compelling call-to-action…
Powerful P.S. messages…
Secrets of writing a can't-miss order device, along with templates and our market-tested 15-point checklist…
Tips for editing your letter from the best in our industry…
Processes for stronger, leaner writing…
Secrets of "conversational" copy and video sales letter scripts…
And much, much more…
But that's not all…
We'll want you to learn to write all the "collateral pieces" marketers will ask you to write… copy that you can charge more for and use to boost your letter's returns as much as tenfold.
I'm talking about "lift" emails… space ads… lead-generation pages… landing pages… video scripts… video sales letters… sales funnels… SEO web copy… social media posts… and much more.
And, like with the sales letter writing process, you'll have an opportunity to get personalized feedback on your writing — every step of the way.
I think you're getting the point here.
When it comes to elevating you to the highest levels of copywriting, we leave no stone unturned when it comes to making sure you have the skills needed to be successful.
Of course, you may be thinking, There's so much to learn here… it's overwhelming!
Really, with our help, it isn't…
That's because, with the method by which your mentor will help you structure your learning… one skill simply "builds" on the next.
So once you have the fundamentals of persuasive writing down pat — that skill carries over to virtually every piece of writing you do — from knocking out a winning headline… to writing a "welcome" letter to a new buyer.
It's all just a matter of fine-tuning and adapting the persuasive writing skills you'll learn early on to different situations.
And with every lesson, you're not only expanding your arsenal of skills… but also reinforcing the persuasive writing skills that are so critical to your copywriting career!
This "academic" aspect of learning is key to your success…
The Most Comprehensive Online Classroom Offered Anywhere
(and Only Circle Members Have Access)
But your deepest and most visceral learning experience is certain to come via the "live" learning programs — many of which are available ONLY to Circle of Success members.
In fact, aside from the high-level access you'll have to us, to other A-level copywriters, and to marketers looking to hire their next superstar copywriter…
The live interactive learning you'll experience as a Circle of Success member is certain to have the greatest impact on your success as a copywriter.
Your first "live learning" experience begins with our exclusive Targeted Learning Classes — a university-level, online, instructor-led "deep dive" into the key components of a direct-response sales letter.
Targeted Learning is the most comprehensive online "classroom" program on sales letter writing offered anywhere.
It's the definitive "live" program for learning exactly how to structure a direct-response promotion…
You'll learn how to write each element of a professional sales letter from start to finish.
You'll discover how A-level copywriters do their research and uncover those all-powerful Big Ideas every successful sales promotion MUST be built upon.
You'll learn how top writers "connect" with their readers and establish that all-important trust.
You'll learn how to "talk" to your prospect in a conversational tone — and write with unparalleled clarity.
You'll learn techniques the very best copywriters use to ratchet up excitement line by line, paragraph by paragraph — until your reader can't wait to buy your product.
It starts with The Power to Persuade: Your Life-Changing Moment.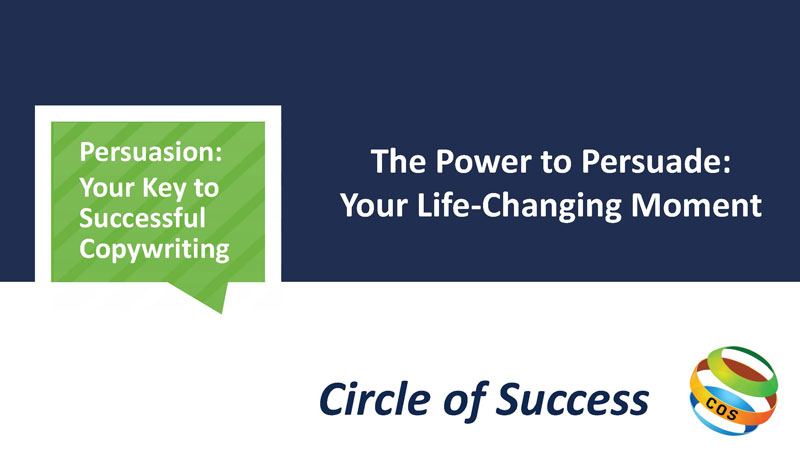 This is where, among other things, you'll unlock the "secret structure" of every sales letter and learn to write with much greater focus and clarity.
You'll study Mark Ford's breakthrough "Architecture of Persuasion," where he takes you step-by-step through the relationship you have with your reader at every stage of the sales letter.
Next, your customized learning path might have you diving headlong into the Targeted Learning Classes, which deal with the actual components of a sales letter: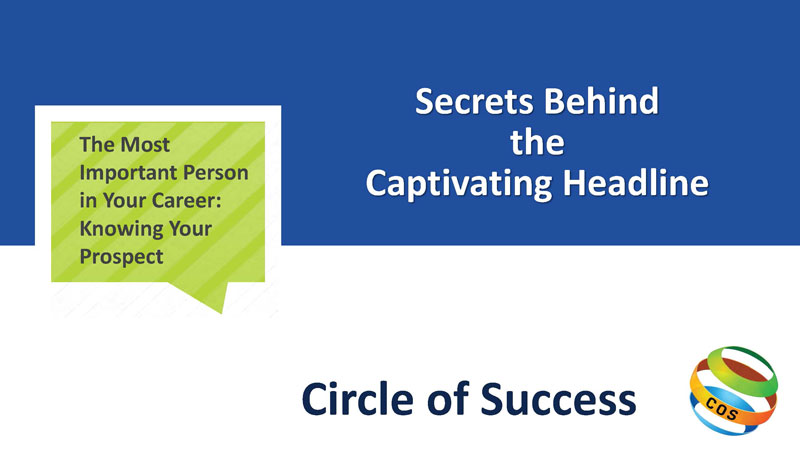 The Secrets Behind the Captivating Headline — where you learn the indispensable skill of research, the art to finding and fine-tuning your promotion's Big Idea — and turning it into a powerful headline that grabs your reader's attention and never lets go…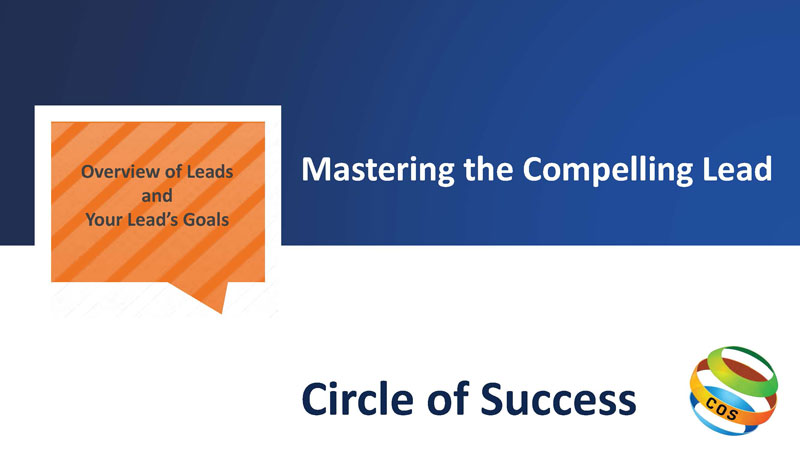 Mastering the Compelling Lead — where you make a powerful promise that connects your reader to the product or service you're promoting… and begin to establish that all-important trust that must exist between you and your reader…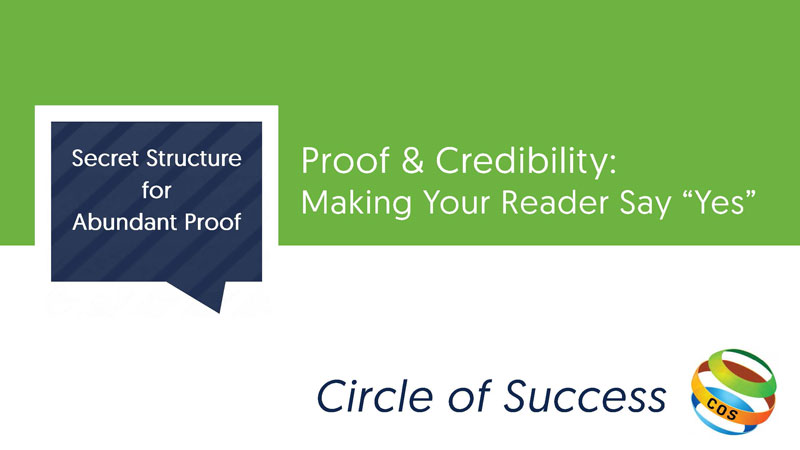 Proof & Credibility: Making Your Reader Say "Yes" — where, through examples, stories, and anecdotes, you demonstrate that your product can deliver what you're promising, making sure every claim you make is supported with undeniable proof…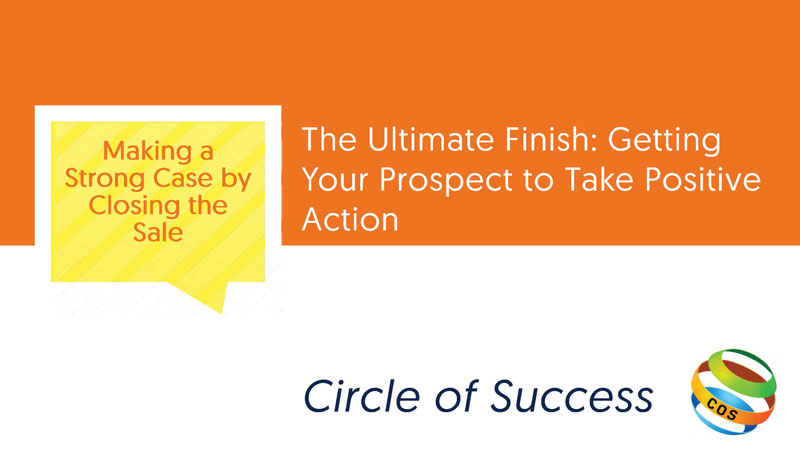 The Ultimate Finish: Getting Your Prospect to Take Positive Action — where you sum up all the benefits, make your offer, give (and justify) the price, and lay to rest any lingering doubts, questions, and concerns your reader may have… and, most importantly, get them to take action!
And remember…
Every step of the way, you are WRITING copy for your niche… working on actual assignments… submitting your copy to our experts… and getting professional feedback and suggestions for improvement.
Like so many Circle of Success benefits, Targeted Learning is available only to Circle of Success members.
But if it were open to everyone else, we could easily charge $10,000 for all four of these incredibly comprehensive courses.
So, with just the resources I've mentioned so far… access to our entire library, the three free Bootcamps… the coaching and mentoring… the Targeted Learning… our all-new Summits — we're up to well over $165,000 worth of lifetime benefits!
But there's even more to Circle of Success. Much more…
You'll Master EVERY Aspect of Copywriting and Marketing
Once you've mastered the core sales letter elements, you want to start mastering all of the "collateral" elements of a sales promotion through an interactive program called Advanced Training.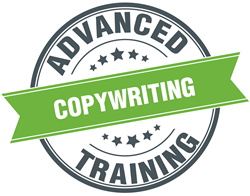 These are live and interactive training modules specifically developed to give you the knowledge every copywriter working in today's internet era must know — like how to write lift notes, internet ads, landing pages, stick letters targeted to your niche, and more…
For instance…
Your client may want you to turn that sales letter you just wrote into an online video sales letter (VSL).
It's important that you know how.
You'll most certainly be asked to write several lift notes that tease to your sales letter so your readers will click on the link and read it.
If your letter will be promoted online — through Google, Facebook, or the ad networks — you'll want to know how to write teaser ads to get people to read it…
Some internet ad networks require your online ad to lead to an "advertorial" — an informational marketing piece that looks and reads like a news article… but is designed to "drive" your reader to your sales letter.
Your client will inevitably ask you to write a "splash" or "landing" page, with copy that encourages your prospect to read your letter.
We'll make sure you know all of it.
You can make more money offering to write a "welcome" or "stick" letter to people who've bought your product or responded to your sales letter… an important technique for building customer loyalty and cutting down on refunds.
If you're savvy, you'll recommend that your client offer a "one-click upsell" that promotes a new or complementary product immediately after your reader has just bought something. You'll want to offer to write that copy, because it can mean more money for you, so we'll show you how.
There may be another series of emails that lead to a secondary sale — something known in the industry as a "gauntlet series."
Not only are these elements an extra source of income for you… but they can also dramatically boost the success of your sales letter and generate bigger royalties for you.
And remember — throughout this entire learning process…
You'll be learning and getting feedback from some of the top names in our business!
So, imagine…
Learning how to construct a captivating landing page from web-writing guru Nick Usborne…
Writing an email campaign with insights from top email marketing specialist Ben Settle…
Mastering writing and editing techniques from A-level copywriters Carline Anglade-Cole and Marcella Allison and Bob Bly…
Getting Big Idea research insights from one of the greatest "Big Idea" copywriters of all time, Agora Financial senior copywriter John Forde (who, incidentally, learned to write copy working side by side with Agora founder and copywriting legend Bill Bonner).
Gleaning insights into editorial article writing from Steve Sjuggerud, editor of (among others) Daily Wealth, one of the biggest and most popular financial newsletters at Stansberry Research.
Dan Kennedy showing you how to write highly effective "welcome" emails.
Rebecca Matter and AWAI copy chief (and longtime Agora marketer) Sandy Franks teaching you about e-letter ads, advertorials, and gauntlets…
And that's just to name a few…
These are top people in our industry — earning six- and seven-figure incomes…
Some — like John, Rebecca, and Sandy — are associated with companies actively looking for new writers (AWAI among them!).
And regardless of which learning path you take or which niche you choose…
You're going to be writing — a lot — and getting feedback every step of the way.
Everything from small space ads, to emails, to lift letters, to welcome letters, to squeeze pages, to advertorials, to full-blown sales letters, video scripts, and more.
But there's much more to experience…
Simulated Training (a $5,000 Value) — Yours FREE
One of the most exciting live training experiences we've added is something I mentioned earlier — Simulated Training.
With Simulated Training, you experience what it's like to work for a real-world client, on a real-world writing project, with real deadlines, with a real copy chief.
It's a live, real-time program where we essentially "hire" you to write a project for us.
Accept this challenge, and you become a de facto "associate" of AWAI.
You'll be given an assignment.
Maybe it's a simple advertorial, which is the "content equivalent" of a sales letter and a skill every new writer MUST have.
Or an email series… or a sales page. We'll let you know.
We'll show you how to "prep" for the assignment — just as we'd show any new employee or new-to-AWAI freelance writer.
Much of that "prep" work will involve tapping into the vast array of study and training resources Circle of Success membership entitles you to — so you can gain a firm grasp of the writing project we'll work on together.
Most of the time you'll work with two of AWAI's top people — 30-year Agora marketing veteran Sandy Franks… and AWAI co-founder and 20-year copywriter Paul Hollingshead.
They'll be your copy chiefs.
They'll send you details of the project… invite you to an initial video call where you'll hear more about the project… brainstorm some ideas… learn who we're aiming our messaging to… what the writing needs to accomplish… and so on…
All the details you'll need.
Paul and Sandy will then go over the proper structure of the piece you'll be writing and give you a "template" to follow.
They'll show you effective research methods — and pro tips for finding unique angles and new ideas that'll make your writing project stand out.
Answer any question you have… assign you a deadline.
Then, just as any working freelance writer would, you'll go away… and write.
Anytime you're stuck or need some guidance, you can shoot Sandy or Paul an email… and you'll get the direction you need.
On or before the deadline, you'll submit your writing to Paul and Sandy, who'll give you personalized feedback on your writing and, if necessary, suggestions for improving your next draft.
And here's the kicker…
If you finish your piece and we think it'll resonate with our audience — we'll use it and pay you for it!
I hope you can see what an invaluable experience this would be for any new writer.
Not only will it inspire you to learn new projects and hone your writing skills…
And not only could you be PAID for your writing, but…
Along the way, you'll learn — firsthand (and in real time) — how the entire copy process works:
How to interact professionally with top industry clients…
How to take on and prepare for big-league writing assignments…
What to do at every stage of the project…
How professional brainstorming sessions work…
How to find, pitch, and refine "Big Ideas" for your package…
How to collaborate on headlines and leads…
How to take your writing project from a rough "germ" of an idea… to a highly polished piece of writing you'll be proud to have in your portfolio.
To be clear…
You won't find anything quite like Simulated Training anywhere else in our industry… where you get to experience in a nonjudgmental and "safe" environment what it's really like to work with a real client on a real project.
Plus, while others may pay as much as $5,000 to take part in anything close to Simulated Training — you will have unlimited access to it for life!
You'll Be Writing "For Keeps"
Remember, too…
Not only will all these "live" assignments you'll be working on help you broaden your skills and give more marketers more opportunities to watch you grow as a writer, but…
You'll also be building up an impressive portfolio of work you can proudly and confidently show to any prospective client in the direct-response industry.
We'll even help you incorporate these samples into a powerful "self-marketing kit" you'll be proud to show any client you want to write for…
Complete with writing samples, an introduction and proposal letter, and other pertinent material that marketers want to see.
We'll Help You Create Your Own Promotional Website
If you'd like to have a promotional website of your own, no problem…
AWAI has all the self-promotion tools you'll ever need within its library of amazing products…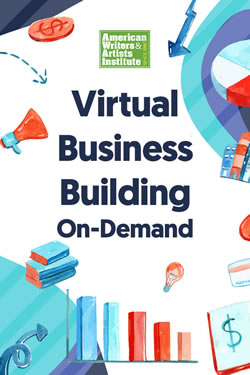 Including a program called Virtual Business Building On Demand — where top pros like Bob Bly, Rebecca Matter, Ilise Benun, Pam Foster, Joshua Boswell, Ed Gandia, and Nick Usborne not only show you how to create the ultimate personal website…
But also help you create a "branded" marketing message… a professional LinkedIn profile… a comprehensive Copywriter Marketing & Information Kit… a new client acquisition funnel… and more.
Of course, all this self-marketing is in addition to the direct access you'll have to the people and companies actively looking for writers…
People you will have a chance to impress with your writing…
Support at Every Level
Whether learning to write… building your freelance business… or finding new clients…
Circle of Success means you'll never be alone when it comes to ANY ASPECT of your professional development…
Your personal mentors are standing by.
You also have a direct line to our offices, so you can speak with any of our talented, friendly, and highly supportive COS Concierge Team members, including Jessica Garza, who's been helping Circle of Success members get what they want for years now!
And when it comes to your writing — you'll never be without help, guidance, and assistance.
You can bounce new ideas and writing off members of your private, exclusive COS Facebook and LinkedIn groups.
It's an excellent way to get fast, "first impression" feedback, varying ideas, and new approach suggestions from people who are potential buyers and have an understanding of copywriting rules as well.
Circle Exclusive:
Master Coaching Sessions
There's a very good chance that, like so many Circle of Success members, you could be "snapped up" by clients even before you've completed your learning path.
That's why you're going to love Master Coaching Sessions — yet another benefit only Circle members get.
This is where you'll have an opportunity to send any important piece of copy you're working on — whether it's for a real client or a spec assignment — directly to one of the AWAI pros for a detailed peer-review copy critique.
Someone like Paul Hollingshead, Sandy Franks, Rebecca Matter… or another six-figure copywriter, marketer, or copy chief.
These are people who know copy.
And as a Circle of Success member, you'll have an opportunity to see a full, comprehensive, "head-on" review of your writing…
With specific suggestions for how to improve and strengthen the headline… the lead… the offer… even the very idea behind your promotion…
Just think of how valuable that would be… the level of confidence it will give you when dealing with your first client.
Not only will you learn from the feedback of a professional copywriter — but it will ensure that the letter you're sending off into "the real world" is the best and strongest it can possibly be.
This kind of mentoring can give you a huge "leg up" in this business.
You'll remember I told you Jon Stoltzfus used this perk to work with Paul Hollingshead early on to make sure the copy he was sending to clients was at the highest level possible.
He kept building on that early knowledge…
Now he's one of the new "shining star" copywriters in the ultra-lucrative financial niche.
New writers who understand the value of high-level coaching are happy to pay upward of $10,000 for this kind of access.
But, as a Circle of Success member — you get one full, professional copy brainstorming session and critique each year, for life.
All you have to do is ask for it.
Again, this is the kind of access you get as a Circle of Success member…
Not only to great information… professional marketers… and A-level writers standing by to assist and guide you anytime you need help…
But also access to the biggest companies in our industry that are constantly on the lookout for new AWAI-trained writers.
And should you choose to take on any live assignments from the growing list of companies who come to us for new writers — your entire Circle of Success team will be here to help you from start to finish…
Making sure your first assignment for any dream client you choose to work with will be the "game changer" that launches your six-figure copywriting career.
So you see, Circle of Success really is the whole package…
From creating your own customized educational strategy… to personalized learning and feedback… to starting your writing business… to finding clients you want to write for… to growing your business…
Every step of the way, your fellow copywriters, COS members, mentors, teachers, and copy chiefs will be standing by, ready to guide, help, push, and encourage you.
And don't forget about our brand-new Deep Dive Learning Summits… where the entire three-day focus is on getting you the clients you need to thrive as a writer.
Remember too — join Circle of Success today and you'll get access to our recent COS Getting Clients Summit while your 60-day trial is in effect!
And if you can't make it to future ones or you feel you're not ready for clients yet — no problem!
All Summit events will be recorded in their entirety and available whenever you need them… including access to the feedback and direction given to live attendees, arranged through your mentor!
It's All Waiting for You Now
I've covered many of the core benefits of Circle of Success membership…
But nowhere near all of them.
This program is far too all-encompassing — and much too personalized — to possibly cover everything.
Some have compared it to a "university" for copywriters…
A "PhD" in the art of persuasion.
We think it's much more than that…
Universities don't provide you with lifetime mentors you can contact when you need assistance throughout your writing career.
Universities don't give you all the time you need to be successful.
Universities don't help you land clients… and champion your success long after you've "graduated."
And universities don't continue to be a professional resource for you… give you lifetime access to all their resources… help you grow your business… expand your knowledge… and keep you up to date on the latest developments in your field.
Circle of Success gives you all of it — and more.
That's why I'm so excited to invite you into our small, very special group today.
If you love to write…
If you're motivated to succeed…
If you commit to putting the experts and the resources to work for you as a Circle of Success member…
If you take full advantage of AWAI's access to the writers, influencers, and companies that can advance your career…
If you let your mentors guide and motivate you…
Circle of Success will ensure that you achieve your goals as a writer.
We've had too many successful members benefit from Circle of Success to believe otherwise.
Like Jon, who we mentioned is earning well into six figures as an A-level copywriter and copy chief…
Like Mindy, who was able to escape her cubicle and now earns six figures writing fun copy while her kids are at school…
Like Rae Robinson… who discovered AWAI while still in college… took full advantage of her Circle of Success benefits… and has already earned over $600,000 as a copywriter…
Like Cindy Cyr, who earns six figures writing "on the road"… while she travels with her teenage son Dalton and helps out with his music career…
Like Steve Maurer, the machinist at a food processing plant who went from making $25 an hour fixing machines… to $200 an hour writing about them for the B2B industry…
Like Dave Sharpe, the web specialist I told you about earlier who landed a whale of a new corporate client… on top of the $25,000 to $30,000 per month he currently bills for his web-writing work.
And the hundreds of other AWAI members who have stepped up to Circle of Success and told us how their careers have soared as a result.
I love this note Circle member Sharlet Brennan sent Rebecca Matter about how her membership helped her become a successful Business-to-Business (B2B) writer:
"I've grown my business so far with one strategy: Do what AWAI tells me to do! During my first year as a COS member, I studied formulas and tips from the Masters every night. The next day, I applied what I learned to my client work.

"My client content writing ranked at the top of industry websites… I say this not to brag — but it shows beautifully that AWAI delivers… even for new writers!"
And listen to this note from Circle of Success member Christian Nix, who just landed a writing job with Legacy Research, an Agora company AWAI Founder Mark Ford helped build:
"The folks at AWAI do a great job. Sandy, Rebecca, and ALL the people I have dealt with over there are genuinely supportive and — as was true in my case — will reach out to make it happen if they believe you have ability and drive.

"[Circle of Success] really is the best resource and support center you can have if you want to get going into copywriting for a living."
As Sharlet, Christian, and countless others will attest, you'll be amazed at how quickly things move once you come on board.
Within days, you'll have your Career Action Plan call, a plan in place, and a learning path to follow.
Every day, you'll be motivated to take one small step forward — by us, by your mentor, by your peers, by marketers waiting to look at your work, by the coaches you'll work with.
Day by day, week by week, month by month… your knowledge and confidence will grow.
You will no longer struggle with the letter writing process.
The words and powerful ideas will simply come to you…
You'll know instinctively how to grab your reader's attention… how to write in a conversational yet convincing tone…
You'll know how to gain your reader's trust… how to build excitement and acceptance with every paragraph… and, most importantly, have your prospect wanting to buy what you're selling long before the letter ends.
And, while you're perfecting the writing process, you'll be learning the "business" side of things…
Where the opportunities are…
Who the biggest marketers are…
What they expect of you… and how to work with them in the most professional manner.
Through it all, you'll be building up a contact list of friends, writers, marketers, and other business associates who can have a profound impact on your writing career.
You'll have a level of access to Rebecca, Paul, Sandy, Mark, me, and others here at AWAI we can't possibly give to the tens of thousands of regular AWAI members.
You'll be learning from — and getting to know — some of the biggest names in our industry…
Many are million-dollar copywriters… who routinely write sales letters that generate millions of dollars in sales for multimillion-dollar companies…
And even more importantly…
They'll get to know you.
Not just as "writers"…
But also as friends, colleagues, and — one day very soon — fellow professionals.
You can search the globe and you won't find a program that's minted more A-level copywriters than Circle of Success.
And that's why I'm hoping you'll join us.
As I'm sure you're aware by now, Circle of Success is not an "insignificant" investment.
That's why we're looking for serious people who are ready to begin (or advance!) their writing careers today.
You know by now that copywriting is a financially valuable skill that's in high demand.
The $3.5 trillion direct-response industry is 100% dependent on people who can write persuasively.
New copy — and new copywriters — are its lifeblood.
That's why it's not unusual for writers just starting out to apply these skills… write one letter that's very successful… and earn six figures in their very first year.
From that standpoint, Circle of Success — at least in our view and, I'm certain, in the view of many of our most successful members…
Is far more practical and far more valuable than most college and university degrees.
Of course, the good news for you is that Circle of Success won't cost you the $180,000 to $250,000 a four-year degree from a private college will cost you.
Not even the $150,000 you might get away with paying at a state college, either.
You won't even pay the $60,000 value of the library of learning and business-building resources you'll have IMMEDIATE access to…
Let alone the $20,000 worth of private copy consulting, the $10,000 we could charge for online Targeted Learning Classes, the $15,000 to $30,000 you could pay for mentoring and career guidance over three years of learning…
And those are just some of the benefits of Circle of you can tuneSuccess membership you can put a price on…
The value of everything — the learning, the access, the contacts you'll make, the camaraderie, the ongoing professional support, and the sheer impact this new knowledge can have on your life and your family's future — is truly immeasurable!
Now…
I know we've covered a lot of ground so far.
So before I tell you the cost — and how to accept this invitation to membership within Circle of Success…
Here's a quick "partial summary" of what you can expect as your learning experience unfolds:
You'll get a personalized Career Action Plan — where we get together by Zoom or phone and work together to determine a career path that's best for you.
You'll have access to our private, exclusive COS Facebook and LinkedIn groups, where you'll meet, mix, and work with fellow copywriters, new and experienced alike — and have full access to the special Circle of Success website.
You'll have a customized learning curriculum — one that's based on the niche you've chosen… the clients you want to write for… and the money you want to earn as a copywriter…
You'll work with mentors who will be there to encourage you, guide you along your path, and answer any questions you have during your entire Circle of Success learning experience.
To give you a good foundation in copywriting, you'll immediately be enrolled in our Power to Persuade jump-start program — where you'll sharpen your writing skills and learn the fundamental secrets of good, sound, persuasive writing.
You'll have access to our Targeted Learning Classes — the in-depth online learning sessions that cover all the core elements of a successful promotion: Headline, Lead, Body Copy, Proof, Offer, and Close. At the end, you'll have mastered every aspect of a successful sales letter. And you're free to take these programs as often as you like.
You'll have access to our Advanced Training modules, where you'll learn from top copywriters all the "21st-century" copy elements any client will ever ask of you —pieces that can boost the success of your campaign dramatically and make you invaluable to your clients.
You can take part in Simulated Training — where you get to experience what it's like to work on a real-world assignment for a real client from start to finish.
You'll be invited to every one of our brand-new Deep Dive Success Summits — including having immediate access to our most recent three-day COS Getting Clients Summit…
In addition, you'll be enrolled in other advanced programs specific to your writing niche — whether it's Business-to-Consumer… Business-to-Business… information publishing… health… financial… self-improvement…
You'll have access to a variety of live assignments that you will use to build your portfolio, and we'll work with you to create a self-promotion package and website.
You'll get personalized feedback and direction on your writing, every step of the way… including unlimited headline and lead reviews by working copywriters as well as suggestions for improvements.
You're free to take part in our online "Peer Reviews" and Copy Makeovers by submitting your copy (anonymously, if you like) for live "gut-reaction" review by your fellow writers…
You'll get a chance to brainstorm and work on one key project a year with top writers like AWAI's Paul Hollingshead — everything from developing the "Big Idea"… to writing the headline and lead… all the way to creating a killer offer.
You can attend three (3) Bootcamps at no charge, get VIP treatment at Job Fair, and sit in on Circle of Success members-only roundtable sessions.
Plus, you'll receive the deepest discounts on other live AWAI and industry events.
You'll have access to AWAI and our partners through your very own COS Concierge Team.
You'll receive the deepest discounts on non-AWAI resources, outside programs, and live events involving AWAI's trusted partners.
And, of course… access to every resource in the AWAI library — current and future, over $60,000 worth and growing — for life.
Plus, we're constantly adding new Circle members-only benefits…
Monthly Master Classes
Like our extremely popular Master Class sessions… where you watch and participate as we pull back the curtain on successful current marketing campaigns, so you can see everything that went into making them successful — from how the Big Idea was generated… to all the written components that made it successful.
It's another way to immerse yourself in our industry — and know exactly what's working in the marketplace now.
Master Classes will also feature Getting Clients and Business Building events — where we talk about where the up-to-the-minute copy needs are… new trends in direct response and how to capitalize on them… who's charging what for what kind of work… ways to boost your productivity and run your business more efficiently, and much more.
They include motivator sessions too — where we'll share concrete ways to help you get to the next level, so you're never standing still when it comes to learning or advancing your success.
So far, Circle of Success members have seen mind-blowing presentations and Master Classes from such copywriting luminaries as email expert Ben Settle, SEO pioneer Heather Lloyd-Martin, top financial and health writer Henry Bingaman, wildly successful blogger Jon Morrow, and motivator extraordinaire Ted Capshaw.
Don't worry — you haven't missed out. That's because you'll find every Master Class session on your Circle of Success Member Page for viewing anytime.
Online Study Rooms and Libraries
We also offer Circle of Success members an exclusive Professional Copywriter's Resource Library where you can access literally hundreds of writing tools through a series of online "study rooms."
These resources are great for doing research… You'll have access to hundreds of links and tools you can use to find ammo for your promos across all kinds of niches…
Swipe Files, Copy Makeovers, Exclusive Webinars, and More…
Another is a "Live Promotions" room, where you'll find the Ultimate Swipe File with links to new and successful promos… along with a complete analysis of why they were so successful.
You can tune in to live "Copy Makeovers" — where you or one of your colleagues submits an "in progress" headline and lead for review by a panel of professional copywriters who together "brainstorm" ways to make the copy stronger.
These sessions offer new writers insights for improving copy you won't get anywhere else. And there's only one rule: no negativity. Just positive, constructive ways to turn so-so copy into great copy.
Exclusively for B2B Writers
If you'd like to add Business-to-Business copywriting to your repertoire of skills, you can take advantage of our B2B Copywriting Roadmap, where — like the copywriting roadmap I told you about earlier — you learn everything you need to know and do to excel in this highly lucrative niche, including all this:
A deep dive into the B2B buying cycle, media mix, and the kind of prospect you'll be working with and writing to…
Master's Lessons on all the top B2B writing projects: emails, lead-gen landing pages, case studies, white papers, content, articles, blogs, websites, SEO, newsletters, video scripts, social media, and more…
Help establishing your B2B writing business and finding top-notch clients…
Live B2B assignments for you to work on and submit for professional review and feedback…
A full library of resources, including swipe files of B2B projects, templates, reading lists, Master Classes dedicated to B2B subjects, and much, much more.
And remember — as a Circle of Success member, you have access to everything from AWAI's home-study library — so if you want to master B2B copywriting as well as Business-to-Consumer copywriting… there's nothing to stop you!
With everything you get now — and every new resource we keep adding to the long list of Circle benefits…
Circle of Success really is bigger than the sum of its many, many parts.
It's a chance to step into a new (and lucrative) world…
Make connections you can't possibly make anywhere else…
Learn from A-level writers and professionals — experts who work only with (a) experienced freelancers they hire themselves… or (b) people they know are serious about learning the art of copywriting and would consider hiring once they see promise in their writing…
As a Circle of Success member, you will become part of something very exclusive — a community of smart, eager, and interesting fellow writers.
Where you learn deeper skills far faster than you ever thought possible… and get the chance to succeed faster than you ever thought possible.
And, before you know it, you could even find yourself being courted by an industry known for paying its "go-to" writers obscenely well — just like so many Circle of Success members have.
If a non-AWAI member were to call us and ask to join as a lifetime member of Circle of Success — the cost would be $30,000.
Now… I realize that's a substantial investment…
But given the more than $165,000 in measurable value (in just the initial years), it's worth every penny of that and more.
But as a registered member of the American Writers & Artists Institute (AWAI), you're entitled to a MUCH better deal…
Including an immediate $12,500 discount off that price…
Which quickly brings down the price for AWAI members to a much more manageable $17,500.
Still…
As life changing as Circle of Success membership is for aspiring writers… we realize that $17,500 is a lot to pay out all at once or to put on a personal credit card.
But we don't want the cost of membership to stop you from moving forward with the very best copywriting education you'll find anywhere.
Get Started Now — for Just $995
That's why anyone interested in becoming a Circle of Success member can get started TODAY — for just $995.
The rest you can pay over time — 12 months… 24 months… 36 months — whatever suits you.
And there are never any fees…
Zero interest charged…
No credit checks…
And let's not forget another way to save HUGE on your Circle of Success membership…
Everything You've EVER Spent with AWAI Will Be Applied!!
Through this final offer — ANY AWAI resources you've purchased at ANY time — we're talking a lifetime of spending! — will be CREDITED for the full price you paid.
That includes ANY PURCHASE — from a simple book… to any number of $5,000 Mastery Certification programs…
Every penny you've spent over your history with AWAI will be IMMEDIATELY deducted from the cost of your lifetime Circle of Success membership…
Even if your spending adds up to the full value of Circle membership!
And don't worry about all the math or remembering what you've bought over the years…
We'll look at your account, add up all the discounts and rebates you're entitled to, and get back to you by phone or email.
Better still, call our amazing Member Success Team anytime between 9 a.m. and 5 p.m. Eastern Time at…
561-404-7735
They can answer any questions… add up all your discounts… design a payment plan for you… sign you up on the spot if you're ready… and get you started on your exciting Circle of Success journey today.
But, if you're truly interested in Circle of Success membership — I strongly urge you to call to reserve your spot today…
This will be the LAST INVITATION where lifetime credits will be issued!
This Is What MOST Members Do…
Now, about payment plans.
We've had members tell us they were "shy" about asking to go on a payment plan.
Please don't be.
Payment plans are SMART.
It's a benefit a lot of Circle of Success members take advantage of.
There's no interest charged.
No fees applied.
No credit checks.
No outside "credit" companies involved.
And not only can we design a plan where the payments are manageable, but you also have an opportunity to "earn as you learn."
In fact, many Circle members have told us they started earning enough money as copywriters to more than pay for their monthly costs — while they're learning!
It's why if you want to be a Circle member today — and you're serious about putting all the resources to work for you immediately — payment plans are the preferred route for most people.
You can see the various payment options by clicking here to access the Circle of Success Membership Acceptance Form.
If the payment plans we've listed don't suit you — feel free to suggest one that will. We'll do everything we possibly can to make this, our highest level of membership, available to you immediately.
Pay in Full — Save More!
If payments aren't your thing… and you're able to pay for your membership in full — more good news!
We'll take an additional $1,000 off the final price of your Circle of Success membership!
Payment options, discounts, and product rebates aside…
If the cost to join Circle of Success seems too expensive to you, you're not seeing the BIG PICTURE and the massive impact this education can have on your immediate and future earning power.
This truly is an investment in your writing business… in your future success.
Forget for a moment the sheer value of all the courses, programs, mentoring, coaching, access, and one-on-one learning you're getting — just in the weeks ahead…
If you know the copywriting business, you'll know top writers are routinely paid $20,000 and more to take on a single project…
And that's not counting royalties — which in some niches can add up to hundreds of thousands of dollars in bonuses.
Some companies are so desperate to lock in promising writers that we've had Circle of Success members tell us they've secured monthly retainers of $3,000… $5,000… $10,000… even $20,000 — just to be available to write copy as needed!
Again — with royalty payments on top of that.
Remember Derek, who I told you about a little earlier? He joined Circle of Success only in August — and he just landed a $5K per month retainer in October…
Based on that, the full cost of his entire, lifetime Circle of Success membership will be covered in as little as two months!
And just to be clear — your final discounted price is all you'll ever pay for your Circle of Success membership.
There are no monthly fees, no annual maintenance fees.
And remember — with its high-level access and continuing education through Master Classes and other events — Circle of Success is a professional organization that will help you be more successful at EVERY stage of your career…
When you're just starting out…
And many years into a successful writing career!
So, for a fraction of what you'd pay for a four-year college degree (and, in our opinion, an education that's far more practical)…
A payment plan — with its very small $995 down payment — that lets you get started right away…
And our NEW focus on getting you up and running as a paid writer faster…
There will NEVER be a better time to join Circle of Success than right now.
Now, before you fill out the Membership Acceptance Form or call us up to secure your membership at today's "last chance" pricing…
There are three last points I want to make.
Point #1:


This Invitation Is Limited

More than ever, we're trying to keep Circle of Success a small and very intimate group.

That way, our instructors, our mentors, and the entire team here at AWAI can give you the full attention you need…

Particularly in the early days ahead, when 100% of our focus will be on getting to know you… determining your writing niche… getting you on your customized learning path… getting you up to speed quickly with the skills you'll need… and taking reservations for the next live Simulated Training…

So, if you know you're interested, please sign up right away.
Point #2:


Your "No-Risk" Guarantee

We completely understand that Circle of Success is a serious investment involving serious dollars…

And under no circumstances do we want you to sign up — decide it's not for you — then feel trapped by the money you've spent.

That's why we gladly offer you 60 days to try Circle of Success at zero risk to you.

Which means… if at any time during that trial period you decide Circle membership is not perfect for you… simply call or email your COS Concierge Team — and 100% of what you've paid will be refunded to you, no questions asked.

And even after the 60 days, if something comes up where you can't or no longer wish to be a part of Circle of Success — let us know… and we'll stop your payment plan or, if you've paid in full, offer you a prorated refund.
Point #3:


LAST OPPORTUNITY to Apply Lifetime Credits!

And finally… just to be perfectly clear:

Your chance to claim lifetime credits — EVERYTHING you've EVER spent with AWAI from Day One — ends with this offer.
Your Time Has Arrived!
I want to thank you for taking the time to read this lengthy invitation today.
Circle of Success is a program with many moving parts and a whole lot of benefits — built up over AWAI's 24 years — and it can take some time (and a lot of words!) to explain them all.
And even then, I've covered only some of the highlights here…
Which means you're going to be amazed and delighted by the many benefits you'll discover when you join through our "trial" invitation.
So, it's time for you to make your move.
As I see it, you have two choices.
You can stick with the status quo — and continue to dream about one day becoming an A-level copywriter… and all the money and freedom it can bring…
Or you can take action NOW…
Lock in this LAST CHANCE to take advantage of a lifetime of spending applied to your Circle of Success membership as an instant credit…
And once and for all seize for yourself the very opportunity that has changed so many writers' lives for the better.
JOIN NOW
Remember — a small down payment of $995 gets you started on your path immediately.
We'll set up your myAWAI account so you have full access to our entire library of resources.
We'll schedule your Career Action Plan call to talk about the many options you'll have as a writer…
From there we'll work on putting together a customized learning path for you.
You'll meet your mentors…
Be invited to a special welcome call from Barb Hume, your Circle of Success liaison…
And in no time you'll be on a very fast track to mastering your first writing skill and your first paycheck as a writer.
Click here to go to the Circle of Success invitation page…
You'll see a summary of everything you get… full details of payment plans… and more.
This is your moment.
Now is the time to take control of your success.
Join Circle of Success under these very favorable terms today!
Looking forward to celebrating your success,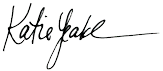 Katie Yeakle
Executive Director, AWAI