(866) 879-2924
Test-Drive
The Barefoot Writer Club
for a Full Year —
Completely Risk-Free!
Join this growing community of over 25,000 like-minded writers who are turning their passion for writing into a stress-free, fun-filled, and exciting way of life.
We Barefoot Members believe that any person who dreams of writing for a living can — and should! — get paid for every word they write.
We're guided by these eight writing principles of success:
We believe writers can make a great deal of money without publishing a best-selling book or award-winning screenplay.
We believe in the value we provide as writers and expect to be paid well for it.
We believe in living life on our own terms, enjoying what we do, and having plenty of time to play and relax.
We believe you don't have to "pay your dues" to be successful like so many of our parents and our grandparents did. You get to benefit from our decades of experience and jump right in to the best-paying writing opportunities.
We believe you don't have to accept the status quo. Money AND freedom are both possible — at the same time! No more commuting. No more asking permission. As a writer, you can work from anywhere and take as many vacation days as you want.
We believe in having the freedom to be there for your family and friends when they need you.
We believe in supporting each other's writing aspirations, helping one another climb higher and earn more, and kicking up our heels when we get together to relax and have a great time.
We believe in going for what you really want in life… and getting it.
If you share these same beliefs… welcome to the Club!
All orders are 100% SAFE using our SECURE server.
What You'll Get with Your Membership…
When you join The Barefoot Writer Club, you'll have immediate access to a full range of writing resources: videos, in-depth reports, webinars, articles, and advice and guidance from highly accomplished writing experts covering a wide range of topics — from the best and easiest ways to find clients to how to land well-paid writing projects and how to find your ideal writing niche.
And every single idea, tip, or strategy is designed to push you forward — faster — while making sure you never feel alone.
Here's the start of what you'll receive now…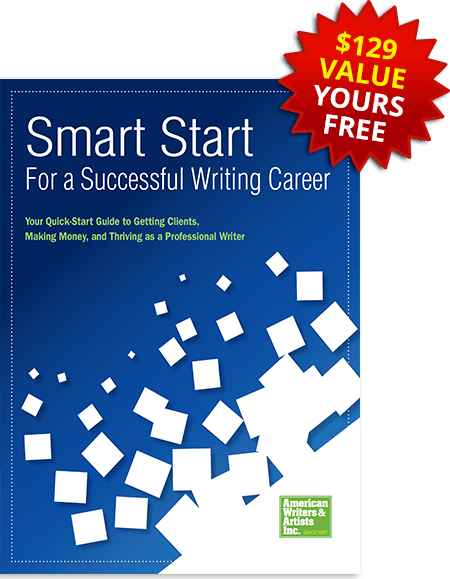 AWAI's Smart Start Writing Course ($129 Value — Yours FREE!), so you can start making money fast… Copywriting is hands-down the best way to make a living as a writer. And this 85-page training manual will give you the basics you need to get started on your copywriting career right away.
11 How-To Bonus Reports that open the gates to unique ways to make great money as a writer…
Our private, members-only Facebook Group where you'll connect with experts, professional writers, and fellow aspiring writers who can motivate and help you move forward faster…
Exclusive archive access to the highly regarded Barefoot Writer Magazine, where you'll get tips for creativity, productivity, and making money…
Ongoing support as you start your life as a well-paid writer…
And much, much more!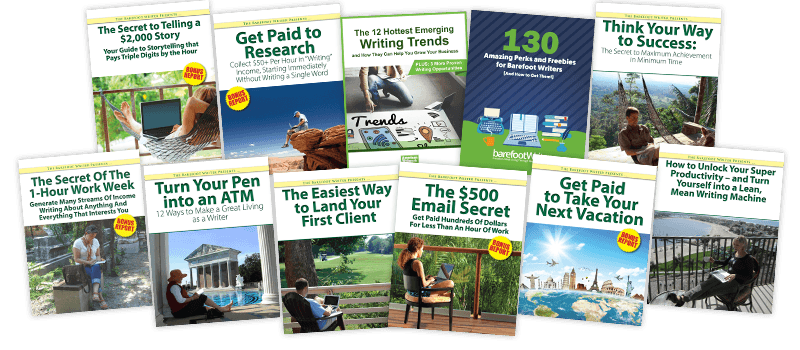 Full Membership Benefits for 365 Days… for Just $249 Today
You'll get a FULL YEAR to live the life of a Barefoot Writer…
Plus with our continuous service guarantee, you'll lock in the special rate, and maintain your annual membership, hassle-free, at the lowest price with automatic billing every year.
And if in that time you decide for any reason (or no reason at all) the Club or the life of a well-paid writer isn't for you, let us know.
We'll simply (and immediately) cancel your membership and refund your $249 — no questions asked.
Questions About the Club?
Our most successful members start here for a reason!
Membership starts you off with a step-by-step plan to making your first income as a writer. It then gives you access to a community of supportive writers, eager to help you pursue paid freelance writing jobs as fast as possible.
You'll get access to our monthly digital magazine, Barefoot Writer, which features interviews with successful working writers, deep dives into today's hottest writing opportunities, tips on how to stay motivated, advice on how to think like a writer, and much more.
Not only that, you'll get access to our treasure trove of over 100 back issues — each filled with money-earning tips from some of the most successful writers in the industry.
Membership also gives you access to a private Member portal on our Barefoot Writer Club website. You can go there to find all of your member resources and extra bonus guides in one easy-to-find place.
Plus, you also get access to our private Barefoot Writer Facebook community, where you can share successes, ask questions, get ideas, and find your place among friendly writers of all levels.
It all depends on what you're comfortable with. Most Barefoot Writers write for clients on a freelance basis and get paid via check or online money transfer.
Some Barefoot Writers choose to write for clients in-house, so they get paid a salary.
Others set up retainer agreements with their clients, so they enjoy the perks of ongoing pay and regular writing work.
And still others write for themselves — and profit tremendously!
Once you become a member of The Barefoot Writer Club and decide what type of writing you're most interested in, we're here to answer any questions you have about how to build your income.
Not at all. When you're a Barefoot Writer, you'll find clients are more interested in the quality of your writing skills than your background. Your work history and credentials matter less than your ability to communicate well and clearly through words.
In other words, you can charge high fees as a writer even if you don't have years of schooling under your belt. Once you master the fundamentals of persuasive writing, you can raise your fees to levels that could earn you six-figures or more. (Those fundamentals aren't hard to learn, by the way. In fact, we cover them each month in our digital magazine, Barefoot Writer.)
It all comes down to deciding what you want to write about, and how often. The beauty of being a Barefoot Writer is that you decide how much you work, how much you earn, and how much you relax and enjoy life. It's the best kind of freedom.
That's why we're here!
Barefoot Writers can make a great living writing about anything from travel to natural health to golf to finance. The niche you choose really depends on what you like and how much you want to make.
We'll start by pointing you in the right direction in your start-up materials.
And then having a community you can rely on for honest feedback and advice makes a huge difference, too.
Instead of getting stuck in the mud with all the options out there, you can start a conversation with any of your fellow members — whether it's through our private members-only Facebook Group or by reaching out to individuals.
You can ask to have your work critiqued … you can ask for advice from those who've faced similar decisions … you can even become part of your own private peer review support group.
We're here to make decisions easy for you so you can follow through on your writing goals.
Definitely not. Barefoot Writers come from all walks of life and span the age spectrum. We have writers who are still in their teens as well as writers who are retired with great-grandkids!
Barefoot Writing is about getting to do what you love — write — while making a great living or even a nice side-income from it. The desire to write is really the only requirement there is.
A lot of would-be writers grow up thinking the only way to make a living as a writer is to write a best-selling book or award-winning screenplay.
The truth is, those are the hardest ways. And a very small number ever succeed.
Barefoot Writers write for the millions of companies that need quality copy and content written on a regular basis. It's considered a "hidden world" of TONS of other writing opportunities that satisfy anybody's creative desire to write. Better yet, these writing opportunities often pay a lot.
Most of these writing opportunities can be done from home, which means you get to set your own hours and work when and where you want. You'll never have to worry about a boss scowling over your shoulder. Cringing at the sound of your alarm clock can be a thing of the past.
There's no fine print… no "hidden trials"… no shenanigans. Just the information you need to create your own writer's life.
Absolutely! Club membership has a ONE-YEAR, no-questions-asked guarantee.
In other words, if you aren't happy for any reason, just let us know and we'll give you your money back. Even if it's on the 365th day of membership. We don't think it'll come to that, but if you're even the least bit worried whether this will work for you, put your mind at ease.
You either get the results you want, or you get your money back. It's as simple as that!
Club membership is immediate.
Your login and access information will be sent to the email address you provide. Our goal is to help you get your writing career up and running as quickly as possible, so we'll do everything we can on our end to send your information and new connections fast.
As to how long it takes you to get your writing career off the ground, that's up to you. We know members who landed their first client the first month they joined us, and we have other members who take their time and go at their own pace, whether it's because they're juggling family obligations or are working to back out of a full-time job.
Bottom line: It's up to you.
We Want YOU to Become Our Next Success Story!
"I don't commute to work… I don't have to travel… I get to see my family every day… I have no one to answer to… Plus I'm a lot more relaxed than I used to be… This may sound cheesy, but I'm a lot more at peace now that I'm in control of my life."

— Ed Gandia
"I get to satisfy my interests and intellectual curiosity – and make a bunch of money. Put these altogether, and it's the ideal career for me."

— Rob Gramer
"I'm earning more than I ever have, and I still have a lot of room to grow. Before, it seemed like I had to choose between a job that I wasn't that interested in but where I made decent money, or a job that I liked but made very little. Now I have both."

— Rebekah Mays
"What I wanted was a prosperous, six-figure writing career. I started focusing on that — and got exactly what I wanted."

— Colette Rice
"For me, freedom is probably the greatest benefit. It's the ability to work where I want, when I want. If I make a lot of money, great. But it's the freedom — the ability that if I want to, I can.

— Eddie Stephens
"I have a measure of freedom I never had before. I can take a two-hour lunch and go for a swim. I can run to the school and pick up a sick grandchild. And I can work from anywhere I like — home, the bookstore, while traveling. Absolutely nothing beats being your own boss!"

— Starr Daubenmire
Join now and get:
Insider information on the best ways to make GOOD money as a writer…
Direction on which writing opportunities are the EASIEST TO BREAK INTO and which ones PAY THE MOST…
Starter information on the SKILLS you need to land the highest-paid writing gigs (no schooling required!)…
Advice on how to START a career as a well-paid writer…
Guides that help you rock your writing assignments so clients call on you AGAIN and AGAIN…
Plus, monthly WRITING COMPETITIONS with cash prizes…
… all for just $249