Preppers and Survivalists: Meet The Ultimate Bug Out Business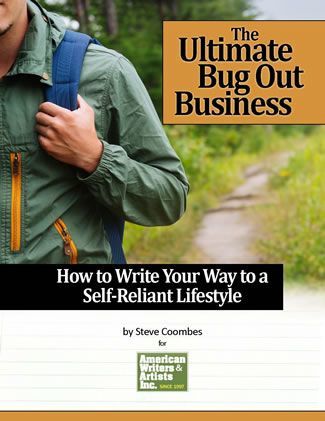 Get instant access to the prepper's guide to living well from anywhere on Earth.
PLUS receive our FREE daily Newsletter The Writer's Life packed with expert advice on how to make a great living as a writer.
We respect your privacy. View our privacy policy.
You prepare for emergencies.
Stop leaving your income up to chance.
Download your free copy of The Ultimate Bug Out Business to:
Discover the simple writing business that goes anywhere you do.
See which unique form of writing pays well — even during tough economic times.
Learn why companies will pay you $10,000 (or more) to write one letter.
Meet other preppers and survivalists already living The Writer's Life right now.
"I get to research, learn, practice, and prepare while I'm doing my 'J.O.B.'! The freedom — and income — this can provide allows you the flexibility to prepare for any situation."

— Nick Gillick
"The writer's lifestyle has given me so much freedom to live on my own terms - and one year, I out earned my husband by nearly four-to-one."

— Jen Adams
"Being freelancers gives us more self-reliance in terms of financial freedom. We're not tied to a single industry or company. We can adjust pretty easily to sudden economic swings, which is big in terms of being able to weather the unexpected."

— Heather Robson
"That moment when you close your eyes, suck in your breath and say a silent "yes!" happened just recently when I got a royalty check in the mail. That one writing project has turned out to be quite profitable."

— Starr Daubenmire
"I'm in charge of my income now. The only 'ceilings' are the ones I place there myself. If I want to make more money, all I have to do is pick up a few more writing projects. I love that!"

— Rachel Karl
"I am passionate about writing (about the effect it can have on fellow human beings and their lives) … thus, I get to do what I'm passionate about all day long."

— Kelvin Parker
"The ability to pay my bills no longer worries me, even in these rough times. I know I can always market my skills to an endless list of potential clients and keep enough writing projects rolling in."

— Cheryl Malcham
"Last November our family had a week vacation planned. At the spur of the moment, just before leaving we decided to extend our vacation from 1 week to 3 weeks. We didn't have to ask some boss if it was ok or worry about how much "vacation time" we had left for the year. We just packed up the truck and hit the road."

— Steve Coombes
"Now that I'm a full-time freelance writer, I no longer feel torn between my work and my family."

— Marcella Allison
"I know that what I do is so needed in the marketplace. There's no fear of not being able to find enough work …"

— Russ Banister
"Writing gave me back my passion, and a renewed sense of purpose. Now I look forward to new experiences, and I'm enjoying a new career."

— Tonimarie Marrese
"You don't need to be a perfect writer … All you have to do is speak to your reader like you would with a friend."

— Rasheed Ali
"Don't ever give up on your dreams. Never think you're too old to make a change or to become a success."

— Shelby Beckett
"It was only 4½ months from the time I made the promise to myself to become a full-time writer that I got my dream job. Had I not made the commitment to myself, I seriously doubt it would have happened."

— Sean McCool
"I don't have to leave home. I don't have to answer to a boss. I just walk into my home office and write."

— Joshua Boswell
"I'm no longer stuck in an 8–5 job in an industry in which I have little interest, for an average salary, with very little time with my son."

— Biba Pearce
"I love the fact that I have a 10-second commute to my basement office, and I have the flexibility to work around the family schedule. I can take a vacation when I want to — or a mental health day, even — and not feel too guilty."

— Apryl Parcher