Does your freelance copywriting business need a serious revenue boost?
Over 10,000 paying assignments are waiting for you (with hundreds of new ones being added daily).
This is your opportunity to:
Have as much work at your fingertips as you can handle and then some.
Never again find yourself "between assignments."
Get clients without making cold calls or marketing yourself through the mail or email.
Gain valuable experience (in small comfortable steps) dealing with prospects and clients.
Start making money immediately even if your copywriting skills are not presently where you'd like them to be.
Dear Reader,
Getting clients.
As a freelance copywriter, you either fail or succeed based on how good you are at this.
And that's because the simple truth is if you lack the ability to acquire new clients, you'll never make as much money as you could from your freelance copywriting business.
Which means you'll never live up to your potential as a writer or truly enjoy all the freedom of living the writer's life.
And if you're an aspiring copywriter who's hesitant when it comes to marketing your services …
… a lack of clients could even result in you giving up on your goal of becoming a full-time freelance copywriter.
Hi. My name is Winton Churchill.
I'm a bestselling author, sales and marketing consultant, and thriving entrepreneur.
Winton is one of those rare individuals who overwhelms you with his innate ability to find solutions for any business problem or situation."

– Dan Nichter
Texas
What I'm about to reveal to you today is a proven path for acquiring as many clients as you can handle for your freelance copywriting business.
Thousands have done it and are thriving. And, I'm going to show you how you can do it too.
Using my system, you won't have to market yourself through cold calls. You won't have to send out self-marketing packages to prospects. You won't even have to set up a website that advertises your skills.
I'll show you how to quickly and easily connect with people from all corners of the world eager to pay you for writing they need done. You'll have all the work you need at your fingertips.
And if you're nervous or unsure of yourself when it comes to interacting with these new clients – don't be.
With my tips, strategies, and templates, you'll soon find that dealing with these folks will be as comfortable and easy as having a conversation with an old friend.
Start living the writer's life today
Before I give you the details, I'd like to talk briefly about how it came to be that I'm writing to you today.
It all sprang out of my desire to move from Los Angeles to Huatulco, Mexico, back in 2007.
I knew if I was going to enjoy all the perks of living in Mexico: the spectacular sunsets from my balcony overlooking the Pacific Ocean … almost no traffic … great food … friendly people … an easygoing laid-back lifestyle …
… I needed to find a way to make my freelance business work online.
Thankfully, I found a way … and I have a solution for you too! (And yes, I'm writing to you from that balcony I mentioned above.)
In 2008 when the economy collapsed, knowing what I was doing, friends and family began asking me the fastest and easiest way for them to be able to do the same thing.
It wasn't that they wanted to move to Mexico – they simply were interested in a better way to make money and enjoy a more comfortable and secure lifestyle.
They wanted something that would make them immune to downsizing and downturns in the economy. Something that would give them more independence and more say in how they spent their days.
At first, I put together a simple checklist for them.
I soon expanded it … adding more details and more checklist items.
Earlier this year, I decided to take it even further and I put together a comprehensive guide that detailed my step-by-step formula that anyone interested in living like I do can easily use.
For every negative, there is a positive – this is the positive.
I'm sure you're familiar with the phrase, "For every negative, there's a positive."
It's certainly true in this case.
Because even though companies have reduced their workforces by the tens of thousands (the negative), the tasks and projects that were once performed by the now laid-off employees still need to be done.
Which has fueled the creation of over 100 online global job and project marketplaces (the positive):
In total, these job and project marketplaces put over 300,000 paying assignments at your fingertips each month.
One of these job and project networks has paid out over $300 million and posts over 50,000 new projects monthly!
And the great news is a large part of these paying assignments are writing related – many of them requiring someone with copywriting skills to successfully perform them. Which, of course, is great for you.
And because of the huge number of assignments to choose from, there's no need to worry should you miss out on one.
There's always a steady stream of new assignments coming down the pipeline!
A perfect fit for people who love to write
Katie Yeakle, AWAI's Executive Director, heard about what I was doing … and how I was doing it … and quickly realized it was a natural fit for AWAI members who were looking for an easier and more streamlined way to get clients for their freelance writing businesses.
Julia Springer was a British-trained veterinary pathologist who was looking for something where she didn't have to work as many hours. That's when she discovered Winton's program.

Julia says Winton's support has been invaluable and that it's comforting to know that she has somebody to turn to "if there's a problem that you can't resolve for yourself." She took advantage of Winton's offer to look over and fine-tune her profile, which she says was "very helpful."

She recommends Winton's program, saying, " … I think it's a very worthwhile course and certainly guides you in the right way."
Plus, it was something you could do in your spare time to gain valuable experience getting and working with clients while bringing in some extra money.
The result of our conversation was my new program "How to Land Clients in 21 Days with Just Your Computer."
In it, I show you how to connect with the over 100 online global job and project marketplaces, navigate them, and use them in a highly effective way.
You'll discover the pitfalls to avoid and how to get up and running and making money in as little as 24 to 48 hours. My goal is to help you find enough clients to make the type of money you need so you can live the type of lifestyle you desire.
I'll help you solve one of the biggest challenges freelancers face: having enough work in the funnel so there are no gaps in your productive, money-making hours during the week.
For many freelancers, getting clients is somewhat of a mystery. It's like having a treasure map that is written in code. You know approximately where the treasure is buried and that it's worth finding, but you're unsure how to navigate your way to it.
You'll no longer have that problem.
You'll have a step-by-step guide on how to get clients from the initial bidding process right through to winning and getting paid for the types of assignments ideally suited for your skills.
Once you put a few of my strategies in place, you'll be able to pick and choose whom you work with and how much money you bring in each month.
Dealing with prospects and
clients will soon be second nature
And you won't just be learning about how to get clients – you'll get valuable experience dealing with clients.
I show you how to take comfortable baby steps that will soon have you interacting with prospects and clients like you've been doing it all your life.
It's no secret, of course, that how professional and polished you are when dealing with clients has a huge impact on your success as a freelancer.
Do it well, and you'll get lots of repeat business and customers referrals, which can quickly put your freelance business at a whole new income level.
Make money today with the skills you already have
But here's something else to consider …
If your skills are not currently where you'd like them to be, this is a way to make money using the skills you already have.
Writing articles, proofreading, and light editing are tasks that don't always require heavy-duty copywriting skills.
This gives you a great starting point for your freelance career, providing you with income and giving you valuable customer interaction experience.
Then once you feel more comfortable with your skills, it's a natural and easy progression over to more copywriting-oriented assignments.
I will help guide you every step of the way …
This isn't a situation where you invest in my program and that's the last time you hear from me. My goal is to help you be successful every step of the way.
In addition to my comprehensive program which you'll have any time access to online, every month for the next four months, you'll also be invited to a special members-only call where I talk about a topic or strategy that will help kick-start your success. Plus I'll answer any questions you might have.
My goal with these calls is to open you up to new ideas on how to do things better and make more money faster.
Here's a small sample of what else you'll learn in How to Land Clients in 21 Days with Just Your Computer:
12 simple steps to help you refine your global earning ability – Follow these 12 steps and you'll be well on the way to creating a solid income for yourself and your family.
Two things you can do to put yourself way ahead of the competition – Most people take a haphazard approach to these two things. But you won't. I'll show you how to instant ly gain credibility by performing these two simple but often overlooked tasks.
How to avoid one of the biggest mistakes newbies make – It's an easy mistake to make. I'll show you how to avoid it to ensure you "hit the ground running."
Seven mistakes that will rob you of success – Avoid doing these seven things and it will all but guarantee you'll have enough paying assignments to keep a steady stream of money flowing into your bank account.
An easy way to make yourself stand out among your competition – Spend a little bit of time doing this once and it will improve your chances of winning every job you bid on.
How to make more money for every project you do – This simple strategy will make clients take notice and be eager to pay you more to do assignments for them.
Five ways to earn even more money – Once you get started, you'll find doors will open for you filled with new experiences and money-making opportunities. Here are five ideas on how you can make even more money:
How my "getting clients" strategies shortcut the process
Wanted to let you know that I have completed my first paid job on the job networks!"

– Leonora Forslund
Vermont
One of the real joys of working within these global networks is that you avoid certain steps of the traditional getting-clients process.
You don't have to attend chamber of commerce meetings and meet, mingle, and pass out business cards to people. Now, I'm not saying there is anything wrong with getting clients by doing so, but for me, I much prefer meeting clients online versus face to face.
You don't have to spend time researching companies – finding out who the correct contact is and mailing out self-promotion packages to them.
You don't even have to write a website that describes your freelance business. For some, having to put together a website can delay the launch of their career for months – even years.
If you have a website that promotes your services, that's great … but if you don't, that's okay too.
I'll personally help you perfect a key success component
Good lord, I don't know how I will ever thank you sufficiently … YOU ROCK!

– Kathleen Mulligan,
San Miguel de Allende, Mexico
A very important piece of your strategy is to have a well-written profile that excels at presenting your skills and capabilities.
However, often people find it difficult to write a profile about themselves that effectively promotes their services. Which is why to make sure you don't have this problem, I'm throwing in a very special bonus for you today …
Once you write your profile (using the guidelines I lay out for you), send it to me. I'll take a look at it and give you ways you can improve it.
The end result will be strong self-marketing piece that, although designed specifically for one job and project marketplace, can be used to promote yourself again and again in any marketplace you choose.
Normally, I would charge a minimum of $150 for this service, but it's yours today free when you invest in my program.
Resources to save you time and make you money
One woman, whom I'll call "Ms. X" as she wished to remain anonymous, told me recently she got her first client within her first week …
"I was really surprised how easy it was," she said.
Ms. X built up a steady client base from referrals she's been given from her clients. She's able to charge more per project and has the security of having a steady base of clients who provide her with a steady stream of paying assignments.
To ensure she never runs short of paying assignments, she still does about 20% of her business within these networks simply because she finds them a valuable source for new clients.
But that's not all – you'll also receive …
Easy-to-use, professional communication templates – One of the ways I save you a lot of time is by supplying you with templates you can use when communicating with prospects and clients. I will add and update them as time goes by to make sure you always communicate the right words during every step of the customer engagement process.
Interviews with successful people – You'll have access to four interviews I conducted with people who have found success working in these job and project marketplaces. They share plenty of insider tips and advice that you can use to make your freelance business more profitable.
Access to our growing video library – To make learning easier and more fun, you'll have access to our growing video database. I talk about specific techniques and strategies you can use to be more productive. Give you overviews of sections of the program. Talk about changes and trends in the industry and so on.

A commitment from me to answer any questions you might have – Have a question? Need some advice? Simply email me and I'll get right back to you.

The best websites for writers to find high-paying writing assignments – I've done the research for you. I've put together a special report listing the job and project marketplaces that are ideal for people who love to write.

What differentiates Winton from others who offer such programs is his level of service. He actually wants to be the support system for his clients. He is as eager as I am to do well, and offers additional assistance should I need it. And he means it.

– Estrella C.
Washington

A guide to resources that will save you time and make your job easier – I've created a section where I detail my favorite productivity-boosting resources. These are all tools I use myself that will save you time and make you more effective at what you do.
So how much money can you make?
I want to set your expectations as realistic as possible. So if I err, it's because I'm being too conservative.
A realistic goal to shoot for is $2,000 to $4,500 per month. Beyond that it depends on your skills and how hard you want to work. You'll see that some of your fellow writers are earning high 5- and 6-figure incomes on these networks.
Previously, Jan Pedersen worked for approximately 15 years as a Human Resources Consultant for two international seminar companies and a private consulting company. Today, she supports herself through the global job and project network. She lives on a boat (which she loves) – a 49-foot Deceiver Motor Trawler.
She got her first paying assignment within three weeks. Jan says, "The last job I bid on, I went ahead and bid the Writer's Digest suggested hourly rate for basic Internet writing, $50 an hour. The guys didn't bat an eyelash."
She loves the fact that she can work when she wants and how hard she wants. "If I want to take a couple of days off, I can do it. As long as I've got an Internet connection and the willingness, I can pretty much work the hours I want," Jan says.
Depending upon your lifestyle and financial obligations, it's an amount of money that most people can live on quite comfortably.
Especially when you consider how much money you'll save by working from home. You'll no longer have to buy an expensive wardrobe. You'll spend less on gas and time on repairs. Plus, you'll tend to eat out at restaurants a lot less.
I'm not saying you can't make more, but I want to paint as realistic a picture of this as I can for you.
Like most careers, you get out of it what you put into it. You determine how much money you make and how little or how hard you work. It all depends on how much time and energy you are willing to commit and how much money you need to make.
But having said that, it's possible to expand your business and bring in even more money.
You see, once you form bonds with clients and you start getting repeat business from them, they will start referring you to their friends and business associates – which opens you to a whole new series of money-making opportunities.
It's time to get on board
All the signs indicate that the trend of companies relying on these job and network marketplaces isn't going to slow down any time soon.
Companies love it because they don't incur the expense of having a full-time employee on staff – they don't have to provide benefits, vacation pay, or office space.
I enjoyed so much of your course and learned a lot about myself at the same time. Thank you for sharing so much …

– Sidney Mirsky
Oregon
It's much easier for them to rely on the freelance marketplace. Which means the number of paying assignments is only going to grow.
There's no better time than right now to position yourself as someone with the skills and expertise to provide them with what they're looking for.
With How to Land Clients in 21 Days with Just Your Computer, I give you everything you need to start getting clients immediately for your freelance writing business:
You'll have over 10,000 writing-related assignments waiting for you when you wake up each morning!
You'll have a clear path to landing your first client within your first 21 days.
You'll have a whole new world of people and companies at your fingertips who are eager to hire you for skills you already possess.
You'll know how to showcase your personal skills and capabilities that automatically attract paying assignments to you.
You'll have techniques and strategies you can use to make sure you get more business from clients you're eager to work with again.
You'll have dozens of advanced tips that will move you to the front of the copywriting crowd in your clients' eyes.
You'll have me available to answer any questions you may have along the way.
A minimum of five paying assignments
within the next 60 days
"It's obvious that your interest in the people enrolled in your program goes beyond pure business boundaries. You are generous with your time and advice through emails, phone consultations and conference calls. It really surprised me, 'This guy actually answered my email personally,' I wasn't expecting that at all."
– Isabelle, France
Before I tell you the price of How to Land Clients in 21 Days with Just Your Computer, here's something else that will have a big impact on your freelance career …
It's my 60-Day "Getting Clients" Challenge.
Here's how it works …
You'll be invited to a weekly webinar – every week for the next 60 days – where I'll share my tips and strategies on how to get all the freelance writing clients you need using job and project networks. I'll answer all your questions and essentially remove all obstacles that are in the way of your success.
If you can't attend live, you'll be able access them at your convenience on the AWAI website.
Even if you haven't finished or even started the program, you'll find lots of great insights you can use to accelerate your career.
But that's not all, you'll also be able to ask me any additional questions you might have on the forum or via email for as long as you're in the program.
I'm not going to stop until you have, not only your first paying assignment, but your first five paying assignments.
You'll also receive my 60-Day Challenge Worksheet. This is your guide to what you should be doing … and in what order … to get yourself up and running to achieve my goal for you of 5 paying clients within the next two months.
(Keep in mind; it's possible to get up and running in less than 60 days. 60 days is what I thought would be a reasonable target taking into consideration people's busy schedules these days.)
So let me ask you … Don't you agree this is something that will give your freelance writing career a boost?
An easy-to-take price point and a very special offer
So, how much does it cost?
How to Land Clients in 21 Days with Just Your Computer is only $247.
When you consider the money-making opportnities that are about to start flowing across your computer screen, I'm sure you'll agree that this is a small price to pay.
Here's a brief recap of everything you'll receive …
How to Land Clients in 21 Days with Just Your Computer – I'll show you how to connect with and navigate the job and project networks, so in short order, you'll know how to land clients. You'll receive videos, interviews with successful members, and much, much more. It's what we call a "living program," which means all additions and updates to the program are yours free for life.
My advice on how to come up with an assignment-inspiring profile – Together, we will make sure you present yourself in a way that puts you head and shoulders above your competition.
Easy-to-use templates you can use to save time and make all the right moves when dealing with clients – I've done most of the work for you. You just have to fill in the blanks and give it your own personalized touch.
Access to four "Kick-Start" calls – You'll receive tips, strategies, techniques, and industry updates that will ensure you're on the best and most direct path to success right out of the gate.
A way to get your questions answered and receive advice – I'm here to help you. If you have any questions or need some advice, send me an email you and I will get back to you on a timely basis.
My 60-Day Getting Clients Challenge – As mentioned, you'll participate in my 60-Day Challenge which will get you up and running with a minimum of five paying assignments within the next two months.
Here's more good news …
You'll get access to the program and can use it for one full year. If you decide at any time during that year that my step-by-step formula is not for you, just let us know and we'll give you a full refund – no questions asked.
So, what do you say?
If you're a freelancer, the key to success is having a steady stream of clients ready and eager to pay you for your skills.
If you're looking to break away from the 9-to-5 grind, you can tap into these networks and start making money on a part-time basis.
If you're a working copywriter, this is a way to fill in the gaps between working assignments and ensure you always have money flowing into your bank account.
Plus, you have a full 365 days to determine if this is right for you!
So … why wait another day?
Get the program now by ordering online …
Or call Barb, Pat, Debbie, or Cameron in Member Services at 1-866-879-2924.
To your success,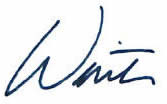 Winton Churchill
Sales and Marketing Expert, Author, and Entrepreneur
P.S. Remember you have to sign up before Sunday, March 4th at midnight, to qualify for my 60-Day Challenge, and receive $50 off the program. Don't miss out. Reserve your spot today! Order online, or if you'd like to speak to somebody in person, call Barb, Pat, Debbie or Cameron in Member Services at 1-866-879-2924.
---
American Writers & Artists Inc.
245 NE 4th Ave., Ste 102
Delray Beach, FL 33483
(561) 278-5557 or (866) 879-2924
www.awaionline.com