Badges Module #2:
Editorial and Content Writing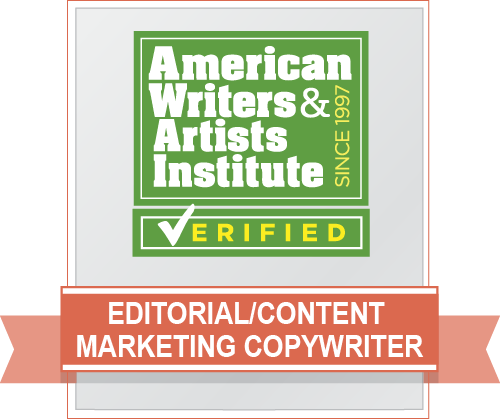 Editorial and content writing is one the fastest-growing areas of demand in the copywriting world.
It started when companies like Facebook, Twitter, LinkedIn, Google, and many ad networks prohibited ads within their platform linking to a blatant advertisement.
The reason was simple.
Once people realized that clicking on an ad would lead to an obvious ad, fewer people would click and their ads wouldn't be as valuable.
That's why the most trusted and widely viewed advertising platforms on the Internet require that all ads lead to useful "content" — something that offers their readers information of value…
Like something newsworthy… a solution to a problem… a story of interest.
As it turns out — they were right!
People would much rather read stories of substance rather than something they know is an advertisement.
More and more, content has become the preferred method of "first contact" with new potential customers.
Because an effective news item offers useful information — readers trust you more… and are more likely to engage with you when they're finally invited to click to a landing page or an actual sales promotion.
The bottom line is this:
You can't be a copywriter today without knowing how to write an effective news item or "content piece."
Because of that — as well as the massive demand for "A-level" content among marketers — writing highly effective "News and Content Items" is the second of our Badges sessions.
You'll learn:
The differences between "editorial," "content," and "advertorial" writing — plus where (and how) to use each format
How to write a news piece that "gently persuades"
The "secret" structure of highly effective content pieces
The "one problem, one solution" method when it comes to content writing
How content headlines differ from sales letter headlines
The power of "real-life examples" — where to find them and how to use them
The number one secret that will differentiate your content copy from all others
How to make your reader first and foremost in every content piece you write
How to connect and gain trust from your reader in your first three paragraphs
How to use "today's news" to supercharge your content
Seven questions you need to ask every client before you write
How to research your news article
The "five elements" every successful news item has
And much more
Again, you'll learn by doing.
After studying the techniques, you'll write a piece of news-style content based on an AWAI resource and submit it to our experts.
Once your news item meets our Academic Advisory Board's high standards — and you pass our content knowledge test — we'll award you your Badge…
And you'll have another marketing piece you can add to your Advanced Member Profile Page portfolio.
Then, on to the next module…