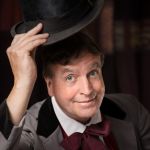 Michael Hume

Pueblo West, CO
Copywriter
B-to-B, Christian, Health, Self-Help, Web/Internet
I've been a pro writer since, at 13, I was hired by my local newspaper... since then, it's been all BUSINESS for me, and my writing has contributed to (or saved) several small- and medium-sized businesses.
These days, I specialize in the health/fitness market for men over 50 (though I also accept general assignments).
I've personally completed the most rigorous fitness programs out there, multiple times each...
... and I've faithfully used several of the best diet/supplement products out there, multiple times each...
... all since I turned 40.
I know that target audience.
I AM that target audience!
And since joining AWAI, I've also completed the most rigorous training for copywriters, multiple times...
... and I've written lots of projects for paying clients (great feedback!)...
... and I'm ready to bring all that experience to work for your firm.
Oh - and if you'd like a COMPREHENSIVE writing sample, check out my novel, The 95th Christmas. You'll see I also bring the TALENT.