This Week from AWAI …
The Dream Writing "Job"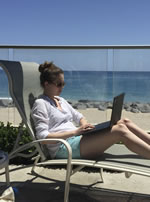 There's no limit to how much you can earn …
You're completely in charge of your time …
You pick what kind of writing you do …
And you can work from anywhere in the world you choose to be.
In short: You live life on your own terms.
Click here to see if this writing job is for you.
If you're not sure, take our quick little quiz …
You may just find you're missing out on a writing opportunity that's perfectly suited to you.
Go here to take the quiz now.
Jump to a Category:
Copywriting
Niche Copywriting Markets
Business-to-Business
Web Writing
Publishing
Home Businesses
Business Building
Graphic Design
Books by AWAI