This Week from AWAI …
Best Project for
Predictable Writing Income …
With this writing opportunity, you can count on clients paying you upwards of $2,000 … month after month … year after year.
(Even beginners can start at that rate!)
Plus, there's very little competition, which means more potential clients than you'll ever need.
Check Out The Details Here
CLOSING:

Only Accepting New Writers Until Midnight Tonight!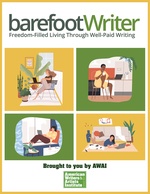 Get accepted into the Barefoot Writer Club by MIDNIGHT tonight to claim your "Getting Started" writing gifts, worth $363 – FREE!
You're a good fit for the Barefoot Writer Club if…
You enjoy writing.
You want to make great money doing it.
You want control over what you write about and who you write for.
But hurry … you only have until midnight tonight!
Get Accepted Here
Jump to a Category:
Bestsellers
Copywriting
Niche Copywriting Markets
Business-to-Business
Web Writing
Publishing
Home Businesses
Business Building
Graphic Design
Books and Special Reports by AWAI