myAWAI
Sign In
What is myAWAI? | © 2022 American Writers & Artists Institute
Brought to you by AWAI …




This Week from AWAI …
FLASH SALE:


Get Paid to Write Case Studies ($59.40 = Full Access!)

Calling all Storytellers …

Companies are looking to pay writers $1,000 — $1,500 to draft short stories for them …

Usually no more than a page or two!

They follow a simple formula, so they're easy to learn …

Which means you can write them FAST, typically in 5-7 hours max.

Yep, that means you're making $125 to $300 PER HOUR as a writer.

And businesses need so many, you can make an entire living just writing these stories!

Go here to get started!
Now Accepting New Writers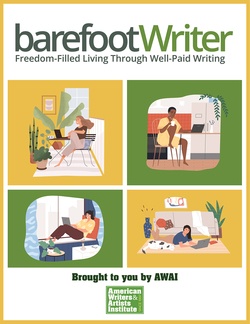 If you want …
high-paying gigs,
predictable writing income,
greater flexibility …
AND the satisfaction that comes with LOVING what you do for a living …
Then getting accepted into our influential club of Barefoot Writers can set you up for everything you're looking for in a writing career.
NOTE: Your acceptance window will be closing soon!
Apply Now
FINAL CALL:


Grab your ticket to the 2022 Copywriting Bootcamp!
Bootcamp has helped launch hundreds of copywriting careers over the past 24 years …
And at this year's event, our powerhouse lineup of speakers will share their latest insights and secrets, and what's working in the industry NOW.
Plus, you'll connect with fellow writers … marketers looking to hire … AWAI staff … and more … all from the comfort of home.
Grab Your Ticket Here