This Week from AWAI …
Secrets of Writing
High-Performance

B2B Copy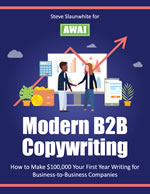 Break into a market where the work is plentiful, the pay scales are generous, the assignments are fascinating and the competition is scarce.
Learn every aspect of the $6.5 trillion industry from marketing your services to writing copy and everything in between with Secrets of Writing High Performance B2B Copy.
Get started for $100 off when you order now.
The Fastest Way to Become a Well-Paid Copywriter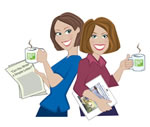 Join Katie, Rebecca and special guest experts for an in-depth, comprehensive webinar series where they'll walk you through one section of The Accelerated Program for Six-Figure Copywriting at a time, in extreme detail.
You'll learn all the skills, secrets and techniques you need to become a successful copywriter – all in a matter of 10 highly-productive hours.
Learn about the special training series here.
Browse Recent News
Today is the last day to join Casey Hibbard for the Case Study Masterclass and learn how to get paid $1,500 to write short, two-page "good news" stories.
In just a few weeks, we'll be kicking off our first-ever Case Study Masterclass. It's an intense, 4-week training with one of the top writers in the world that helps you master writing case studies.
There are plenty of high paying opportunities in writing customer success stories.
Read on to find out more about one of the hottest writing trends right now … And part of a massive industry that's expected to grow to $412 billion per year, over the next 18 months … The best part? It's creating an exciting opportunity for new and experienced writers alike.
Stuck on the Accelerated Program for Six-Figure Copywriting? These mentors are standing by to help.
Read on to see what could be one of the most important business trends happening today … And it's creating a lucrative opportunity for new and experienced writers.
If you're on the fence … allow us to answer some of the questions that might be on your mind before the program fills up and is no longer available.
This is your last chance to join our "Badges" Skills Verification Program.
Read about how this engineer spun his writing talent into his dream life.
Angela's Advice: Tell everyone you know what you do. Take a chance on every opportunity you see or hear about. The worst that could happen: You get samples/writing practice. The best? High-paying clients. Read her story now.
Some copywriting projects rely on tried and true formulas ... but video scripts requires more creativity ... allowing you to control the imagery and use your imagination. Find out how you can become verified in writing video scripts - and sign up for AWAI's "Badges" today!
Sales Funnels are just one of the projects you can become verified in - with AWAI's "Badges". Get all the details on how you can increase your fees as a professional writer - and sign up today!
Thanks to the Badges program SEO copywriting is now a breeze — and a huge part of her growing copywriter success.
Completing the Badges program is already paying off for these AWAI members.
Clients today expect copywriters to be up to date on the copy needed for the latest web marketing strategies. Get the skills you need in the Badges program.
This is something AWAI members like you have been wanting for years. It's a new and better way to learn… Where you master key writing skills quickly, in bite-sized pieces… Where your knowledge is tested every step of the way…
Read on to see how this phrase was coined by writer Heather Robson, our Featured Interviewee for May. She's spot on in her assessment that as writers, we tend to want to get good at everything before we venture out into actually doing something.
Join us for this FREE webinar to find out to how to navigate the opportunities for lucrative careers in writing, with a personal roadmap for success.
Sharlet Brennan had a job she loved — until the business was sold. Find out how she turned this sudden change into a career where she could be in control.
If you want to be a part of Bootcamp and see every presentation, including this exclusive session with Bob and Ilise — all from the comfort of home — join us via Virtual Access.