This Week from AWAI …
NEW:


Writer's Coaching …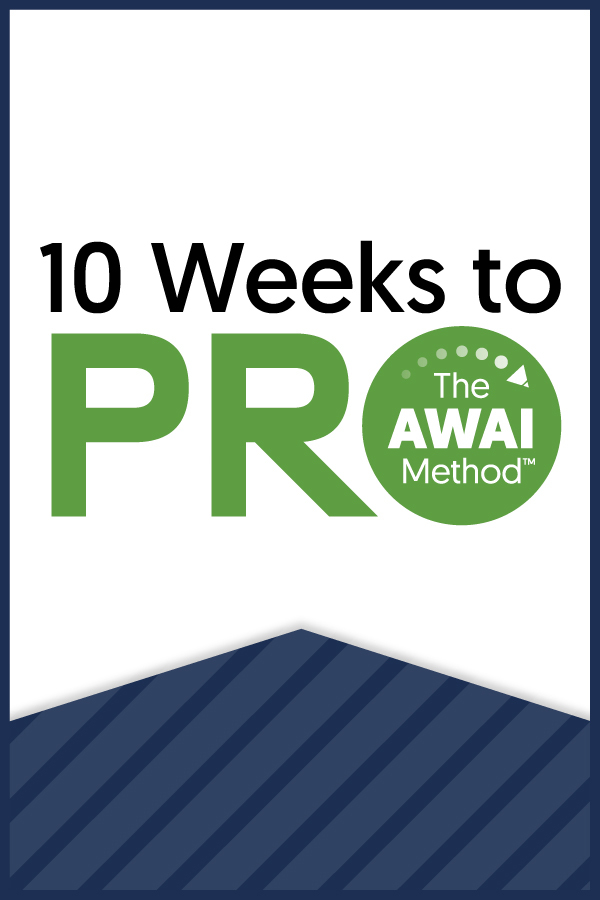 We've put together a powerful 10-week live training experience, where we'll take you from where you are now …
… to having the knowledge and skills you need under your belt to start landing paid projects ASAP.
All it takes is one hour per week, and we'll train you on all the copywriting skills you'll need to write effective copy and content … one bite-size lesson at a time.
Let's do this!
Get Started
LAST CHANCE:
You Get It All for Just

$249
$49!!!
Until midnight, you can get our popular Writer's Starter Kit …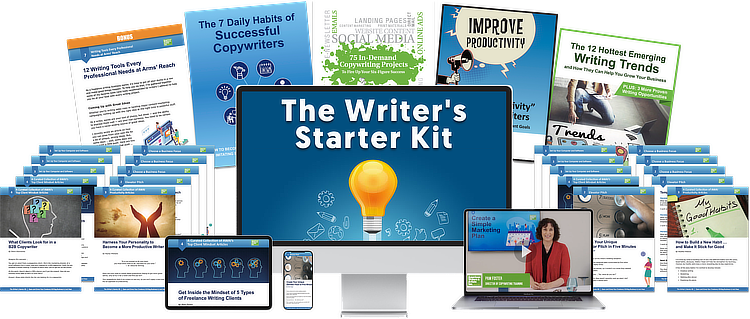 Including all the tools, templates, resource lists, guides, and fee schedules you'll need to launch and run a successful writing business …
And save $200!
You'll even get a FULL YEAR to put it to use, completely risk-free.
Grab The Writer's Starter Kit Now!
Something HUGE is happening this Tuesday, July 27!
Join Katie Yeakle and Rebecca Matter to see what all the buzz is about … and why three days in October could end up being your most profitable ever!
Plus — discover tips and strategies to rocket your career forward, how to connect directly with clients looking to hire, and more at this must-attend event.
Go here now to RSVP (it's free!)
Browse Recent News
Julia Schaller may be a new mother, but that hasn't kept her from her dream job of copywriting. She works as an in-house writer for AWAI and is the one behind many of the email campaigns, articles, sales letters, and video scripts you see on our site. Even while she's writing, she's keeping an ear tuned to her baby daughter sleeping nearby. We hope you enjoy this sneak peek into the writer's life of one of our favorite AWAI team members.
Katie Yeakle (AWAI's executive director) and Rebecca Matter (AWAI's president) are clearing their schedules to help you take advantage of this all-new mega-opportunity.
No matter what industry a business is in or what marketing channels they use, they ALL offer a user experience… and a trained UX copywriter can ensure each user experience is a positive one.
We have a name for our new, enhanced Job Board! With over 538 submissions to our Job Board Naming Challenge, two AWAI members suggested the same winning name. Read more here…
Join us for this FREE webinar to learn how to put together a portfolio of professional samples — even if you're just starting a freelance writing career and you've never worked with clients.
No matter what industry a business is in or what marketing channels they use, they ALL offer a user experience… and a trained UX copywriter can ensure each user experience is a positive one.
The pandemic left Joey Lubelfeld jobless, so they started to look for new ways to make money doing something they loved… writing! So when AWAI's Launch Party dropped into their lap, things felt like they were meant to be. Joey took immediate action, using LinkedIn to land new clients, and writing web content and emails for them. Today, Joey is continuing to build a writing career in the mental health niche. This just goes to show that "talent and opportunity" can converge at the perfect time!
Just released, the July issue of Barefoot Writer! Read about how you can go deep into proven systems to make the hours you spend writing easier and more effective.
Most people who have a thriving medical career wouldn't think of starting over. But Christian Nix was looking for a change. He was already dreaming of launching his own business, and needed the copywriting chops to make it happen. Today, Christian makes a six-figure income with just 10 hours of work per week! Plus, he shares his amazing story of how one idea helped launch his copy career.
Pauline Longdon's favorite quote is "I haven't come this far to only come this far." In a way, this perfectly describes her journey to date as a copywriter. She doesn't stop striving to serve her clients, reach new goals (seven figures now!), and connect with her global network of colleagues and mentees. Pauline's continued drive toward success has landed her coveted spots learning from the top A-list writers in the industry. Enjoy!
Join us LIVE today for an exclusive free training with one of the world's top content experts. You'll discover how to take advantage of a massive shift in the industry that's changing everything.
Join us for this FREE webinar to learn why the demand for writers who specialize in content is off the charts. And how you can use this new surge to catapult your writing career, and grow your income fast.
In addition to helping you start your projects faster, templates can help you grow your earning power in three ways. Discover how you can build your own project templates — and a shortcut you can use.
From over 340 submissions, Nick Usborne announces the 3 winners of the $200 prize from our writing contest about the countertop hydroponic herb garden in The Writer's Life.
Ernst-Jan Buijs grew up in a small city near Rotterdam, Netherlands. While still attending university, he was already thinking about the future. One thing was for sure… the typical 9–5 lifestyle just wasn't for him. So, Ernst-Jan began looking for opportunities to build his own business. What he was able to build — while traveling Europe in a camper with his girlfriend — is quite astounding! You'll love his advice for how to grow your own business when your heart longs for adventure.
Years ago, Colette Rice and her sister took a life-changing trip to Egypt. While exploring a spice market, one vendor proudly told them his family had held the same booth for 250 years. When he saw her look of surprise, he explained, "Here, we think in thousands." Colette's fascination with the people in the world around her was the driving force that led her to seek a new career in copywriting. She tried freelancing for a while, but it was an in-house position with a nonprofit company that gave her the writer's life of her dreams…
AWAI is thrilled to announce eight Bright Future Scholarship winners who will each receive $10,000 of credit toward any AWAI programs or services they choose to help them on their copywriting journey.
The year was 2014, and Steve Coombes and his entire family were invited on stage at AWAI's annual Bootcamp, where he would receive the coveted $10K Challenge prize. This was the moment… He had truly "arrived" in the world of copywriting. Since then, Steve has seen his writing career grow and evolve. Through it all, he has still had time to hang out with his young sons.
This is your last chance to set yourself up for now — and the future — and be on track to make "next level" money as a writer.
During this free Inside AWAI webinar, Rebecca Matter and Pam Foster show you different ways to make your first $1,000 as a freelance writer, and then how to build from there.