This Week from AWAI …
AWAI's Anniversary Sale: 80% OFF AWAI's Hottest Resources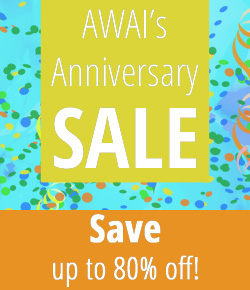 Get huge savings on many of AWAI's most popular programs — including some you'll NEVER see on sale any other time of year. Help celebrate our Anniversary by making 2018 the year you breakthrough, and start living your ultimate writer's life.
Hurry! Sale ends May 29th at Midnight!
Join B2B Writing Success for Only $1!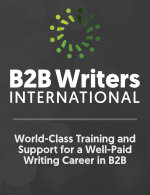 Whether you're a new or seasoned B2B copywriter, having access to the right information is key to launching and maintaining a successful B2B writing career.
B2B Writing Success is designed to provide you with a continuous flow of information, techniques, and strategies to help guide your B2B copywriting career so you can excel and prosper in this exciting and lucrative industry.
Don't wait! $1 Test-Drive Ends Soon.
Browse Recent News
This copywriting job involves spreading the word on a revolutionary cancer treatment on social media.
When it comes to freelance success, writing emails is one of the fastest ways to make money. Jay White's program Email Copy Made Easy will show you everything you need to know - He's considered the best in the industry AND his emails have even raised money to help end child starvation. Find out more about it here.
Cindy Reed has achieved great results for her clients — and copywriting success for herself — with innovative email marketing work.
AWAI Member Rachel Frederick was unfulfilled as a freelancer for a long time. It was only when she switched her niche to a topic she was passionate about that she had highly-paid copywriting success.
Enjoy deep discounts on AWAI's most popular programs and earn your copywriting success this summer.
There are still a few spots AND just a few hours left. Don't miss your chance to become a professional verified writer. Get all the details and sign up – risk-free – by midnight tonight!
AWAI's Badges program helps you master the 8 most important copywriting jobs clients need today.
Two forces will be colliding ... for an event that will make your copywriting career soar - get more details and find out how YOU can be there!
Michael Katz on the profound advantage you already have.
If you want to guarantee your income as a copywriter, you'll want a retainer agreement. And these days, Social Media is a one way to do that. Social Media is also one of the 8 AWAI "Badges" you can become verified in. Find out more - and sign up today!
Search Engine Optimization is a skill every copywriter should have. You can become verified in SEO copywriting with AWAI's "Badges" AND start making more money on your web copywriting projects. Get all the details and sign up today!
Copywriting success is within the grasp of these AWAI members thanks to this intensive certification program
Ange Payton is working on copywriting jobs in the wine industry and getting big results for her clients … and she's loving it.
Some copywriting projects rely on tried and true formulas ... but video scripts requires more creativity ... allowing you to control the imagery and use your imagination. Find out how you can become verified in writing video scripts - and sign up for AWAI's "Badges" today!
From 700 submissions, the three winners of the $200 prize from our online ad writing contest in The Writer's Life have been chosen by Nick Usborne.
Sales Funnels are just one of the projects you can become verified in - with AWAI's "Badges". Get all the details on how you can increase your fees as a professional writer - and sign up today!
Train with AND work for one of the best in the financial publishing industry. Get more details about this exciting opportunity here.
How do you let potential clients know you have the skills they're looking for? Check out this video message from Rebecca about the program that will give you the skills and confidence for your copywriting success. But don't wait too long - availability is limited and so is your chance to save!
The unmatchable wisdom and wit of travel writer Steenie Harvey.