This Week from AWAI …
[DEADLINE]

Go from ZERO to Copyediting HERO!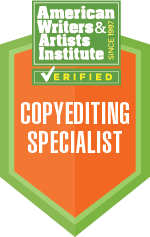 Today's the last day to enroll in the BRAND-NEW Copyediting Mastery & Certification training.
This is your chance to MASTER a skill that can open BIG doors for you … set you up with choice clients … and give you up to six figures in income while you hone your skills with other kinds of copy and content.
Best of all — you can enroll with peace of mind, with our 30-day risk-free guarantee.
Which means you can go through all the materials and start applying them, and if for any reason you aren't thrilled 30 days from now, you can request a full refund.
Secure your spot now and claim your discount before midnight tonight!
Secure My Spot Now!
LAST CHANCE:


$11 today, $297 tomorrow

When you grab a subscription to Barefoot Writer magazine by midnight, for only $11 …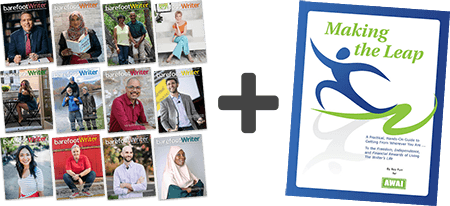 You'll get FREE access to our Making the Leap program, which takes you wherever you are today …
And shows you exactly how to make a smooth transition to paid writing, so you'll have success right out of the gate.
It usually costs $297, but you'll get it completely free today!
Grab It All for $11
Browse Recent News
Love Writing but HATE the Idea of Having to Find and Deal with Clients? Dream of a "Client-Less" Writing Business with UNLIMITED Income Potential? Then Join Us for a Very Special "One-on-One" with the Legendary Ben Settle.
Barefoot Writer magazine is the key that unlocks all the doors to paid writing. Grab a subscription to Barefoot Writer magazine today for just $11.
This is your last day to take part in the brand-new Copyediting Mastery & Certification training. Get everything you need to quickly launch a thriving, client-filled copyediting business!
Claim your freedom and kick off your writing career right now by grabbing a subscription to Barefoot Writer.
Save 80% on our exclusive writers club membership—and receive $363 in bonus writing career launching resources—if you join today.
Learn more about our LIVE FastTrack to Pro: 21-Day System, you'll be ready to land your first client — guaranteed.
Too many writers make this false assumption. Do *you*?
Middle school teacher Yvonne Audi landed her first freelance writing client (in the education industry) through her LinkedIn profile. Find out how that single LinkedIn connection launched her freelance business, and how LinkedIn can pave the way for your writing career, too.
Start living the writer's life by becoming a B2B writer.
Barefoot Writer gives you the roadmap… as well as training AND support from writers who are already making great money… so you can start getting paid to write. And we've laid out the path forward, in just four simple steps.
Get access to three programs we've handpicked from the AWAI catalog to help you set up and run your business efficiently… make effortless connections… and boost your writing income!
Cris Johnson's life was nothing but fun from the outside looking in. But the reality of life as a magician kept him on a grueling schedule, away from his family, and chronically exhausted. The upside was that it led him to copywriting. Discover why pursuing the writer's life won out in the end, and how he's kept some "magic" in his life.
The best way to get started as a writer fast — and on the right foot, with the right connections — is to get ahold of The AWAI Method™ for Becoming a Skilled, In-Demand Copywriter. Today is your LAST chance to test-drive it at a big discount…
HOT: Exclusive "One-on-One" Interview with the Master Writer Steve Slaunwhite. Learn why B2B writing offers one of the surest and fastest paths to making six figures a year with just a handful of clients.
This is your final chance to enroll in the B2B copywriting mentorship with one of the world's best B2B copywriters — Steve Slaunwhite.
It's time to take control of your life! Enjoy more control over your time and your life … a better balance of family and friends and work … a level of job security nearly unheard of elsewhere … and the possibility of real wealth. Discover the opportunity that can show you how…
Today is your last chance to join B2B Writers International for $1. As a member, you'll get everything you need to meet the demands of the vast B2B industry, where 3 out of 5 companies are having trouble finding writers. Use the site's roadmaps and tools and you can be earning top professional fees.
A guide to starting a freelance writing career in just three hours.
Steve Slaunwhite, master B2B copywriter, has agreed to take a handful of writers under his wing and personally train them to become his writing protégés. Enroll now and put yourself on the path to creating a thriving writing career!
For nearly a decade, Steve Maurer juggled and built his freelance writing business around a demanding manufacturing day job. He finally made the shift, and is enjoying online writing freedom today. Here's how he went from part-time writer to freelance B2B industrial copy and content specialist.