This Week from AWAI …
EXPIRING: Your BONUS PACKAGE + Instant $150 Savings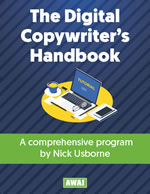 Until midnight tonight, you'll get a powerful bonus package and save $150 instantly when you get a copy of Nick Usborne's best-selling Web Copywriting 2.0 program.
Your bonus package includes:
Feedback on a LIVE spec, web-copy assignment …
Help getting your first client in 30 days …
Help choosing your web-writing niche …
And much more …
Get all the details now before it's too late!
You've Never Been Invited to A Club Like This One …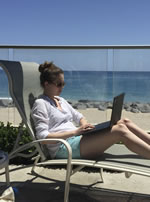 Thanks to this $2.3 trillion "underground" economy, members can work in their bedrooms, in coffee shops, by the pool, or even while traveling the world.
They seldom work for more than a few hours at a time.
And they get paid up to hundreds of dollars an hour to write about subjects they love.
In many ways, it's as if they've retired early.
Click here for your personal invitation ….
Jump to a Category:
Copywriting
Niche Copywriting Markets
Business-to-Business
Web Writing
Publishing
Home Businesses
Business Building
Graphic Design
Books by AWAI