Meet AWAI-Trained Writer: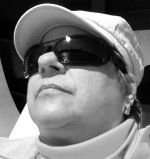 Michaeline Frost
| | |
| --- | --- |
| Location: | Webster, TX |
| Professions: | Copywriter, Researcher |
| Specialties: | B-to-B, Christian, Health |
Professional Background:
I am an enthusiastic self-starter, disciplined self-manager, and creator of imaginative, informative, engaging, clear copy. I'm June Frost - a consummate professional who communicates with power and passion.
As a former newspaper and magazine editor, reporter, and photographer for publications in the Houston area in the 1980's and '90's, including "Texas Bass Magazine", "The Potpourri News", and "People Scene", I developed an eagle eye for errors, a sixth sense for grammatical gaffes, a pugnacious penchant for perfect punctuation, and a fine-tuned inner ear for the voice of my subjects. I'm editor of "It's Just Me; My Real Life Test" by Cecilia Wilson, CanyonWalker Press, ISBN: 978-1-6120-030-2.
I'm a retired Houston Police Officer, and composed thousands of police reports, and documented my own in-depth criminal investigations. My written work required perfection of a marksman, because the lives of crime victims and criminals hung in the balance. The need for accuracy in my reports could not be more serious. In my 20-year career I promoted to Detective, Master Peace Officer, and Sergeant Of Police, retiring honorably in 2015.
I'm a minister, co-founding a church in 2011. I was staff minister, administrator, worship leader, and occasionally preached on Sunday. I developed all church documents, created and maintained the website, social media accounts, and composed advertisements, press releases, and brochures.