AWAI Job Fair: Your Easiest, Fastest, and Most Productive Way to Find a Copywriter Who Knows What Works
Dear Marketing Professional,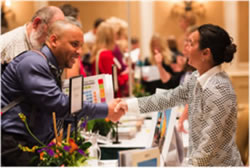 To compete today, you know you need an ongoing stream of strong, persuasive copy across multiple channels. And the pace is faster than ever — you need sales now, and you need compelling copy to generate those sales.
But, how do you find high-quality copywriters to produce winning promotions and solid content for your website, email campaigns, and more?
Sure, you could scour the Internet and hope to find a copywriter who truly knows what they're doing. Or you could ask someone you know for a referral … only to find the copywriter isn't available for your project.
Or — in just one afternoon — you could meet over 400 well-trained and talented copywriters and handpick the ones who best fit your needs!
Wouldn't it be nice to know with confidence that you've got the talent you need for your next big promotion, website re-launch, or ongoing copy and content campaigns?
AWAI understands good copywriters are difficult to find. In fact, that's the very reason AWAI was founded — to develop high-quality direct-response copywriters who can provide the compelling, persuasive copy you need to generate sales.
And that's why we host the biggest … and most successful … Job Fair for companies and copywriters in the direct-response industry.
At Job Fair, you'll find talented copywriters who have studied under copywriting greats like Mark Ford, Bob Bly, Dan Kennedy, Nick Usborne, Steve Slaunwhite, and many more.
You'll meet with potential copywriters face-to-face, so you can talk and really get to know them and determine if they're a good match for you. It's the perfect setting to find a copywriter who will provide the compelling copy you need!
Try Before You Buy
To get a good feel for each copywriter's skills, you can put them to the test with a Spec Assignment. You can ask copywriters to submit fresh copy for your business. It can be a headline and short lead … or an email subject line and message … anything that you feel gives you enough material to find a copywriter who is a match for you.
"The ability to write good copy is a skill and an art, and in order for us as a company to keep growing in tough economic times, it's even more important than usual that we keep engaging top-notch talent who can really relate to our target market. AWAI is the best place we've found to discover that talent."

– Liz Thompson, Co-Founder, Healthy Wealthy-n-Wise Magazine
"We have funded projects to several attendees from the Job Fair and are working with many of them on a long-term basis. I just wanted to let you know we are extremely happy with the talented copywriters we met and who have submitted specs."

– Debbi Carroll, Biomedical Research Laboratories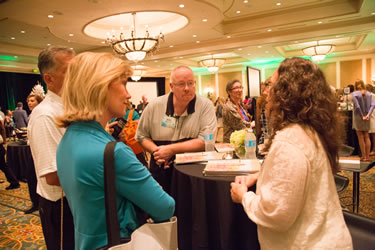 Whether you're looking for a new copywriter to work with, or an experienced copywriter with a proven track record, you'll find a copywriter to fit your needs at AWAI's Job Fair.
Direct-response pros, content specialists, social media experts, web copy specialists, B2B experts — they'll all be in attendance.
Need full-time or part-time in-house copywriters? Job Fair is the place to find them.
And of course, it's the largest gathering of freelance copywriters anywhere with a huge variety of experience and expertise in all types of media and niche industries.
Spaces are Limited!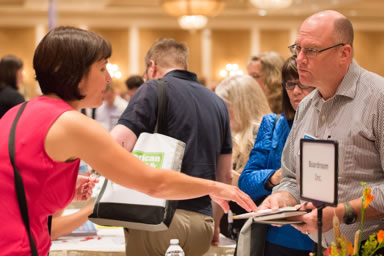 This event only happens once a year … and demand is always high.
This could be the year you find the perfect copywriter who understands your industry, your audience, and how to set you apart from the competition …
Companies that have attended AWAI's Job Fair in past years include Banyan Hill, Idea Grove, Money Map Press, Sears Institute for Anti-Aging Medicine, Stansberry Research, The Oxford Club … just to name a few.
And they'll be joined by even more companies who've discovered this copywriter gold mine!
Reserve Your Spot as a Job Fair Marketer Today!
We Provide Everything You Need to Find a Copywriter to Partner with Your Marketing Team
We're committed to making Job Fair as hassle-free, enjoyable, and rewarding for you as possible.
Here's how:
AWAI Job Fair marketer registration is easy … and FREE.
That's right — there's no charge to represent your company at Job Fair! Simply click the registration button below by March 15, 2021, fill in your info — including your logo and optional spec assignment — and then we'll get in touch with you to confirm your registration.
Here is a Spec Assignment Template that you are welcome to use. Simply update (or delete) the portions of text highlighted in yellow, and then upload your completed document in Word format during your Job Fair Marketer registration, no later than March 15, 2021.
You don't need to bring a thing.
Plan to be at Job Fair in beautiful Delray Beach, Florida at the Opal Grand Resort from 3:30 p.m. to 6:00 p.m. on Thursday, May 20th. Upon arriving at 3:30, head straight to the Ballroom, where you'll be greeted by a Job Fair Concierge to show you to your marketer table. No promo materials to bring, no exhibit booths to set up! Just you and one of your colleagues, ready to tell copywriters exactly what your company is looking for.
Job Fair doors open to our Bootcamp attendees at 4:00 p.m.
That's when the fun really begins! Professional copywriters will come streaming in, eager to meet you and talk to you about why they're a perfect match for your copywriting projects.
BONUS: As a Job Fair Marketer, you're invited to attend the entire AWAI FastTrack to Copywriting Success Bootcamp event as our guest.
During your Job Fair marketer registration, you and your colleague can also sign up for free admission to AWAI's premier copywriting event, to learn from the greats and mingle with copywriters and marketers. AWAI's FastTrack to Copywriting Success Bootcamp is worth $2495.00 per person, and kicks off on May 18th. (Learn more about Bootcamp here.) If you're interested in attending this conference, complete the pre-registration form, which is part of your Job Fair Marketer online registration.
We couldn't make it any easier to find your next copywriting superstar …
For questions about Job Fair and Marketer Registration, please email the AWAI Job Fair Team at jobfair@awai.com.
For more information about Bootcamp, please call Member Services toll-free at 866-879-2924 Monday-Friday, 8:30 a.m.-5:00 p.m. (Eastern).
Reserve Your Spot as a Job Fair Marketer Today!
---
Check out last year's Job Fair Participants!

Reserve Your Spot as a Job Fair Marketer Today!