This Week from AWAI …
FLASH SALE:


Over 80% Off Writing Templates
These templates help you write 12 of the most in-demand projects …
Give you a clear structure to follow so you can write with confidence …
And help you earn more money as a writer by helping you write faster.
Go here and grab the templates for just $79!
FLASH SALE:


Test Drive AWAI's Copywriting Program for $29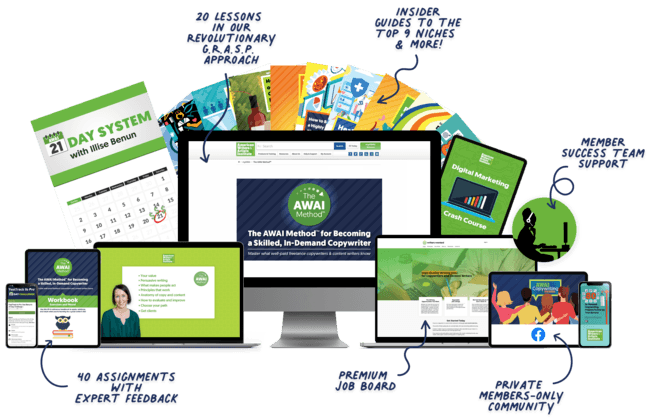 If you've ever been curious about copywriting, TODAY is your chance to test-drive our flagship program The AWAI Method™ for Becoming a Skilled, In-Demand Copywriter for just $29.
When you master persuasive writing with our industry-leading training, you'll be in big demand in this 3.5 trillion-dollar industry. You can make a good living, choose your own hours, and work from anywhere in the world.
But hurry, this "test-drive" offer ends soon!
FREE Training:


Break Into B2B Writing FAST

Learn why B2B writing is one of the fastest paths to making great money …
with just a handful of clients.

Tuesday, August 16th, 12 p.m. ET

Get The Details Here
Browse Recent News
Your opportunity to build your writing business — from $0 to a thriving moneymaking machine — with the help of my dream team of professional writers and me is closing.
Start earning professional fees writing for the huge B2B market. You'll get everything you need to start and grow your writing business when you join B2B Writing Success for just $1. You'll get roadmaps… templates… article archive… job board access… and much more when you join this community today.
Barefoot Writer magazine walks you through top answers to the biggest questions in starting a paid writer's life — and shows you pathways to a lucrative writing career.
Freedom, fun, and financial security await you when you make up your mind to go after the writer's life. Here's the resource that helps make it possible.
Emails are one of the surest and fastest paths to getting up and running as a writer. You still have a small sliver of time to take advantage of our flash sale…
Save $200 on our exclusive writers club membership—and receive $363 in bonus writing career launching resources—if you join today.
Join Us for an Exclusive "One-on-One" Interview with the Master Writer Steve Slaunwhite, and learn why B2B writing offers one of the surest and fastest paths to making six figures a year with just a handful of clients.
Get started learning this profitable writing skill!
Exclusive community for writers is now open to new members—for a limited time.
Gordon Graham, That White Paper Guy, announces the winner of AWAI's recent $5,000 White Paper Spec Challenge.
Just released, the Augsut issue of Barefoot Writer!
LIVE August 10 — Transform yourself into an indispensable resource for your clients by mastering the "Copy Continuum" through this live mentorship training
Today is the last day to get everything you need to kickstart your writing career and land paying clients.
Do you want to LAUNCH your writing career in just 5 days? Then check out our August Launch Party!
If you're ready to move forward with getting paid well to write, we've put together something for you that will not only make getting started easier… but KEEP you going for the next year, so you reach your writing and financial goals. Grab a subscription to Barefoot Writer today!
LIVE August 10 — Transform yourself into an indispensable resource for your clients by mastering the "Copy Continuum" through this live mentorship training
David Pederson is proud to live in the land of cowboys, bandits, and bankers… also known as SoCal. He found the world of copywriting through a desperate attempt to keep his job as a database administrator trying to persuade high-level executives to sign off on multimillion-dollar projects. Today, he uses those powers of persuasion to write in the health care and cybersecurity sectors. When asked about his dream location to live and work, David simply replied, "I'm here, writing to you from it."
Bonnie Fanning announces the 2 winners of the $200 prize PLUS a free ticket to our Copywriting Success & Getting Clients Bootcamp from our ad writing contest!
Check out this special Bootcamp 2022 video presentation and get the inside scoop on this year's copywriting event of the year.
Freelance writing? In this economy? Watch this news story about AWAI success Sean McCool, who started during the Great Recession and is still going strong!