This Week from AWAI …
Become a CERTIFIED
White Paper Writer, Collect up to $1,000 PER PAGE!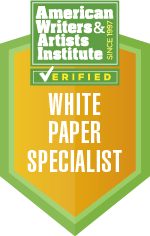 Not many writers can claim they know how to write a white paper…
And even fewer can say they know how to write one well.
But the few who DO know the secrets to writing strong white papers?
They have clients knocking down their doors… and willing to pay them up to $1,000 per page to write them.
Now's your chance to join those writers by learning from FOUR expert white paper writers and becoming a certified white paper writer.
Save Your Spot Here
Unsure where or how to start your writing career?
Katie + Rebecca + YOU!
Copywriting Made Simple LIVE is starting soon!
This is the LIVE event that has launched hundreds of successful careers…
Where you get to spend 3+ hours over two days with Katie and Rebecca as they walk you through everything you need to launch your successful writing career.
Meet… learn… write… ask questions…
Get over $980 in resources…
Launch your writing career the very next day!
ALL WITH ZERO RISK!
If, after everything, you decide copywriting isn't for you after all — you'll get a full refund!
Full details here…
But hurry! Copywriting Made Simple LIVE starts soon, and we have a ton of stuff to get to you!
SIGN UP HERE.
TODAY!


Get all this for $1…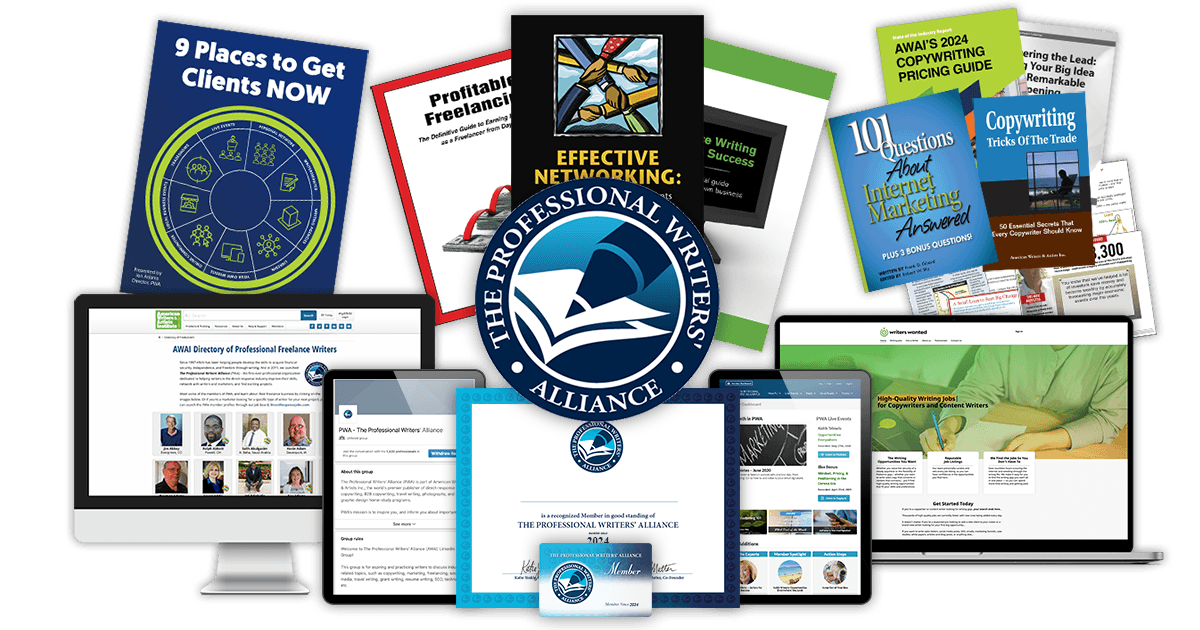 The Professional Writers' Alliance (PWA) takes the stress out of running your writing business.
With ready-to-use business forms, templates, and checklists… VIP job board access… networking opportunities… and a mountain of tips, tactics, and "been there, done that" advice from working freelance writers…
You'll minimize the "unbillable" hours you spend working on your business and maximize your time writing — and getting paid.
Claim Your $1 Access Here
Browse Recent News
The Professional Writers' Alliance (PWA) Managing Editor Jen Adams is delighted to announce that AWAI Member Cynthia Hill has won this year's Bootcamp Spec Challenge for PWA.
Right now you can get access to the playback of our FREE training on what white papers are, why B2B companies need them, and more!
Discover how copywriting connects with what truly matters to your audience. Learn why markets can't be forced and how to address people's real needs, not just product features.
Our industry expert speakers for Bootcamp 2023 have gone over the top to prepare fresh new techniques, secrets, and strategies for building the writing business of your dreams. Read more to take a sneak peek at the agenda.
It's hard to summarize the impact Russ Henneberry has had on AWAI members and the team here over the past few years. He's become one of our most popular trainers on content marketing, self-promotion, and earning what you're worth, and this year he is taking the big Bootcamp stage for the first time!
Freelance writers are more in-demand than ever. Here's how to start your career.
If you want a "niche" with basically zero competition and literally millions of clients… look no further than white papers. In today's market with soaring technological developments, the need for white papers has never been greater… Read more here…
Barefoot Writer magazine is the key that unlocks all the doors to paid writing. Grab a subscription to Barefoot Writer magazine today for just $11.
The secret most pro writers use to write faster and earn more… They use templates! They will help you write faster and more confidently. Grab them today before this deal is gone!
Get access to three programs we've handpicked from the AWAI catalog to help you set up and run your business efficiently… make effortless connections… and boost your writing income!
When Cindy Cyr's boss refused to give her leave to travel to her dying sister's side, the wheels of change were forever put in motion. But Cindy was able to make sweeping changes to her life pretty quickly, thanks to the opportunities she found through writing. Because of her bold actions, she's never again faced the pain of being barred from spending time with a loved one when they were in need. Discover how her new path has paid off a hundred-fold since.
Join us online Friday, September 29, 3:00 p.m. ET for a free training with marketing mentor, Ilise Benun. She is one of our most popular AWAI speakers because she takes your top "getting clients" concerns and calmly breaks them down into simple, achievable tasks.
Membership in the Barefoot Writer Club for just $49 for a whole year closes down tonight! Join the club today!
If copyediting sounds like it might be the perfect fit for you, and you'd like to get paid very well just by "fine-tuning" someone else's copy so it's ready to be published… Check this out and don't miss out on this deal!
We know that paid writing is something you secretly want to do. We know that it can solve a lot of the things you're struggling with right now. And so we've arranged for a limited-time 80% discount for you to join our group and check out the reality of what it takes to succeed at paid writing.
You can start making money as a writer within a month — even if you have no experience. Check this out!
A wildly in-demand skill is needed in this industry to transform all kinds of projects submitted by writers from "good" to GREAT…
Join Rachael Kraft on her journey: Traveling from the ER to her first Bootcamp with a cast, she took the leap and broke free from teaching, embraced freelance writing, and found flexibility for the life she wanted. Learn her top three tips for building your own writing career!
Today is your last chance to join our online training program where you will once and for all master the simplest, most versatile, most in-demand writing skill... and have a shot at being published with a byline as well as earn a $400 cash payout!
This is your last chance to claim lifetime access to Infinity membership under today's low pricing and generous terms.