This Week from AWAI …
Last Chance!

Save 67% on Barefoot Writer Club Membership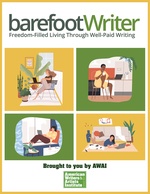 If you sign up by midnight tonight you can join the Barefoot Writer Club for just $49 for a full year!
Join a community of supportive writers you can connect with …
Stay up-to-date on all the latest industry news and best writing opportunities …
Get roadmaps and resources with your next steps to getting paid for your writing …
And so much more!
Get The Details Before This Deal Ends.
Browse Recent News
If you're looking for an easy writing project to start with, blogging is it. Set yourself up for a predictable monthly writing income. See how to get started here…
The main focus of this free virtual event featuring Katie Yeakle and successful AWAI members will be on moving your writing career forward so you know the "next best step" you should take.
Discover how you can land a retainer agreement with a blogging project and get paid $1,000-$3,000. Clients always need fresh content, and they need trained blog writers to provide it.
Janet Davis's path to writing was clouded with nonbelievers… but somehow, she kept finding her way back to her first passion. Or perhaps you could say writing found her. She's now forging a path unlike any other writer's journey, which is exactly the way it should be in the world of Barefoot Writing.
To celebrate The Year of the Writer, AWAI is excited to announce the Bright Future Scholarships program for AWAI members interested in advancing their copywriting careers.
If you've attended Bootcamp, you've likely seen Chris Allsop's smiling face in attendance. As one of the first in the Circle of Success, she has worked hard over the years to use every learning opportunity to its fullest. This attitude helped propel her into a hot seat with Dan Kennedy and into positions side by side with Clayton Makepeace and Marcella Allison. Check out some of Chris's story in this special "Where are they now?" edition of our Living the Writer's Life.
Join us for this FREE webinar to discover three easy yet important freelance writing projects clients need now — and how to quickly jump in.
Clients are looking for copywriters with this must-have writing skill right now. Are you ready to help these marketers out?
Ben Phillips has worked with some of the top companies in the industry, and his willingness to continue building his skills has positioned him perfectly for a six-figure career. Check out some of Ben's top advice about working for agencies and using LinkedIn to find clients.
A guide to starting a freelance writing career in just five days.
Freelance writers are more in-demand than ever. Here's how to start your career.
SEO is a cornerstone of digital marketing. Clients expect copywriters to have this skill.
Site Audits are a valuable service to offer clients. Plus, they're easy, fun, and follow a basic structure. Here are answers to common questions about doing Site Audits.
After leaving his career as a teacher, Tim Matassa jumped into his first Bootcamp ready to explore new opportunities. Now, four years after his first interview with Barefoot Writer, we catch up with Tim to learn how things have progressed. He shares what it's like to work with legendary copywriter Mark Ford, how he managed to write a direct-response letter that topped a long-running winner in number of sales made, and how he's learning to put his teaching skills to good use helping new copywriters.
Just released, the January issue of Barefoot Writer! Check out these simple steps to help you create a "new you" mindset, plus write stronger, more powerful copy, and build your skills and income with a little-known "super hack."
AWAI's revolutionary copywriter training method combines up-to-date strategies with tried-and-true copywriting fundamentals for the projects marketers need help with today.
If you plan to write for web clients as a copywriter, this is a must-have for your self-marketing strategy.
Each year, Rae Brent makes it a priority to travel halfway around the world three or four times to attend marketing events in the United States. She comes all the way from Brisbane, Australia, to advance her skills and allow time to catch up with "mates in the States." This dedication is just one example of the passion Rae has for "bringing out her best" in life.
Career-building advice, skills training, inspirational stories, networking opportunities, and more... yours at a very special price.
Gordon Graham and his wife Angie Gallop surprised the winner of the $5,000 White Paper Spec Challenge in this video call.