This Week from AWAI …
Learn From This Million-Dollar Copywriter 🤩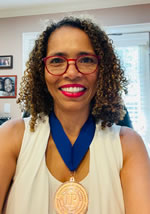 Ready to experience the thrill of getting five- and even six-figure royalty checks from your clients?
Let this "A-list" million-dollar copywriter show you how.
In just 4 weeks, you'll learn her step-by-step system for writing blockbuster health copy. Plus, she'll even show you the "business side" so you can start landing clients right away.
Read your invitation now.
Last Chance! Save 67% on Barefoot Writer Club Membership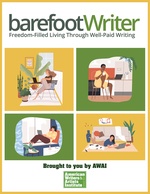 If you sign up by tonight you can join the Barefoot Writer Club for just $49 for a full year!
Join a community of supportive writers you can connect with … stay up-to-date on all the latest industry news and best writing opportunities … get roadmaps and resources with your next steps to getting paid for your writing … and so much more!
Get the details before this deal ends.
Browse Recent News
From over 500 submissions, Nick Usborne announces the 3 winners of the $200 prize from our writing contest about the Elliptical Machine in The Writer's Life.
The perfect resource for exploring a new writing career, with all the tools to get you started.
An exclusive club for writers that provides skills, support, networking, and more.
Health copywriter are among the highest-paid freelancers. Find out if you're cut out for working in this niche.
Danielle Vick took account of her priorities a few years ago and realized Barefoot Writing was the key to keeping them in line. It's how she permanently left a job she hated, pursued a hobby she always loved, gained the time and money to travel freely, and kept her first priority — her family — number one in life.
Kick-start your copywriting career this summer – or take it to the next level.
This magazine could be the launching point of your new copywriting business.
Our FREE Circle of Success Virtual Open House event starts at 12 p.m. Eastern Time.
If you haven't seen it yet, now is a great time to check out all the programs and resources we're offering for up to 90% off.
Check out the list of programs on sale now and grab the ones that will help you take your next steps forward.
Brandi Chaney's story is a terrific study in the versatility of the freelance-writing world. She's worked in a variety of niches but never felt tied to any specific field, thanks to the wealth of writing opportunities in every industry. Enjoy Brandi's story …
Get the copywriting skills and business-building strategies to kick-start your freelance career.
Today's the last day to claim one of the remaining spots in the guided mentorship where you'll master one of the BEST profit opportunities for writers (possibly ever!).
Thursday is your last chance to secure one of the remaining spots in AWAI's upcoming mentorship on doing Site Content Audits for clients.
Conducting a site audit unveils problem areas on a website. And, as a copywriter, you are uniquely suited to make necessary changes… for added fees.
A full year of access to the industry-favorite Barefoot Writer magazine for just $11.
This is the perfect side-hustle for copywriters… and it requires almost no writing.
From writer to speaker to trainer and now book author, Apryl Parcher is forging through the channels of communication and finding nothing but success. Enjoy her unique insight on getting started, as well as tips on how to use social media to advance your career even before you make a name for yourself.
Join us for this FREE webinar to discover how to launch your writing business successfully in the midst of a crisis.