This Week from AWAI …
CYBER MONDAY
75% OFF Our
Most Successful Business-Building Program for Writers EVER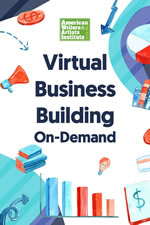 This is a rare opportunity to build a freelance writing business you're proud of … and transform yourself into a professional writer with great clients.
All in just 30 days or less. You'll learn from seven top experts what to do and how to set up each part of your business for major success.
Plus, you'll even have the chance to get feedback on your writing, your LinkedIn profile, and your website.
But you'll need to hurry … all enrollment closes soon, and you won't find this anywhere else on AWAI's site or in the product catalog.
Click the button below to grab your 75% off now.
Learn more.
CYBER MONDAY
90% Off Writing Templates!
Imagine if your next paid writing gig was as easy as filling out a quick form.
Now it can be!
With our 12 web-writing templates, all you need to do is open up the project type … follow our simple instructions … fill out the form … and you're done!
You'll have a fully finished project that your client will love.
Grab the templates now.
Browse Recent News
Until midnight, join the B2B Writing Success League for just $1. B2B writing is in high demand, and this easy-to-write-for niche is the perfect gateway for writers to earn top-tier fees right out of the starting gate.
Every morning, you'll find Ashly Kimball and her cat strolling down the driveway to get her mail. At the same time, she's holding a phone to record a quick business tip to post on her Instagram account. According to Ashly, this has revolutionized her business. Read on to learn more about how she uses social media to connect with her clients.
$200 Black Friday savings expire at midnight! This is your last chance to get instant access to a vast arsenal of our very best writing and business-building resources to help you set up your writing business FAST… along with $513 in bonuses… for just $49.
Save $400 and train with AWAI's very own copy mentor and email expert. This exclusive on-demand home-study course is available for just $97 until midnight on Black Friday.
BLACK FRIDAY: 80% Off Writer's Starter Kit. This is your chance to get instant access to the one blueprint that can have you launch and run a successful writing business in as little as a single weekend… along with $513 in bonuses… for just $49.
AWAI is offering its new home-study e-mail program at a special Black Friday price. Learn the skill that is the fastest, surest, and one of the most lucrative ways to make a living as a writer… and save $400.
Watch Marcella Allison's Bootcamp presentation to discover how you can use the ask-give-gratitude formula to build connections. Plus, learn how a new type of mentoring relationship can change the trajectory of your writing career.
Today is your last chance to enroll in AWAI's Video Scriptwriting Mastery & Certification with renowned media expert Andrew Davis… and get a chance to earn a $2,500 paycheck directly from AWAI.
It's been a long time since we showed his face, but it's time to share the story of our very own Barefoot Writer designer, Mike Klassen! Mike actually got his start working at Microsoft, but it wasn't long before he turned to AWAI to learn copywriting and then graphic design. Over the last 10 years, his career has continued to evolve, including a trip to Australia for a speaking engagement, time spent homeschooling his kids, and — of course — the freedom to work with nice people on his own terms. We hope you enjoy this peek into the design side of our magazine family.
Hear from a former Hollywood "Insider" about his creative niche and how to learn it directly from him.
AWAI is looking for writers who want a chance to earn a $2,500 paycheck with a hot new writing opportunity. Enrollment is now open — with the chance to get paid by AWAI upon completion of training.
Today is your last chance to save on this groundbreaking learning experience. Write alongside AWAI staff Writer Bonnie Fanning and discover the secret mindset professional writers get into to plan out their projects before writing a single word… and much, much more.
Join us for this FREE session to learn how to get paid to write video scripts.
There's a simple way to start getting paid as a writer FAST. Learn these five writing projects businesses and organizations everywhere need most, and you could become a skilled, in-demand copywriter in four weeks or less.
Keith Trimels discusses how copywriting has transformed his life in a surprising way.
From over 300 submissions, Nick Usborne announces the 3 winners of the $200 prize from our writing contest about the Sleep Buds in The Writer's Life.
Just released, the November issue of Barefoot Writer!
AWAI Member Marcus Monaghan's initiative helped him get his foot in the door with a dream gaming client, as well as loads of free gaming gifts.
You'll often find Frank Mitchell relaxing and playing guitar. In fact, other musicians know him as "the fingerpicking guy" because of his skill at that particular style of play. Although music is a huge part of his life, Frank prefers to write in silence and is working hard to build his dream writer's life. Read Frank's story to learn how he leverages his experience as a truck driver and military veteran to connect with email and funnel campaign clients.
On a lazy summer afternoon, you'll find Sunni at her lake house — laptop in hand — writing for one of her 30-plus clients. When she's not writing web copy or working on her books, you'll find her spending valuable time with her kids and grandkids. You see, writing has unlocked a world of possibility for this dedicated mother. Her business has grown significantly in the past year because of her ability to dive into every AWAI course she's ever taken. Here's a special interview between Jade Trueblood and Sunni Baerwalde…