This Week from AWAI …
FLASH SALE:


Over 80% Off Writing Templates
These templates help you write 12 of the most in-demand projects …
Give you a clear structure to follow so you can write with confidence …
And help you earn more money as a writer by helping you write faster.
Go Here And Grab The Templates Now
Now Accepting New Writers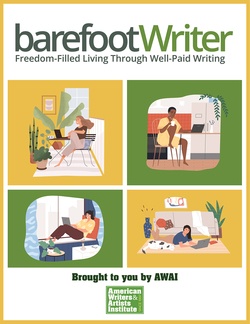 If you want …
high-paying gigs,
predictable writing income,
greater flexibility …
AND the satisfaction that comes with LOVING what you do for a living …
Then getting accepted into our influential club of Barefoot Writers can set you up for everything you're looking for in a writing career.
NOTE: Your acceptance window will be closing soon!
Apply Now
FREE TRAINING:

Get a behind-the-scenes look at one of the at one of the most important and sought after writing skills — storytelling!

Join AWAI's Senior Copy Chief Sandy Franks this Tuesday, September 27th at 12 p.m. ET.

Click Here For Details
Browse Recent News
The secret most pro writers use to write faster and earn more… They use templates! They will help you write faster and more confidently. Grab them today before this deal is gone!
Join the only major professional organization for freelance copywriters and content creators — The Professional Writers' Alliance (PWA) for just $1 today!
Inspiration can come from anywhere. For Craig Grossman, inspiration comes from various aspects of the AWAI courses he's studied or even from his clients. He'll take one idea and turn it into a blog article or use it to enhance a website. That is just one of the skills this gourmet-food-brokerage-owner-turned-copywriter uses to run his new B2B copywriting business. Today, Craig truly is an artist and writing is his creative outlet. Enjoy his story…
Join us for an exclusive event with Senior Copy Chief Sandy Franks as she walks you through how to write a compelling and captivating story, one of the most in-demand (and fun) writing skills on the market today.
If you've ever considered Circle of Success — the industry's highest level of personalized, mentored training — NOW is the time to join… Learn why, and secure your lifetime pricing and terms, here!
Today is your LAST CHANCE to grab The Writer's Starter Kit for only $49! It includes all the tools, templates, resource lists, guides, and fee schedules you'll need to launch and run a successful writing business.
Copyediting is a great way to start making money in this industry… And every company on the planet can benefit from someone who can do it. Today is your last chance to start getting paid as a copyeditor for just $59.40.
If you want to get up and running as a writer in just a weekend, then grab The Writer's Starter Kit today. It includes all the tools, templates, resource lists, guides, and fee schedules you'll need to launch and run a successful writing business.
When I first started writing for a living, I was maybe a little over-confident. I knew I was a decent writer. I'd been praised here and there for things I'd written. So, you can imagine my surprise when my first legit paying assignment came back covered in blood. Read on to find out the life-changing lesson I learned.
When Holly Emery took AWAI's Master Certification for Direct Response Copywriters, she was hoping to build a career to take her away from a job in the private sector. Then, a chance referral from a friend who introduced her to a client in the mindset coaching niche. In this interview, you'll learn how Holly was able to navigate this first big project and even secure a monthly retainer. Plus, you'll find out how Holly avoids ever having to write under pressure. Her "nightstand trick" may just help you sleep better too!
A guide to starting a freelance writing career in just five days.
Learn all about this powerful, five-week SEO certification with the best in the business while doors are still open!
Big-Savings registration for AWAI's Copywriting Success & Getting Clients Bootcamp is ending. This is your last chance to save 60% off admission price.
Watch as SEO copywriting master Russ Henneberry, explains why SEO is one of the hottest and most in-demand writing "niches" today.
Freelance writers are more in-demand than ever. Here's how to start your career.
AWAI member Jon Stoltzfus is a textbook case of someone who experienced breakthrough success very quickly after attending his first Bootcamp. Read more about him!
There are all kinds of freelance writing clients in your own geographic region — local clients who need help with SEO content writing to attract more online traffic and sales. Join us to discover what SEO content writing can do for local businesses … how to find clients near you … and resources to get started right away.
Just released, the September issue of Barefoot Writer!
When she first started, this young woman took the copywriting world by storm — achieving incredible success while still in her 20s. Today, her name is a bit different and her outlook on life has evolved to include meditation, better self-care… and still… incredible copywriting skills. You'll love this peek into the daily life of copywriting rock star Rachael Aurora Gray.
As a writer you have choices … you choose what to write about and who you work with. You also choose how much money you make. Here are seven "levers" you can pull to make more.