This Week from AWAI …
The Dream Writing "Job"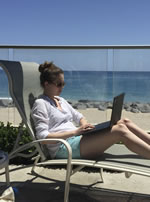 There's no limit to how much you can earn …
You're completely in charge of your time …
You pick what kind of writing you do …
And you can work from anywhere in the world you choose to be.
In short: You live life on your own terms.
Click here to see if this writing job is for you.
If you're not sure, take our quick little quiz …
You may just find you're missing out on a writing opportunity that's perfectly suited to you.
Go here to take the quiz now.
Browse Recent News
Get your piece of the $9.6 trillion B2B market.
How to reach six figures as a freelancer with high paying B2B copywriting projects.
Tim Cotroneo's travel writer's life is not only the stuff dreams are made of, it's become a reality that's opened additional doors to publication. Discover how he took the tools and knowledge gained at a single workshop and turned them into a thriving writing career to envy.
Maybe you enjoy long-form sales letters and trying to beat controls. Or maybe you're the type of copywriter that writes in a more conversational style, without all the hype. B2B Expert Steve Slaunwhite has a message – and a quiz – so that you can find out what type of copywriter YOU are!
Copywriter Daniel Ross is moving up in the financial copywriting world, after landing some writing gigs with his dream client.
Today's your last chance to lock in all 8 "Badges" verification modules at a savings of more than $5,000.
The projects you'll master as part of the "Badges" program are skills every copywriter needs to compete in today's digital marketing environment. By learning them now, not only will you have these important skills, but you can use them to start earning money as a writer faster than you imagined. Read on now – before it's too late!
If you want to save a ton of money – and still have full access to our "badges" learning experience – it's crucial you take advantage of this opportunity NOW.
As a copywriter, the Badges program helps you master the skills clients expect today.
Thanks to detailed feedback, you can quickly master the 8 most in-demand web copywriting skills.
The day Julie Hassett learned copywriters can make a lot of money working from home was the day her life changed, forever. She dug her heels into the challenge, jumped, and landed square in the middle of the Barefoot Writing world. If you know you have what it takes and want a preview of what life as a writer can bring, you'll love her story.
This week, AWAI is proud to announce the three $1,500 prize winners from the first graduating class of Casey Hibbard's Case Study Masterclass program…
Time is running out to join us for the next Virtual Business Building Intensive… So, if you're serious about turning copywriting into a profitable business, the time to act is now ...
As a copywriter you actually run your own business. Here's how to make sure you're as profitable as you can be.
Earlier this year, a team of experts and I helped a group of writers build complete freelance businesses… ones that were up and running — and attracting new clients with paying projects — in under 30 days. And we've decided to do it again… Which means now it's your turn!
Everything you need to find high-paying clients and create a steady stream of freelance income.
Join us for this FREE webinar to find out how to handle those first client conversations with ease.
Amanda Foxcroft Taylor stands out from the crowd of most writers for two reasons: She knows what she wants, and she's not wasting any time going after it. Plus, she's found a way to marry her ideals and writing goals with a career that allows her to write for the joy of it. Read on to find out how "love-based solutions" are propelling her to ever-growing daily success.
Your August issue of Barefoot Writer is waiting!
The Game-Changing Skill that Brought Ed Estlow a New Career … and a Better Life