This Week from AWAI …
Big Things Are Happening in the Writing World!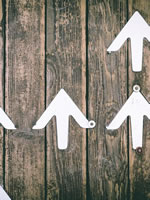 Right now, there's a major shift happening in the writing world …
And it's got 90% of businesses carving out big chunks of their marketing budget to hire writers for a new kind of project.
Once you're in-the-know, you can set yourself up as a pioneer in this field and lock-in a steady writing income for LIFE …
Without writing a single sales letter!
Be one of the first to get all the details in your free copy of the Current State of Copywriting exposé.
Click here for details.
NEW MEMBER DISCOUNT: Save 67% on the "Barefoot" club that shows you how to get paid to write!
The best way to learn a language is to immerse yourself in it. The best way to become a paid writer? Immerse yourself in the world of paid writing. When you join the Barefoot Writer Club, you get immediate access to …
The secret formula for writing letters that can make you six-figures a year …
How to set up your business (all you really need is a computer and a connection to the Internet) …
How to demand — and get — top dollar for your services …
And, in short, how to take the FAST and EASY path to success as a writer.
Save 67% on a full year's membership here.
Browse Recent News
Join AWAI's Executive Director Katie Yeakle and some surprise guests as they lift the curtain on our industry's most comprehensive and personalized level of copywriting training — Circle of Success.
Get the resources and tools you need to start working as a professional writer.
Thousands of videos, webinars, articles, and more are available.
Just released, the July issue of Barefoot Writer!
If you've been on the fence about whether or not take part, you need to make your decision now – enrollment shuts down on July 3.
Companies in every industry need this type of writing… and they need a lot of it. Here's how to get started in this niche.
Here's what past attendees are saying about AWAI's Writer's Launch Party.
This is your final day to take over 60% off the one writing opportunity that can get your foot in the door with clients…
Get the support and motivation you need to work as a professional writer.
Become a "website doctor" – no technical experience needed.
Is the writer's life for you? The best way to find out is this test-drive of the premier program for new copywriters.
Today is the LAST DAY to sign up for Ben Settle's Ten-Minute Workday program
Copywriter Ben Settle has found the best way to work as little as possible, while making plenty of money, writing emails that could earn thousands of dollars per day.
Sign up to get your hands on the perfect introduction into the world of professional writing. Get industry insights, writing tips, career advice, and more.
As a member, you'll enjoy professional-level resources, tools, and training you need to succeed. In order to join for a deep discount on the standard membership dues, you must sign up by June 27th.
We're just hours away from the end of our 48-hour Flash Sale … where you can save 75% off our most popular business-building program.
Get practical strategies and tools for finding clients, self-marketing, and more from top copywriters and other experts.
The Barefoot Writer Club is accepting new members right now – and you can join at a deep discount for a limited time.
If you're ready to be among the first in the ENTIRE WORLD to specialize in this lucrative field, please act now before it's too late.
We're on the verge of something HUGE for writers. And right now, there's a short window of opportunity to get in early. Let me explain …