Why Your Email Newsletter Clients Will Never Run Out of Content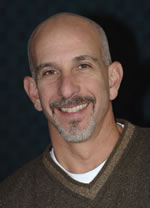 Michael Katz
Do you like high school sports? I do. Attending these games reminds me of my own illustrious high school career — assuming "illustrious" means "unremarkable."
Because, while it's true I did manage to earn a spot on the varsity basketball team, I averaged a scant two minutes per game.
I played only during what was mockingly known as "garbage time," the point at which the outcome has been decided and the objective of all participants is to somehow score a point, so that your name appears in the newspaper box scores the next day.
All-in-all, though, it wasn't a bad experience.
I got to practice every day with the best players. They gave me a brand-new pair of top-of-the-line sneakers. And I had a reserved, front row bench for watching the games.
And, I confess, the cheerleaders.
One thing I've noticed is that all the cheerleaders for all the teams pretty much yell the same things:
"Dee-Fence! Dee-Fence!"
"Say it loud because we're proud!!"
"Leave us alone creep. Go back and sit on the bench!!!" (Hey, I gave it a shot.)
And that's perfectly fine.
The key to cheering has always been in the enthusiasm and the moves, not the originality of the content.
I can't imagine any cheering squad ever hesitated to participate because they couldn't come up with something to say that hadn't been said before.
And yet, as you work with clients on their newsletters, that concern is exactly what you're going to hear over and over again: "It's not a new insight, why would my readers care about this?"
Many reasons:
It's new to readers. Your clients are immersed in the issues and insights of their respective professions. Their readers are not (that's why they read the newsletter). They're eternal beginners, always sitting at square one, perpetually wrestling with questions your clients find both simple and obvious.

It doesn't matter if the information is already "out there;" readers don't pay close attention to what's going on in your clients' area of expertise.

Repetition is a good thing. It takes time for people to learn things. That's why your doctor, your personal trainer, and your long-suffering spouse keep offering the same advice, over and over again.

Repetition in content you help your clients create works the same way. Not only should they not be concerned about stating a point of view that someone else may share, they need not worry about repeating themselves.

On the contrary, your clients want people to associate them with a particular style and point of view. And that takes time — and repetition — to build.

It's not about the objective information anyway. When it comes to furthering the "selfish" interests of a business (i.e., getting more great clients), the point of creating content is to connect.

Your clients want people to like them. To trust them. To believe their worldview matches up with that of their readers. It's not about facts — it's not even about knowledge. It's about connection.

That's why stories, humor, voice, authenticity, and perspective matter so much. When you can wrap that around objective information, all professionals in a given field share in equal measure, now there's a chance of standing out and being remembered.
Here's the bottom line. If the bar any newsletter writer needs to get over in creating content is, "Nobody's ever said this before," we've all got one, maybe two things to talk about and then we're done. If that's what it takes, nobody's got the endless supply of content needed to keep publishing and so that you can create the retainer-based business you're looking for.
The good news is, that's not what we're doing here.
Content creation, and the positioning of your clients as the likeable experts that they are, has a lot more to do with how they show up than with the information itself. When you look at it that way, they've got a bottomless supply of cheer worth spreading. Go team!

How to Write Engaging E-newsletters: Earn Ongoing Income by Turning Casual Prospects into Devoted Customers
Start writing e-newsletters that build relationships and turn casual prospects into devoted customers. With this skill, you can earn thousands of dollars a month in retainer contracts. Learn More »

Published: February 28, 2017