Get Paid to Write in Six Easy Steps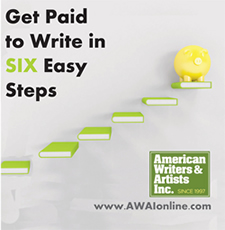 American Writers & Artists Institute (AWAI) has been helping people launch profitable careers as freelance writers since 1997. So if you're new to the idea of getting paid to write for a living, this is the place to start.
Below is a video from six-figure freelance writer Mindy McHorse. Mindy went from knowing nothing about making money independently as a writer to breaking the $100,000 income mark in just three years, using nothing but a home computer and the knowledge she gained through AWAI.
Like Mindy and many other freelance writers, you too can work from the comfort of your home (or anywhere in the world!), on a schedule of your choosing, and on projects you enjoy.
Mindy tells us, "I wouldn't trade my freedom and income for anything … though I would have preferred to learn some of those lessons at the start of my writing journey instead of doing some things the hard way. Still, every lesson has been worth it. My only regret is that I didn't know about these writing opportunities sooner."
Watch Mindy in the video below to learn how you can join her in the world of writing for profit. And then click the links below this video to find out how AWAI can help you start living the writer's life.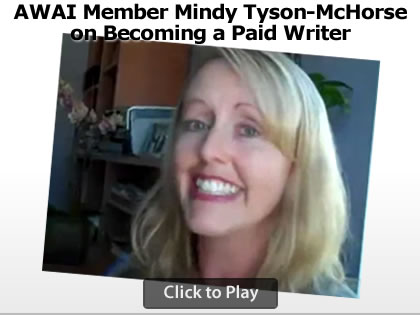 6 Easy Steps to Get You Launched as a Paid Writer
Step 1: Download this free report.
Your first step in becoming a paid writer is to understand the different money-making opportunities available. Sign up in the box below to receive our free report, called "It's True! You Can Make a Very Good Living as a Writer: Here are 9 Ways You Can Do It Now."
Discover 9 Ways You Can Make a VERY Good Living as a Writer!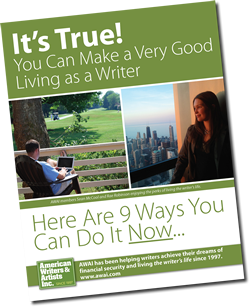 We'll instantly deliver this FREE Guide to Barefoot Writer Living
We respect your privacy. View our privacy policy
Step 2: Join the Barefoot Writer Club and Start Making a Great Living as a Writer Faster
It's the quickest way to get started in the world of profitable writing. Plus, it means we'll get to know you (and you'll get to know us), so we can better focus on helping you land paid writing projects and carving out the kind of writer's life you desire. More importantly, you'll be connected to a support network of fellow writers.
You can learn about The Barefoot Writer Club here.
As you read through each issue, you'll learn a lot about the best ways to make a living as a writer, and meet many successful writers who are willing to share their stories and offer you support, month after month.
Plus, we're always looking for new and talented writers for Barefoot Writer…
Along with potential writing fees for published articles, you'll notice our magazine offers a handful of monthly contests with cash prizes. (And members get first priority when it comes to being published in the magazine.)
Step 3: Connect with other writers — people just like you — who are living the writer's life already.
Don't just take our word for it. For inspiration, see our Wall of Fame or Directory of Professional Freelance Writers to learn more about members who successfully made the transition to making a living as writers. Or browse the AWAI Blog to read from — and connect with — successful AWAI members who are now helping new members follow in their success, by sharing what's working for them, tips they uncover along their journey, and their latest writing adventures.
Step 4: Connect with us online.
We invite you to follow us through our various social media outlets. Note that we have several Facebook pages, where different writers who have followed unique paths all contribute tips and advice on how to be successful as a writer.
You can find us at:
Step 5: Fast-track your way to the writer's life by joining us for Live Events.
Visit the AWAI Live Events page to learn about our hands-on training workshops and conferences. This is where dreams meet reality, and our Live Events are where many writing careers first takeoff. We especially encourage you to attend our annual FastTrack to Copywriting Success Bootcamp and Job Fair, an event where over 50 marketers and companies attend just to meet and hire AWAI-trained copywriters.
Step 6: Explore our website and get to know us.
Jump right on in and browse around our site. We especially recommend you visit AWAI's free content archive. You'll find articles on anything and everything you'd ever want to know about writing for profit and having complete control over your income and time.
We also invite you to get to know us. You can always contact us via email, or call us toll-free directly at (866) 879-2924. We're here from 8:30 a.m. to 5:00 p.m. ET, Monday through Friday, and we're happy to answer any questions you have.