Starving Artist, No More … We Write for Money!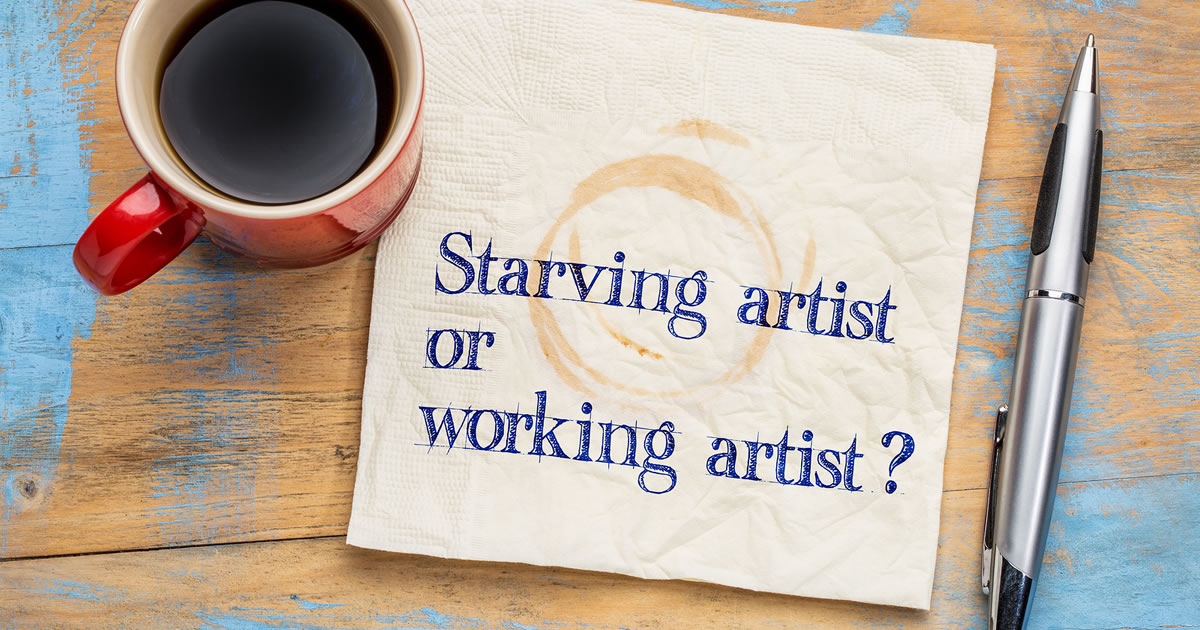 Knut Hamsun thought the world should know what it's like to be an artist.
So, he wrote a little book that describes how some artists are so dedicated to their work, that making money and putting food on the table doesn't matter. And how they're willing to do it for long periods of time … even their whole life.
The book, published in 1890 made Knut famous. And it more than likely spurred the catchphrase, "starving artist."
And while the art world may have its share of "starving artists," it's hard to say the same is true for writers … especially persuasive writers.
Sure, they may experience times in their careers when they aren't making a ton of money. But those times are few and far between.
You see, the truth is, copywriting opens the door to ALL forms of well-paid writing …
Whether you're interested in paid writing as a way to get some spare cash … or replace your career entirely … or somewhere in between … whatever your goal, copywriting can get you there.
But not in the way you might think …
The "Three C's" of Copywriting
Let's start by making sure we're on the same page when it comes to copywriting …
Copywrit­ing is the learned art of persuasive writing where you, as the writer, convince people take a specific action, using the words you put on paper. That action could be to buy something … but it could also be to click a link, donate to a charity, subscribe to a newsletter, etc.
But it's also much more …
Good copywriters know how to connect with their reader. They can effectively research a topic or mar­ket so they're able to pinpoint the needs, or "pain points," of the people they're writing to.
They know how to talk to potential customers with enough emotion and proof that their messages resonate. And they're skilled at crafting content that informs, engages, entices, persuades, and entertains their audience.
Chances are good you've used already some form of persuasive communication your­self. For example, have you ever talked a friend into seeing a movie he or she wasn't excited about, but ended up really enjoying?
Have you ever convinced someone to try a new restaurant they had no interest in, only to watch it become their favorite place to eat?
Those examples are simplified forms of persua­sion, which is the heart and soul of copywriting. It's about connecting, convincing, and converting.
In fact, if you think about it, that's really the root of all business and commerce everywhere:
To connect with people who are in need of a specific product or service
To convince those people to give the prod­uct or service a try
To convert those people into buyers
That's why copywriting can be so versatile … and lucrative.
Projects and Writing for Clients
Once you've mastered the skill of copywriting, you can pursue virtually any kind of writing proj­ect for any client in any industry …
Projects like sales letters, email, editorial content, social media campaigns, space ads, marketing funnels, and more.
(We have a free Pricing Guide that we publish every year that lists 75 different project types!)
And that's probably one of the biggest benefits of copywriting …
No matter what type of writer you are … or the kinds of writing you enjoy … there are numerous ways for you to get paid well to write.
Love to tell stories? Maybe you'll tackle case studies or sales letters.
Good at researching? White papers may be your thing.
Enjoy connecting with others? There's a huge demand for you in social media.
No matter what type of writing you enjoy — or excel at — there's a perfect project (or three!) for you.
There's also a wide variety in what you can write about …
You can write about things you're passionate about … like martial arts, alterative health, gardening, or finance …
You can write about things where you have experience … like if you've spent the last 20 years working in the software industry, you can leverage that expertise in your writing business …
Or you can write about things where you understand the reader very well because you are the same … like if you're a new mom and you understand the fears new moms face. Maybe you'll choose to write for companies that manufacture infant safety products.
Again, once you understand copywriting, the opportunities are truly endless.
And the money is great too …
You can choose to write on a fee-per-project basis where clients pay you for each assignment you write ($100 to $300 for an article, $250 to $500 for an email, $1,500 for a case study, etc.).
Or you can choose to write on retainer, for clients who have ongoing needs, and would prefer to pay you the same amount every month to write the same assignments ($1,250 a month for a regular e-newsletter, $2,000 a month to manage their social media accounts, etc.).
And then there's royalties …
Royalty agreements often happen when a copy­writer writes a direct-response sales letter, where the client can track every sale your letter brings in.
De­pending on the agreement you make with your client, you could get anywhere from 1% to 10% of the sales. And that's on top of the money you were paid to write the letter to begin with!
The Single Most Important Requirement to Learning Copywriting
The question I'm most often asked by people who want to learn copywriting is, "Where do I start?"
Our Accelerated Program for Six-Figure Copywriting is definitely the best starting point, but it's important to understand that you'll want to make a commitment to learning.
Copywriting is a learnable skill, but like any art form, it requires study and practice over time.
Here are some tips to help you get you started:
Read as much as you can about copywrit­ing and direct response.


AWAI offers a free content archive that covers every topic under the sun when it comes to persuasive writing.

Copywriting is about clear communi­cation. That means using word choices and phrases that are easy to understand. It also means using shorter sentences and shorter paragraphs because they are easier for the mind to digest.

You can check the clarity of your writing in Microsoft Word if you go to the Review panel and run a spelling and grammar check. Under "Readability," your Flesch-Kincaid (FK) Grade Level will be displayed.

Write like you talk. Many of us learned to write in a more formal way than the way we speak. But in the world of copywriting, it's more powerful to write in a conversational style. In other words, what you would genuinely say to someone if you were speaking instead of writing.

The next time you write something, read it out loud. If it doesn't sound like something you'd say to a friend over coffee, revise it till it does.
Your Key to Money-Earning Power for Life
As I mentioned before, one of the greatest benefits about the art of copywriting is that it can be molded to fit whatever kind of writing you choose to pursue.
Copywriting is a financially-valuable skill. It's versatile. It's adaptable. And it's a talent you can use over and over again to gener­ate income.
But it all starts with taking the time to learn copy­writing, the art of persuasive communication. Once you do that … the days of being a starving writer will be gone forever.
Do you have any questions about persuasive writing and how it can be the foundation of a copywriting career? Post in the comments below … I'd love to see if I can help!

The Professional Writers' Alliance
At last, a professional organization that caters to the needs of direct-response industry writers. Find out how membership can change the course of your career. Learn More »

Published: December 18, 2017