Will Artificial Intelligence
Replace Copywriters?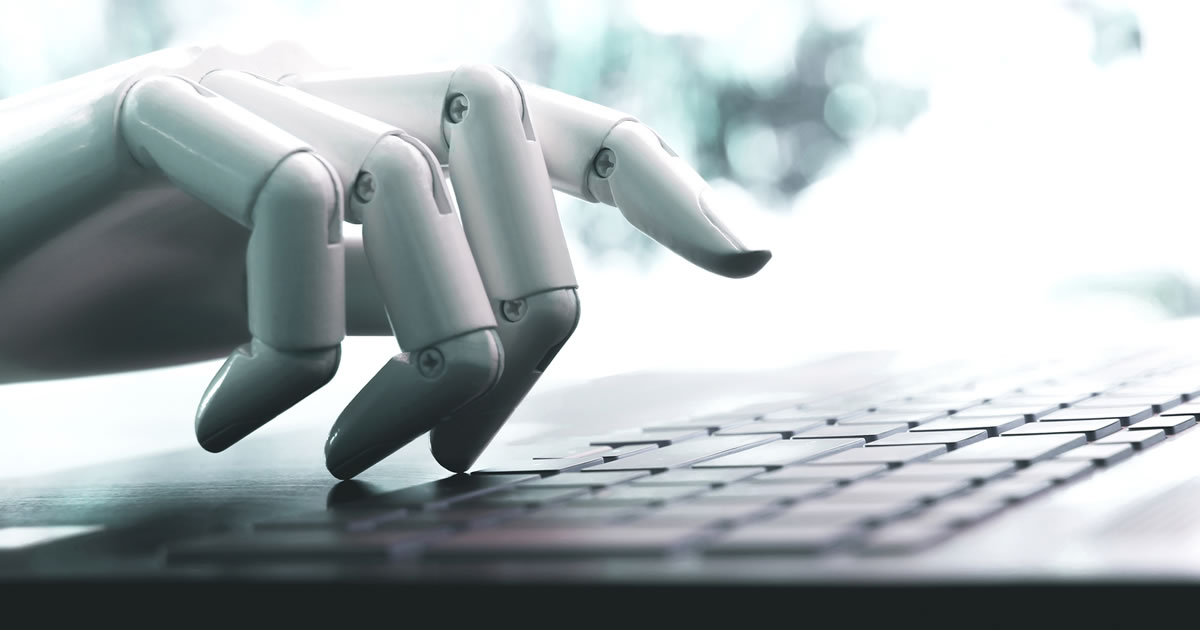 There's a lot of talk about how artificial intelligence (AI) is going to displace millions of workers everywhere.
But does that include copywriters? Are we in danger of being replaced by machines that never complain, write better headlines, and always submit work on time?
Well … it's starting to happen.
Sort of.
According to a recent article in Ad Age magazine, one of the biggest banks in the world, Chase, is already replacing some of its copywriters with AI.
In a series of tests, AI technology outperformed Chase's human copywriters. That was enough to convince the bank to ink a five-year deal with their AI partner, Persado, to create marketing copy across multiple platforms.
As you can imagine, this announcement is creating quite a bit of buzz in the marketing world. It has copywriters worried about the long-term viability of their careers.
And with good reason! If a machine can outperform human copywriters this early in the game … what will they be able to do in five or 10 years?
This Is Nothing New!
First, the bad news. You're going to start seeing AI permeating multiple industries and replacing work that's traditionally been done by people. That's not hype; the experts all agree on this. AI is an inevitable force. It's growing at a rate that most of us can't really comprehend. The technology is improving exponentially every year.
Having said that, it's also important to put things in perspective. When you think about it, this is nothing new. Any time you have a disruptive technology or market force, the patterns are always very similar. The disrupting technology or force will first disrupt the mainstream — the "easy pickings." And that forces the surviving practitioners or businesses in that industry or profession to think more creatively about how they can add better value to the marketplace.
Here's an example. Walmart's exponential growth in the 1990's was massively destructive. It obliterated thousands of mom-and-pop businesses. Among them were hundreds of small pet supply and pet food stores. As pet owners started buying their pet food and supplies at Walmart, the local competitors simply couldn't survive.
However, even though Walmart is doing better than ever (and probably still selling more pet food than any other retailer in the world), small pet food and pet supply stores are now popping up everywhere. We have three of them within a five-mile radius of our house here in suburban Atlanta!
How is that possible in a world dominated by Walmart, Amazon, and multiple online stores that deliver dog food to your house with free shipping?
These new, local boutique stores have decided to focus on very specific areas and micro niches within the industry: specialty high-end food and products. Categories that Walmart is not interested in dominating because they don't scale very well.
They're also competing on the ability to provide amazing customer service, a truly personalized customer experience, and a much greater knowledge of the products on the shelves. Plus, they're capitalizing on the "buy local" trend, which has caught on all across the country.
As a result, these small businesses are thriving. They've proven that as a big, disruptive force comes into a market, the established businesses in that market must become much more creative, specialized, and strategic about how they position themselves and the value they deliver to their customers.
Understand Where the Disruptions Will Occur
It's also important to understand where the disruptions will actually occur. When a new technology or movement starts taking hold, it doesn't do so across the board. It goes after the low-hanging fruit first, but then it takes a long time to move beyond that level.
The real impact of AI in the copywriting world will be in organizations like Chase — businesses that produce and manage massive volumes of marketing assets. We're talking tens of thousands of pieces of marketing collateral across multiple platforms. When you're dealing with that kind of volume, having technology that can reliably analyze complex performance patterns and crank out new copy fast makes sense.
Huge, established brands are also much better candidates for copywriting AI technology than other businesses. In other words, companies where the brand itself is the main driver of results, as opposed to the copy.
Chase's strong brand will almost always be a greater factor in persuading someone to switch banks than a few lines of copy generated by AI. Therefore, big brands might be more willing to use AI in lieu of human copywriters, since the copy (by itself) won't move the needle as much as it would in a business that doesn't have that kind of brand recognition.
Finally, when the products and services being marketed are simple and fairly straightforward (think mortgages, checking accounts), solid copywriting is not going make as big an impact as it would with complex offerings (think expensive medical equipment or a $1 million software solution).
So, using AI to do a lot of the "grunt work" of cranking out copy for hundreds of simpler products could make financial sense to bigger organizations.
For instance, my sister is a marketing director at a very large insurance company. In a recent conversation, I learned that her team is charged with producing hundreds of pieces of collateral every year for one division of the business.
They're not using AI (yet!), but they've been outsourcing much of this work to a large content agency out of India. When I asked her about the quality of the work they're getting from that agency, she replied that most of these marketing assets are straightforward sales sheets and fact sheets that don't require a brilliant direct-response copywriter. They're simply trying to get these assets done and out the door.
"What we get from this Indian agency is good enough," she added. "If they can get it to the 90% mark, we can then take it to the 100% mark fairly easily. However, by taking the bulk of the work off our shoulders, that allows my team and I to focus on what we do best."
So, there you have it. It might not be AI, but big companies everywhere have already been using low-cost methods to churn out marketing copy and content quickly and cost-effectively.
Shift to Higher-Value Work
And you know what? The kind of copywriting that's being done by AI is not the kind of work you'd want to do anyway. It's tedious and low value.
If you want to earn a good living as a copywriter, you're much better off focusing on higher-value projects and adding other services — such as marketing strategy and marketing planning — that will differentiate you from machines and low-cost overseas contractors.
You want to focus on more "right-brain" efforts. High-concept work that demands a greater level of creative and strategic thinking. That's something that AI won't be able to do for a long time. Or it may never get to that point.
So, is this AI trend something we copywriters need to monitor?
Absolutely.
Is it something we need to worry about today or next year?
Not really. Your time and energy are best served on improving your skill set and raising the value you bring to every client engagement.
Let the machines do the dirty work. You've got better things to do. And much greater value to add to your clients.
Do you have any questions about the impact of artificial intelligence on copywriting? Let us know in the comments.

The AWAI Method™ for Becoming a Skilled, In-Demand Copywriter
The AWAI Method™ combines the most up-to-date strategies, insights, and teaching methods with the tried-and-true copywriting fundamentals so you can take on ANY project — not just sales letters. Learn More »

Published: September 16, 2019