Looking to determine the BEST copywriting course available? Read this first …
The Copywriting Course Buyer's Guide:

A 5-Step Checklist for Choosing the Best Instructional Copywriting Program for You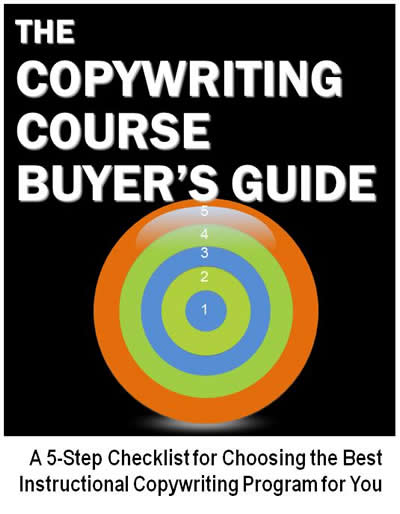 Saturday October 23, 2021 | Posted by Katie Yeakle
Every month, we get a deluge of questions from people looking to upgrade their skills by taking a copywriting course. Most of these requests come from people like you who have a very specific reason (usually one of three reasons you'll see below) for wanting to find and evaluate the best copywriting course out there.
And it's no wonder. With the massive amount of copywriting courses, books, programs, and workshops advertised, it can be difficult to know which one to choose.
So to help you make your decision, we put together this free guide —
The Copywriting Course Buyer's Guide:
A 5-Step Checklist for Choosing the Best Instructional Copywriting Program for You
The entire guide is published right on this page. There's nothing to download and no form to fill out.
All you need to do is settle in and scroll down. When you're done, you'll know everything that we know about making this very important decision …
Ready to begin?
First, take a second to ask yourself this question …
Which statement best describes you?
I want a copywriting course that shows me how to make a living as a freelance writer,
I want a copywriting course that will teach me how to sell more of my own product, or
I want a copywriting course that will help me perform better in my copywriting job.
Most people who look into a copywriting course do so because they fall into one of the three categories above. If any one of those statements describes you, this Buyer's Guide is for you.
Let's get started right away with Step 1 …
Step 1: Closely Evaluate the Program Curriculum
To begin, we can't stress enough the importance of taking sufficient time to closely examine the program curriculum.
The curriculum gives you the blueprint of everything you will be learning.
As you review the curriculum of any copywriting course, ask yourself, What is the publisher of this program promising me?
For example, the AWAI copywriting program is called AWAI's Accelerated Program for Six-Figure Copywriting and our promise to anyone who takes the program is that upon completion of the program, you will have what you need to write persuasive direct-response copy.
Some copywriting courses and programs make similar promises, even though not all of them live up to the hype. A thorough examination of the program's curriculum is the best 'gut check' way to assess the value of what you're purchasing.
As an example, we've included the entire curriculum summary for AWAI's Accelerated Program for Six-Figure Copywriting right here on this page. It's 8 screens of detailed descriptions of the 13 Modules that make up the program.
Take a look through these Module titles and the descriptions (and the sample pages from inside the program itself), so you can get a real-world benchmark for what the depth and breadth of curriculum for a comprehensive direct-response copywriting program should look like …
MODULE 1: Getting Started as a Copywriter
In Module 1, you'll learn the basics for getting started as a direct-response copywriter. But just because this is 'foundational' work doesn't mean it lacks substance or usefulness. On the contrary, the fundamentals you discover in this section are the key copywriting techniques that you'll weave into virtually every piece of direct-response copy you ever write!
For example, you'll learn all about:
The Three Fundamental Rules of Selling
The Classic Sales Style — and how to use it
How to Examine the Buyer Profile
How to make your copy irresistible by planting "Nuggets of Gold" throughout your letter
Mark Ford's Tips for POWER WRITING!
Exercises #1, #2, #3, #4, #5, and #6 to help you practice what you've learned so far
In Module 1, Mark Ford teaches you How to Sell Anything, and explains in detail the Three Fundamental Rules of Selling.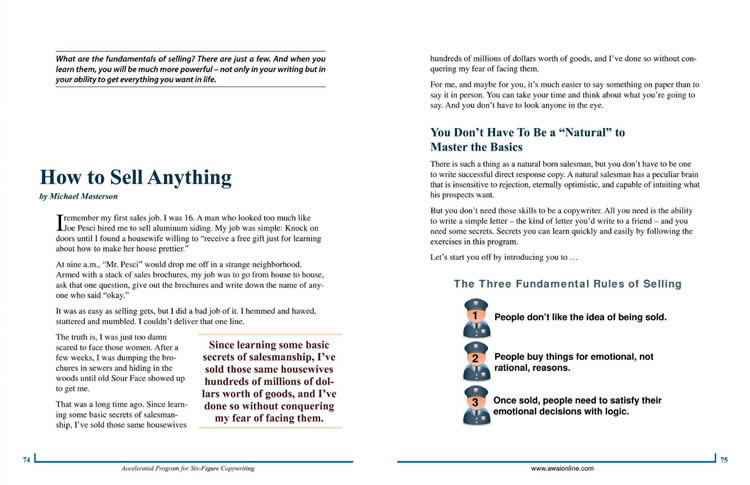 In Module 1, Don Mahoney teaches you The Secret Structure of Direct Marketing Sales Letters — and shows you exactly how to build these letters for maximum conversion in print and online.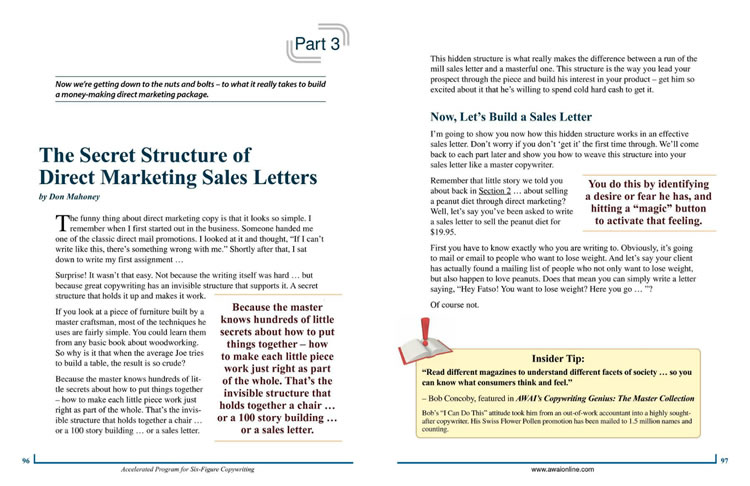 MODULE 2: Taking the First Step Towards Copywriting Success
The truth is, you could stop reading after Module 1 and you'd know more about direct-response copywriting than 50% of the working copywriters out there today.
But this program is about teaching you the same secrets used by the top direct-response pros in the world. So the learning is just getting started!
In Module 2, you'll discover:
A summary review of the fundamentals learned in Module 1
Four Interlocking Pieces of the Great Headline Puzzle
Using Testimonials in Your Writing, and How To Separate Testimonial "Diamonds" from the Rough
A collection of 17 direct-response headlines that WORKED, hand-selected and critiqued by Mark Ford (in which Mark explains the common characteristic that ALL of these have in common)
Exercise #7 to help you practice what you've learned so far
In Module 2, Mark Ford explains The Myth of You and reveals the Two Powerful Principles of Selling.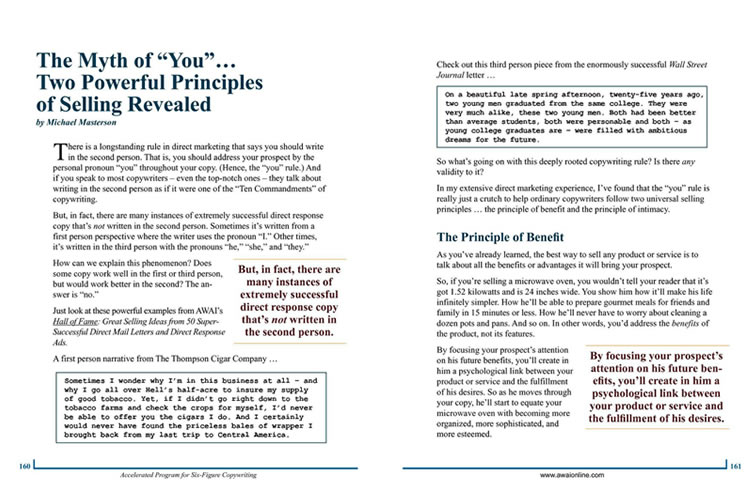 MODULE 3: Copywriting Myths and Realities
The craft of copywriting is loaded with some mind-bending myths. And some are so counterintuitive — that, for the novice, trying to write a direct-response letter without knowing myth from reality is like walking through a minefield in the desert.
While these myths are being deconstructed for you in Module 3, you'll be learning about:
The 37 Copywriting Emotions
The Three-Step Buying Tier
The "So What?" Technique to Discovering Your Buyer's Core Emotions
The once-and-for-all, crystal clear difference between FEATURES and BENEFITS
Exercises #8, #9, #10, and #11 to help you practice what you've learned so far
Real-world examples of the use of the emotion Curiosity, one of the many powerful human emotions that are dissected and analyzed for the purpose of direct-response copywriting in Module 3.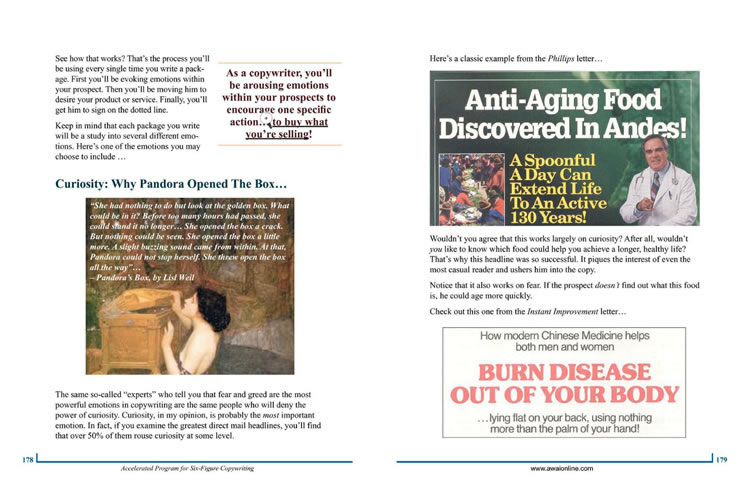 MODULE 4: The Secret Structure of Direct-Response Letters
The copywriting techniques taught in Module 4 really are top-secret in the sense that you won't find this particular collection of persuasive writing secrets covered in any other copywriting program.
What are these three techniques?
The Core Buying Emotion
The Golden Thread
The Four-Legged Stool
And that's just about as much as we can reveal here. (There's no peeking inside the pages of this particular Module. 😊)
MODULE 5: Communicating with Your Prospect
In Module 5, you'll take a deep dive into learning how to write headlines, subheads, and hooks. These are the key elements of your copy that jump out at the reader, and cause him or her to pay attention. Botch any of these three critical components of a direct-response letter, and it simply won't get read.
Highlights of Module 5:
The Secret of the 4 U's® — Those critical elements that can supercharge any headline, subhead, or bullet point
Headlines — Grabbing Your Prospects by the Lapels
The Lead — Sinking Your Hook into Your Prospect
Exercises #12, #13, #14, #15, and #16 to help you practice what you've learned so far
This section from Module #5 shows you how to write subheads that attract prospects and win business.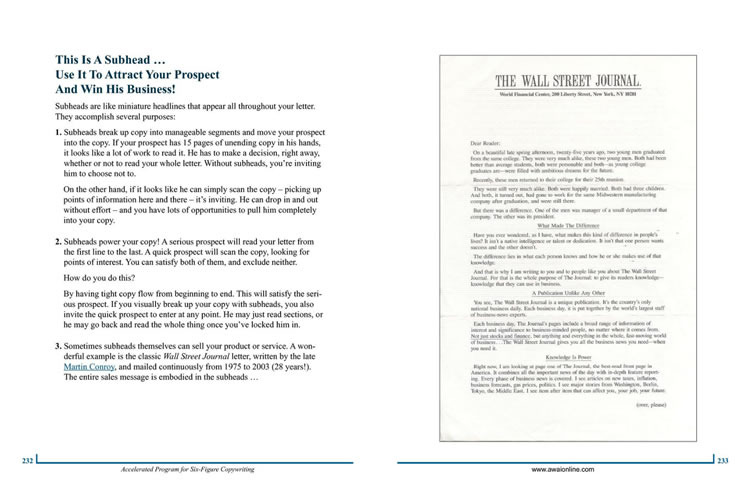 MODULE 6: Building Your Offer One Brick at a Time
Module 6 builds upon the "structure" of direct-response letter (that same structure you learned back in Module 4), but adds in some subtle nuances that make your writing irresistible to the reader.
In Module 6, you'll learn:
The Architecture of Persuasion — how to write in such a way that you walk any prospect strategically toward the closing of the sale, by gently reducing his or her resistance along the way
How to "Weave the Promise" into your writing like a pro
How to masterfully handle the presentation of the all-important Offer — with no Ifs, Ands, or Buts
Exercise #17 to help you practice what you've learned so far
One of the subtle nuances of direct-response copywriting taught in Module 6 is how to skillfully communicate a USP more than once in a single letter.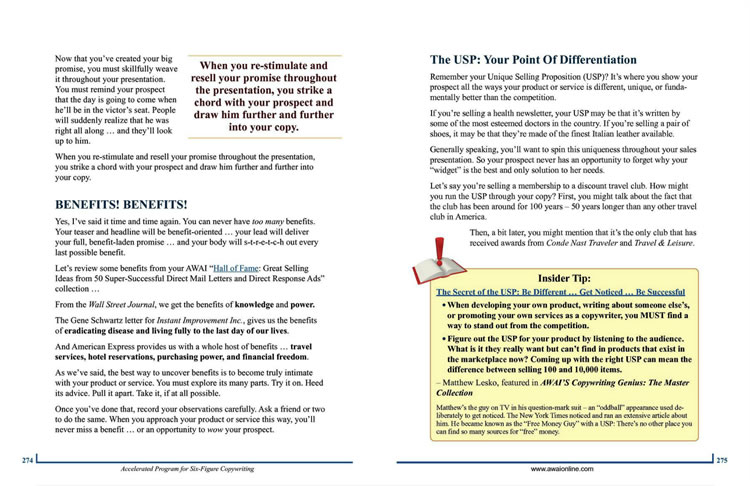 MODULE 7: Making and Closing the Deal
Module 7 focuses solely on the ALL-IMPORTANT Close. Pay close attention to the techniques contained in this Module. Not knowing how to close the deal means — quite simply — that your copy will not make a sale.
Approaching and Withdrawing — the sales-closing technique that helps eliminate any lingering buyer resistance
How to return to the BIG Promise of your letter and help the Close unfold more smoothly
Exactly when to 'rationalize' the decision for your prospect
4 Easy Ways to Add Urgency to Your Copy
Module 7 shows you how to close the deal like a master.
MODULE 8: Why We Need Guarantees
"It isn't enough to just 'sell' your prospect. You've got to reassure her, and make her feel good about her choice." That piece of sales wisdom comes right from the opening of Module 8.
In Module 8, you'll learn all about:
"The Roof" analogy in direct-response copywriting, and how to use it to protect your prospect from any perceived harm
"The Floor" upon which every word of your copy rests
Why you should avoid using a roaring, over-the-top guarantee
This section of Module 8 illustrates for you the psychology behind why you need guarantees in your copy.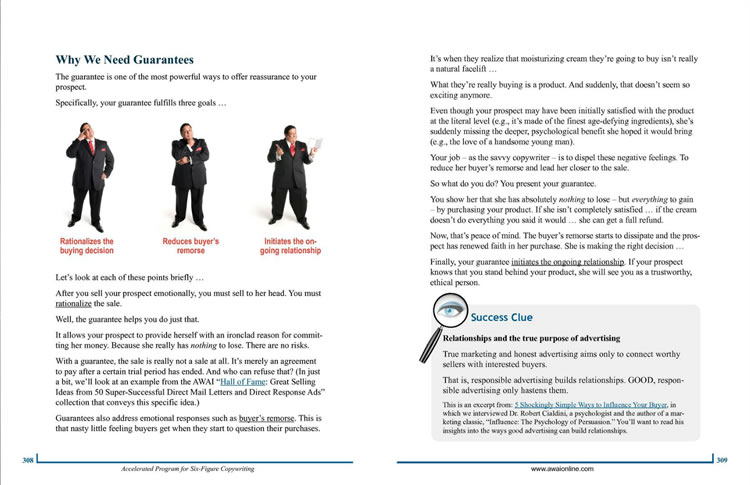 MODULE 9: Ready … Set … Write!
This Module helps make sure you don't get STUCK! Up to this point in the program you've covered more than THREE HUNDRED pages and absorbed dozens of strategies and techniques known only by the best copywriters in the business.
It's understandable that your head might be swimming! But Module 9 shows you how to sit down and prepare to write a sales letter like a pro, so you'll never find yourself staring at a blank computer screen, not knowing where to begin.
Highlights from Module 9:
Mark Ford's Million-Dollar Method for preparing to write
Don Mahoney's Power-Packed "Eureka" Method
How to write other elements of a direct-mail package (like Envelope Teaser Copy) to round out your first draft
Exercise #18 to help you practice what you've learned so far
Module features a section on the importance of writing effective Envelope Teaser Copy, and includes a dozen different examples to learn from.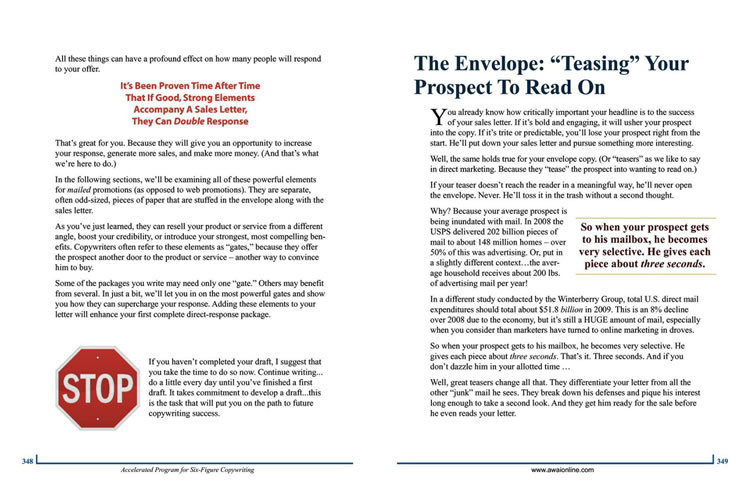 MODULE #10: Backing Up Your Claims
More than ever, today's buyers want proof before they buy. Even if the buyer is highly motivated to purchase your product or service, you need to seal the deal with well-written testimonials, endorsements, and lift notes. Module 10 shows you how to use these essential elements of "social proof" properly.
Highlights of Module 10:
Exactly how to ask for testimonials that showcase the best benefits of your product or service
The Four Golden Rules of Testimonials
Examples of how to trim testimonials to make them more readable and powerful — but WITHOUT changing what the original author said
The right ways to inject testimonials into your copy
How to write 'Lift Notes' that can increase conversion by as much as 50% or more
Exercise #19 helps you practice what you've learned so far
Module 10 features detailed instruction on how to write effective, sales-boosting Lift Notes and other techniques for filling your copy with social proof.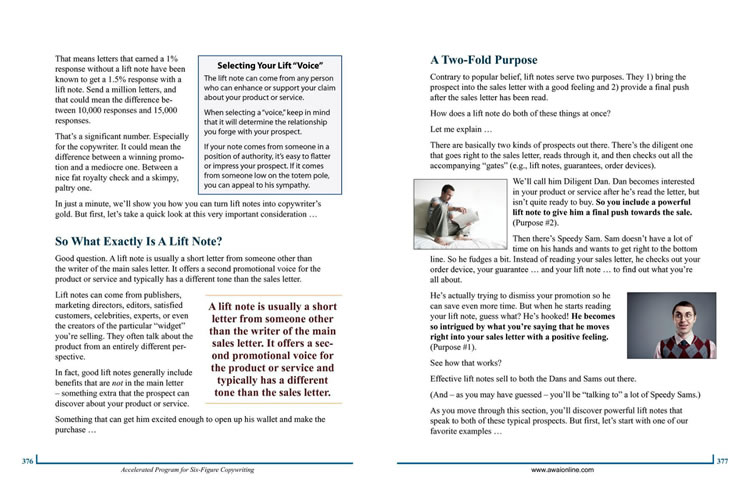 MODULE 11: Putting It All Together
Just in case you think the value of the content in such a comprehensive copywriting program might begin to taper off toward the end, think again!
Module 11 is PACKED with helpful information that shows you how to edit, polish, and present your copy to clients. But that's actually the second part of this Module. The first part of Module 11 actually teaches you yet another proven technique for boosting the effectiveness of your copy — with a detailed section on the use of premiums in your offer.
Highlights of Module 11:
Premiums — what are they and when should you use them?
How to make the best possible impression on your client by taking care of how your submitted drafts look
Essential tips for turning in polished copy
Editing your copy with AWAI's 3-Step Copy Cleaning System
Setting yourself up for more work — How to use a cover letter to subtly promote yourself to a newly-landed client
Design and Layout: How to spruce up your copy to boost response rates
Module 11 covers every imaginable detail for impressing clients, right down to the kind of font to use in your submitted draft!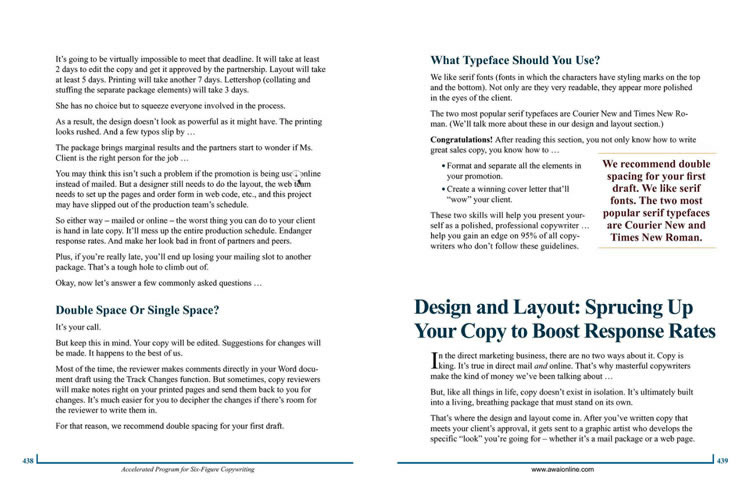 MODULE 12: Becoming a Master Storyteller
The greatest copywriting legends of our time share one common trait — they're ALL absolute master storytellers.
The good news about this, for you, is that the ability to tell a good story is an entirely learnable skill. And you'll learn it in this Module.
Highlights of Module 12:
How to find your story
Developing your voice
14 tips copywriters can learn from professional storytellers
Storytelling use in persuasive copy: How far is too far?
Copywriting styles and strategies of the master storytellers — including Gene Schwartz, John Caples, Ted Nicholas, Bill Bonner, and David Ogilvy
Mark Ford on The Greatest Copywriting Secret Ever Told
This Module encapsulates some of the greatest storytelling teachings from copywriting masters past and present — and teaches them in a way that's easy to learn and apply.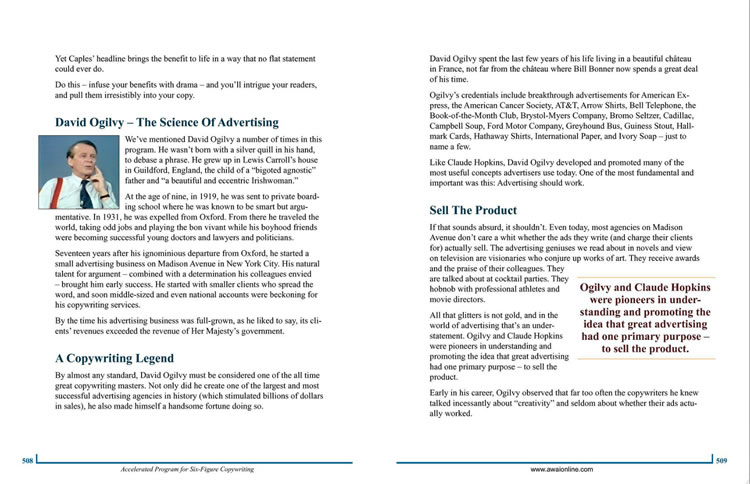 MODULE #13: You're a Copywriter!
Well, here you are — at the very last Module of the program. More than 500 pages covered so far! And still LOTS of juicy strategies to learn about how to market and sell yourself so you land more business. This Module is dedicated to helping you put your best foot forward and land paying copywriting gigs!
Highlights of Module 13:
What you MUST know about marketing your freelance copywriting services
The Ultimate Sales Pitch: Selling Yourself
How to use social media to get work
PLUS … these three helpful appendices …
Appendix A: 127 More Secrets of Direct Marketing that Will Help you Become a Great Copywriter
Appendix B: Additional Resources (Publications and Directories Every Copywriter Should Know About)
Appendix C: Glossary of Direct Marketing Terms
Module 13 is packed with tips and strategies to help new copywriters land clients!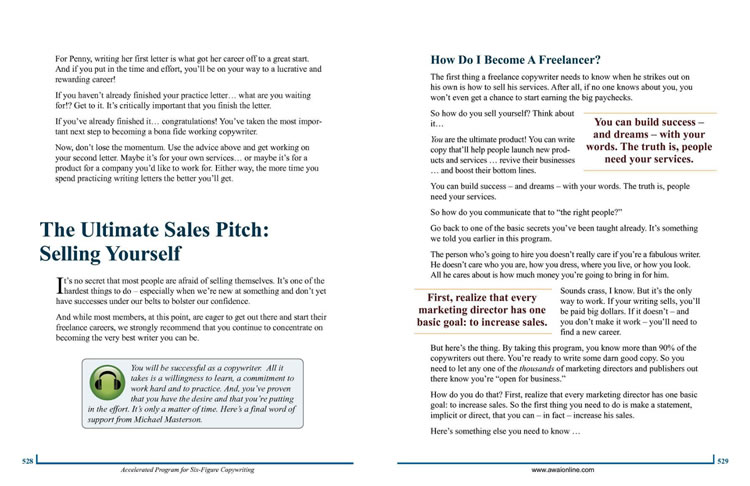 All in all, AWAI's Accelerated Program for Six-Figure Copywriting features:
More than 600 full-color pages of instruction (complete with strategies, exercises, and plenty of visuals)
Tons of real-world examples of direct-response copy that works
Interactive audio throughout to help you absorb the learning
One-click links to additional articles, resources, and all exercises
Plus … the invaluable Hall of Fame catalog book, packed with some of the most successful sales letters of all time

Step 2: Evaluate the Copywriting Pedigree of the Publisher
To be honest, most people who are ready to invest in a copywriting course skip this part of the checklist, usually because they're not aware of its importance.
But before you invest in any skill-building course or program, isn't it wise to first take a look at the track record upon which the program is based?
It's not enough to look at who is behind a particular copywriting course, program, workshop, or even book. What's important is examine the pedigree — the track record — of the people behind the program.
Here are some examples of the different formats of instructional copywriting 'programs' we've seen, but with shortcomings that indicate a possible lack of pedigree (remember, pedigree equals track record) …
A workshop (live or virtual), put together by someone who had success in one or two ventures and has now added copywriting workshops to their own income stream.
A book on copywriting which, though well-written, includes distilled overviews of copywriting techniques, but not enough detail to actually impart the knowledge that you will need to make a discernable improvement in your copywriting skills.
A copywriting course at a college, which pulls bits and pieces of copywriting theory and jargon from lots of different sources, each with various degrees of pedigree.
The pedigree of the publisher of any program you invest in should be up-front and easy to spot. If it isn't, take it as a red flag.
AWAI's Accelerated Program for Six-Figure Copywriting is built upon the combined pedigree of some of the most accomplished copywriting legends in the world — all of whom are members of the AWAI Board of Advisors.
Here are some of the copywriting masters from our 30-member Board of Advisors who have directly contributed to our flagship copywriting program:
MARK FORD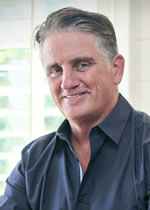 Mark Ford
Mark Ford's indoctrination into the world of copywriting began three decades ago at a small newsletter publishing company in Boca Raton, FL.
After taking that company to over $100 million in sales, Mark "retired" for a few years to focus on fiction writing. He came back out of retirement to work with the writers and marketing at Agora Publishing∇… helping it to grow from a fledgling $8 million company into one of the largest direct-response publishers in the country today — with over $400 million in sales (and always looking for new writers!).
Mark has turned several other direct-marketing ventures into multimillion-dollar companies as well. He has been directly involved in the generation of over ONE BILLION DOLLARS of sales through the mail and online.
Mark is also a highly-successful author. He's published more than a dozen books, including several which have become Wall Street Journal, Amazon.com, or New York Times bestsellers.
Why is Mark Ford's track record important to you?
Because AWAI's Accelerated Program for Six-Figure Copywriting contains the very same strategies that have generated billions of dollars in sales for companies around the world. Copywriting techniques and strategies that have been proven to work in virtually any industry, in up economies, down economies, and general market conditions of every kind over the past thirty years.
Mark also has a knack for taking just about anyone with a burning desire to upgrade his lifestyle — no matter what his background or education — and transforming him (or her) into a top-notch copywriter:
He's the one responsible for transforming Paul Hollingshead from a 35-year-old, minimum-wage grocery store stock boy into a copywriter earning upward of $300,000 a year … and Don Mahoney from a woodworker to a $300,000-a-year copywriter living in Miami Beach …
He's mentored other copywriters who have gone on to generate hundreds of millions of dollars in sales each year through their copy …
He's shown people in their 50s and 60s — people preparing for retirement — how to successfully change careers and become well-paid freelance copywriters …
He's taken young people fresh out of college — with no "life experience" at all — and turned them into top-notch copywriters and newsletter journalists …
He's taught housewives, bartenders, and laborers to excel …
He's even helped "professionals" — doctors and college professors — leave successful careers to enjoy the big money and stress-free lifestyle copywriting offers …
BILL BONNER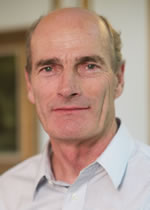 Bill Bonner
Bill is the founder and president of Agora Publishing, one of the world's most successful consumer newsletter publishing companies, and the author of the free daily email The Daily Reckoning.
In Bill's words: "Agora publishes ideas … useful ideas. Ideas, information, and opinions that make people more independent … financially, physically, and intellectually."
Bill is the author of several best-selling books, including Financial Reckoning Day, written with Addison Wiggin, and Mobs, Messiahs, and Markets, written with Lila Rajiva.
A true copywriting legend, Bill Bonner has set the standard for "Big Idea" copywriting. In AWAI's Accelerated Program for Six-Figure Copywriting, he reveals, among other things, his secret of "indirection" … a copywriting technique that keeps your reader glued to the page by leading him seamlessly through a series of persuasive and compelling ideas.
BOB BLY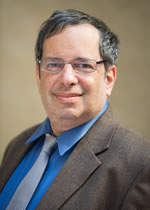 Bob Bly
Bob is an independent copywriter and consultant with more than 40 years of experience in Business-to-Business, high-tech, industrial, and direct marketing. Publishing giant McGraw-Hill calls him "America's Top Copywriter" and one look at his pedigree tells you why.
He has written copy for over 100 clients including Network Solutions, ITT Fluid Technology, Medical Economics, Intuit, Business & Legal Reports, and Brooklyn Union Gas … and has won numerous industry awards.
Bob is the author of more than 100 books including The Complete Idiot's Guide to Direct Marketing (Alpha Books) and The Copywriter's Handbook (Henry Holt & Co.). His articles have appeared in numerous publications such as DM News, Writer's Digest, mtrak Express, Cosmopolitan, Inside Direct Mail, and Bits & Pieces for Salespeople.
A master of getting clients and business-building, Bob is extremely generous in sharing his expertise with aspiring copywriters, marketers, and entrepreneurs. To date, he has hired at least a dozen AWAI members to help him in his own publishing ventures.
Bob is always a top-rated speaker at any event, offering entertaining and informative presentations on many different aspects of direct marketing.
JOHN FORDE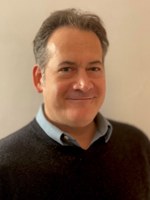 John Forde
John has been writing winning controls for going on two decades. He's made untold millions for clients in the financial, health, and travel industries. John also works as a copy coach, hosting intense seminars for two or three hundred marketers and copywriters at a time.
He's directly mentored dozens of successful writers and has led or helped lead international copywriting training programs, seminars, and bootcamps in London, Paris, Bonn, Warsaw, Baltimore, and Delray Beach, Florida.
John is also the founder and publisher of The Copywriter's Roundtable, one of the most popular and widely-read e-newsletters for copywriters.
WILL NEWMAN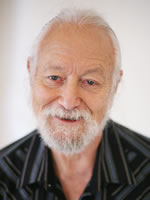 Will Newman
Will started out in the field of chemistry, doing research work in a lab. However, he wanted a career that would provide him with more connections with people. He became an apprentice to Lee Troxler, a renowned copywriter, and set off on the path to career freedom through copywriting.
For more than a decade, Will has worked as a professional copywriter in many different industries. His varied background makes it easy for him to transition from technical industries to other industries like fundraising. He is also a copywriting coach and provides critiquing services for other copywriters. Will is a regular contributor to AWAI publications for copywriters and a long-time presenter at our annual Copywriter's Bootcamp.
PAUL HOLLINGSHEAD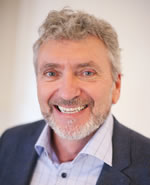 Paul Hollingshead
Paul is a co-founder of AWAI. In 1994, while working at a Publix supermarket stocking the shelves, he answered an ad for a direct-mail copywriter and met Don Mahoney and Mark Ford. Although he knew nothing of copywriting, he worked under Mark and consulted with Don on his first project, which brought in over a million dollars and launched his career.
Paul now leads a truly transformed life as one of today's most sought-after copywriters … earning over $300,000 a year from just one client. In AWAI's copywriting program, Paul reveals his specialty … exactly how to make that all-important emotional connection with your reader.
Paul lives in a little historic town in the Vermont countryside, where he continues to produce control after control … living the dream life of a freelance copywriter.
Step 3: Look for Evidence of Results
If you're considering investing in a copywriting program for yourself, it's very likely that you will first want to see evidence that others who have taken the program have achieved results.
Note that in this Step 3, you're not looking for a guarantee of success (nobody can make a promise like that and mean it) but you are looking for plenty of examples — not just two or three — of other people who have achieved results with the program.
Why is this important? Because seeing evidence of the consistent, lucrative success of others gives you proof of two things:
the quality of the program material, and
the transferability of the knowledge contained in the program.
If you see plenty of evidence of other people who have taken the program and enjoyed success as a direct result, that's your indication that the quality and transferability of knowledge is there.
Every week, we hear from AWAI members who are using what they've learned in the Accelerated Program for Six-Figure Copywriting, to land a great copywriting project, or improve sales of their own products.
When promoting the program, we sometimes include two, three, five, or more pages of such success stories.
It's not because we like to brag! It's because we know that people who are considering investing in themselves want to see proof that the course material actually works.
Here are a handful of examples of the success stories we've received from people who completed the program …
"I TAKE JUST ONE CLIENT AND PULL IN $6,000 – $8,000 A MONTH … "
"In 2008, I heard the word 'copywriter' for the first time. In 2009, I became a 'full-time' copywriter. In 2010, I earned twice what I had ever earned working for someone else. By 2011, my taxes were more than I used to earn in a year in the service industry.
"None of this would have been possible if it weren't for AWAI.
"Today I write copy for some of the biggest marketers in Health and Financial publishing. And some exciting entrepreneurs.
"The skills I first started to develop when I cracked open the Accelerated Program for Six-Figure Copywriting can now earn me over $10,000 a month in fees … if I decide to fill up my schedule with paying work.
"When I want to work on my own projects, I take just one client and pull in $6,000 – $8,000 a month.
"I do the work on my terms and on my schedule (within reason).
"What did it take to get to this point? Not too much …
"You need to be smart — common sense smart, not book smart. You need to be highly motivated to be independent. And you need to be able to string together a few coherent sentences.
"Everything else you can quickly pick up from experience and from resources like AWAI."
— Henry Bingaman
Copywriter for the Health Industry, Pennsylvania
A $60,000 CONTRACT WITHIN 6 MONTHS OF STARTING THE PROGRAM
"Making the decision to take the Accelerated Program for Six-Figure Copywriting has allowed me to meet and work with legendary clients and heroes of mine such as Zig Ziglar and Glazer-Kennedy Insider's Circle and Dan Kennedy. In fact, I did a year-and-a-half project with Ziglar and am currently one of only two contracted copywriters for Glazer-Kennedy Insider's Circle.
"Most of my clients need so much work done, that I have six month to one-year agreements with them, many of which renew. As a result, in a time where many people are taking pay cuts or, if they're lucky, receive a 2-3% raise, my income continues to see tremendous increases year over year. Last year, I tripled my income and I'm on track to double it again as of January this year based on the business I've already contracted for the year — even if I don't add any additional projects the rest of the year.
"Within six months of starting AWAI's program, I landed a $60,000 contract and once I established myself, I've found it very easy to get clients and ongoing work — in fact, it is not uncommon for me to receive between 1-3 referrals for new business every week.
"Even more important than the money I'm earning or the free products, trips, and courses I've received from clients as a result of the work I've done, is the security I have because of having copywriting as a skill. Because, with this skill, I know that even if I lost all my clients and streams of income today — I know I could replace my income within weeks."
— Cindy Cyr
Marketing Strategist & Online Copywriter, Florida
CLIENT PROJECTS TOTALING $14,000 IN ONE MONTH — AND ALL FROM LINKEDIN!
"In April 2009, after 34 years in nursing, my department was dissolved in the wake of the crashed economy, and I was laid-off. The company director said all the usual nice things, thanked me for my contributions, and wished me well.
"As soon as I was laid-off, I ordered the Accelerated Program for Six-Figure Copywriting. I loved it.
"In those pages, I learned how to woo the prospect. I learned how to talk to her about her wants, needs, desires, and pains in words that resonate deeply and draw her in to engage in the content. It was about building trust … gently compelling her to do what we want her to do … such as call for an appointment, or pull out her wallet and buy.
"I've also learned how to write effective headlines that hook the reader's interest. Headlines that utilize the 4 U's® effectively.
"I've been involved with providers in my niche on LinkedIn over the past year, and have offered suggestions to the concerns they've raised about marketing their practices and their books.
"It's exciting to report that I've been approached by mental health leaders, frontrunner psychologists, and psychotherapists who've authored books, written columns in international magazines, and who speak to Congress about crucial issues in this field.
"I'm told the expertise I demonstrate stands out among those they've hired for web marketing in the past, and they want my help with their web presence. (Remember, I have no background in writing or marketing … I was a nurse before I found AWAI.)
"These comments by clients and prospects have shown me the outstanding quality of training that AWAI produces. And the Accelerated Program is the beginning and the core of that training.
"I'm still new at this, but this past month, I worked with seven clients, at an average invoice total of $2,000 each …
"And you know what? I didn't have to 'cold call' a single one … they came to me as they read my LinkedIn comments and were impressed with the expertise they saw (expertise I had gained through AWAI's Accelerated Program, as well as other AWAI programs I've taken)."
— Cyndee Davis
Copywriter for the
Mental Health Industry, Spring, Texas
BANK INDUSTRY DOWNTURN LEADS TO NEW OPPORTUNITIES
"Having spent over a decade writing direct mail and customer acquisition materials for a roster of clients in the banking industry, the crash of the financial industry was an unpleasant experience. Thankfully, all the training I'd received in persuading prospects from AWAI's Accelerated Program for Six-Figure Copywriting could be easily applied to a new niche. Using the fundamental rules for selling, the formulas for effective headlines, and the closing techniques from that program, I was able to start over writing for companies I like and buy from!
"Companies desperately need copywriters who can effectively sell their products and services. And with the addition of the Web, the need for copy is escalating daily — like a monster that constantly needs to be fed. Trained copywriters are in the best position to create communications that will attract customers and increase sales. Thanks to AWAI, I understand how to provide those services, and make an unlimited income doing it."
― Nan Hughes
Marketing Consultant
and Web Writer, Illinois
HE'S NOW THE MAIN WRITER FOR CHAIN OF FITNESS STUDIOS
"When I discovered the Accelerated Program for Six-Figure Copywriting, I had my doubts. I didn't know a single person who called themselves a copywriter, and I wasn't entirely confident that an online correspondence-type program could deliver.
"I'm happy to report that my doubts were quickly erased. Within two years of completing the program, I launched my full-time freelance business. The Accelerated Program gave a beginner like me a solid foundation in the art of copywriting. But it also taught me more advanced skills like the Principle of Intimacy and 3-Step Copy Cleaning System that most professional copywriters don't even know.
"More important than the skills, it gave me the confidence to go after, and land, some pretty good clients. I had the chance to work with master marketer and best-selling author Dan Kennedy on a copywriting project. For over two years now, I've been the main writer for a chain of fitness studios in southern California, helping them grow their customer base by 157% and double their locations.
"Here's the thing. If you can write strong, persuasive copy, there will always be companies who want to hire you. The demand for good copywriters isn't going away, and the Accelerated Program for Six-Figure Copywriting does the best job of any program I've seen training people to become good copywriters."
― Steve Roller
Web Content Copywriter,
Madison, Wisconsin
"I'VE MULTIPLIED MY INCOME 5 TIMES … "
"Before I discovered copywriting, I was the guy at the utility company who answered the phone when you called to argue about your bill. Or when your service had been shut off because you didn't pay. (Not YOU, of course!) In the seven or so years since then, I've multiplied my income more than 5 times ― and I work from home or the local coffee shop.
"I now work exclusively with Casey Research, a highly-regarded investment newsletter publisher. I chose investment writing for a couple of reasons. First, the money — it's one of the biggest and highest-paying niches within direct-response publishing. And second, I'm genuinely interested in investing and the financial market — it fascinates me. I went from a freelancer working with them on a per-project basis to Copywriting Creative Lead and acting as 'Copy Chief' for their entire team.
"This role lets me help define the marketing for their brand — while giving me a lot of personal upside as I help the company grow.
"If you want to be successful in financials or any other field of copywriting, you have to dedicate yourself to learning the fundamentals of what works in direct response. AWAI — and their huge network of experts — helps you fast-track that learning process. And believe me — the world needs good copywriters. I'm regularly getting recruitment letters from various financial publishers interested in paying me well to write for them.
"If you dedicate yourself to learning this craft, they could easily be knocking on your door next!"
— Roy Furr
Copywriter for the Financial Industry,
Lincoln, Nebraska
"A FOUR-FIGURE CONTRACT RIGHT OUT OF THE GATE … "
"If you want to become a freelance copywriter, there's no better training than the Accelerated Program for Six-Figure Copywriting.
"I was actually working as a staff copywriter when I decided to go freelance. But even with my experience, I wasn't sure I had the skills to succeed. The Accelerated Program made all the difference.
"Not only did it teach me advanced direct-response techniques that immediately made me a better copywriter, it gave me the confidence I needed to start a thriving freelance business.
"In fact, my very first sales letter got me a four-figure contract right out of the gate. And by applying the techniques taught in this Accelerated Program, every project I've taken on has been a winner.
"Now, I stay busy with direct response and web copywriting projects. And after little more than a year of freelancing, I even have potential clients calling me out of the blue to find out if I'm available.
"Without a doubt, AWAI and the skills I learned in the Accelerated Program for Six-Figure Copywriting have been key to my business success. Whether you're new to copywriting or already have experience, it doesn't matter. This program can help you succeed."
— Kathryn Aragon
DeSoto, Texas
Why All the Success for AWAI Program Members?
As these testimonials show, you can make a very good living as a copywriter. But you may also be interested to know that AWAI offers many opportunities to connect with real clients once you've taken the program through their NETWORK of clients.
Here's a sample of companies who have hired AWAI-trained copywriters:
A.C. Nielsen
Acres Gaming, Inc.
Aerospace Project Management
Agora Financial Publishing
American Cancer Society
American Writers & Artists Institute (AWAI)
Americans for Technology Leadership
Antioch Energy
Applied Research Corp
Asset Protection Group, Inc.
Association for Competitive Technology
Atlantispa
Ava Maria Handmade Chocolates
B&B Electronics
Bayer Chemicals
Belvoir Media Group
Better Life Herbal
Blue Cross/Blue Shield
Boardroom Inc.
Bob Bly Center for Technical Communication (CTC)
Boy Scouts of America, Montana Council
Brian Tracy International
Casey Research
Castle Valley Outdoors
Central Jersey Symphony Orchestra
Christian Children's Fund
Clayton Makepeace's The Total Package
ClimbOn Inc.
Collectorz.com
Computer House Calls
Corel Corporation
CrossFit Milwaukee
Curves
Design Team Incorporated
Dr. Sears Wellness Group
Early to Rise
Experimental Aircraft Association
Families for Depression Awareness
FilbertPublishing.com
Fleet Street Publishing
Freaky Bean Coffee Co.
Free Medicine Foundation
General Dynamics
Get Healthy and Fit
Gift Shops of America
Glazer-Kennedy Inner Circle
Global Real Estate Ventures
Google
Harper College
Health Sciences Institute
Hoffmann-La Roche Pharmaceuticals
IDEXX Laboratories
InsuranceLeads.com
International Game Technology, Inc.
International Living
Investor's Action Alliance
Kovacs Consulting LLC
Lawnscapers
Learn Today Lead Tomorrow (LTLT)
Lifebook
L.L. Bean
Lockheed Martin
Lombardi Publishing
Maine Education Services
MBS Electronic Systems
Mercola.com
Microsoft
Midwest IP
Midwest Pest Control
Mike Ryan Fitness
Money Map Press
National Republican Congressional Committee
New Market Health
Newsmax Media, Inc.
Nightingale-Conant
Opportunity Travel
Perry Marshall
Pet Health Network
Pill Free Vitamins
Precious Moments Inc.
Right Way Trader
Schaeffer's Investment Research
Scholastic Book Fairs
Show Me What's Working.com
Solutions from Science
Sony Media Software
South Street Seaport Museum
St. Jude Children's Research Hospital
Stargate Technologies, Inc.
Stansberry & Associates Investment Research
StreetAuthority
Sun Microsystems
Sylvan Learning Systems
Taipan Publishing Group
Ted Nicholas
The Children's Foundation
The Council for Disability Awareness
The Motley Fool
The Oxford Club
The Palm Beach Letter
The Sovereign Society
Triad Fitness
United Business Solutions, Inc
Valpak
Van Lierop Bulb Farms
Verizon
VisionCrest Consulting
Wealthy Web Writer
WebEx
WorldVentures Travel
Yeshiva Elementary School
YGuide Publishing
Zig Ziglar
Step 4: Read Reviews by Industry Experts
The truth is, most people who want to take a copywriting course will be very close to making the decision after they read enough success stories of others.
But for those who want even more evidence of how one copywriting program stacks up against others, the next step is to look at the opinions of credible industry experts.
When evaluating a copywriting program, find out if it's been reviewed not just by people who have taken the program, but by seasoned industry professionals — those people who are at the very top of the copywriting industry.
People who know not only a good program from a bad one, but can spot a truly superior copywriting curriculum when they see one.
Maybe you yourself don't quite have the experience to truly know which copywriting course is the best. That's all the more reason that you should take the opinions of credible industry professionals into account.
We're fortunate that many of the most notable names in marketing and copywriting, from Bob Bly to Copyblogger to Dan Kennedy to Clayton Makepeace to Yanik Silver have taken the time to review AWAI's Accelerated Program and agree that it's the best there is.
Here are some snippets of their reviews …
The Best Program on Copywriting
"This is the best program on copywriting I have ever seen anywhere in any form. Anyone who wants to get into direct-response copywriting would benefit enormously from taking it."
— Bob Bly
Author of over 100 books,
including the best-selling Copywriter's Handbook
(Bob's so impressed with our Program, in fact, that he agreed to sit on our Board and work with our members.)
The Most Highly Recommended Course
"Kick off your copywriting career with the most highly recommended course in the industry … "
— Jon Morrow
Associate Editor, Copyblogger.com
The Standard of the Industry
"The simple fact is, AWAI's Accelerated Program for Six-Figure Copywriting is hands-down the best way I know to get a working knowledge of the world's most effective copywriting techniques today.
"It has, quite simply, become the standard of the industry. Like many direct-response companies, I won't even consider hiring a copy cub who hasn't completed both the basic and the advanced program."
— Clayton Makepeace
Seven-Figure Copywriter
AWAI Knows Their Stuff
"As a marketer who has hundreds of copywriting resources on his shelf — I'll tell you AWAI knows their stuff!"
— Yanik Silver
surefiremarketing.com
For the Aspiring Copywriter … A Great Way to Quickly Develop Your Skills
"For the aspiring copywriter new to the arena of persuasive writing, AWAI's Accelerated Program for Six-Figure Copywriting is a great way to quickly develop your skills. And those skills can open the door to many lucrative copywriting opportunities, whether in direct response or the even larger universe of freelance commercial writing: helping companies from Fortune 100 on down to 10-person shops craft a whole variety of marketing materials for rates that can average $70-100 an hour and hit $150 or more."
— Peter Bowerman
The Well-Fed Writer series
(commercial freelancing how-to guides)

Step 5: Look for Ongoing Value and Support BEYOND the Program Materials
Here's a rather depressing situation you've almost certainly experienced …
You invest in a workshop, conference, college course, or even a how-to book and before it's over, something awful happens …
Just as you're listening to the final lecture, completing the last exercise, or reading the final chapter, you notice that the excitement you felt back at the beginning of your learning journey is gone. It's evaporated, and when it goes, it gets immediately replaced with that sinking feeling of …
"Now what??"
With many copywriting programs of this nature, once it's over, it's over. You're on your own, and left to fend for yourself.
There's no ongoing support, no continuous source of motivation, no group of friends to stay in touch with in a formalized manner and definitely no network of industry professionals who actively post jobs and hire people who took the workshop (or read the book) year-round.
In contrast, we always point out that ALL of these things are included as part of the AWAI program, in the form of free bonus materials:
BONUS #1: THE GOLDEN THREAD — OUR WEEKLY E-LETTER JUST FOR COPYWRITERS
As a member of AWAI's Accelerated Program for Six-Figure Copywriting, you'll immediately start receiving your FREE subscription to The Golden Thread — our weekly e-letter featuring writing tips, advice, and success stories. It's a constant stream of practical knowledge and new wisdom delivered right to your inbox every week.
The Golden Thread will educate and motivate you. And it will be just one of many sources for finding paying assignments when the time comes for you to start writing for money.
BONUS #2: ACCESS TO MEMBERS-ONLY WEBSITE
You'll also be given access to AWAI's Members-Only Website. Check out the latest job list … get answers to questions you may have … and search the over 1,500 articles archived there.
BONUS #3: ACCESS TO MEMBERS-ONLY SUPPPORT COMMUNITY
There's also the AWAI Member Forum, where AWAIers talk about their new copywriting careers, build friendships, and form copy circles and buddy groups. It's a great place for like-minded people to meet and share ideas.
BONUS #4: INVITATION TO MEMBERS-ONLY COPYWRITER'S BOOTCAMP AND JOB FAIR
Then there's our Annual Copywriter's Bootcamp and Job Fair, which has become the event of the year for up-and-coming writers to mingle with experts, meet marketers, and learn the latest copywriting secrets in a fast-paced and dynamic environment. (Job Fair attracts dozens of marketing professionals who are searching for new copywriters. There's a long list of our members who have landed lucrative jobs and assignments there.)
BONUS #5: ACCESS TO MEMBERS-ONLY ONLINE JOB BOARD!
DirectResponseJobs.com, our exclusive Online Job Board, where marketers and writers come together. As I said, AWAI is more and more becoming the place the industry turns to for copywriters to write the volume of letters that need to be written. And with the industry's demand for copywriters growing — and the reputation of our program and the members who complete it getting stronger — we knew we had to provide a way for marketers to place their job ads one day … and have a writer in place the next. DirectResponseJobs.com was the result. As an AWAIer, you'll have full access to this service — and it's free!
All of this is meant to do two things for you: 1) Prepare you to take your place among the top copywriters in the country, and 2) Help you launch your copywriting career.
BONUS #6: LIFETIME PROGRAM UPGRADES
Because the copywriting industry is always changing, when you buy this Program, you get updates to course material — FOR LIFE! This is your guarantee that you stay up-to-speed on the latest developments in copywriting — such as web copywriting and writing for hot niche markets — as we add these updates to the curriculum. Anytime an update is added, you get access to it, FREE.
(Just try getting that from any book, workshop, or college course!)
There you have it. We hope this detailed Buyer's Guide has helped you answer all the questions you had about selecting the copywriting program that's right for you.
Before you go, take a look at this special offer …
TRY OUR 'TAKE IT HOME TODAY' 30-DAY TRIAL
If you compare the AWAI program with any copywriting course out there, you may agree with Copyblogger, Bob Bly, Clayton Makepeace, and other copywriting experts that this is simply THE best program to take if you want to learn to write persuasive copy.
But if you want to take a closer look at the actual program — that is, examine it risk-free for a full 30 days, check out this very special offer …
SPECIAL OFFER!
Through this special offer — you can actually access the entire program, and give it a try risk-free for just $99.40.
You'll get complete access to everything you need to live the writer's life for a full 30 days. Take that time to look through the program … start the learning process … learn about the direct-response business … what the life of a work-from-anywhere, in-demand, highly paid copywriter is all about.
If it's not for you, let us know and we'll simply (and immediately) deactivate your access code and refund your $99.40 — no questions asked.
But if you want to continue with your copywriting training beyond the 30-day "try it out" period — and take advantage of all a lifetime of program updates, interactive learning opportunities, and ongoing access to writing jobs and industry news that are included — simply do nothing and we'll elevate you from "provisional" to "full-time" copywriter status for a mere $397.
We'll even break up that final payment into four monthly payments of $99.40, which we'll charge to your credit card for each of the four months following your 30-day trial.
In other words, for a total of $497, you can be well on your way to learning and mastering a skill that can transform your life — and your income — in so many ways.
You'll get everything you need to live the writer's life, including full online access to the program and the AWAI members-only website, all practice writing exercises, your email subscription to The Golden Thread, your access to DirectResponseJobs.com (where real marketers come looking for up-and-coming copywriters) and, of course, your invaluable Hall of Fame catalog book, packed with some of the most successful sales letters of all time.
… Plus This Second Guarantee
But we're not finished guaranteeing your success just yet …
Even after your 30-day trial, we still want you to take a full year to get your writing career on track. And if it doesn't happen – you pay nothing.
Here's how it works:
Sign up for the program now for $99.40 and you'll have full access to the program for the next 30 days.
If you decide it's not for you, let us know and we'll refund your $99.40 in full — no questions asked.
If you want to continue with the program and learn this invaluable skill, simply do nothing and on the 31st day of your membership, we'll charge your credit card an additional $99.40, once a month, for the next four months.
After that, you're through paying. You're a full member of AWAI's Accelerated Program for Six-Figure Copywriting – with lifetime access to the online program and all the benefits that come with it (including ongoing updates and additions).
Take a full year to immerse yourself in the program…
Learn the skills …
Learn about our industry …
Study the successful promotions …
Learn a new technique every day …
Have fun writing …
See who's hiring …
Land your first client when you're ready …
Then, after all that …
If it's not everything you imagined — or if you happen to decide copywriting just isn't for you — let Member Services know within that year and we'll send you all your money back … all $497 of it … no questions asked.
I think you'll agree… that's a very fair offer.
Why are we going to such great lengths to ensure you're completely comfortable and satisfied with the opportunity we're offering you today?
It's because one thing we've learned in nearly 20 years of showing people how to become successful copywriters is that our reputation is only as good as the people whose careers we help launch.
If you're serious about a writing career, we'll be here to help you master the skills whenever you need us.
But if it turns out it's not for you, the last thing we want is you left with that nagging feeling that you "wasted" your money.
That's why we've structured this offer the way we have:
You can try it for very little money up front … and no risk whatsoever.
Then take a full year to see if "the writer's life" is for you — again, with absolutely zero risk.
Click here to Order Now!
Or if you'd prefer to place your order with someone in our office, please call our Member Services team toll-free at 1-866-879-2924 during regular business hours. (We're in Florida, on Eastern Time.)
Remember, there's no risk for an entire year.
Sincerely,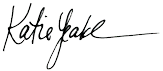 Katie Yeakle
Executive Director, AWAI