Is Your Fear of [Fill in the Blank] Holding You Back?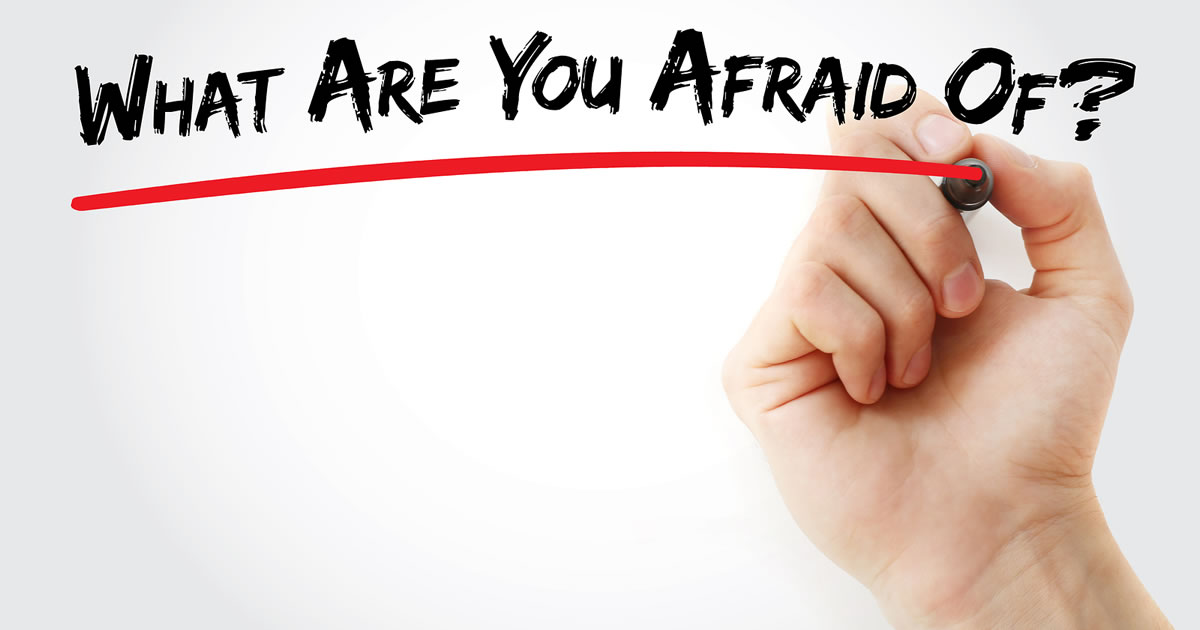 Tell me if this sounds familiar …
You've decided to become a freelance writer. You're taking the initial steps. You're learning the skills you need to provide a valuable service to your clients. You've chosen a business name. You've planned out a work schedule. You have a professional email account.
Your next step is to land a client.
So you decide to attend a local networking event. You print out business cards. You practice introducing yourself. You're ready.
But then at the event, you find yourself hovering around the edges of the room, too nervous to talk to anyone.
This is just one scenario showing how fear can undermine your progress. There are many others.
I've talked to web writers who are afraid to put up their website … afraid to pitch ideas to prospects … afraid to tell their friends and family about their new business venture.
I've talked to web writers who are afraid to quote fees because the prospect might think they're charging too much.
And web writers who are afraid to turn in their work because they are worried their client won't like it.
Do you struggle with any of these fears? If you do, know that you're in good company … a lot of freelancers have an on-again, off-again relationship with fear.
And because fear can keep you from taking the actions that you need to build your business and reach the levels of success you're truly capable of, it's important to know how to recognize when you're letting fear influence your decisions … and what to do about it.
A Five-Step Process for Moving Forward Even When You're Afraid
I'd love to tell you I have a magic formula for dispelling fear for good, but I don't.
I'd love to say that when you finish reading this article, you'll never feel afraid again, but that wouldn't be honest.
Here's the truth. Fear is normal. Everyone is afraid sometimes.
And that's Step One of learning to move forward even when your fear is shouting at you to stay still. Embrace that what you're feeling is normal.
Once upon a time, it might have saved you from a dangerous animal or being abandoned by your tribe.
Nowadays, fear isn't as useful. It isn't going to go away, though. So when you start feeling afraid, remind yourself that you're a normal, healthy human … and then remind yourself that it's a really, really safe bet that your fear is unnecessary.
Sometimes that will be enough. But if you find yourself still stuck after acknowledging that your fear is normal but not helpful, it's time to move onto Step Two. Work to understand your fear.
I use a journal exercise for this.
At the top of the page, I'll write something like, "I'm resisting publishing this blog post because I'm afraid … what am I afraid of?"
Then, I'll write out all the possibilities.
I'll start each paragraph with, "Maybe I'm afraid that …"
So, in my example, I might start with, "Maybe I'm afraid that my blog post isn't good enough and that people will ridicule it."
Then on the next line, I might say, "Maybe I'm afraid that my blog post won't get any comments … that people will just ignore it. I'll have put in all that time and effort researching and writing it for no reason at all."
For each "Maybe I'm afraid" line, I'll pay attention to how I'm feeling as I write. Almost without fail, one will stand out. I'll feel agitated. My heart will beat faster. My blood pressure will rise, and I'll think, a-ha … this is what I'm really afraid of.
Often, in this step, you'll discover there's a straightforward solution to allaying your fear. If I'm afraid no one will read my post, I can put together a distribution plan to bring attention to it.
But sometimes, the fear is a little tougher … being afraid of criticism and ridicule, for example. That might actually happen. Oof.
So for a tougher fear like that — one that isn't easily put to rest — I move on to Step Three.
Which is measuring the cost of inaction.
I'll say to myself, "I'm afraid people will make fun of this post, that they'll say it's badly written or inaccurate. I know it's well written and that I did my research, but I'm still afraid."
My choices are to publish the post and face my fear or not publish the post and avoid it.
If I choose the former, yes, I might receive some criticism, but I might also receive some praise. I might help someone. I might attract the attention of a great client. I might bring new people onto my email list.
If I chose the latter, and don't publish it, nothing will happen. Nothing will change. If I have a business goal in mind, I will not be one step closer to it.
When I look at it this way, I can see that my long-term well-being is in conflict with my short-term comfort.
And then I can decide to be uncomfortable now because I know it will be worth it later.
I can sit down at my computer and say, "My long-term goals are more important to me than a little discomfort right now." And with that statement, I can hit the publish button and feel good about it. A little queasy … but good.
If, after Step Three, you're still stuck — and that does happen sometimes … we humans are really good at putting a premium on our short-term comfort — move on to Step Four. Break down your fear further and ask yourself what's the worst that will happen and then ask yourself what is more likely.
Sticking with our current example, I would ask myself, "What's the worst that could happen?" I usually have some fun with this.
My answer might be, "I could have gotten something so horribly wrong in my post that it will go viral, I'll be blackballed by the entire industry, and never work again."
And then I'll ask myself, "What's more likely to happen?" The answer there is, "I publish my post, some people read it and comment on it. Some people like it, and some people don't."
When I compare those two side by side, the second option seems so much more reasonable, and that tends to put my fear in context — that it's overblown.
Finally, if I'm still nervous, I move on to Step Five. I just tell myself … I'm scared and I'm going to do this anyway. I'll be glad that I did … because that's almost always the case.
If You're Feeling Afraid, You're Headed for Growth
As a freelance writer, you get to face fears that many people never do. (Yes, you get to.)
You get to approach people you don't know about how you can help them grow their business.
You get to talk about what you know about building relationships with your audience that might one day turn into professional partnerships.
You get to build an income that is much more in your control than people who choose to work for companies.
You get to take risks … and when you do that, sometimes you get to reap rewards … big rewards.
So embrace your fears … when you're feeling afraid, it means you're pushing yourself to grow. And then face your fears … when you tackle them head-on, you almost always learn something valuable … and more often than not, good things come out of the experience.
What fears are holding you back? Share in the comments so we can help you push past them.

The AWAI Method™ for Becoming a Skilled, In-Demand Copywriter
The AWAI Method™ combines the most up-to-date strategies, insights, and teaching methods with the tried-and-true copywriting fundamentals so you can take on ANY project — not just sales letters. Learn More »

Published: October 31, 2019