FREE Virtual Open House — All Your Questions about Circle of Success Answered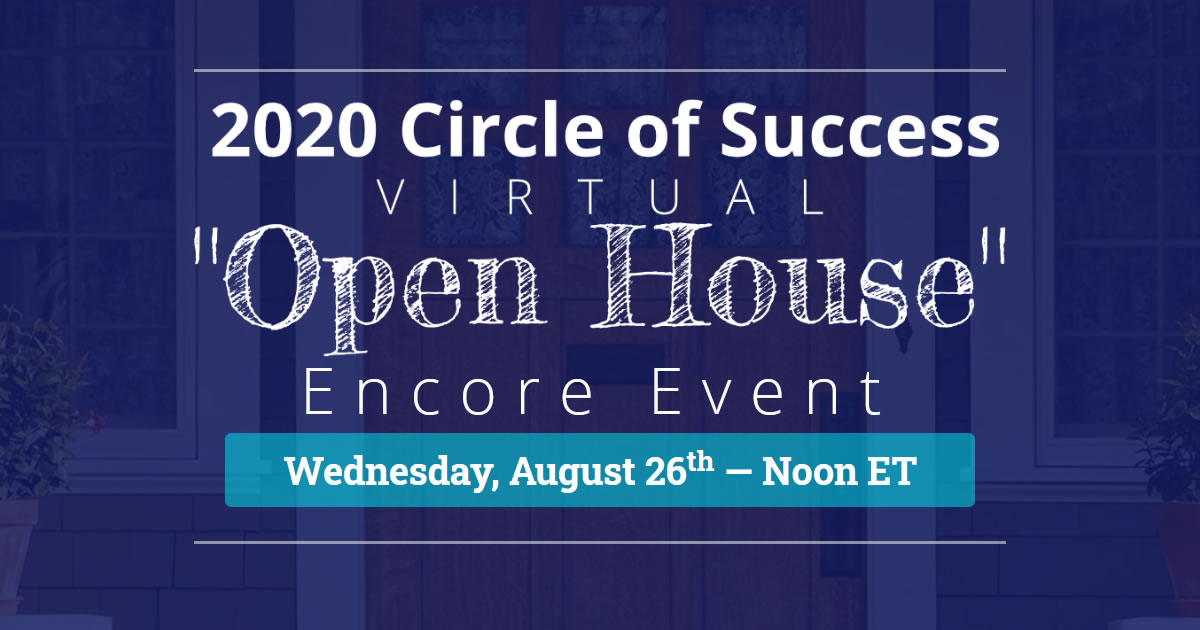 One of the biggest breakthrough moments for AWAI members happens when we open the doors to Circle of Success and let a few of our most eager-to-succeed writers in.
It's a BIG turning point for a lot of folks …
What, with the personal mentoring Circle members get … the chance to write alongside top "A-level" writers … the live, in-depth, Targeted Learning Classes … free AWAI Bootcamps … full, unfettered lifetime access to all the learning programs and business-building resources we offer … your own Copy Chief … access to clients … and much, much more …
Circle of Success gives you everything you need to succeed.
In fact, there are so many benefits — and so many moving pieces — that it's difficult to cover everything in a typical invitation letter.
That's why I'm inviting you to a very special LIVE Virtual Open House Encore Event so you can see exactly what the Circle of Success experience entails.
It will take place this Wednesday, August 26th at 12 p.m. Eastern Time.
I'm joined by instructors and experts who work with Circle members every day.
You'll also meet a handful of AWAI members who will share — among other things — how they were able to parlay the access and resources Circle of Success offers into successful six-figure writing careers.
We have a special surprise for all event attendees … and I'll be there to answer your questions LIVE AND IN REAL TIME!
Just to be clear, there's no charge for this event.
Nor is there any obligation whatsoever to join Circle of Success or buy anything.
My goal is simply to lift the curtain on how all the benefits and "moving pieces" of Circle of Success can work for you — so you can make a well-informed decision as to whether or not Circle of Success is right for you at this time.
Reserving your spot for Wednesday's free Open House is easy.
Simply click here and enter your name and email address so we can send you instructions for logging on to the live event.
Also, just for signing up, I'll send you some insightful daily briefings that will help you get the very most out of Wednesday's event …
Plus, you'll get exclusive and immediate access to our Circle of Success Virtual Open House website, where you can learn more about the event, see who'll be joining me, get tips and insights no other AWAI members see, and more.
And believe me — even if you've never considered Circle of Success before, the insights you'll gain from this important discussion about copywriting success are sure to benefit you.
Again — it's as simple as clicking here and entering your name and email. Then, we'll get back to you within minutes with everything you need … including access to the website.

The AWAI Method™ for Becoming a Skilled, In-Demand Copywriter
The AWAI Method™ combines the most up-to-date strategies, insights, and teaching methods with the tried-and-true copywriting fundamentals so you can take on ANY project — not just sales letters. Learn More »

Published: August 24, 2020