5 Ways to Hold Your Reader's Attention Through to the End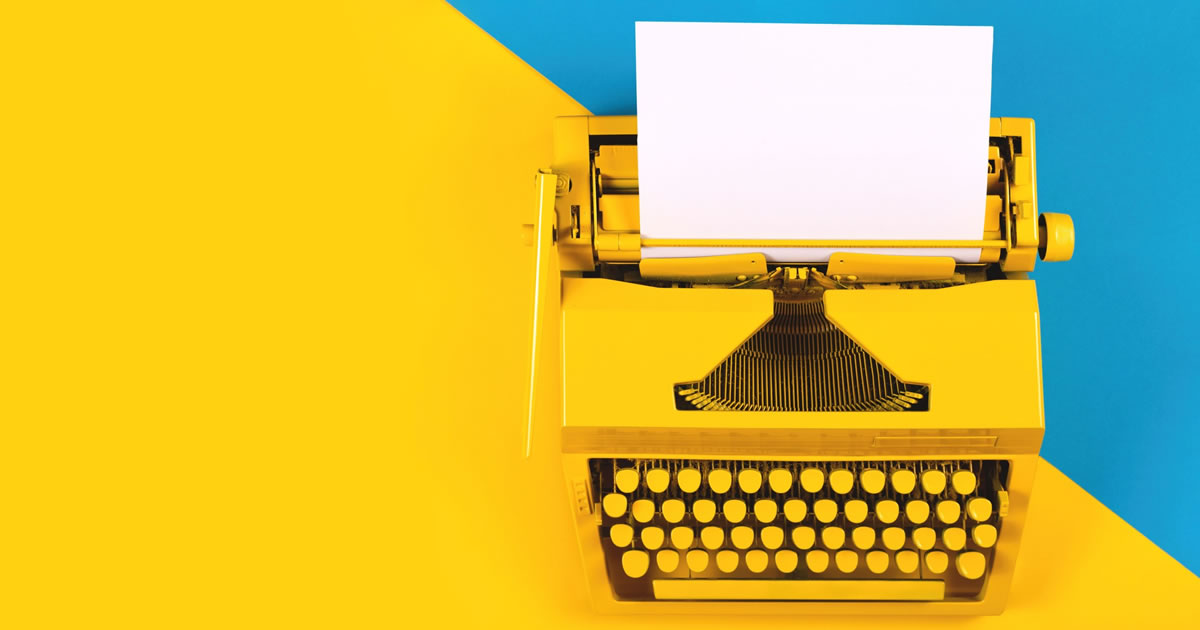 Whenever you write something, job number one is to get your reader's attention.
After all, if you don't do that, nothing happens. No eyes on your words. No engagement. No action. Nothing.
So, it makes sense that you hear a lot about "grabbing" attention. From writing great headlines to coming up with outstanding leads to figuring out a big idea that will capture your reader's imagination.
But, getting your reader's attention is just the first step.
Once you do that, you have to keep your reader's attention.
And, that's what we're going to dig into today. By the end of this article, you'll have five writing strategies you can use to keep your reader's attention.
#1. Make It Easy to Read
Once you have your reader's attention, they'll keep reading until you give them a reason not to.
Feeling confused is one reason you can give your reader to stop.
Turbulence is a good analogy for this.
Imagine you're on a plane. The flight is smooth. You're reading a book. It hooked you at the beginning. You're six chapters in, and it's pretty okay. It won't win any literary awards, but you've invested time, and you're curious to see where it goes.
Notice, I'm not saying the book is gripping. It's an adequate way to pass the time. And, because it got your attention in the first place, adequate is enough to keep you reading.
But then, the plane hits a bit of turbulence. The sudden bump makes you look up from your book.
And now, you have a decision. Do you want to keep reading? Or, do you want to take a nap? Maybe order a drink from the flight attendant?
In your own writing, if you confuse your reader, it's the same as turbulence. They get bumped out of their rhythm, and then they have to decide whether to keep reading or not.
So, the first key to holding attention is to avoid bumpy, confusing writing.
I recommend a three-step process for easy-to-read, turbulence-free writing:
Once you finish a draft of your work, set it aside. Overnight, if you can. Something about sleeping resets your brain and lets you look at your work more objectively.
Print your work and read it aloud. A few things will happen. You'll catch more typos when you read your work printed on paper. By reading it out loud, you'll catch the bumpy spots, the confusing spots, and the long-winded spots. No need to fix them as you read … just note where you need to make changes.
Use your notes to edit the document. Then give it a visual scan. Does it look easy to read? Break up long paragraphs and sentences. Add images, pull quotes, subheads and bulleted lists to help with scanability.
#2. Let Your Personality Shine Through
Being confusing is one way to lose your reader's attention.
Being boring is another.
Businesses have a tendency to play it safe when it comes to their writing. And unfortunately, that often results in the removal of any signs a human being wrote the words appearing on the page.
This kind of bland, anodyne writing can leave your reader yawning. And, once that happens, they're likely to leave entirely.
The antidote is to let some personality shine through.
When writing for your own website, write like you would talk to a colleague. You wouldn't be offensive, but you'd have an opinion about things and (hopefully) be ready to back it up with some experience and some facts.
When writing for a client, talk to them about their business personality. If they haven't given it any thought, help them nail down the feelings they want to evoke in their visitors. And then, write in a voice that will create that kind of emotional connection.
Take a look at this excerpt from a post over on Food52.com, a blog that features an online store and multiple contributors: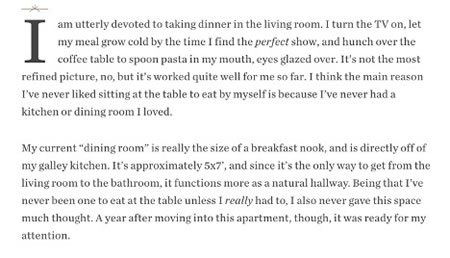 This post is about turning an unexpected space into a dining nook. It isn't a topic that's automatically interesting, but the writer's willingness to let her personality shine through engages the reader and greatly increases the odds they'll continue reading.
Now, will every client let you write in the first person and with this much personal detail? No, of course not. But, when a client lets you bring the company personality into your work, you can make almost any topic interesting. And, that's why they hire you!
#3. Don't Sanitize
Businesses, like the people who populate them, make mistakes. They have flaws and shortcomings.
All too often, they try to ignore mistakes and pretend shortcomings don't exist.
When all of the copy on a website is sanitized, free from any whiff of human error or foible, it becomes unrelatable. And, unrelatable copy loses attention.
Writing vulnerable copy doesn't mean weaving in a constant stream of mea culpas. It simply means being honest about mistakes, setbacks, and struggles.
Take this copy from Darren Rowse, founder of Problogger.net:
Darren openly admits to feeling like quitting. And then, he talks about how he's overcome those moments of self-doubt. He could just have easily left his personal experience out, but the copy wouldn't hold your attention nearly as well or resonate nearly as much, if he had.
It's very easy to imagine interviewing a client and hearing a story about a major setback they experienced during product development only to be told you can't use that story in any of the copy you write.
I would push back in that situation, explaining that those kinds of stories reveal the people who make up the company and will help hold attention and build trust.
#4. Use Sensory Words, Active Verbs, and Concrete Nouns
Have you ever read something, gotten to the end of a paragraph, and realized you have no idea what you just read?
This happens to me somethings when I'm tired. Dense, academic writing can also create this experience.
But, most often, it's fluffy writing that creates this effect. If I encounter too many fluffy paragraphs I have to go back and read again to figure out what the writer means, then you bet that writing will lose my attention.
So, what do I mean by fluffy writing? I mean writing that's full of vague words. They sound good, but they don't really tell me anything. I'm guilty of writing like this myself, sometimes … but I try to catch it and fix it while editing.
For example, if you read about how powerful a marketing strategy is, what does that mean?
"Daily interaction on LinkedIn can deliver a powerful result."
Okay. But, what kind of interaction? And, what kind of result?
"When you post useful information on LinkedIn every day, that's relevant to your specialty, and you take time to respond to comments and answer questions, you can expect to see your engagement double within three months."
See how much more information you have there? It's longer, but you have some idea of what to do and what to expect.
When you write — and especially when you edit — make sure you're choosing the best words for the job. Use specific, concrete nouns. You're not working on a "piece" or a "project." You're working on a blog post or a white paper. Use descriptive, active verbs. Are you "thinking" about a big idea? Or, are you "pondering" it? Each word stirs a different feeling in your reader. Use adjectives sparingly, and when you do, try to make them appeal to the senses. Describing how something looks, sounds, tastes, smells, or feels will engage your reader more than empty adjectives like "good" or "great" or "awful."
#5. Use Storytelling Techniques
Nothing holds interest like a well-told story. So, it makes sense that weaving storytelling elements into your work can help to hold attention.
One storytelling technique is to introduce a sympathetic character with a worthwhile goal. This is a technique you can use in sales letters, case studies, and blog posts. With a little creativity, you can use this approach in social media posts, infographics and more.
Another storytelling technique is to open a loop early and then come back to it later. If you promise to tell your reader about the time you took a soccer ball to the head, and the experience led to a winning idea for your product launch … then you can write an entire post about successfully launching a product, and a lot of your readers will stay with you to find out how getting beaned in the noggin lead to a breakthrough idea. Just make sure you close the loop, or you'll have some unhappy readers on your hands.
Another technique you can use is the basic anatomy of a scene. You establish a goal, introduce a problem, and then adjust course based on the problem. Do this in each section or your blog post, sales letter, or email series and your reader will always be primed to find out what happens next.
Remember, your reader doesn't owe you attention. Once you've earned it, you have to keep earning it. Use these writing techniques to keep your reader engaged and enjoying your work … and that will keep your clients coming back for more.
This article, 5 Ways to Hold Your Reader's Attention Through to the End, was originally published by Wealthy Web Writer.

The AWAI Method™ for Becoming a Skilled, In-Demand Copywriter
The AWAI Method™ combines the most up-to-date strategies, insights, and teaching methods with the tried-and-true copywriting fundamentals so you can take on ANY project — not just sales letters. Learn More »

Published: January 27, 2021