Living the Writer's Life: Joel Boomer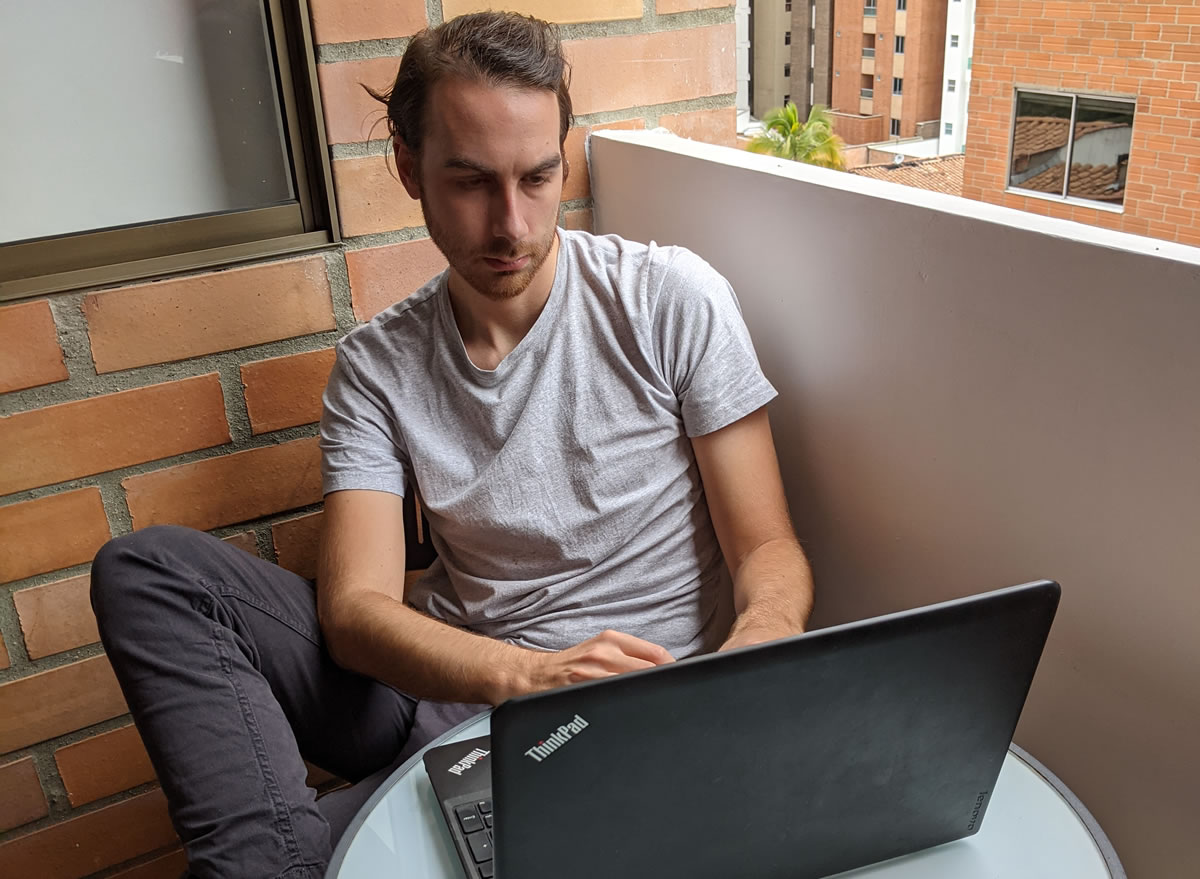 Joel doesn't have any complaints about his "new office."
Can you tell me a bit about how you got into copywriting?
I kind of fell into it backward. I was here in Colombia working for a pretty small e-commerce company, writing all their social media copy. Then I found out that copywriting was an actual thing. I would never say that I was pursuing a career as a writer to start, but I'm glad I found it.
Before I was doing that, I had a pretty typical 9-to-5 desk job in Denver at RE/MAX doing customer service. Copywriting has been the main way that I've been able to create the life that I've wanted, which is living here in Colombia and being able to work basically from anywhere in the world.
You specialize in financial copywriting and had a few recent wins writing for Investing Daily. Can you tell us about that?
Yeah, so those are some pretty recent wins, which has been really cool for me. I had a win in September for a promo about Apple. Then the most recent one was a launch that had a big election theme. It feels really good getting some wins as a relatively new copywriter. I've been doing this for about two years.
What are some of the top resources you've used to learn and to keep your skills fresh and growing?
It's mostly been the mentors that I've had, the people I worked with in the Dig agency — especially Aaron Winter. That's a big thing for me is working directly with people who have a lot of experience in the industry. I've also gotten a lot from AWAI that has been super helpful, especially stuff by Clayton Makepeace.
What would you say is your favorite thing about your lifestyle as a copywriter?

Joel and his fiancée took a road trip
to the Grand Canyon in Arizona.
When I was working at RE/MAX, I didn't enjoy the job really at all. Now, working on these copy projects, I get to learn new things, and I like having that space where I don't need to be tied to my email or tied to the phone.
I wouldn't be able to live here likely if I were still doing that customer service job. This year with the pandemic, it was great to have that kind of stability with work when everything else just felt like it was going off the rails.
What's it like to work within an agency?
I have a retainer with Dig.Out Agency, and right now I'm working only with Investing Daily through Dig. My contact there essentially feeds me projects. He comes up with the promo idea, and then I do all the research for it and then all the drafting, and work with other people on getting the copy ready for the client.
It has been helpful to delegate some of that "finding client work" to the agency. It's been nice to have a consistent pipeline of projects to work on, and that's really how I've gotten better. I think that's one of the benefits of working with an agency for sure.
Do you have any advice for new writers trying to break into copywriting?
Getting connected with companies I wanted to work for directly by actually emailing them was a way that worked out for me. The way that I got connected with Dig was actually an email that I sent back in 2016.
One of the biggest things that helped me break into the industry was getting connected with someone who's already working and has clients that they're working with. A lot of times you get connected with someone who offers a coaching program and they have a spillover at work that they don't have time for.
What is your favorite kind of food that you enjoy eating in Colombia?
My future mother-in-law makes this really traditional soup here called sancocho, and hers is amazing. Then, my favorite restaurant here makes really amazing seafood hot dogs. It seemed really weird. Then I tried it, and it was amazing.
Joel's Living The Writer's Life story was originally published in Barefoot Writer. To learn more about how you can start living your dream writer's life too, click here.
What help do you need to move forward with your version of the writer's life? Let us know in the comments below so we can help guide you in the right direction.

The Barefoot Writer
Discover a lucrative style of writing that will give you as much freedom as you can have while earning a great income at the same time. Learn More »

Published: February 6, 2021