To Make Your Writing Life an Adventure, Just Say "Yes!"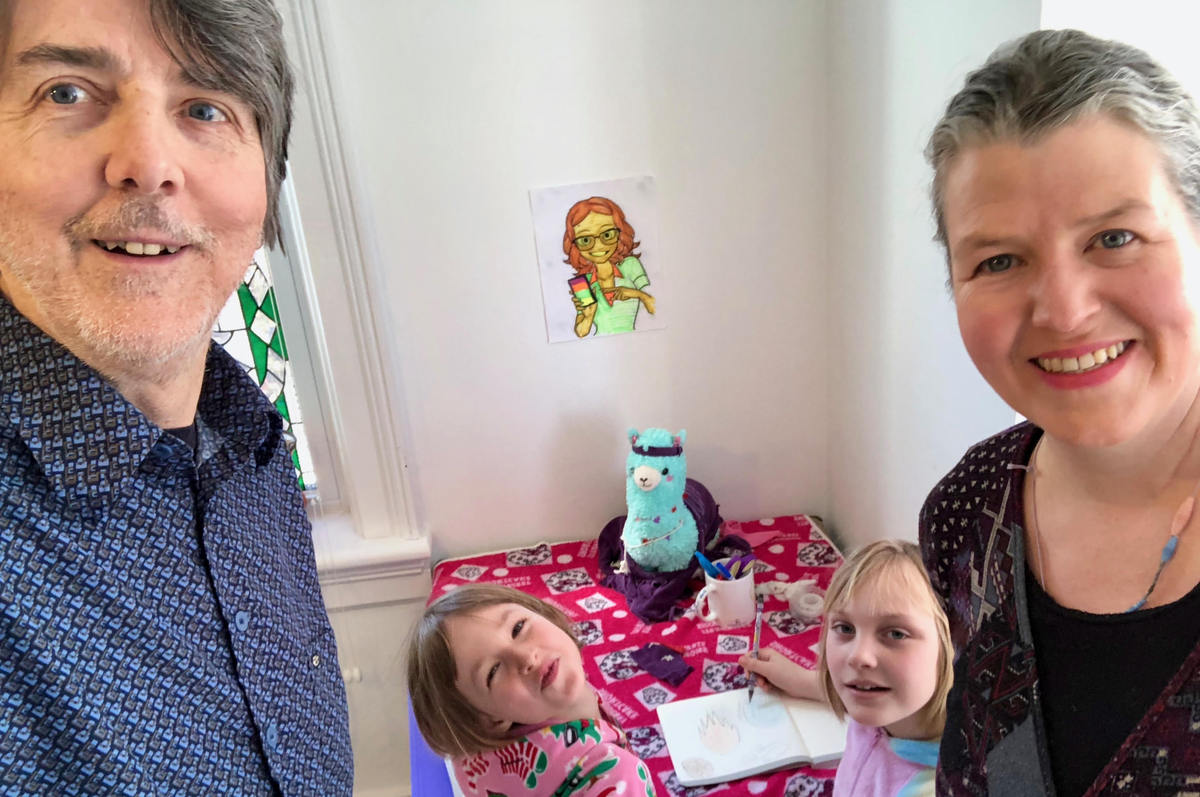 Gordon, Angie, and their two daughters at home during the coronavirus pandemic
Midway into my first-ever date with the woman I was crazy about, everything was hanging by a thread.
And then I said, "Yes!" at just the right moment.
Angie and I had met at a writing conference, hit it off, and been emailing ever since. There were just a few complications: I was 17 years older, 46 to her 29. We were living in different cities five hours apart. And we were both in relationships with other people.
After two heart-wrenching breakups, we were finally free to meet up for our first date. And she was telling me about herself.
"I'm a mom. I know that about myself. I want a family," she declared. "So would you ever want to be a dad?"
Gulp.
How to answer that question?
Because there was one problem: A few years prior, I'd had a vasectomy. The funny thing was, I always dreamed of having kids; I'd just never met anyone to do it with. And once I hit 45, I figured it would never happen, so I did what I thought was the responsible thing: I got snipped.
Now here was a woman I'd fallen for who wanted children. I took a deep breath and said, "Yes. I'm ready to be a dad. But you know, I've always liked the idea of adopting …"
I held my breath, looked into her eyes, and waited for her answer.
Saying "Yes!" at times like that can feel crazy inside. It can look crazy to others. It can blast us far out of our comfort zone, into unknown lands where we can easily fall flat on our faces.
But what else are we supposed to say when an opportunity comes our way?
A few times when opportunity knocked for me
I believe this can-do approach certainly applies to the writing life. Opportunity has knocked for me a few times. And even though I was a little scared, I often managed to say, "Yes!"
For example, after I wrote a few articles for him, a publisher called to ask if I would take over editing his software newsletter. I said "Yes!" and did that happily for the next five years, meeting hundreds of tech industry movers and shakers.
An editor at John Wiley in New York emailed to ask if I'd like to write a Dummies book about white papers. I had written a couple of books before, but never for a big-time publisher. I said, "Yes!" even though I was a new dad and the family's main breadwinner.
For the next six months, I worked double-time: my regular work writing for clients, plus an extra shift at night on the next chapter of the book. But it was worth it. White Papers For Dummies has earned more than 50 five-star ratings on Amazon and brought me worldwide visibility in my niche.
A product manager at Google phoned to ask if I'd like to write about interactive advertising. Even though I knew diddly-squat about that, I said, "Sure!" I crammed enough to get started, learned some new jargon, and went on to write about 20 projects for Google over the next few years.
The point is, nobody is born knowing how to do anything. You had to learn how to do every single thing you do today. And you can learn how to do more tomorrow … especially when you say "Yes!"
This will happen to you, I promise
As you prospect for clients, one thing is bound to happen sooner or later. I promise: You will get a phone call or email from a prospect asking, "So can you write a … ?"
Those three dots represent some other format you never dreamed you could write in a million years. Maybe a speech, a video script, or a white paper.
Gulp. What now?
I believe those three dots raise three doors right in front of you:
Door #1: Self-doubt
Door #2: Stall for time
Door #3: Just say "Yes!"
In the next few moments, you have to pick one door to go through. Believe me, I've been through each door myself, and here are a few things I've learned.
Door #1: Self-doubt
When you go through this door, you quaver and quake and stammer out a fearful reply.
"Well, no, I never … um, I'm not sure … I mean, I don't have any … that sounds really hard …"
If you react this way, what's your prospect going to think?
They're proposing to pay you to write something that's not on your price list. They're likely ready to show you some samples of that format they published in the past. They're asking for your help.
Do you really want to dither and miss out on that opportunity? Do you want to force that prospect to keep looking for another writer — even though you're their first choice?
Can you see how this approach can shrink your horizons, and limit your success?
That's why I recommend keeping your self-doubts to yourself. We all have them; but we don't need to let them rule us. Instead, try Door #2.
Door #2: Stall for time
Even though your heart is hammering and your throat is dry, you somehow keep a poker face and a steady voice.
When you go through this door, you play for time to get your fears under control. You do that by indulging your natural curiosity.
You ask a few open-ended questions to get your client talking:
"Oh, that's interesting. Tell me more."
"What got you thinking about that?"
"How long were you thinking it should be?"
"Do you have a timeline?
"Have you published any of those before that you could send me?"
"Have you seen any of these from anyone else that you liked?"
"Do you have a budget in mind?"
Your client will most likely start yakking a mile a minute. And you'll be off the hook. Temporarily. Until they circle back and ask you again, "So do you think you could write that?"
If you're not yet totally composed, just hit them with another question. And then another. That's perfectly business-like. You're trying to discover the scope of the project before you make a commitment.
So keep up your questions until you have a better idea what they're talking about, especially the project's length, deadline, and fee.
And when you're feeling calm, I urge you to back up and go through Door #3.
Door #3: Just say "Yes!"
As soon as you're ready, just say "Yes!" with as much confidence as you can.
And saying "Yes!" doesn't have to be an all-or-nothing, take-it-or-leave it deal.
Remember when Angie asked me if I was ready to be a dad, and I said "Yes!" but asked her about adopting? You can temper your answer this way, with a qualification or reservation or alternate suggestion.
You can answer something like this:
"Yes, I'd love to work on that with you! I'll just need to look at my other commitments to see when I could get started … Can I get back to you tomorrow?"
"Yes, I'd be happy to write that! Why don't you send me those examples you mentioned, and then we can get back together to firm up the timeline and budget?"
"Yes, I've written other things that sound a lot like that. What's the next step?"
Believe me, if you get ready now to say "Yes!" when opportunity knocks, you'll end up with a far better, richer writing life.
What to do when you get off the phone
Of course, the instant you get off the phone after saying "Yes!" you will want to dive into some serious research on that new format.
But how?
You could spend hours googling, "How to write a …" The problem is, you don't know whether you'll turning up a proven expert with helpful advice, or somebody with an ax to grind or a hidden agenda to sell you something. And you'll have to wade through 10 million hits to find the nuggets of gold.
Happily, AWAI offers a number of resources to help you out. (Here are some resources you can check out: AWAI's Article Archive, Product Catalog, Wealthy Web Writer, and B2B Writing Success.)
And for the booming world of content marketing, there's a simple way to learn about many of the projects you will likely get asked about.
I'm talking about the AWAI's Crash Course in B2B Content. I put together this program to give you a quick overview of the 12 most popular formats of content, from blog posts to white papers.
The Crash Course won't turn you into an expert overnight. But in about one hour per format, it provides real-world examples, offers practical tips and advice, suggests a realistic range of fees, and points to some handpicked resources to teach you about each content type.
After you say "Yes!" to writing some strange new format, you can spend one hour learning about it. Then you should have enough knowledge and confidence to have an informed follow-up discussion with a prospect.
When not to say "Yes"
Of course, there are times when you shouldn't say "Yes." That includes any proposition that doesn't suit your values, your budget, or your schedule.
Values: For example, an executive from a casino in Atlantic City asked me to write a white paper to help them move "the casino experience" online. I said, "No, I don't believe in gambling — online or offline. I can't help you."
Budget: If a prospect only has a budget of $2,000 for their white paper, I have to tell them their project is not a good fit for me. (Depending on where you are in your career, you need to decide what fits for you and your goals.)
Schedule: And when I'm booked solid for the next three months, I can't very well say "Yes!" to another big job.
So be confident, know your boundaries, but be honest. Saying "Yes!" doesn't mean stretching the truth. Don't tell a prospect you've written 35 chatbots if you barely know what the word means; that will not end well.
Just convey that you're confident you can learn a new format, without telling any lies or exaggerating your experience.
Whatever happened with my date?
Well, it turned out Angie had thought of adopting as well. We both agreed there are a lot of children out there who need families to love them.
So one thing led to another, and we've been together ever since.
The age difference? One of my grandfathers was 20 years older than my grandmother, and they were as happy as clams. As one of our friends said, "Gordon is so immature anyway, that makes up for the difference!"
Since I said, "Yes!" to Angie's question all those years ago, we've adopted two beautiful girls. I was 56 when we started our family and being an older dad has certainly kept me young.
And saying "Yes!" makes our family and our writing lives an adventure, with lots of new challenges on the horizon. So the next time opportunity knocks for you, just say "Yes!" and trust yourself to handle whatever happens.
Do you have any questions about getting started or expanding your services as a copywriter? Share with us in the comments.

Crash Course in B2B Content
Dive into the lucrative world of B2B content writing. Expert Gordon Graham will show you the top 12 content types in high demand by B2B firms and how to complete each one like a pro. Learn More »

Published: March 25, 2021