The Leap and What Every Writer Needs to Know About It

If you aren't familiar with The Leap, you need to know about it …
And if you do know about it because you've been around AWAI for any length of time, here's the latest …
The key industry surveys are out …
And they confirm that spending on digital marketing is set to soar by double digits this year … AGAIN! 🤯
It actually makes me giddy to type that …
Talk about right time, right place for writers. The success stories from AWAI members are flying in as a result, and I couldn't be more thrilled.
#welovetocelebrate
So let's dig in to this phenomenon, and talk about what it means … for you, your income, and your future as a writer.
As you already know, e-commerce is huge. By e-commerce, I mean people going online and buying stuff.
It can be physical goods, like golf clubs or shoes.
It can be services — like coaching or accounting.
Or even digital training, like the programs you get from AWAI.
Now, e-commerce is projected to become a $5.5 trillion industry in 2022 (last year growing from $3.5 when we first broke this story, to $4.9 trillion in 2021!).
That's trillion with a T.
Which sounds like a lot!
But what if I told you that $5.5 trillion in e-commerce is actually very small?
Take a look at this: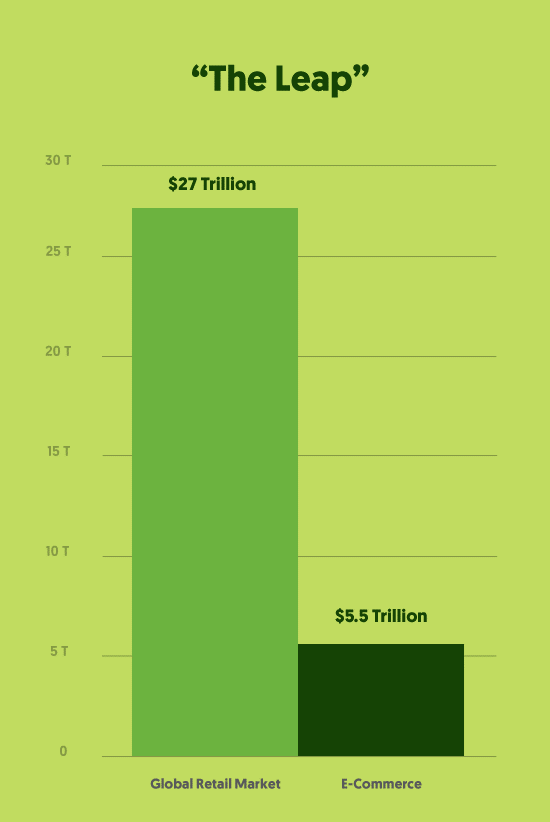 That big bar on the left? That's the projected global retail market for 2022.
It's a massive $27 trillion industry.
As you can see, e-commerce looks like a small blip on the radar in comparison.
Now here's what "The Leap" was … and why it's still so significant today …
Back in 2019, experts around the world projected that e-commerce would slowly "catch up" to retail …
But their projections were WRONG.
The kind of growth in e-commerce we would expect over the next 10 years …
… happened in just 90 days.
I'll say it one more time, because this is so critical:
10 YEARS of growth and adoption with buying stuff online … happened in a three-month period.
It's why global management consultant McKinsey & Company was quoted saying:
"If you're feeling whiplash, it might be the 10 years forward we just jumped in 90 days' time."
They're the ones who first called it "The Leap."
Take a look: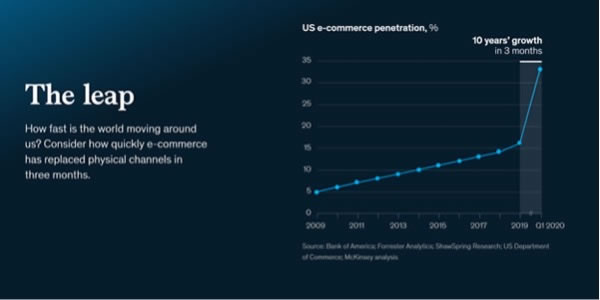 So, what does this mean for you?
Put simply: more people — than ever before in history — are going online and buying stuff.
Which means HUGE opportunity for businesses. And millions of companies scrambling to take full advantage.
In order to do so, they need more content. LOTS of it …
They need content to reach prospective and current customers researching solutions online.
And they need content to engage them, build a relationship, and move them towards a buying decision.
And it's not just one type of content …
They need a variety of content to turn on marketing channels now primed with potential buyers.
And they need a massive quantity of unique and compelling "conversations" to take advantage of the "leveled playing field" that has happened …
Thanks to the sheer volume of buying decisions starting with blogs, newsletters, videos, social media, and more.
If you were thinking about becoming a writer … if you've been thinking about launching your writing business …
Or if you want to inject a huge flood of income into your existing writing career …
NOW is the time.
2019 was already one of the biggest years for writers we had seen over the last two decades …
But this phenomenon poured rocket fuel on the opportunity.
Companies NEED WRITERS now more than ever to survive in this booming digital marketing world …
So if you've been sitting on the fence, it's time to get in the game.
And if you're in the game, it's time to level up.
This is your time, writer …
Seize it and make it count!

The AWAI Method™ for Becoming a Skilled, In-Demand Copywriter
The AWAI Method™ combines the most up-to-date strategies, insights, and teaching methods with the tried-and-true copywriting fundamentals so you can take on ANY project — not just sales letters. Learn More »

Published: March 8, 2022