Show Off Your Freelance Skills by Writing an Attention-Getting Headline …

… And You Might Be Awarded a $200 Cash Prize for Your Effort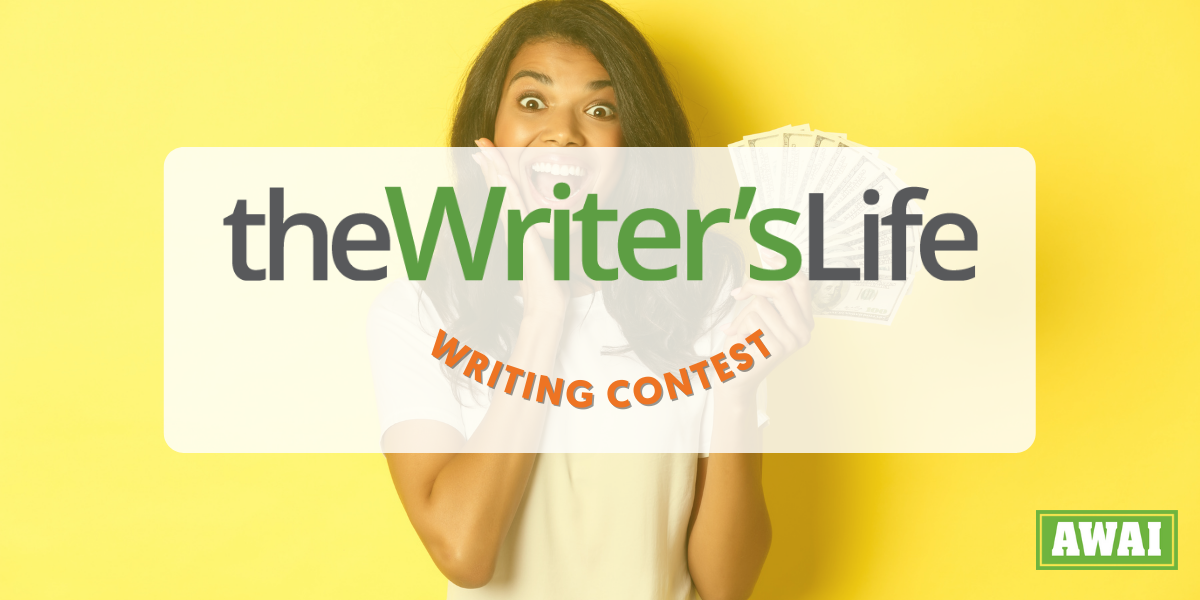 In just a few minutes, I'm going to show you how to get your first paid freelance writing job, along with the chance to win a $200 cash prize.
If you win, you'll not only have a "polished" sample for your portfolio, but also your name will be added to our roster of potential writers we could use for other upcoming assignments.
All you have to do for a chance to win is follow the writing instructions in this article.
What's this all about?
Well, it's both AWAI's and my way of showing you that with step-by-step guidance, it's entirely possible for any up-and-coming writer to learn how to write an attention-getting headline … even if this is your first time doing so.
You see, every current "A-list" copywriter you can name, from Mike Palmer and Carline Anglade-Cole to Marcella Allison and Jed Canty, started their careers by learning a few rules and guidelines about writing persuasive copy.
Not so coincidentally is that many of those rules were developed by none other than AWAI, which has become the premier organization for training aspiring writers on the ins and outs of writing sales copy.
In fact, when it comes to training writers, AWAI has gotten it down to a science over the past 25 years … making it easy for you to go from zero freelance writing income to all the paying clients you need.
And to show you how this is all possible, we're going to award three writers with a check in the amount of $200 for turning in a headline submission.
You could be one of those lucky winners. I'll share all the details in a minute, but first let's take a few minutes to talk about headlines and why they are so important.
First, you should know that a well-written, well-thought-out headline is one that draws the prospect in while also compelling them to read further.
Headlines are so crucial to sales copy and even content that advertising legend, David Ogilvy said, "On the average, five times as many people read the headline as read body copy. When you have written your headline, you have spent eighty cents of your dollar."
What Mr. Ogilvy is saying here is that you should spend extra time on writing your headline because that is the one thing that gets a reader's attention. If you can't get and keep their attention, nothing else you've written really matters.
Not the lead … the body copy … the offer … or the close.
Think about it. What's the one thing that got you hooked on reading an article in a newspaper or magazine? Or a blog post on a website? Heck, even book titles are like headlines. The truth is, most of the time, books are chosen because of their attention-getting titles.
So how do you create a headline that will get people reading?
Well, before putting pen to paper, you should study headlines that are proven to work. Several years ago, Raphael Marketing compiled a list of 100 of "the best print advertising headlines ever written."
As a group, these ads sold hundreds of millions of dollars' worth of products and services. (That would be tens of billions of dollars today.)
And the headline that came in at number one was written in 1925 by John Caples for a correspondence course from the U.S. School of Music. His headline is: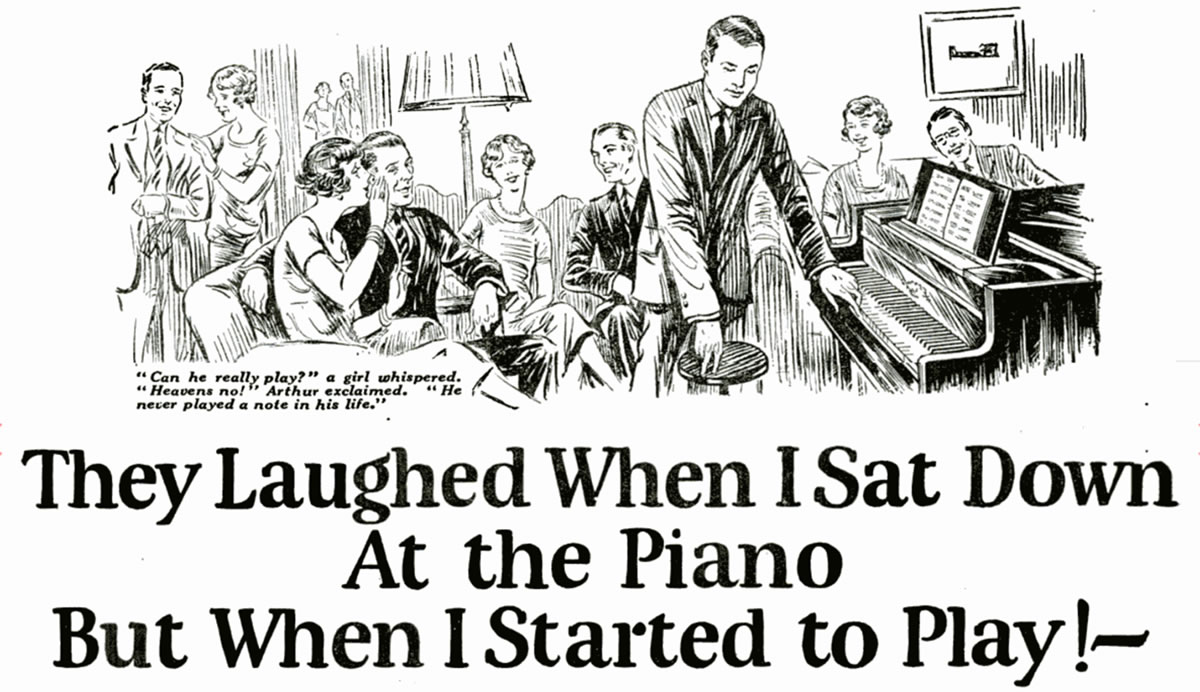 While there's no doubt you have seen this classic advertisement, have you wondered why it worked so well?
Well, there are four key elements to this headline … elements all good headlines share:
One strong idea
One desirable benefit
One driving emotion
One inevitable solution
In just 15 words, Caples tells a powerful story. You can see someone approaching a piano in a crowded room — perhaps it's a dinner party. You can see the look of disbelief on people's faces as he nears it. When he pulls back his cuffs, there's some laughter that starts in the back of the room.
The crowd wonders if he can really play the piano and whispers behind his back. Before his fingers touch the keys, the laughter stirs.
It's hard not to feel sorry for this guy.
Then comes the second line of the headline — "But When I Started to Play!~"
You can see the disbelief on the faces of those who were laughing. Our hero has begun playing, and the music is flowing wonderfully.
Then the thought hits you: "Wouldn't it be wonderful if I could play the piano?"
Based on Caples' headline alone, a person reading this ad is already half-persuaded to sign up for the course it is selling.
That is an astonishing level of emotions that happen with 15 simple words. But let's not forget, Caples wrote his now-famous headline because he was following a set of rules.
He knew he had to convey to the reader one strong idea, one desirable benefit, one driving emotion, and offer one solution.
Of course, sales copy and content have gotten a little more sophisticated since Caples' days of writing ads … mostly because there are more marketing channels available today … think of social media, email, websites.
But even still … the same rules that worked back in 1925 apply today. And AWAI has developed a set of criteria that makes writing headlines for all these channels so much easier for writers to do.
We call these criteria AWAI's The 4 U's™:
URGENCY. Give the prospect a reason to desire the benefit of the product/service sooner rather than later.
UNIQUENESS. Make the prospect feel there is one particular thing about the product/service that is different — in at least one small way — from every other product/service of that type. Uniqueness also suggests that you are talking about something real and concrete.
ULTRA-SPECIFICITY. Be as precise as possible, stating true facts and figures.
USEFULNESS. Promise the prospect something that has value for them.
These criteria can be applied to any kind of writing project you take on … from writing sales letters and articles to blog posts and banner ads. That's because all good copy starts out with a compelling headline.
Now that you know the rules for writing an attention-getting headline, it's your turn to try it.
Here's where you get the chance to win $200.
The Project
We're going to have a little fun with this contest.
Instead of creating a fictitious product, we're going to write about the same program John Caples wrote about … "Music Lesson in Your Own Home."
This is a way for you to test out your skills by writing a modern-day version of a headline for the same program. However, you're going to write your headline following all the criteria I shared in this article.
When you're done, you can submit your headline. I'll be reviewing the submissions (along with help from the AWAI team), and based on what we see, we'll pick three winners.
And each of those winners will be awarded a check for $200.
About the Product
"Music Lesson in Your Own Home" is for anyone who wants to learn how to play the piano but wants to do so from the comfort of their home.
It's an instruction booklet, free of charge. While the exact guide that Caples wrote his ad for is no longer available, the U.S. School of Music that published it still exists.
You can find information about the school online.
Don't worry that the guide isn't available. This is a practice exercise in writing headlines. You'll notice in Caples' ad, he doesn't talk much about the guide. He focuses the prospect's attention on the benefits.
Here's the full ad.
John Caples' U.S. School of Music Letter
Guidelines for Writing Your Headline
Read John Caples' sales copy in detail.
Study how he wrote his headline. Then ask yourself, how can you make it different but also make it feel new?
Also do your own research on playing the piano. Check out articles, e-books, and other online guides related to learning to play the piano at home.
Then use the criteria I shared in this article to help yourself create a newer version of a headline offering a free booklet on playing the piano at home.
The goal in writing your headline is to get people interested in getting a copy of the guide.
The Rules for Submitting Your Headline
Rule #1: Make this all your own, original work. Don't copy John Caples' headline ad word-for-word. Create your own version of it.
Remember, the real value here lies in the practice and improving your craft.
Rule #2: You have a deadline.
Submit your copy by 11:59 p.m. EST (one minute before midnight) on May 13, 2022.
AWAI will announce the three winners May 28, 2022.
Submission Details
This contest has ended. Check out the winners, here.
Do you have any questions? Let us know in the comments.

The AWAI Method™ for Becoming a Skilled, In-Demand Copywriter
The AWAI Method™ combines the most up-to-date strategies, insights, and teaching methods with the tried-and-true copywriting fundamentals so you can take on ANY project — not just sales letters. Learn More »

Published: April 30, 2022