Connect with Clients in 21 Days or Less — Guaranteed!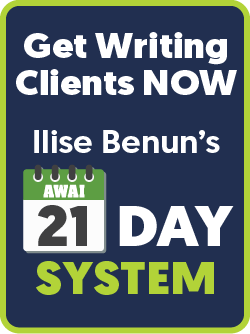 For over 26 years AWAI has been helping guide thousands of people who want to get paid to write…
And the one thing we know for sure from the many who have succeeded…
Is that when you land your first paying client, you've cleared the single biggest obstacle that keeps some aspiring writers from achieving their writing goals.
And, once you land that first client, it's so much easier to land the next one… and the next one… and the one after that…
Setting you up to make a consistent income as a well-paid writer.
Whether your end goal is a six- or seven-figure writing income…
An extra thousand dollars a month writing only on weekends…
Or anything in between…
It all starts with landing your FIRST writing client.
That's why we've created Get Writing Clients NOW: 21-Day System — guaranteed to give you everything you need!
You'll set up a PROVEN system that lets you easily connect with the right clients for you…
With NO cold calling or scary marketing tactics…
And, you'll get guidance, support, and direct access to one of the industry's premier "client-getting" coaches, Ilise Benun.
With such a clearly laid-out plan to follow, you'll start connecting with your ideal prospects before the 21-Day System is even over…
You'll gain the tools to land your FIRST writing client…
You'll set up an entire profile that will put your BEST foot forward and attract the kinds of people you are looking for…
AND, you'll set yourself up to land a steady stream of your ideal clients again and again!
Here's a quick look at what you get: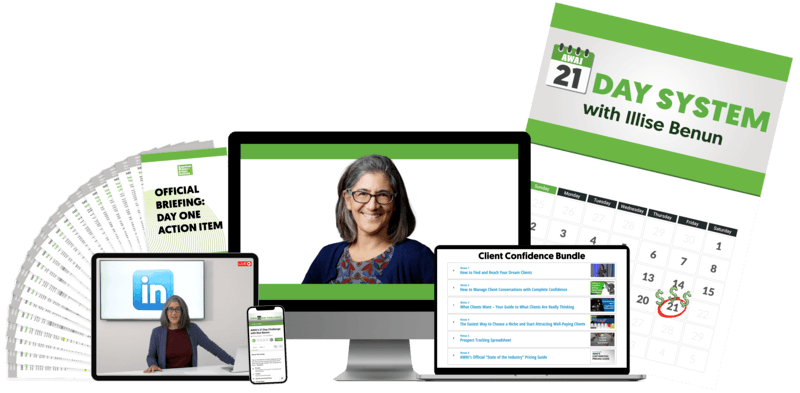 Simple, straightforward instructions on how to set up your LinkedIn profile in an effective eye-catching way…
Daily, easy-to-execute action steps, PROVEN to help even brand-new writers start connecting with potential clients and be primed to land their FIRST client in 21 days flat…
Word-for-word scripts for exactly what to write to clients to make comfortable, no-stress connections and NEVER have to worry about saying the wrong thing…
Valuable feedback, accountability, and motivation from your fellow writers in the private Facebook group…

And even more help talking with clients confidently, taking control of all your client interactions, choosing a niche you love writing in, and more in your SIX bonuses:

BONUS #1: How to Find and Reach Your Dream Clients
BONUS #2: How to Manage Client Conversations with Complete Confidence
BONUS #3: What Clients Want — Your Guide to What Clients Are Really Thinking
BONUS #4: The Easiest Way to Choose a Niche and Start Attracting Well-Paying Clients
BONUS #5: Custom Prospect Sheet
B0NUS #6: AWAI's Official "State of the Industry" Pricing Guide
So many members have already taken part in Get Writing Clients NOW: 21-Day System and contacted us with their success stories…
Including many who landed a client before the 21 days were even up!
So if you haven't landed your first client yet and are struggling with the thought of making those connections…
Or you just want to land more or better clients…
Solve these issues once and for all by following a proven system from a "marketing mentor" who has helped thousands of freelancers launch their careers.
Get Get Writing Clients NOW: 21-Day System: $497.00
For More Information, Click Here…