Chris Marlow:
Helping Copywriters Find Their Niche
"Today's new copywriters are coming into a business of unprecedented opportunity. The Internet has changed the landscape of marketing and leveled the playing field for new and old-timer copywriters alike.

"Seasoned copywriters and new copywriters are in the same classroom when it comes to online marketing. As the "original copywriters coach" I've been helping new copywriters since 2003 find the niche that's right for them, then boldly step into their niche and grab a brass ring that - not so long ago - was only within the grasp of those in the business for 10 or more years."

— Chris Marlow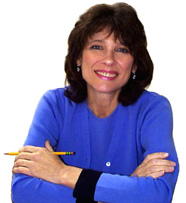 Chris Marlow is the original copywriters coach, helping copywriters gain high-quality, high-value clients since 2003. An expert at niche development, Chris helps copywriters find or create niches that fulfill financial goals, feed passions, and that align with personal values. Chris also helps her copywriters develop secondary income streams through information publishing and coaching. Chris' program seeks to create copywriters who are "gurus" in their niche.
An award-winning copywriter with over two decades of successes, failures, and hard-won experience, Chris is the copywriter's advocate. Noting the absence of pricing benchmarks for copywriters, Chris published the world's only statistical pricing benchmarks for copywriters. Chris is also creator of the most comprehensive business-coaching program for copywriters, the MARLOW Marketing Method™ for Copywriters.
Chris Marlow Articles
AWAI Programs by Chris Marlow
MARLOW Marketing Method™ for Copywriters Homestudy Course
The MARLOW Marketing Method for Copywriters Homestudy Course is a closed-loop self-marketing program specifically designed to help you land the high-value, high-quality clients - and do it in record time!
This proven and comprehensive marketing system consists of 24 workbook modules and 24 CD audio lessons that take you from ground zero - finding your niche - to actually closing your first sale. In addition, it provides your complete business system - all the business forms and work submission formats you need in order to price correctly and please your client. Past students of the MARLOW Marketing Method for Copywriters have paid as much as $6,000 for the same information delivered verbally.
Now it's yours in a homestudy course at a fraction of the original price!
MARLOW Marketing Method™ for CopywritersSmall Group Coaching Program:
After five years teaching copywriters one-on-one, Chris Marlow now offers Small Group Coaching for her acclaimed MARLOW Marketing Method for Copywriters program.
Participants not only obtain her MARLOW Marketing Method for Copywriters Homestudy Course as part of the Small Group Coaching, but they work with Chris and several other copywriters in intimate group tele-sessions to complete the 24-module self-marketing system in just 18 weeks. Students create their complete marketing system - everything from finding the niche that's right for them, to deploying their first high-concept client acquisition mailing.
Graduates receive a Certificate of Completion for ADVANCED LEAD-GENERATION and become eligible to join the Get Great Clients Coffee Klatch, which is open to graduates only, and is designed to keep copywriters moving forward in their client acquisition and business-building efforts.