Gary & Merri Scott:
Self-Made Millionaires –
Publishing to a Small Audience
for a Big Income
"Write every single day. It will improve your skill. It will open up a channel inside you, and the ideas will just flow out of you. The mind-body-heart connection — call it what you will — won't give you those ideas unless you can do something with them. It's like a jug full of water … if you keep filling it up, stuff is going to spill over.

Write today about what interests you now and commit that you will write every day — if you start doing that, you will never get empty, you will never run out of ideas."
– Gary Scott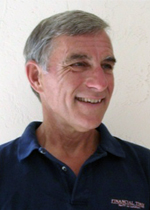 GARY & MERRI SCOTT are among the pioneers of global investment strategies. They began publishing international investing and business advice nearly 40 years ago.
Since then, Gary and his wife Merri have built a successful and lucrative publishing business writing about the things they love and do. From multi-currency investing to living well in Ecuador, they serve a small, but targeted and responsive readership. They have written and published 39 books and reports on global investing, along with five courses on international business.
Gary is a former columnist for On Wall Street and The Global Guide, and spoke weekly on the nationally syndicated "Market Rap" radio program for many years. He has managed a portfolio for a leading Austrian investment bank and even appeared in federal court as an expert witness on international economics.
Today, Gary and Merri publish three e-zines – with readers in over 80 countries – and conduct more than a dozen popular seminars each year.
Gary and Merri value producing useful publications that help better the lives of their readers. They also enjoy teaching others how to become successful self-publishers.
Articles by Gary Scott
AWAI Program by Gary Scott
Find Fulfillment, Fun, and Freedom As a Six-Figure Information Publisher
Use your writing skills to turn your passion into profit!
Whatever your passion, you can immerse yourself in it AND make a six-figure income. This could be your direct ticket to the kind of fulfillment you've always wanted in life. Whether you want to travel the world or live as a recluse, work 12 hours a day or not work at all, learn more about golf or how to help the world … it can be yours if you're willing to learn.
Self-Publishing: Your Complete Business Plan for Creating a Life Without Borders will teach you:
Our proprietary step-by-step plan for getting your publishing business going … full or part-time … right away.
How you can start with a very small amount of money and eventually work only four hours a day (if you are operating full-time).
11 steps to creating the perfect product, including how to review ideas, test focus, and aim at markets.
How to gain 1,000% returns on some of your publications.
Names, resources, and addresses of contacts in marketing and printing, plus attorneys, accountants, and internet whiz kids who can pitch in when you need them.
Where and how to get your data and information, and how to get others to write for you almost free.
How to choose a format — book, newsletter, list, audio or video — that suits you and your audience.
Frequently committed marketing mistakes and how to avoid them (plus, you'll get samples of winning marketing pieces to study).
And so much more!
Whether you are an engineer, doctor, housewife, business owner, or retiree … self-publishing offers a way to make a six- or seven-figure income by turning your passion into profit.
Self Publishing: Your Complete Business Plan for Creating a Life Without Borders: $499